On Tuesday, September 17th, Harvard Physicist and Educator Erica Mazur gave a dynamic talk, Educating the Innovators of the 21st Century, about how to reinvent higher education in order to encourage innovation and advancement. The event was hosted by the Pell Center and Salve Regina University.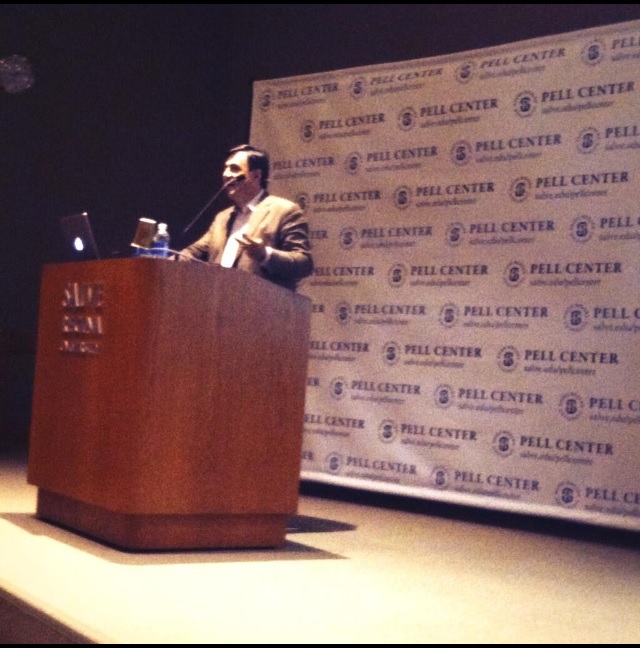 Read the full coverage of Eric Mazur's talk on Storify.
On Wednesday, August 7th, the Rhode Island International Film Festival will host an advanced screening of "Pell Grants: A Passion for Education" at the Veterans Memorial Auditorium in Providence, R.I. at 7:00 pm.

"Pell Grants" is a documentary about the creation of the Pell Grant during the 1970s and the positive effects the Pell Grant has had on today's leaders. The film also "dives into the compelling, often suspenseful behind-the-scenes battles privately waged behind closed doors in Washington, D.C. during the 1970's with Senator Claiborne Pell leading the charge."
Steven Feinberg, Executive Director of the Rhode Island Film & Television Office, and Elyse Katz, freelance producer whose work includes Pretty Woman and Crocodile Dundee, wrote and produced "Pell Grants." Feinberg directed.
To purchase tickets, visit the Rhode Island Film Festival website.
The Newport Daily News published an article on Wednesday about Vice President Joe Biden's planned visit to Salve Regina University in August for the launch of  Nuala Pell's leadership program:
NEWPORT- Vice President Joseph R. Biden Jr. will return to Newport  next month to help honor Nuala Pell.

It will be the vice president's second trip to Newport in four years to honor the Pell family.

Biden, who was vice president-  elect at the time, gave a eulogy at the January 2009 funeral of Pell's husband, the late U.S. Sen. Claiborne Pell. Biden served with Claiborne Pell in the Senate from 1973-96.

On Aug. 22, Biden will be attending the official launch of the Nuala Pell Leadership Program  in Public Service by the Pell Center for International Relations and Public Policy at Salve Regina University.

Pell Center Executive Director  James Ludes said the threeyear,  non-credit program would aim to instill skills in students that will improve their ability to lead in their personal and professional lives.

"We hope to inspire them to take on a greater leadership role … no matter what that might be," Ludes said. (The program) will give them some real practical skills that will be … resume-able."
Please visit the Newport Daily News website to read the full article.
The Mercury recently interviewed Pell Center Fellow for Cyber Leadership Francesca Spidalieri about the reality of cyber warfare and the significance of cyber leadership in the United States. The interview is featured in this week's Mercury and is available on local newsstands and online: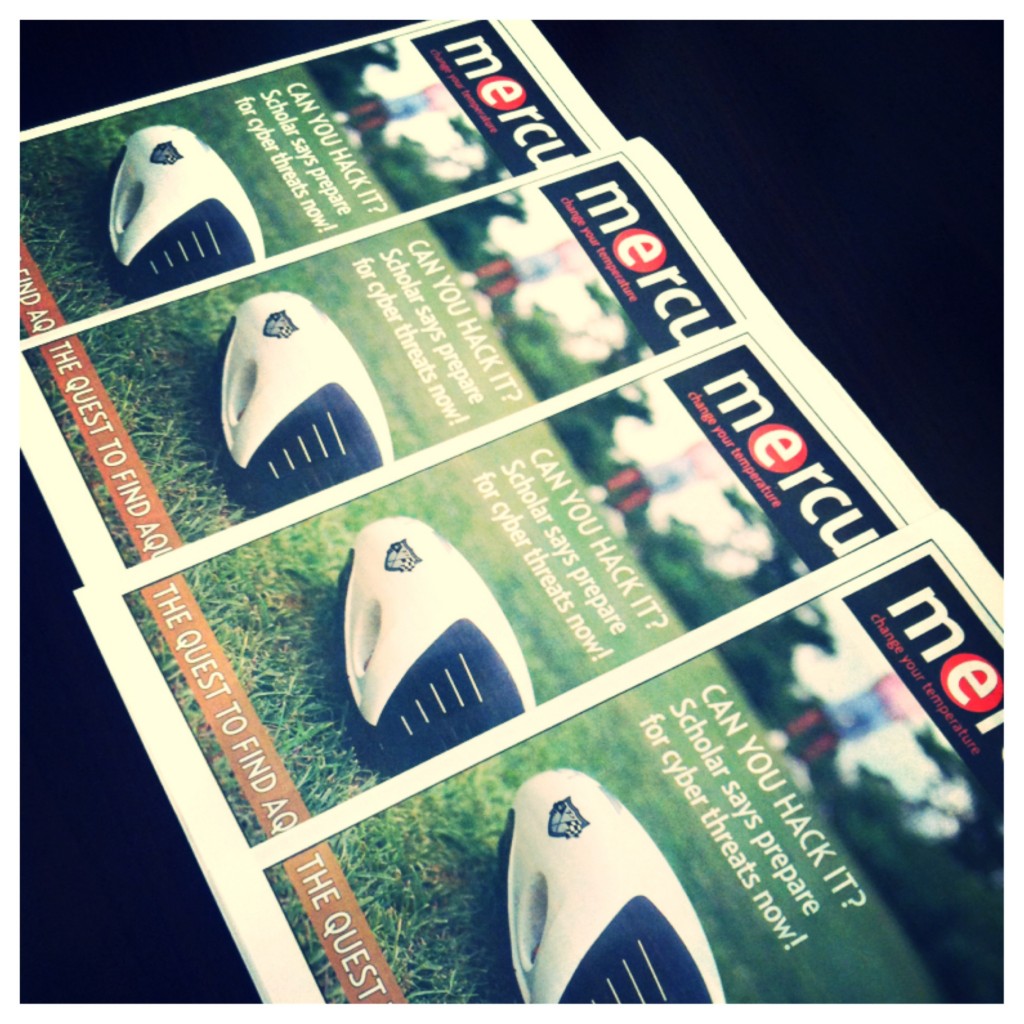 NEWPORT- The National Security Administration's snooping scandal has made it clear that our secrets aren't safe on the Internet. But a threat to our privacy isn't the only harm lurking in cyberspace. There is the risk of theft — one's identity, money, intellectual property or national secrets — even the danger that your computer could become a zombie in a coordinated attack against a particular state or other target, as happened during the Russia-Georgia War in 2008. But even the best universities aren't preparing future leaders to deal with persistent cyber threats, says Francesca Spidalieri, who recently authored a report addressing the need for better strategic education for Salve Regina University's Pell Center for International Relations and Public Policy. The Italian scholar is currently a cyber leadership fellow at the Pell Center.

What is cyber leadership?

Cyber security is a hot topic at conferences and symposia, but the focus is always on technology — the next firewall, encryption, using technology to create cyber warriors, things like that. But there is a gap. Beyond the technological solutions, what are we doing to train the leaders of our critical institutions? That's the focus of my work at the Pell Center.
To continue reading the full article, please click here.
Vice President Joe Biden will visit Salve Regina next month to join with Rhode Island's congressional delegation, along with notable friends and admirers, in honoring Nuala Pell for her lifetime of humanitarian service and leadership. The event, hosted by the Pell Center for International Relations and Public Policy at Ochre Court on the evening of Aug. 22, will feature the announcement of the Nuala Pell Leadership Program in Public Service.
"An opportunity to celebrate the life work of Nuala Pell is something we knew would inspire an outpouring of enthusiastic support," said President Jane Gerety, RSM. "We're honored that Vice President Biden expects to join the celebration as well."
All four members of Rhode Island's congressional delegation, instrumental in arranging the vice president's participation, spoke highly of Mrs. Pell in expressing their support of the leadership program named in her honor.
"Nuala Pell is a treasure," Sen. Jack Reed said. "I can think of no better way to honor her life of graceful service than to create a program to prepare the next generation of leaders. Salve Regina University, the state of Rhode Island, and the country will be better for this kind of effort, and I am proud to support it."
"Nuala and Claiborne Pell have left their mark on our Ocean State in so many ways," Sen. Sheldon Whitehouse said. "This program will inspire a new generation of Rhode Island leaders, and is a fitting tribute to Nuala's legacy of service. I'm looking forward to this special event."
"The Pell name has long been synonymous with public service, locally, nationally and internationally," Rep. Jim Langevin said. "Over the 20 years I have been fortunate enough to know Nuala Pell, she has lived up to that reputation, selflessly serving her state and advocating on issues most important to her community. I am proud to call her a friend. She is a role model to me, and I am so glad that our state's future leaders will also benefit from the example she has set."
"I am looking forward to welcoming Vice President Biden to Rhode Island later this summer for a celebration of Nuala Pell's lifelong commitment to public service, as well as the establishment of the Nuala Pell Leadership Program in Public Service at Salve Regina University," Rep. David Cicilline said. "Mrs. Pell has devoted her life to our state and its people, and I am honored to join my colleagues in paying tribute to her extensive accomplishments."
"The Nuala Pell Leadership Program in Public Service will support leadership development opportunities for students at Salve Regina, a deep interest of Mrs. Pell's as a trustee of the University and an advocate for the Pell Center. The program will invest students with leadership skills and experience, exposure to important public issues, and opportunities to participate in seminars and programs featuring prominent policymakers and scholars shaping the public debate. In preparing future leaders in public service, the University will inaugurate a sustainable legacy for the values closest to Mrs. Pell's heart.
From her 1944 marriage to Claiborne Pell, Nuala O'Donnell Pell became a full working partner in a shared adventure of public service that stretched more than half of a century. As they represented the United States in post-war Europe, then moved to Washington, D.C., when Claiborne was elected to the U.S. Senate, Mrs. Pell brought to the partnership her special gifts of social ease and grace, eager curiosity, educated thoughtfulness, and advocacy for progressive causes. A tireless campaigner for her husband's remarkable six terms in the Senate, Mrs. Pell is also an ardent champion for the wellbeing of the elderly, women's health care issues, and the arts and humanities in America.
"Everywhere we travel, the first question we're asked is: 'How is Mrs. Pell?'" said Dr. Jim Ludes, executive director of the Pell Center. "The appreciation and affection people feel for her is a testament to the way she's lived her life. We are privileged to count her among our community at Salve Regina University, and look forward to paying tribute and thanking her next month."
For more information on the Aug. 22 event, contact the Pell Center at (401) 341-2927 or [email protected].
Tomorrow, the United States will celebrate the freedom of the American people, made possible by the Founding Fathers.
On Tuesday, 19 out of the 20 firefighters of the Granite Mountain Hotshots were killed battling the blaze in Yarnell, Arizona.
The New York Daily News confirmed the names of the fallen firemen:
Eric Marsh, Anthony Rose, Kevin Woyjeck, Chris MacKenzie, Scott Norris, Clayton  Whitted, Travis Turbyfill, Jesse Steed, Robert Caldwell, Dustin Deford, Sean  Misner, Scott Misner, Garret Zuppiger, Travis Carter, Wade Parker, Joe Thurston,  John Percin, William Warneke and Grant McKee.
It may not be Memorial Day, but Independence Day should honor today's heroes who preserve the life and the liberty of the American people. The service provided by public officials–the military, the police department, and the fire department–are invaluable and need to be recognized as such everyday, not only when tragedy strikes.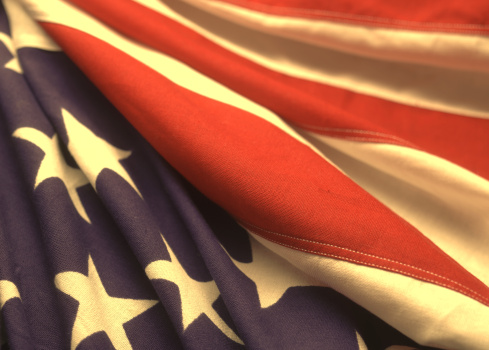 As everyone now knows, the NSA has had the American public under high surveillance with access to phone logs from Verizon and AT&T and access to other user information from social media platforms and internet services.
Snowden, currently in hiding in Hong Kong, will be extradited back to the United States, but according to a report from NBC, it is a process that would take several months–and he still needs to be found by the United States government.
Here are some great opinion articles concerning Snowden and the NSA from several publications:
What do you think of Snowden's decision to leak the NSA's information?
On Tuesday evening, former Newsweek Bureau Chief Scott Johnson spoke to the Pell Center community about his experience as a journalist during the wars in Afghanistan and Iraq.
Johnson had worked in France earlier in his career–it goes without saying that transitioning from Paris to Kabul, Afghanistan in 2003 was a drastic change.
"I had never covered a war like this," Johnson said about Afghanistan. His job now involved sitting in trenches in the middle of the desert and depending on three objects that would be "paramount" to his survival: a backpack, a satellite, and a generator. The desert itself was "an eerie experience," being in a place that seemed "primitive" compared to lively urban areas.
To accompany his talk, Johnson presented images of the Middle East at the time of the landscape, the people, and the frontlines. "Reporters take pictures," says Johnson. "It isn't until time passes that the meanings come alive and they're understood."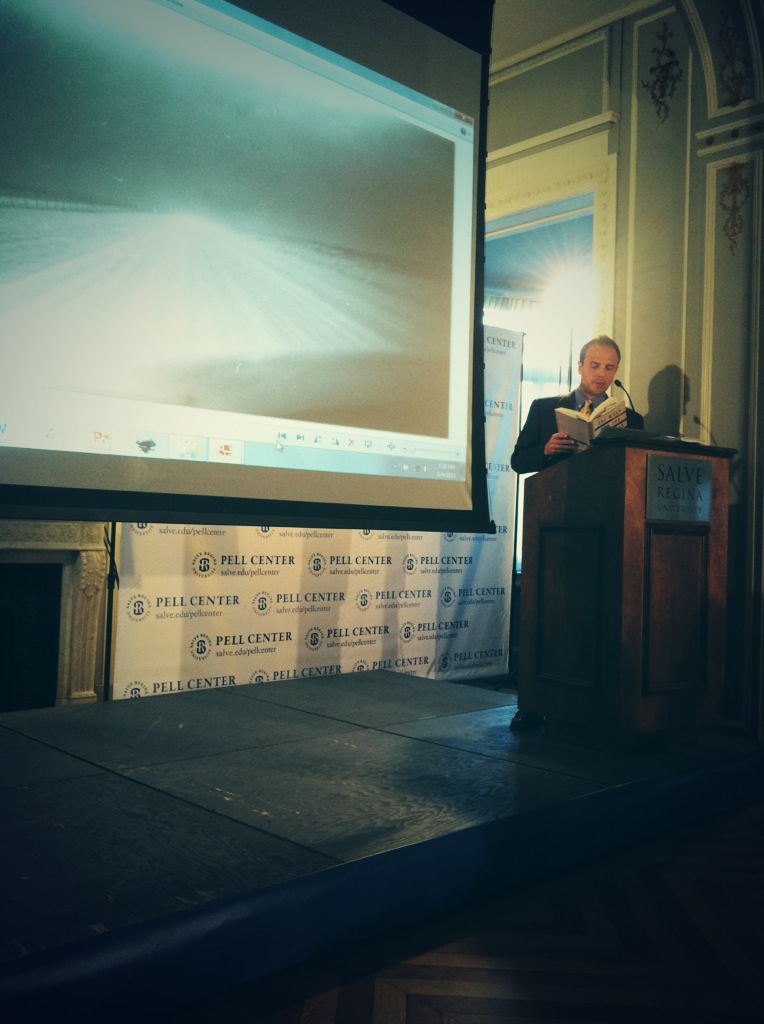 Johnson also shared even the smallest details of his experience, from the colleagues he met and worked with and the security detail living in Iraq's Green Zone, to riding a donkey to see the frontlines in Afghanistan, an experience Johnson can only recount as being "uncomfortable."
There were two ways Johnson found material for his stories–he either worked with editors or stumbled into a story himself by being caught in a crossfire or ambushed.
While In Iraq, Newsweek had assigned Johnson to get independent coverage as much independent coverage as possible. In order to travel around the region safely, Johnson and his cameraman "leapfrogged" from convoy to convoy to get to where he needed to be. During one trip, when Johnson was unaccompanied by military, he was ambushed by insurgents while driving, but managed to escape.
When Johnson returned to the United States, he experienced great culture shock and became afflicted with post-traumatic stress disorder (PTSD).
After Johnson's lecture finished, someone in the audience asked Johnson what his favorite part of working in the Middle East and what was his favorite part about working as a journalist. Despite the demands of an intense environment, Johnson loved working at a publication that, at the time, had prestige and credibility among the public–Johnson acknowledged that the world of reporting has changed during the past decade. Nevertheless, Johnson continues to enjoy working at a profession that involves travel and adventure.
"It doesn't get much better than that," says Johnson.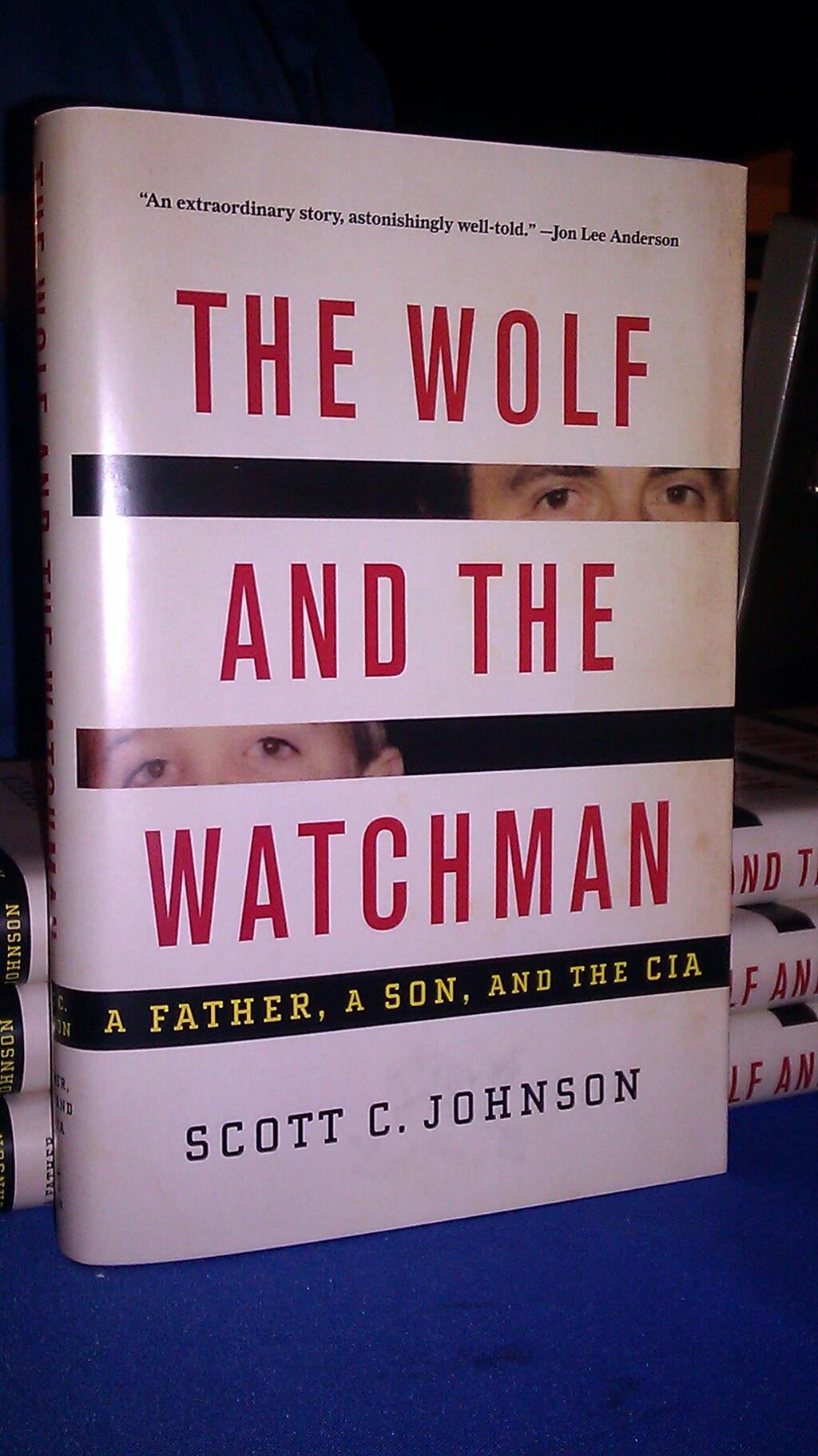 On May 22, 2013, Scott Johnson released his book The Wolf and the Watchman, a personal story of how he grew up as the son of a CIA officer, only to find out in his later years that his own field of journalism was not so different than his father's spy business.
The International Labour Organization released the preprint edition of the World of Work Report 2013: Repairing the economic and social fabric online on Monday morning.
The 120 page report is divided into five parts:
Overview of employment trends and projections
Income distribution and middle-income groups across the world
Role of minimum wages in rebalancing the economy
Investment for a job-friendly recovery
How to shift to a more equitable and job-friendly economic path
According to an article in The Financial Times, which provides a brief overview of the report, developing countries show progress in closing income gaps and rising employment. However, "advanced economies" in Europe and the United States are experiencing higher income inequalities. The ILO notes that "executive pay in many countries had returned to, and in some cases exceeded, pre-recession levels" in the Times' article.
An excerpt from the World of Work Report 2013 claims that the inequalities in developed countries have grown within the past two years, "thereby resuming the trend that preceded the onset of the global financial crisis":
Indeed, while between 2007 and 2010 in the majority of advanced economies income equalities tended to fall, the opposite trend has been observed since 2010. Evidence also suggests a widening of wage inequalities, following a brief pause in the immediate aftermath of the crisis […] The result is that the size of the middle-income group has shrunk in the majority of advanced economies over the past two decades.
Download the PDF file of the complete World of Work Report 2013 or download the PDF of the executive summary to read more.
With Memorial Day weekend over, it is officially beach season.
The Providence Journal reports that Rhode Island beaches are in great shape–beach goers can expect the facilities to "look more spruced up than usual."
"Everything is all set. We are probably in better shape than we ever have been," said Robert Paquette, chief of parks and recreation for the state Department of Environmental Management. "We've done a lot of repairs we haven't been able to get to for years."
As optimistic and hopeful as the article sounds, looks aren't everything–new beach pavilions and life guard chairs cannot cover up the damage caused by erosion. It's no secret erosion has affected beaches all along the East Coast since Hurricane Sandy (Before/After pictures of the Jersey Shore taken by the U.S. Geological Survey fully illustrate the impact).

I go to Narragansett Town Beach, the family's beach of choice long before I was even born (it's where my parents first met) and anyone who is familiar with Narragansett knows the area was affected by Hurricane Sandy.

The town has certainly invested great effort into cleaning up the beach–the sand has been removed from the parking lots and the street medians, the beach pavilion has been renovated, and the parking lots have been repaved. The Coast Guard House, the 125 year old building which currently serves as a restaurant and was ravaged by the storm, reopened Memorial Day weekend. I couldn't be happier that the town looks brand new.

But, last week, when my family and I went to check out what it looked like at high tide to find that the surfer section of the beach–the area where lifeguard chairs 1 and 2 are–disappeared under water.

It'll be interesting to see what happens when high tide comes in a hot July afternoon.

In Newport, there's a different problem to fix: the Cliff Walk. Parts of the Cliff Walk have been closed and will remain closed during reconstruction this summer, according to the Associated Press.  It's taken some time to figure out the best plan to repair the damage on the 3.5 mile trail–a petition by Clean Ocean Access deterred one suggested plan in April.

As the season continues, hopefully I'm proven wrong and the Journal is right about Rhode Island beaches being better than ever. Until then, I'll be crossing my fingers that there's enough room on the beach to fit everyone on this summer.