The arts play an important role in the life and economy of cities, states, the nation. Theaters, galleries, festivals and so forth attract visitors and residents and create a ripple effect of benefits including more vibrant communities and thriving local businesses. To address these and related topics – such as the role of policies and public investments in creating a lively arts scene – a panel of distinguished speakers will participate in a 90-minute discussion moderated by Pell Center Senior Fellow Joseph Grady, who will contribute perspectives on public dialog about the issue. Audience members will be encouraged to contribute questions and opinions.
Randall Rosenbaum – Rhode Island State Council on the Arts, Executive Director
Paul Carroll – City of Newport, Director of Civic Investment
Alexander "Sandy" Nesbitt – Alexander Nesbitt Photography, Owner
Daniel Kertzner – Rhode Island Foundation, Vice President for Grant Programs
Dominque Alfandre – Arts and Cultural Alliance, Board of Director
Joseph Grady, Ph.D. Moderator- Pell Center, Senior Fellow for Public Policy
This event is being held in collaboration with the Newport Chamber of Commerce and The People's Credit Union.
Date:   February 18, 2014
Time:   8:00 a.m. Networking Breakfast
8:30 a.m. – 10:00 a.m. Panel Discussion & Q&A
Place:
Pell Center – Young Building
518 Bellevue Avenue (intersection of Ruggles Avenue)
Newport, RI
RSVP to [email protected] or 401-341-2927. Seating is limited.
While a college education remains a worthwhile investment overall, the statistics are quite alarming. The average borrower now graduates with over $26,000 in debt, and only 58% of full-time students, who began college in 2004, earned a four-year degree within six years. Worst of all, in this lingering recession, many students are not finding the jobs that are necessary to repay their student loan debt.
If graduates can't find jobs, they will default on their loans and the collective impact has the potential to damage the already-weak economy at an unthinkable magnitude. The Federal Reserve's Board of Governors warned that student-loan debt has "parallels to the housing crisis," with some very important distinctions that could make it even more devastating. One important distinction is that you can give up your house if you can't pay for it, or you can potentially write off your debt in bankruptcy. Neither is a way out of student loan debt. Even in the event of your death, if you have a cosigner, your student loan debt passes to the cosigner.
Another differentiator is that home buyers have been able to get loans in the 3-5% interest rate range for the last several years. As of today, Sallie Mae, the nation's largest student loan company publishes that "variable rates range from 2.25% APR to 9.37% APR; and fixed interest rates range from 5.74% APR to 11.85% APR". Considering that there is little risk that you will not repay the loan over your lifetime, the rates can be considered usury. To add insult to injury, the Huffington Post reported this week that "Sen. Elizabeth Warren (D-Mass.) has criticized Sallie Mae's use of a taxpayer-subsidized line of credit that has allowed it to borrow cheaply without passing on the benefits to students."
Now, let's take a look at the scale of student loans. In the past 15 years, student loans have nearly tripled. Student loan debt in this country has reached over $1 trillion, and now exceeds credit card debt as the largest form of unsecured debt. The Bureau of Labor Statistics says that as of 2011, 25.5% of recent college graduates were jobless, and according to the Consumer Finance Protection Bureau, 10% of recent graduates from 4-year colleges owe monthly student loan payments exceeding 25% of their incomes. This all results in life-long debt struggles; borrowers in their 30s have a delinquency rate (more than 90 days past due) of about 6%, while borrowers in their 40s have a delinquency rate double that, at about 12%.
Christopher Matthews describes what this loan crash might look like in a NY Times article, "The thing is, the student loan industry can't crash, pop, fizzle, or otherwise suddenly deflate because the Department of Education backs at least 85% of all student loans. Of the remaining loans that are privately issued, 90% have cosigners. On top of that, it's nearly impossible for student loan debt — whether owed to the government or to private lenders — to be discharged during bankruptcy."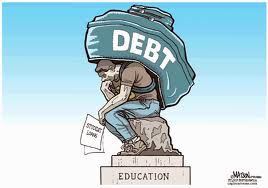 So, why is the cost of college so high? There is a school of thought that says the cost of college is artificially high due to the seemingly endless flow of government money that is put toward education. Many schools spend those dollars irrationally, and it forces other colleges to keep pace in order to attract students who have been given loans. According to a Bloomberg report, "The bankers said student lending shares features of the housing crisis including 'significant growth of subsidized lending in pursuit of a social good,' in this case higher education instead of expanded home ownership…The lending has put upward pressure on tuition, just as the mortgage lending boom led to rising home prices, they said, calling both examples of a 'lack of underwriting discipline."
"We will provide the support necessary for you to complete college and meet a new goal: by 2020, America will once again have the highest proportion of college graduates in the world." – President Barack Obama February 24, 2009
Think about it…when you went on all those college tours, they were marketing to us, at 17 or 18 years old. Most college information sessions were stressing sports; social life; the food; the dorms; things to do in local area…I never remember anyone except Salve Regina information sessions talking about the value of the education that they would provide. I remember Salve telling us not to look out the window at the beautiful ocean view, that if you were not here to work, that this was not the right place for you. That is why we came.  We need a high quality education that will enable us to find jobs when we graduate.
President Obama has proposed his plan to make college more affordable, but it has already met a great deal of criticism. The White House website states that, "The federal government provides over $150 billion each year in student financial aid, while states collectively invest over $70 billion in public colleges and universities. Almost all of these resources are allocated among colleges based on the number of students who enroll, not the number who earn degrees or what they learn."
The President is proposing a new college rating system that he believes will help, basically by moving to a system that allots federal dollars based on how many underprivileged students graduate. The president's plan breaks it into three main measures: percentage of students receiving Pell grants, affordability (such as average tuition, scholarships, and loan debt), and outcomes (such as graduation and transfer rates, graduate earnings, and advanced degrees of college graduates).  To help students and graduates who are struggling with their payments, the President has created a Pay As You Earn plan that limits the payments at 10% of the borrower's income.  The problem is that the President's rating model can easily be abused. The result could be that colleges that recruit based on academic achievement and offer scholarships to those students would no longer have the ability to do that. You can quickly imagine colleges recruiting students based on low income rather than merit, and that those students could be pushed through graduation to keep the federal ranking and federal dollars coming.
Perhaps a better model may be the College Education Value Compared Payscale Return on Investment Survey that rated 1500 U.S. "colleges and universities, including private, public and for-profit schools, to determine the potential financial return of attending each school given the cost of tuition and the payoff in median lifetime earnings associated with each school." (You may be happy to know that Salve Regina University made the list at #895). Another option could be a hybrid that includes a "happiness" rating along with ROI. Past graduates could be asked if they were satisfied with the value of the education they received; whether they were prepared for and working in the field of their choice; if they received career development and job search help; if they would recruit and hire from their alma mater; and maybe most importantly, would they send their children to the schools they attended.
-Patrick Flynn
PROVIDENCE, R.I.  – On Wednesday, December 4, 2013, the Providence Journal published an article written  by Senior Fellow for Public Policy Joseph Grady. Grady discusses the financial and human costs involved with flood insurance in Rhode Island and the United States: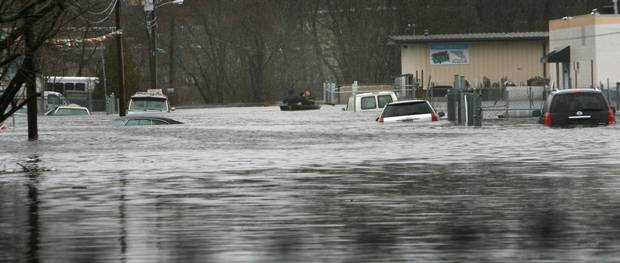 Debates over public policy — the collective choices we make on behalf of our state, town or nation — often involve weighing tough choices between two things we want. One current debate in Congress is a great example, and the two things we want are responsible financial management and affordable homeownership.

Congress is currently considering a bill to slow down increases in flood insurance premiums for Rhode Islanders and other Americans. The bipartisan bill, co-sponsored by James Langevin (D.-R.I.) and called the Homeowner Flood Insurance Affordability Act, would protect thousands of Rhode Islanders from higher rates that could even drive some from their homes, as was reported in these pages several weeks ago.
To read the full article, please visit the Providence Journal's website.
"Inequality for All" is a film documentary that follows former U.S. Labor Secretary Robert Reich as he looks to raise awareness of the country's widening economic gap.
Reich distills the story through the lens of widening income inequality — currently at historic highs — and explores what effects this increasing gap has not only on the U.S. economy but American democracy itself. At the heart of the film is a simple proposition: What is a good society and what role does the widening income gap play in the deterioration of the nation's economic health?
Joe Grady, Senior Fellow for Public Policy at the Pell Center and Kate Brewster, Executive Director, Economic Progress Institute will lead the discussion and Q&A following the film.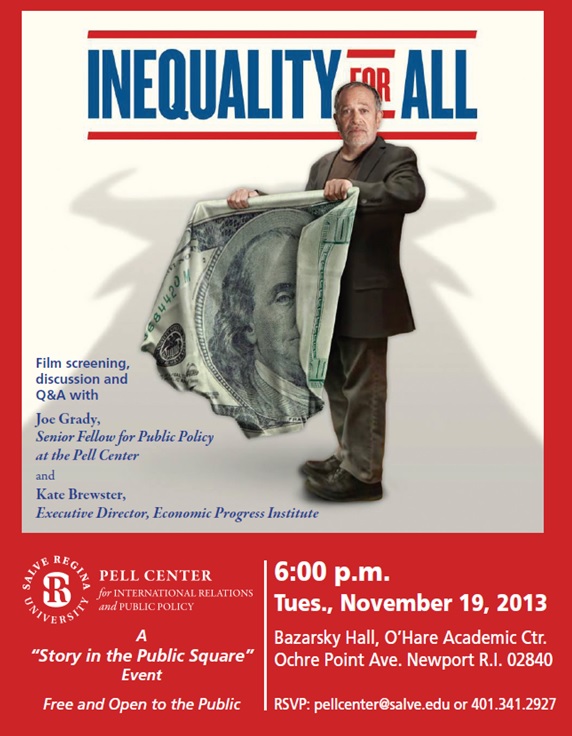 Date:    Tuesday, November 19, 2013
Time:    6:00 p.m.
Place:   Bazarsky Lecture Hall – O'Hare Academic Center
Salve Regina University
Ochre Point Avenue (intersection of Shepard Avenue)
Newport, RI
RSVP to [email protected] or 401-341-2927
The Pell Center will be hosting the next roundtable discussion and luncheon on Friday, November 15, 2013 from 11:45 a.m. – 12:45 p.m. in the Miley Hall Private Dining Room. The topic will be about bullying:
Bullying is a problem at all levels of our society, from elementary school classrooms to NFL locker rooms (as the Miami Dolphins have experienced). In this roundtable, we will talk about questions like why bullying happens, what effects it has, and what to do about it.
Roundtable discussions are open to students, faculty, and staff at Salve Regina University.     Please RSVP to
[email protected]
Lunch will be provided.  Space is limited.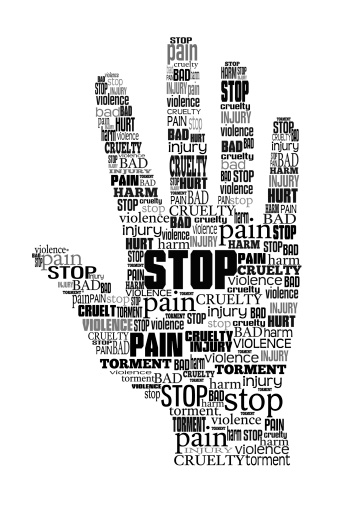 On Saturday, October 19, 2013, The Newport Daily News reported on the Pell Center's latest addition to the fellowship program, Senior Fellow for Public Policy Joseph Grady: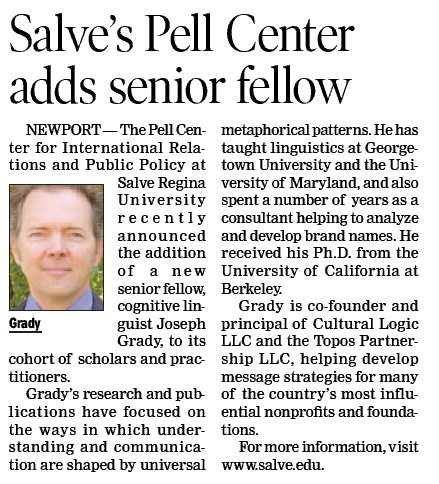 We just reached the 5 year anniversary of the end of Lehman Brothers and the financial collapse of 2008. The real question now is, are we safer now than we were then?
After 2008, a group of financial institutions in the U.S. were deemed "too big to fail". What that basically means was that there are intuitions so huge and intertwined, that if they went out of business, the impact on the entire economy would be devastating. Although we thought that we had learned this lesson the hard way in the Great Depression, and in 1933 enacted legislation called the Glass Steagall Act to prevent any institution from posing such huge risk to the economy again, the provisions under that act were repealed in 1999.
So, to answer the question 5 years later, "too big to fail" banks are now 30% bigger than they were in 2008. Many experts also believe that the list too big to fail banks is getting even longer. The newest additions to the list may be AIG, Prudential and GE Capital.
Looking back on the last 5 years, we can clearly see that we helped the big banks and hurt the small community banks – exactly the opposite of what we needed to achieve. The first reason is that once an institution has been designated a systemically important financial institution (SIFIs) by the new Financial Stability Oversight Council, it actually creates reverse incentives by providing a risk –free environment for credit lenders to that institution. It's like saying the government will bail this institution out, no matter what, so creditors feel that they have no to low risk when they lend to these intuitions. Second, regulation that was enacted after 2008 to control risk in the SIFIs, is required of all financial institutions. So the smaller banks, who did not present the risk, are being punished and many have been put out of business, because the cost of compliance is so great. So instead of creditors requiring that the SIFIs take less risk, and moving to a model with more smaller institutions that do not present any systemic risk, we have achieved the exact opposite result. The big banks are bigger and more risky while the taxpayer is basically cosigning on their risk, and the smaller community banks are being punished with excessive regulation for risk that they never took.
Another interesting aspect of all this is that criminal charges for the heads of the SIFIs have never been brought, because if those banks collapse, "we would undo all of the hard work that was done to save the bank in the first place". A clever Rogue Media cartoon points out, "What's better than too big to fail? Too big to jail."
And in case you think that this is all in the past…the Wall Street Journal just reported that "J.P. Morgan Chase & Co. has offered to pay a record $13 billion as it seeks to settle criminal and civil investigations by federal and state prosecutors". This case shows that not only have the regulators completely failed to reduce the risk, but that some institutions are not regulating what's going on in their own banks.
One piece of legislation that holds out some hope is the Warren-McCain-Cantwell-King bill, a "21st Century Glass Steagall Act" that reenacts sections 20 and 32 of the act which were repealed by the Gramm-Leach-Bliley Act of 1999. The most important piece of this financial reform is separation of investment banks and commercial banks. In a U.S. News article from July, Jim Lardner writes, "By removing some of the artificial advantages of enormous size in finance, Warren-McCain-Cantwell-King would create new running room for institutions, including many community banks and credit unions, that have stuck to the old-fashioned model of taking in deposits and giving out loans – only to lose more and more business to the six megabanks, which now hold double the assets of numbers seven through 50 combined."
So, in case you are wondering why you should care about any of this… experts agree that unless the risk that "too big to fail" institutions present to our economy is actually reduced, another financial crisis is inevitable, and that we will have no choice but to bail them out again. Unfortunately, the next crisis could be much worse because we will not have the political will or public backing to do it again. Every day, we see that Washington is completely incapable of working together; they are certainly not capable of taking action quickly enough to save our economy.
Patrick Flynn
On Wednesday, November 13, 2013, Co-Founder of the School of Leadership Afghanistan (SOLA) Shabana Basij-Rasikh will be speaking at Bazarsky Lecture Hall in O'Hare Academic Center at Salve Regina University. The event is co-sponsored by the Pell Center for International Relations and the Office of International Programs.
Imagine a country where girls must sneak out to go to school, with deadly consequences if they get caught learning: this was Afghanistan under the Taliban and traces of that danger remain today. Shabana Basij-Rasikh is the co-founder of the School of Leadership Afghanistan (SOLA), a boarding school that provides exceptional educational opportunities for a new generation of Afghan women. SOLA places special emphasis on fostering a resourceful learning environment and building a transformative future for women and Afghanistan.

Shabana was born and raised in Kabul, where she began her secondary education at Maryam High School. After finishing high school in Onalaska, WI, through the Youth Exchange & Studies (YES) program sponsored by the U.S. State Department, Shabana attended Middlebury College, graduating magna cum laude in International Studies and Women & Gender Studies, and studied Arabic and Islamic law at Alexandria University in Egypt.

During college, she founded HELA, a non-profit organization dedicated to empowering Afghan women through education. She also raised funds through foundations and public talks across the U.S. to build a high school for girls in her ancestral village, and wells in the outskirts of Kabul to give communities access to clean drinking water. An enthusiast of systemic change and community impact, Shabana was selected as one of Glamour® Magazine's Top 10 College Women of 2010, and was awarded the Vermont Campus Compact 2011 Kunin Public Award for outstanding public service, effective leadership and community-building. Shabana currently serves as the National Gender Mainstreaming Advisor at the Ministry of Rural Rehabilitation and Development in Kabul.
Date: Wednesday, November 13, 2013
Time: 7:00 p.m.
Place: Bazarsky Lecture Hall – O'Hare Academic Center
Salve Regina University
Ochre Point Avenue (intersection of Shepard Avenue)
Newport, RI
RSVP to [email protected] or 401-341-2927
The Pell Center is proud to sponsor the events listed below for Fall 2013. To reserve a seat, please RSVP to [email protected] or 401-341-2927:
Strategic Advantage:  Why American Corporations Should Care About Cybersecurity
November 6, 2013, 7:00 p.m.
Bazarsky Lecture Hall—O'Hare Academic Center
Shabana Basij Rasikh, Founder of School of Leadership, Afghanistan (SOLA)
November 13, 2013, 7:00 p.m.
Bazarsky Lecture Hall—O'Hare Academic Center
Co-Sponsored with the Office of International Programs
Yamashita's Ghost: War Crimes, MacArthur's Justice and Command Accountability
Allan Ryan, Author
December 3, 2013, 7:00 p.m.
Pell Center—Young Building
Pell Center Student Roundtable Luncheon Dates (Topics TBD)
Friday October 18, Miley Private Dining Room, 11:45 am – 12:45 pm
Tuesday October 28, Ochre Court Breakfast Room, 11:45 am – 12:45 pm
Friday November 15, Miley Private Dining Room, 11:45 am – 12:45 pm
Monday November 25, Ochre Court Breakfast Room, 11:45 am – 12:45 pm
Please RSVP to [email protected] or 401-341-2927
On Monday, the Women's Fund of Rhode Island hosted a panel discussion at the Pell Center on "Work, Life, and Family Policies" with Senator Chris Dodd and Author/Activist Ellen Bravo to celebrate the 20th anniversary of the Family and Medical Leave Act (FMLA). To open the panel, Senator Jack Reed gave remarks about Rhode Island's history of supporting FMLA, as well as Senator Dodd's early involvement to pass FMLA into legislation in 1993.  The panel was moderated by Founding Executive Director of the Women's Fund of Rhode Island Marcia Coné.
To view more photos, visit the Women's Fund of Rhode Island Facebook page.