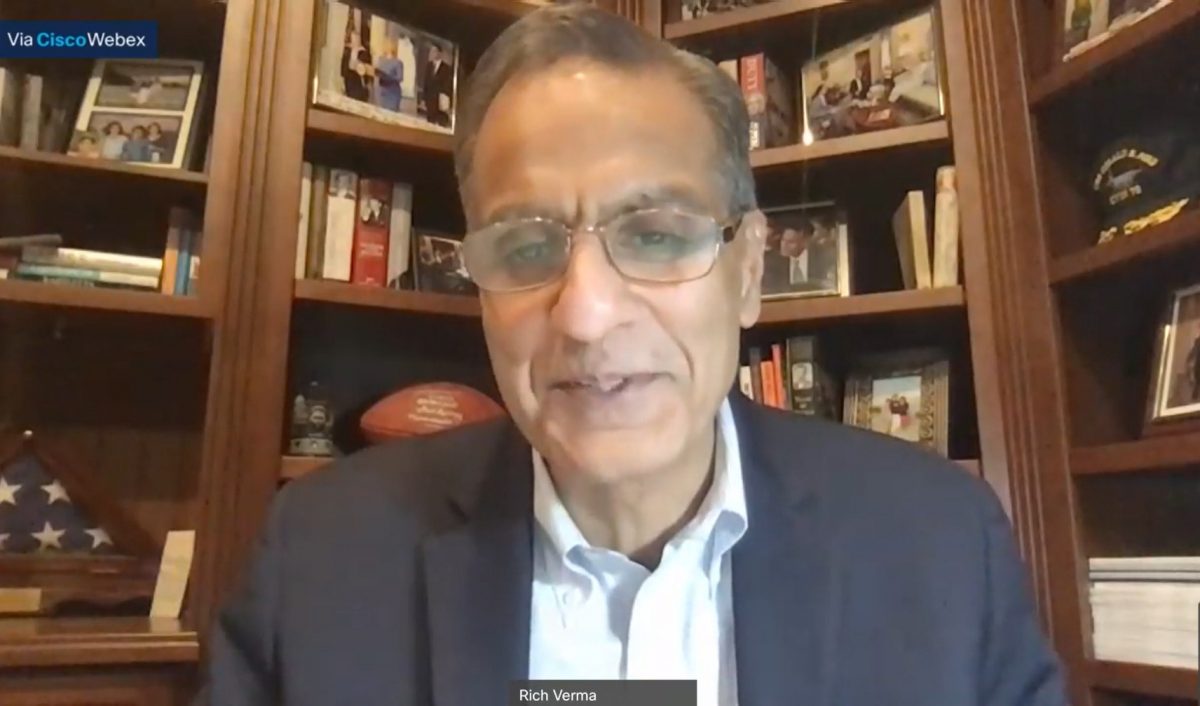 The relationship between the United States and India has long been complicated. On March 3, 2020, Salve Regina's Pell Center Executive Director Dr. Jim Ludes hosted Ambassador Richard Verma, who served as the U.S. Ambassador to India during the Obama administration.  Verma addressed the current relationship between the U.S. and India, India's role in global and regional affairs, and how the Biden administration might approach India on everything from China to free trade.
Verma describes India as an exciting place, albeit the challenges it faces, and said India is a country "that is experiencing dramatic transformation, saying it would be beneficial for world powers to partner with India in the coming years. As for where the country stands politically, it is clear both the U.S. and India had similarities in their rise to prominence. Verma explained why personal relationships in foreign policy are important, mentioning Prime Minister Modi and former President Obama's strong working relationship.
"We want an India that plays a very active role in the international stage," Verma said in response to how the U.S. hopes to work with India. He said Prime Minister Modi would like India to become a major world power in the world, but it is hard to know when they will be able to achieve that. For so long, India has focused on domestic issues, but the U.S. sees that India is on a promising path.
When asked about India's relations with Russia and China, Verma firmly believes that history matters. He adds, "[r]ight after World War II, Russia was not really an adversary of the United States and [it] was not really a close friend [or] partner of India." Verma explains how Nixon had very negative feelings toward India, is this what set the future, and Russia and India grew a stronger connection. Today, India's connection to Russia is not as strong as it once was. The United States and Russia are in this battle for fighting for a stronger partnership with India, however, it is something to understand that Russia and India already have that old connection as well. It is a worry that since India purchased advanced Technology from Russia that it may set the United States back in this regard.
Abigail Ransegnola is an English communications student at Salve Regina University and an intern at the Pell Center for International Relations and Public Policy.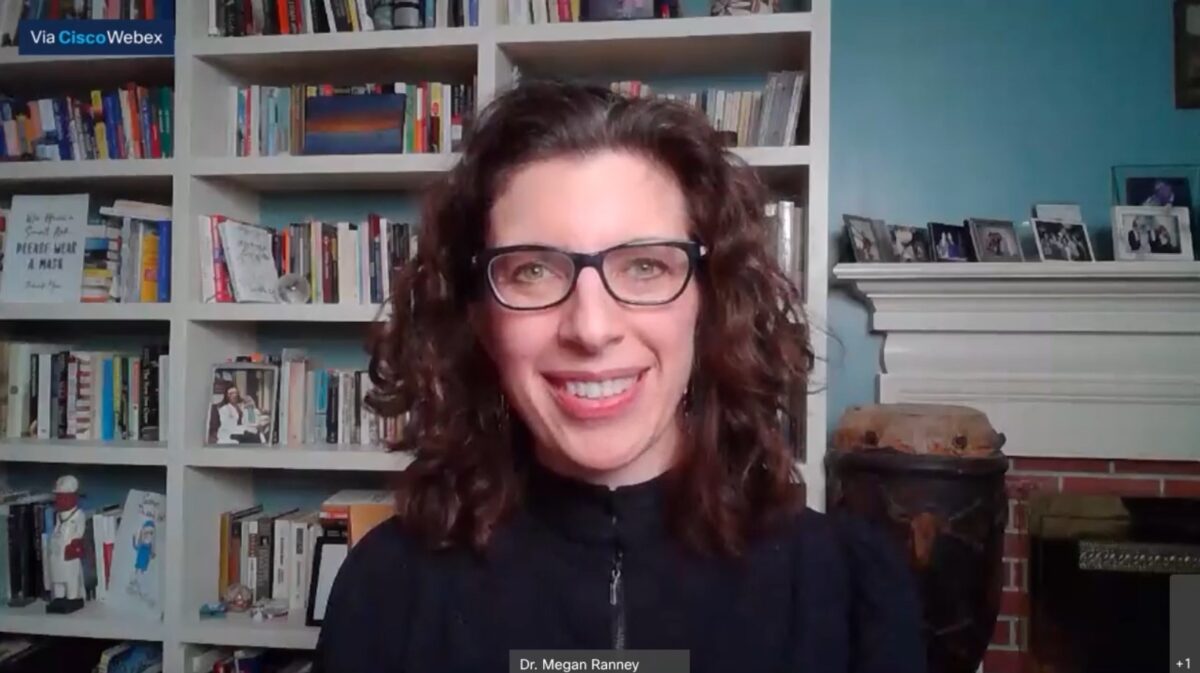 With the rise of COVID-19, rumors and disinformation about the coronavirus have spread throughout the United States and the world. It seemed as if everyone had different knowledge about the coronavirus, and for many, it was been hard to distinguish between truth and fiction. After the coronavirus vaccines were approved, the confusion and misinformation began to circulate once more. On February 10, at 7:00 p.m., Pell Center Executive Director Dr. Jim Ludes hosted Dr. Megan Ranney on Facebook live to discuss the truth about the vaccines, the myths, and to answer audience questions in real-time.
Ranney graduated from Harvard in 1997 with a degree in History of Science. After graduation, she spent time working with the Peace Corps, and upon her return, she became a medical student at Columbia University. She is now a practicing emergency physician and researcher whose work focuses on digital health, violence prevention, and population health. Ranney has also done tremendous work around COVID-19 during its outbreak. She brought the public's attention to the lack of protective equipment that frontline workers had access to by launching the campaign, #GetUsPPE, to collect, create and distribute personal protective equipment around the United States. She was named the 2020 Rhode Island Woman of the Year, and in 2021, Ranney became Associate Dean for Strategy and Innovation and Brown University School of Public Health.
Answering audience questions during the Facebook live event, Ranney expressed concern when asked about "vaccinating our way out of the virus." She said that with new strains emerging, the virus has become "much more transmissible." This means that it's easier to catch. "Which means, given our particularly moderate levels of mask-wearing and our high levels of indoor socials, we're going to see a lot of people get infected." While Ranney shared her concern with this, she seemed certain that with COVID-19 evolving into different strains, there will have to be more vaccines in the future. With "herd immunity" becoming harder to achieve, 'vaccinating out of the pandemic' with one dose of the COVID-19 vaccine seems unlikely. Instead, we will likely see "booster" immunizations emerge to ensure better immunity among those who have already been vaccinated.
Ranney believes that our lifestyle that has been shaped by the coronavirus will not last. She said, "There is an end in sight, but your actions today do still make a difference."  She says that even though numbers are dropping, we are still seeing high infection rates compared to the summer and fall of 2021. Ranney encourages everyone to wear a well-fitting, high-quality mask and to avoid indoor socialization without a mask. She also recommends referring to the Brown Univerity's Center for Digital Health "My COVID Risk" tool to assess the potential risk level for various activities with variables that users can set. Visit https://mycovidrisk.app/ to learn more.
Abigail Ransegnola is an English communications student at Salve Regina University and an intern at the Pell Center for International Relations and Public Policy.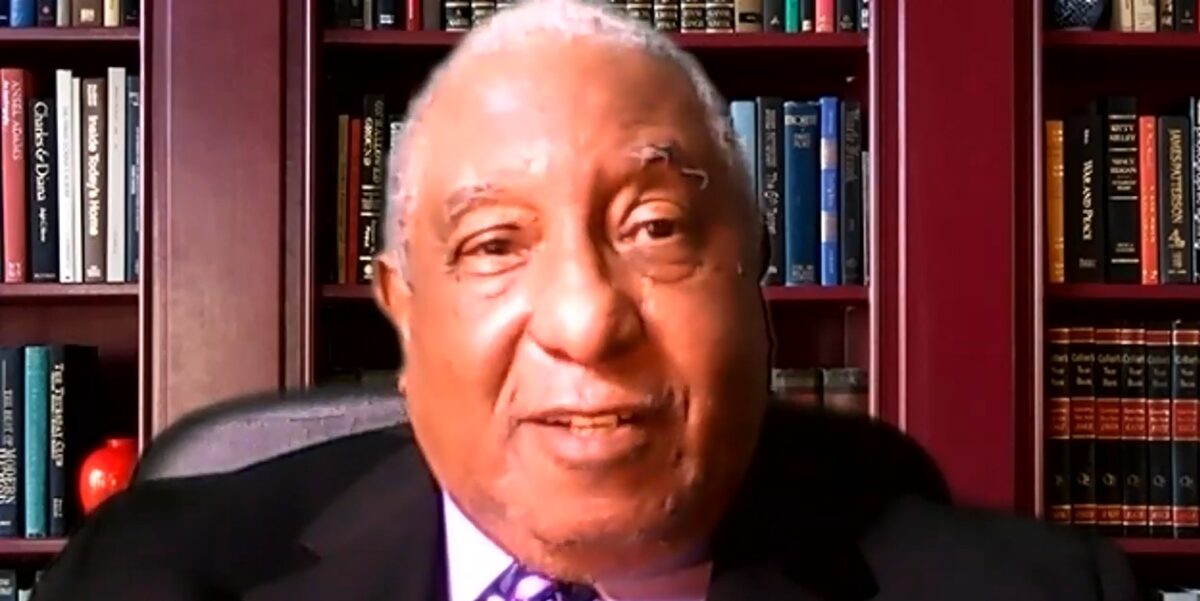 On January 20, 2021, Joe Biden was inaugurated as the 46th President of the United States of America. Changes are anticipated, and many are anxious about whether President Biden will deliver on the promises he made during his speeches pre-inauguration. One of the biggest and most anticipated topics that everyone has on their minds is racial justice and the future it has. The night after the inauguration, Salve Regina University's Pell International Relations held a Facebook Live with host Dr. Jim Ludes, who was joined by two discussants: Dr. Timothy Neary of Salve Regina's History Department as well as Izabella I. Solivan, President of Salve Regina's Student Government Association. Together, with a live audience, the three welcomed the honored guest, Dr. Bernard LaFayette Jr.
Rampant well before the Civil Rights Movement, racial inequalities and injustice have been present within our society. However, the heart of the conflict that stirred nations worldwide to react was between the 1940s and 1960s. Dr. LaFayette was a leader in the movement, playing a large role in the Freedom Rides that took place in Montgomery, Ala. where he and others were met with brutal force for their just actions for freedom.
As a guest speaker, Dr. LaFayette shared his ideas on the future of Civil Rights and answered many questions from the audience. From these questions, he was able to express many of the thoughts that he believes in about the topic and provide some insight on current issues. Dr. LaFayette expressed, in answering one of the questions asked to him, "My greatest fear right now, is that we are not spending enough time with our young people to help them interpret what's going on." He believes that the younger generation is spending so much time on their phones and instead of connecting with people in front of them. Dr. LaFayette delved into a story about how he was very close with his grandmother because he was able to talk with her instead of being on his phone all day long. As a result, he was able to develop a wonderful relationship with her.
"Non-violence is as old as mankind but as foreign to many people." Solivan mentioned this idea as it was something that Dr. LaFayette said in a Ted Talk in 2012. Elaborating, Dr. LaFayette explained that we as people have a likeness. Despite this, it is not enough to be able to live in a peaceful way. He believes that we have to understand not only what's important to us, but to other people around us as well, "Understanding. It means standing under others, lifting them up so they will not fall down." He expresses that it's okay to not agree on everything, but understanding others is important. Yet, despite these differences, coming together would mean not letting this difference divide us.
Abigail Ransegnola is an English communications student at Salve Regina University and an intern at the Pell Center for International Relations and Public Policy.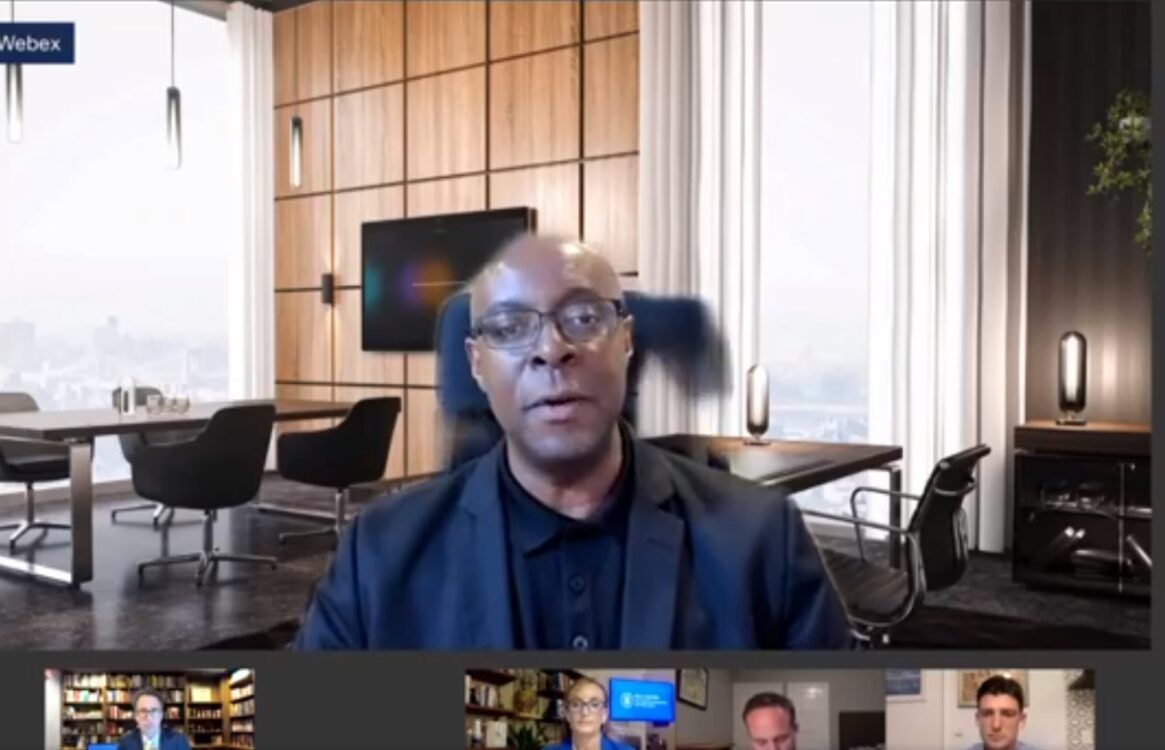 The security of our elections has been an issue of great importance following the 2016 election. Many fear that interference from foreign powers in our elections, specifically from Iran, Russia and China could threaten our democracy and the democratic process. The threat to our elections continues to be an important topic following the 2020 election and it appears this will be a topic of discussion for years to come. During the Pell Center event "2020 Election Security: Threats, Strategies & Solutions," an exceptional panel discussed everything from disinformation to changes made to election security infrastructure since the 2016 election.
This panel featured Moderator Francesca Spidalieri, a Senior Fellow for Cyber Leadership at the Pell Center and a cybersecurity consultant for Hathaway Global Strategies, LLC. She was joined by panelists Dr. David Mussington, the Director of the Center for Public Policy and Private Enterprise at the University of Maryland School of Public Policy, Derek Tisler, a fellow and counsel with the Brennan Center for Justice's Democracy Program, and David Levine, the Elections Integrity Fellow at the Alliance for Securing Democracy.
The panel discussed the security of the upcoming election, specifically discussing distrust in government and mail-in voting, the safety of in-person voting, disinformation, distrust in institutions like the U.S. Postal Service foreign threats to the election and paperless voting. The challenges of ensuring that our elections are secure is an extremely difficult task and will be for years to come.
Social media was also a key topic during the event along with the effect disinformation could have on the election. Disinformation on social media is a remarkably effective way for foreign adversaries to promote material that is harmful to the democratic process. It was noted that not much has been achieved when it comes to stopping this disinformation and foreign interference on social media or even slightly deter this activity since the 2016 election despite some empty threats. The panelists expressed frustration on this issue and hope we will do more to combat and dissuade from this type of activity in the future. They would like to see more cybersecurity additions to our election infrastructure and more investment in our democracy by helping voting officials get more training to ensure more safe and secure elections.
The panel did discuss strategies that could make sure that the 2020 election would be fair, safe, and secure. The panel was able to assure people in attendance that the election process, though slower than usual this year, will yield correct results and that the public would have to be patient. Additionally, they discussed significant gains in the effectiveness of the planning and infrastructure for the 2020 election. The panelists were encouraged by how states were handling the pandemic and making voting safer with the vote by mail campaign to limit the number of people at polling places with curbside, drive through, and early voting. Panelists added this could have security benefits by spreading out the impact on our voting infrastructure. Overall, this Pell Center event allowed voters feel a lot better about the safety, security, and fairness of the 2020 elections.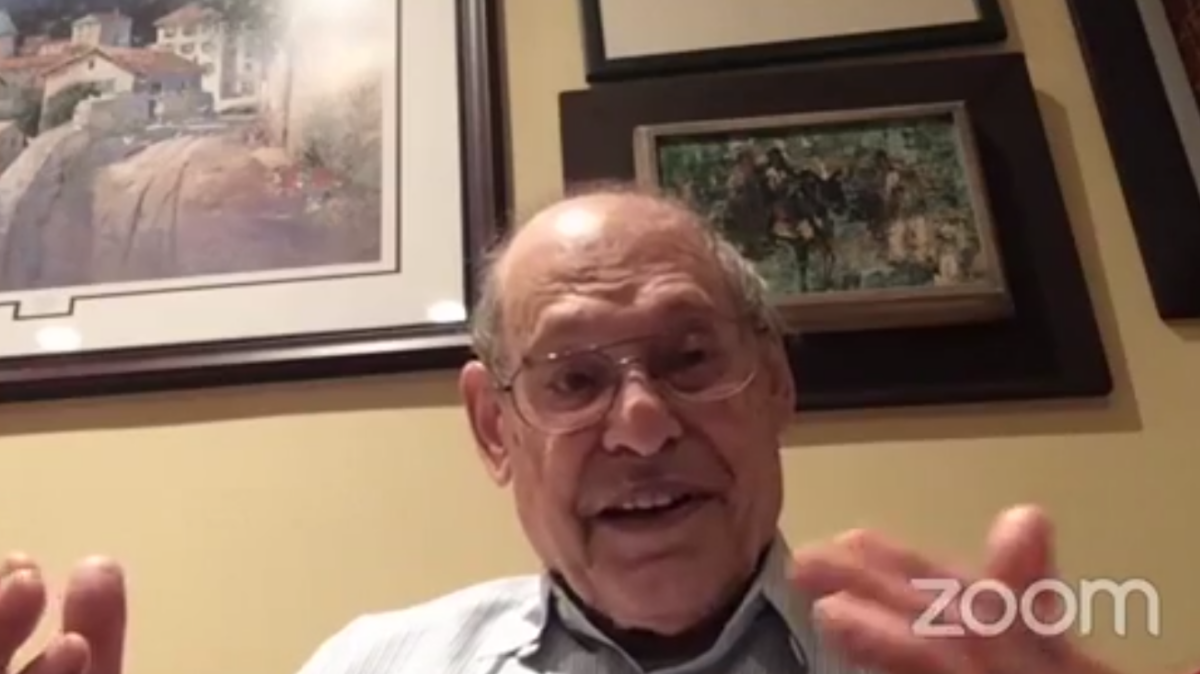 Polarization is a major issue in American politics, but Robert Dallek is still optimistic. On October 1st, 2020, Dallek had an in-depth conversation around his most recent book "How Did We Get Here? From Theodore Roosevelt to Donald Trump." Dallek was joined by Pell Center Executive Director Dr. Jim Ludes and Salve Regina University history professor and Pell Honors Program Director Dr. William Leeman.
Dallek reminded us that there have always been challenges in politics, but it is crucial for us to find common ground to maintain our republic. Dallek explored many topics, including President Trump's lack of knowledge of American history, how the legacy of presidents led to the rise of Donald Trump, and the current division and challenges facing the United States.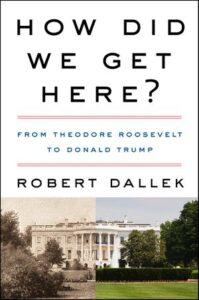 Dallek attempted to explain recent events and the political climate of America through the scope of history, saying, "political history remains a vital element of our national culture and I think it needs to be sustained." Dallek said he is concerned about the recent presidential debate, saying that President Trump seemed unpresidential and diminished the office of the president. Dallek feels that most people in this country have a great regard for the presidency and there is a sense that the presidency is a sacred institution with traditions that we should all be sensitive to. Dallek believes that the presidency has lost some of its dignity with the election of President Trump, though he is hopeful the next president can help the country move in a constructive direction.
Dallek reminds us the office of the president hasn't always been filled people with the most outstanding character. He noted that the presidency has had other low points, but the American people have always found a way to rebound. Dallek compared the Kennedy-Nixon debate to the recent presidential debate on September 29, 2020, where he believes Biden did what Kennedy did when he spoke to the American people directly.
The optimism of a renowned scholar like Dallek is sure to settle the minds of many who attended this event on October 1, as his view of the political landscape seemed firm. He acknowledged the political polarization but felt that the ups and downs of American politics, though worrisome, can be worked through as a society with a common goal. The event was a resounding success and Salve Regina University and the Pell Center were incredibly lucky to host Dallek for this event. His words of wisdom and profound knowledge of the American presidency were able to give the Salve community a spectacular insight on the current political climate.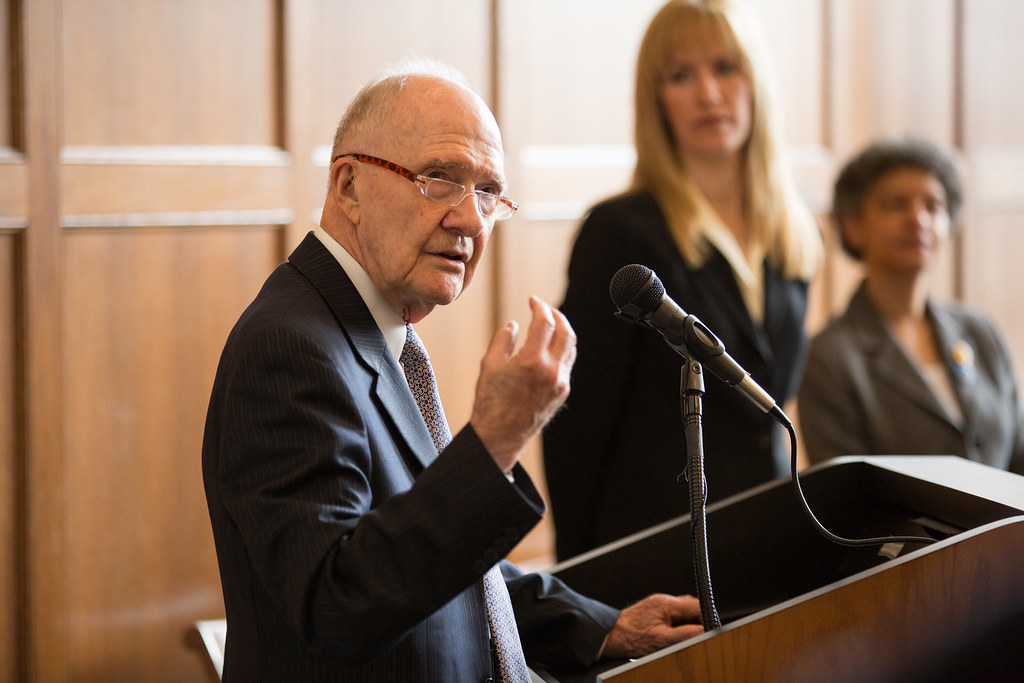 Retired Air Force Lieutenant General Brent Scowcroft died August 6th at the age of 95. Since his death, there have been numerous tributes to him by those who knew him and served with him. Those remembrances have highlighted his over six decades of service to this nation, as a military officer, as National Security Advisor to Presidents Gerald R. Ford and George H. W. Bush, and as a strategist and key advisor both in and out of government in the center of some of the most momentous national security policy decisions of modern times.
What has received less attention in these tributes is the key role that Brent Scowcroft played in strengthening the "special relationship" that has marked U.S.-UK relations since the Second World War. Britain and the United States have enjoyed a unique relationship, an alliance grounded in a shared vision of an open, democratic rules-based liberal world order that they built together after World War II. Even though both countries could—and often did—disagree on how best to implement that vision, both understand the common values and interests that vision represented.
As President Bush's National Security Advisor in mid-September 1989, Scowcroft found himself at the Economic Club of New York, sitting next to John Major, a nervous newly appointed British Foreign Secretary, in an elegant wood paneled room of a mid-town Manhattan hotel. It was the eve of the opening of the United Nations General Assembly. The audience included many leading members of New York's business, financial, and foreign policy elite. John Major delivered a standard speech on the importance of the transatlantic relationship, drafted by the Foreign Office, but when the question and answer period came, he looked visibly ill-at ease.
Unlike Scowcroft—who had a doctorate in international relations from Columbia University and had taught at both his alma mater, the U.S. Military Academy at West Point, and the U.S. Air Force Academy—Major had never been to university and had only had a few weeks of intense study of international affairs while on holiday in Spain. Sensing his younger British colleague's discomfort, Scowcroft deftly took over the question period and delivered a virtuoso performance. Scowcroft treated Major with the utmost respect and the new British Foreign Secretary appreciated the cover and the courtesy.
What was so evident that night was not only Scowcroft's personal warmth, kindness and generosity, but also his exceptional grasp of international relations. The Soviet empire was already on the ropes, and the Berlin Wall would fall two months later. President Bush and his National Security Advisor were already shaping the contours of a new relationship with the Soviet leader, Mikhail Gorbachev, and carefully navigated the U.S. and its allies through the most substantial realignment in international relations since the end of World War II and unique because it was accomplished without violence. The period 1989-1993 was a period of global transformation, aptly described by Bush and Scowcroft in their book, A World Transformed. It began with the collapse of the "Iron Curtain," saw the reunification of Germany and the end of the Soviet Union, and ended with the mobilization of an unprecedented global coalition to rebuff Saddam Hussein's invasion of Kuwait. During that period, Britain was America's closest ally. That evening in September 1989, a member of the audience asked Scowcroft what the "Special Relationship" meant to him. His answer was deceptively simple: "Trust. Having someone on the other end of the telephone whose first reaction is "how can we help?" Scowcroft's kind and thoughtful actions that evening was consistent with his philosophy of international relations. He was an "enlightened realist", a firm believer in American global leadership exercised through alliances. To Scowcroft and President Bush, none was more important than America's relationship with Britain.
In dealing with the extraordinary international challenges from 1989 onwards, President Bush had a trusted but difficult ally in British Prime Minister Margaret Thatcher. She had had a long and intimate friendship with Ronald Reagan, which had begun years before either of them had been elected President or Prime Minister. They were ideological soul-mates—both fierce anti-communists and robust champions of free markets and free trade. Although President Bush shared these values, he was never an ideologue. Thatcher had become accustomed to lecturing and occasionally dominating Reagan; President Reagan seemed comfortable with this, but President Bush was not. Bush and Thatcher did not share a pre-existing friendship. Cocooned in her unique relationship with President Reagan, Thatcher had neglected to cultivate a close relationship with Reagan's vice president and likely successor.
In the 1970s, both Brent Scowcroft and Margaret Thatcher had been Soviet hawks, skeptical of the value of détente. By the late 1980s, however, President Bush, Brent Scowcroft, and Prime Minister Thatcher agreed that Mikhail Gorbachev was someone the West could work with to end the Cold War. German reunification, however, presented a significant challenge for the Bush-Thatcher relationship. To end the Cold War, Bush understood that there had to be a solution to the century-old "German question." To Bush and Scowcroft, the ideal outcome was a reunified Germany within NATO. In that effort, they found an eager partner in West German Chancellor Helmut Kohl, but the prospect of integrating a reunified Germany into NATO and the European Community appalled Mrs. Thatcher. Her formative experience had been 1940—Britain's "finest hour" standing defiantly and successfully against Nazi Germany. Mrs. Thatcher even convened a group of experts on Germany to a day-long seminar at Chequers, the Prime Minister's country retreat, to help her understand the potential threat posed by a reunified Germany. Brent Scowcroft was acutely aware of Mrs. Thatcher's concerns. It took all of his and President Bush's patient, personal diplomacy to persuade Mrs. Thatcher that a reunified Germany within NATO and the European Community was a prize worth winning. Margaret Thatcher graciously acknowledged Scowcroft's pivotal role in this relationship in a personal cable to him when Scowcroft's wife, Jackie, was dangerously ill. It concluded, "We, all of us, from the President down, depend on you very much. You are an absolute tower of strength." George Bush and Margaret Thatcher respected and trusted each other, but the personal chemistry was never as strong as it had been between Reagan and Thatcher. Brent Scowcroft was the emollient in the relationship, reducing the friction enabling these two world leaders to work effectively.
The rapport Brent Scowcroft established with John Major in 1989 helped smooth the transition when, in December 1990, Major succeeded Thatcher as British Prime Minister. Later, in his autobiography, John Major commented on how relaxed and easy his first formal bilateral with President Bush was: "There was no hesitation. No unease. No holding back. No probing to find out the other's position. After a few relaxed courtesies we turned to business." Brent Scowcroft's quiet, personal diplomacy had set the tone and helped established the trust that sustained the Bush-Major relationship for the remaining two years of the Bush Presidency as they prosecuted the war against Saddam Hussein and dealt with the collapse of the Soviet Union and the ethnic cleansing in the Balkans. In 1993, on Prime Minister Major's recommendation, Her Majesty Queen Elizabeth II honored General Scowcroft with an Honorary Knighthood in recognition of his contribution to the "Special Relationship."
Diplomacy requires tact, discretion, courtesy, graciousness, high intelligence and the ability to build lasting relationships of trust. Brent Scowcroft had all of these qualities in abundance. A soft-spoken man but with strong views, Scowcroft worked with—and had been buffeted by—some of the largest figures in national security policy, on both sides of the Atlantic. He was at the center of countless key policy decisions, but typically the man in the background rather than the man out front. He challenged orthodoxy, but rarely people. He was fond of saying that the smartest thing he ever did was to surround himself with people smarter than he—which was difficult to do. He garnered respect from all sides of the aisle, worked harder and longer than anyone else, and earned a trusted reputation for "speaking truth to power."
In addition to his contributions to sound policy, Brent Scowcroft will also be remembered for having established a sound model for the process by which policy is made and how a president's National Security Advisor should best function. Developed in reaction to the high-profile, globe-trotting Kissinger model, the Scowcroft model envisaged the National Security Advisor as a behind the scenes coordinator; an honest broker who managed the National Security Council process and ensured that the often differing viewpoints of key foreign policy agencies—State, Defense, Treasury, the intelligence community, and others—were presented to the President.
Most of all, Brent Scowcroft should be remembered for the moral compass that underscored an unrelenting commitment to service, a determination to base policy on national interest grounded in the best analysis that could be brought to bear from whatever quarter, and an unwavering sense of his own humanity and the compassion that came with it.
In 2009, the Air Force Academy established the Brent Scowcroft Professorship in National Security Policy to commemorate his distinguished service to his country and to serve as a continuing reminder of the professionalism, integrity, and critical intellect that marked that service. When that professorship was established, Scowcroft's charge was, again, deceptively simple—"teach cadets not what to think, but how to think." These days, such a mandate could not be more important, and not just for military academies.
General Scowcroft's death robs not only the United States, but also Britain and all of America's allies, of its wisest soldier-scholar-statesman, its finest thinker and practitioner.
Today, the U.S.-UK special relationship does not reflect the kind of mutual trust, shared vision, and foundation of common values and interests that had been its defining character. But it can be again. To honor General Scowcroft's memory, we propose that the U.S. and British governments take the initiative to restore the trust now so badly frayed between Washington and London. The relationship is too important, today's political environment too fragile, and the stakes too high to assume this critical relationship will endure without proper sustenance. Senior officials from each government, committed to reinvigorating the special relationship should be appointed to coordinate an ongoing strategic dialogue, culminating in an annual meeting of the President, Prime Minister, and senior cabinet ministers to chart policies on a full range of global and regional issues.
And so, we mourn the passing of a great and good man, a master strategist. Like Senator Claiborne Pell, Brent Scowcroft was the kind of public servant America's Founders hoped for—a man of principle, unquestioned and unquestionable integrity, humility, and decency. Brent Scowcroft was a soldier-scholar-statesman with great instincts and impeccable judgment who helped steered the world through the biggest and most dangerous realignment of global politics since the end of the Second World War. We may not see his like again.
Dr. Ray Raymond is a former British Diplomat and Emeritus Professor of Government and History at the State University of New York Stone Ridge.  He is also Adjunct Professor of Comparative Politics and International Relations at the U.S. Military Academy at West Point, and Adjunct Fellow at the Pell Center for International Relations, Salve Regina University, Rhode Island. 
Dr. Schuyler Foerster is a retired Air Force officer who taught at the U.S. Air Force Academy as the Brent Scowcroft Professor for National Security Studies.  He currently is principal of CGST Solutions and is a visiting professor at Colorado College and Masaryk University in the Czech Republic.
Raymond and Foerster are coauthors of "The US-UK Special Relationship at a Critical Crossroads," Issue Brief, The Atlantic Council, 21 July 2017.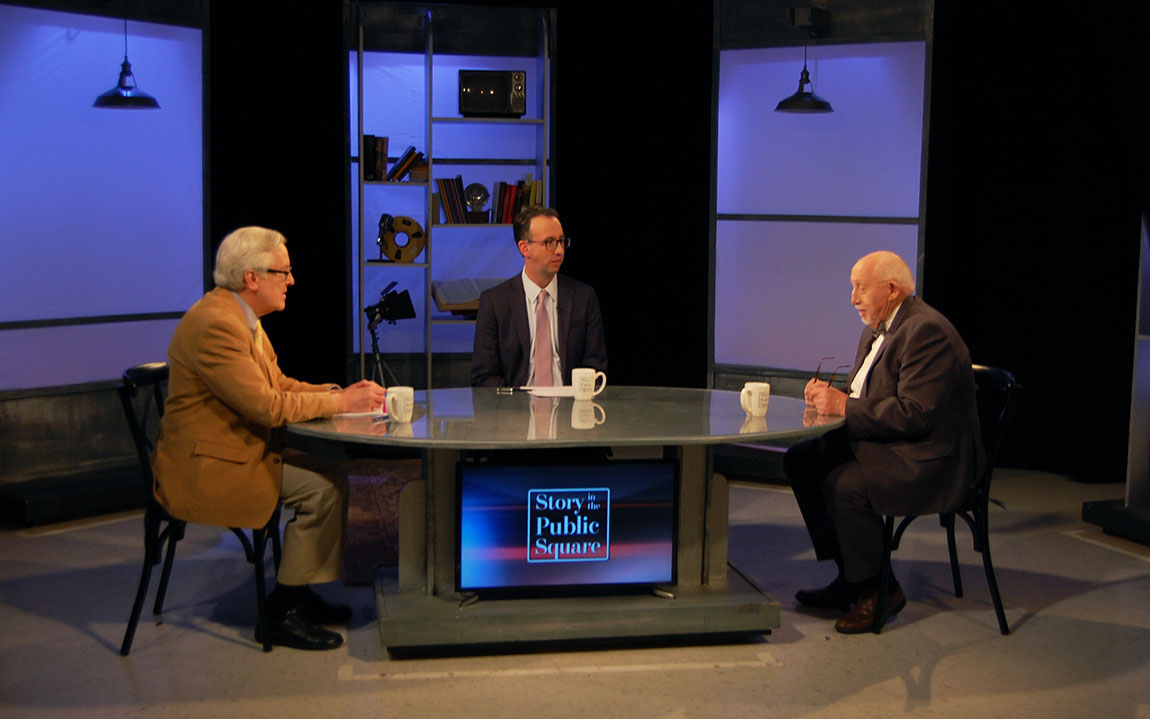 Air Dates: March 12-17, 2019
Democracy relies on facts, accurately reported and commonly understood—and journalists play an essential role in building that shared body of knowledge. Llewellyn King argues that technological change is placing great strain on our democratic societies.
Llewellyn King is the creator, executive producer and host of "White House Chronicle," a weekly news and public affairs program, airing nationwide on more than 200 PBS and public, educational and government (PEG) access television stations and the commercial AMGTV Network, and worldwide on Voice of America Television. Now in its 20th year on the air, "White House Chronicle" episodes can also be viewed on the program's website or on Vimeo.
King's remarkable career in journalism began in Southern Rhodesia, now Zimbabwe, where he was hired (at age 16) as a foreign correspondent for Time magazine. He also reported from Africa for London's Daily Express, News Chronicle, and United Press.
In addition to broadcasting, King writes a weekly column for the InsideSources Syndicate. Previously, his column was distributed by the Hearst-New York Times Syndicate and Knight-Ridder Newspapers. Over the years, King's insightful reporting and analysis of the energy industry led to frequent guest spots on TV news shows, including NBC's "Meet the Press" and PBS's "The NewsHour with Jim Lehrer," and on CNN.
"Story in the Public Square" broadcasts each week on public television stations across the United States. A full listing of the national television distribution is available at this link. In Rhode Island and southeastern New England, the show is broadcast on Rhode Island PBS on Sundays at 11 a.m. and is rebroadcast Thursdays at 7:30 p.m. An audio version of the program airs 8:30 a.m. & 6:30 p.m. ET, Sundays at 4:30 a.m. & 11:30 p.m. ET on SiriusXM's popular P.O.T.U.S. (Politics of the United States), channel 124. "Story in the Public Square" is a partnership between the Pell Center and The Providence Journal. The initiative aims to study, celebrate and tell stories that matter.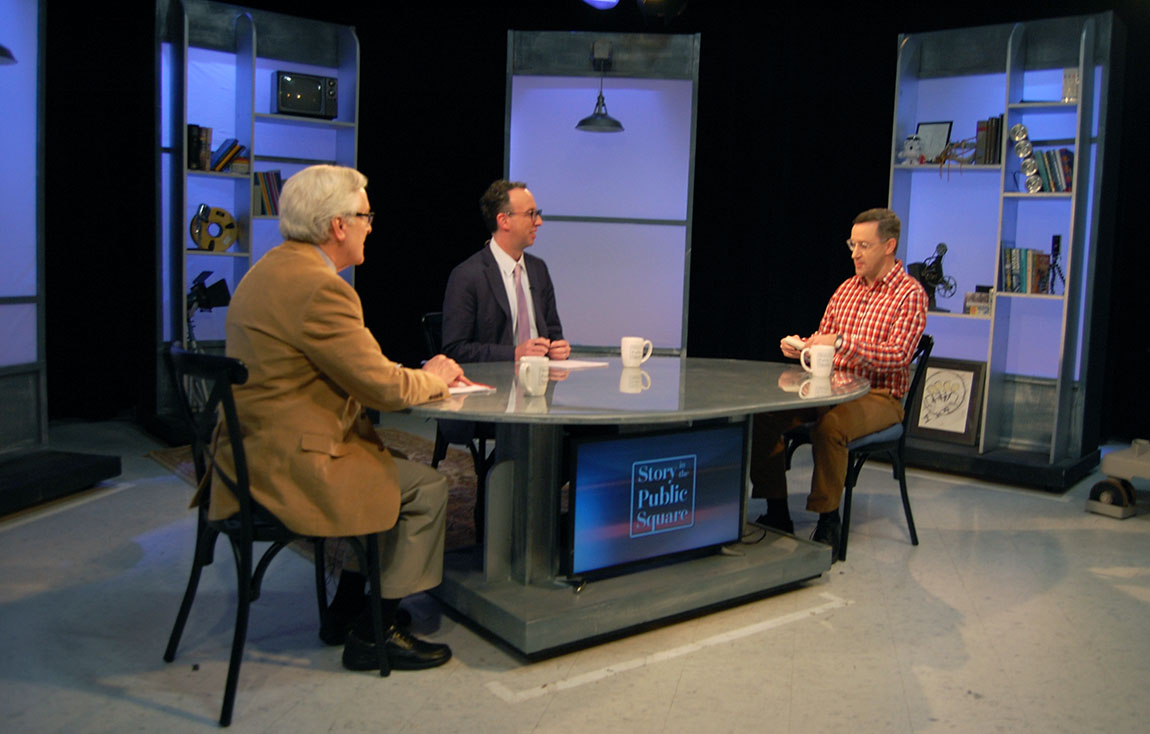 Air Dates: March 5 – 10, 2019
Stories are sometimes told with a particular message for their audiences.  Other times, they are just stories. And in some cases, you can't tell the difference. Enter the playwright, songwriter and novelist Jeff Jackson, who explores the intersection of fame and violence in a remarkable new novel.
Jackson is a novelist, playwright, visual artist, and songwriter. His second novel Destroy All Monsters: The Last Rock Novel, was published by Farrar, Straus & Giroux in Fall 2018. On publication, it was critically acclaimed by many outlets, including The Washington Post, New York Times, Los Angeles Times, Chicago Review of Books and Publisher's Weekly. It is described by the publisher as:
"An epidemic of violence is sweeping the country: musicians are being murdered onstage in the middle of their sets by members of their audience. Are these random copycat killings, or is something more sinister at work? Has music itself become corrupted in a culture where everything is available, everybody is a "creative," and attention spans have dwindled to nothing?"
Jackson lives now in Charlotte, North Carolina, where he has been an adjunct professor at the University of North Carolina, teaching film. In his most recent artistic endeavor, since completing "Destroy All Monsters" Jackson has become a singer and songwriter for the band Julian Calendar, which performs live and has released an album, "Parallel Collage," available on Spotify and Bandcamp.
"Story in the Public Square" broadcasts each week on public television stations across the United States. A full listing of the national television distribution is available at this link. In Rhode Island and southeastern New England, the show is broadcast on Rhode Island PBS on Sundays at 11 a.m. and is rebroadcast Thursdays at 7:30 p.m. An audio version of the program airs 8:30 a.m. & 6:30 p.m. ET, Sundays at 4:30 a.m. & 11:30 p.m. ET on SiriusXM's popular P.O.T.U.S. (Politics of the United States), channel 124. "Story in the Public Square" is a partnership between the Pell Center and The Providence Journal. The initiative aims to study, celebrate and tell stories that matter.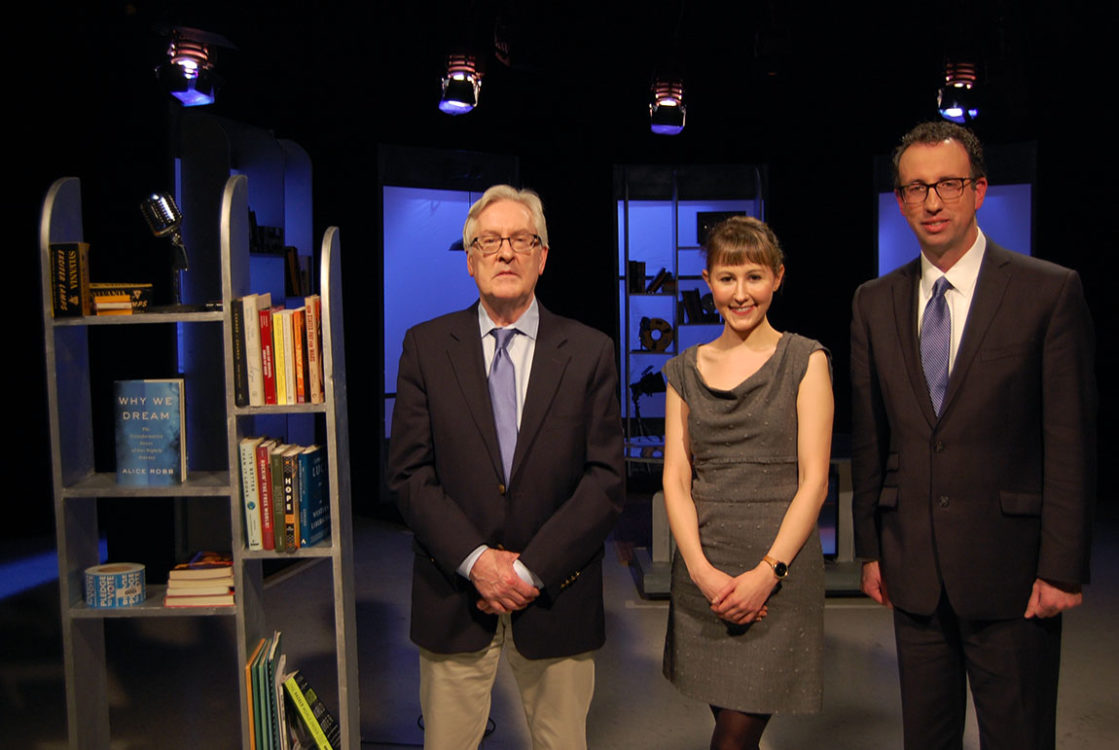 Air Dates: February 26 – March 3, 2019
Poets, rock stars, authors—and even we mere mortals—all share a nightly sojourn—a temporary stay–in the land of dreams. Alice Robb argues they are not just flights of fancy, but critical to health and happiness in our waking hours too.
Robb is a science writer whose work has been published in The New Republic where she was a staff writer, The New York Times, The BBC, The Atlantic, among others. She graduated from Oxford with a BA in Archaeology and Anthropology. Her book, Why We Dream, published in November of 2018, is described by Houghton Mifflin:
"Robb draws on fresh and forgotten research, as well as her experience and that of other dream experts, to show why dreams are vital to our emotional and physical health. She explains how we can remember our dreams better—and why we should. She traces the intricate links between dreaming and creativity, and even offers advice on how we can relish the intense adventure of lucid dreaming for ourselves."
"Story in the Public Square" broadcasts each week on public television stations across the United States. A full listing of the national television distribution is available at this link. In Rhode Island and southeastern New England, the show is broadcast on Rhode Island PBS on Sundays at 11 a.m. and is rebroadcast Thursdays at 7:30 p.m. An audio version of the program airs 8:30 a.m. & 6:30 p.m. ET, Sundays at 4:30 a.m. & 11:30 p.m. ET on SiriusXM's popular P.O.T.U.S. (Politics of the United States), channel 124. "Story in the Public Square" is a partnership between the Pell Center and The Providence Journal. The initiative aims to study, celebrate and tell stories that matter.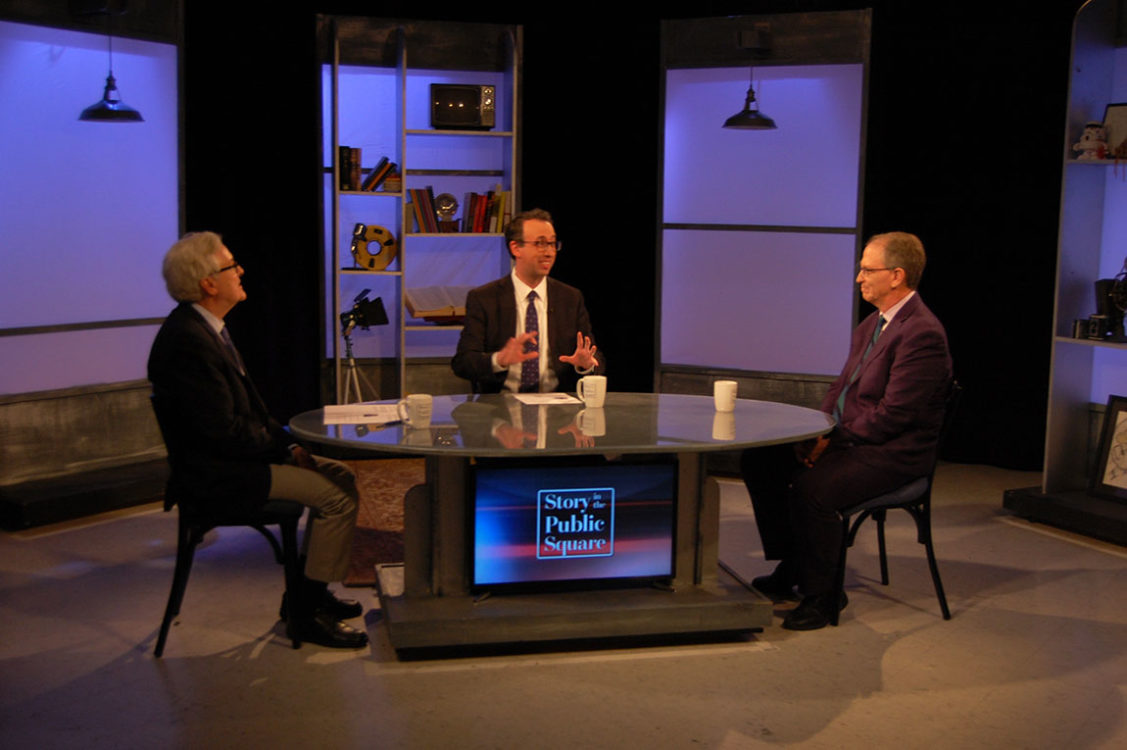 Air Dates: February 19-24, 2019
There are not a lot of examples of perfection in life—except in the world of sports. On rare and exciting nights, a baseball pitcher can throw a perfect game or a basketball player can have a perfect night shooting. But a perfect career—that's the rarest of accomplishments. Mike Stanton recounts the life of Rocky Marciano, who finished his heavyweight championship career with a perfect 49 and 0 record.
Mike Stanton is an associate professor of journalism at the University of Connecticut and the author of the best-selling 2003 book, The Prince of Providence: The True Story of Buddy Cianci, America's Most Notorious Mayor, Some Wiseguys, and the Feds; and the recent critically acclaimed, Unbeaten: Rocky Marciano's Fight for Perfection in a Crooked World.
A long-time investigative reporter for The Providence Journal before leaving to join the UConn faculty, Stanton was a leading member of The Journal team that won the 1994 Pulitzer Prize for investigative reporting, exposing widespread corruption at the Rhode Island Supreme Court. In 1997, he received the Master Reporter Award, for career achievement, from the New England Society of Newspaper Editors. He has also won prizes from Investigative Reporters and Editors, the American Society of Newspaper Editors, and the Associated Press. He is a graduate of Syracuse University and Northwestern University's Medill School of Journalism.
"Story in the Public Square" broadcasts each week on public television stations across the United States. A full listing of the national television distribution is available at this link. In Rhode Island and southeastern New England, the show is broadcast on Rhode Island PBS on Sundays at 11 a.m. and is rebroadcast Thursdays at 7:30 p.m. An audio version of the program airs 8:30 a.m. & 6:30 p.m. ET, Sundays at 4:30 a.m. & 11:30 p.m. ET on SiriusXM's popular P.O.T.U.S. (Politics of the United States), channel 124. "Story in the Public Square" is a partnership between the Pell Center and The Providence Journal. The initiative aims to study, celebrate and tell stories that matter.