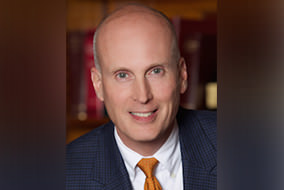 As one of the Pell Center's new adjunct fellows for cybersecurity, Paul McGreevy is ready to bring his expertise to the Rhode Island Corporate Cybersecurity Initiative.
McGreevy has spent more than 14 years as a senior management and IT consultant with KPMG LLP, BearingPoint Inc. and Deloitte Consulting LLP, where he specialized in business strategic planning, organizational development and technology architecture for federal agencies. He also served as director of the Department of Business Regulation from 2011-2015, serving statutorily as the state banking commissioner, commissioner of insurance, real estate administrator and state boxing commissioner.
Through your experience in technology consulting and government, you've cultivated proficiency in strategic planning, business development and, above all, a strong understanding of both the private and public sectors. Why should companies, especially private financial institutions, care about cybersecurity and data protection?
As cyber attacks of all varieties become more prevalent, the bottom line of companies will be more impacted.  This may be through actual financial theft, loss of intellectual property and reputation, and/or exposure to legal liability, either civil or criminal.  This last impact may be the most significant in the coming years as privacy concerns generate shareholder and customer law suits.
How have you seen  the response to cyber threats evolve in the financial industry over the past decade?
In the recent past, losses from cyber attacks were seen as a cost of doing business.  However, as these known costs go up combined with the unknown legal risks, there appears to be a growing awareness and acceptance that cyber risk needs to be managed as a business problem, not just a technical one.
In the past few years, companies have also added new C-level roles—Chief Digital Officer (CDO) and Chief Information Security Officer (CISO). For companies who do have CDOs and CISOs, do you think they have been successful in preventing or at least mitigating cyber incidents vs. companies without CDOs and CISOs?
The key factor is not the title or adding another box to the organization chart, but what authority these positions have and their relationship with the other C-level roles – and the Board of Directors for public companies.   If they are truly part of the leadership team and business decisions, then they can be more successful.
What can be done to encourage more companies and organizations to understand the importance of a strong cybersecurity position within their organization and to invest in best cybersecurity practices?
The biggest impact can be achieved by making the leadership more aware of the nature of the threat, and that it is evolving rapidly, and their central role in mitigating the effects.  The Pell Center is positioned to help in this dialog.  This is the critical role the Pell Center is playing today.
You actively reached out to Francesca Spidalieri, the Pell Center's Senior Fellow for Cybersecurity Leadership, to become more involved with the Center. How did you identify the Pell Center as a leader in cybersecurity research and as a leading facilitator of public-private partnerships, information-sharing efforts, and cybersecurity education/training in the state?
As a former director of a state regulatory agency of financial institutions, I recognized we needed help in defining and addressing this issue from a top-down, leadership perspective as opposed to a purely technical one.  The Pell Center is perfectly positioned to assist in this way.  They assisted our agency with awareness training and facilitating cross agency discussions involving legislation, policy development, table-top planning exercises and even intern support.  I hope I am able as an adjunct fellow at the Pell Center to further develop partnerships with both government and private entities in order to increase our economy's ability to address the cyber threat.
Beyond mitigating cyber threats, what are other pressing economic challenges our elected officials will have to face?
I believe there is an economic opportunity in the world of cybersecurity challenges in which we find ourselves.  In addition to the direct business opportunities for firms that can assist in mitigating the threat, general economic growth can be facilitated by the local, state, or national economy that can create the business climate that fosters a proactive view of cybersecurity.  This economy will attract business and encourage start-ups that seek a safer environment than might be available elsewhere.  This will be true for small as well as large businesses since as the nature of the threat multiplies all types of companies may be targets.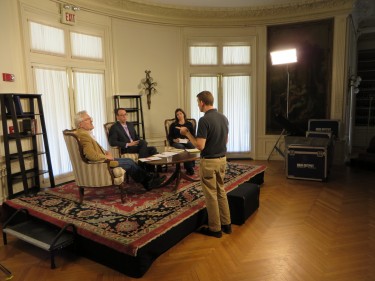 Go behind the scenes as the Pell Center tapes the pilot episodes of "Story in the Public Square," scheduled to air on Rhode Island PBS in Fall 2015.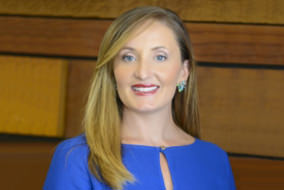 NEWPORT, R.I.—Pell Center Senior Fellow for Cyber Leadership Francesca Spidalieri has been appointed by Governor Gina M. Raimondo to the newly established Rhode Island Cybersecurity Commission (RICC).
The new commission is tasked with developing a clear strategy to make Rhode Island more secure and resilient to cyber threats while simultaneously fostering innovation and economic development opportunities in the state.  The Executive Order establishing RICC was signed in May 2015, and its members met in June to set goals and a timeline for their work.
"I am honored to be a part of the governor's cybersecurity commission," Spidalieri said. "Working with colleagues in both the public and private sector from across the state gives us a great opportunity to help position Rhode Island as cybersecurity leader. I hope our recommendations to Governor Raimondo will serve as an example for other states to follow."
Spidalieri's first task for the commission will be to brief its members during their first public summit on July 16, 2015, at the U.S. Naval War College in Newport.  Her presentation will review examples of how other state governments have structured and organized their responses to cyber threats.  Her research and findings in this area will also be the subject of an upcoming Pell Center report: "State of the States on Cyber." The Pell Center will host the afternoon session of the July summit on frameworks for protection and resiliency, and the entire summit on October 15th focused on industry and workforce development.
In addition to her review of other state responses to cyber threat, Spidalieri will provide input and expertise for the commission's working group on Workforce Development and Skills Training.   The working group is charged with conducting an assessment of the current cybersecurity workforce development and education activities in Rhode Island, including curricula, certificates, and training credits offered, and to develop a set of recommendations that address both gaps and opportunities.  Several of Spidalieri's studies at the Pell Center explore similar issues, giving her and the commission a ready-body of knowledge from which to draw.
"Francesca's appointment to the Rhode Island Cybersecurity Commission speaks to all that she has accomplished at the Pell Center," said Pell Center Executive Director Jim Ludes. "She's played a giant role in our development of real expertise in cybersecurity leadership.  So this appointment isn't just an opportunity—it's recognition for her role as a thought leader in the state.  We're grateful to her for all she's done, and happy that other people see it too."
Newport, R.I.—Three accomplished professionals have joined the Pell Center as fellows. Brandon Catalan and Paul McGreevy will be contributing their expertise to the cyber leadership project and the Pell Center's Rhode Island Corporate Cybersecurity Initiative (RICCI), whereas Brig. Gen. Peter Zwack, USA (Ret.) will provide insight on international affairs, especially the West's relationship with Russia.
"Over the past few years, the Pell Center has built a cohort of thought leaders from a variety of different fields," said Pell Center Executive Director Jim Ludes. "This new crop of fellows is no different.  From the technical to the strategic, the expertise Brandon, Paul, and General Zwack bring to the Pell Center reflects the challenges facing the United States today."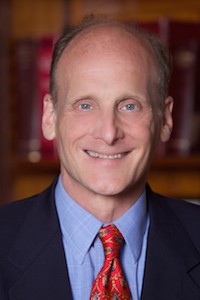 General Zwack recently retired after more than 34 years of military service, in his final posting as the U.S. defense attache in Moscow after serving in key leadership and staff positions in Afghanistan, South Korea, the Balkans, and Germany. In Moscow, Zwack was eyewitness to the tumultuous events and troubling changes in President Putin's Russia with serious consequences for U.S. security.
"General Zwack brings wonderful recent experience in Russia at a time when U.S.-Russian relations are troubled," continued Ludes.  "We're lucky to have him working with us."
Catalan has close to a decade's worth of combined government and academic experience in the fields of digital forensics, cyber intelligence, network exploitation, and information security.  He has held technical leadership roles in defense industry where he provided counter-intelligence support to focused cyber operations and has also served with several agencies within the U.S. intelligence community on matters relating to surveillance and target acquisition, cyber exploitation, malicious code forensics, and adversarial tactics, techniques, and procedures.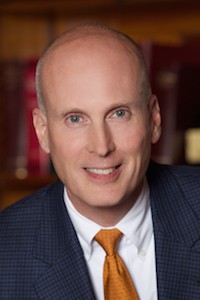 After serving in the Navy and reaching rank of lieutenant commander, McGreevy spent more than 14 years as a senior management and IT consultant with KPMG LLP, BearingPoint Inc. and Deloitte Consulting LLP, where he specialized in business strategic planning, organizational development, and technology architecture for federal agencies.  McGreevy also served as project manager for Lincoln Chafee's winning gubernatorial campaign, as well as Director of the Department of Business Regulation from 2011-2015, serving statutorily as the state banking commissioner, commissioner of insurance, real estate administrator, and state boxing commissioner.
Senior Fellow for Cyber Leadership Francesca Spidalieri praised Catalan and McGreevy. "As the Cyber Leadership project gains momentum," she said, "Brandon's background in advanced cyber threats and digital forensics and Paul's approach to cybersecurity through the business and finance industry will serve as great assets to both our research and community engagement efforts."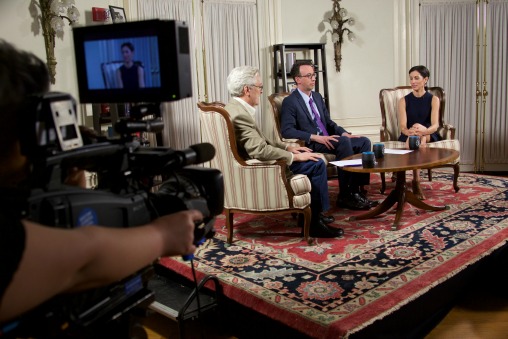 NEWPORT, R.I.—The Pell Center at Salve Regina University has announced its latest undertaking—a talk show that interviews today's best storytellers about their creative process and how their stories impact public understanding and policy.
The show, "Story in the Public Square," taped its first two episodes on June 5 and June 8, with Lisa Genova, best-selling author of Still Alice, and New York Times journalist Dan Barry, appearing as guests.
"Story in the Public Square" is named after the Center's initiative to study, tell and celebrate stories that matter. Initially presented as a conference, Pell Center Executive Director Jim Ludes and G. Wayne Miller, Director of Story in the Public Square and Providence Journal staff writer, saw an opportunity to expand the program's reach.
"Our conferences in the past were incredibly well-received by attendees, but we wanted to find a way to share the program's insights with a broader audience," says Ludes. "We are grateful to have the support from The Providence Journal, the University and our newest partner, Rhode Island PBS, to make this effort possible."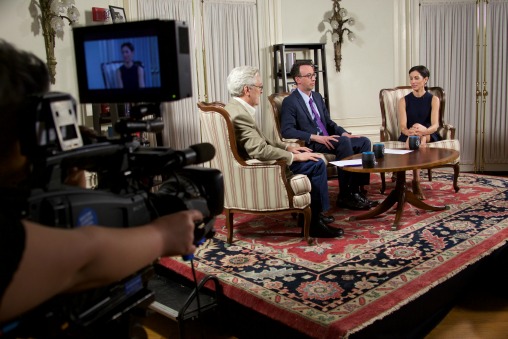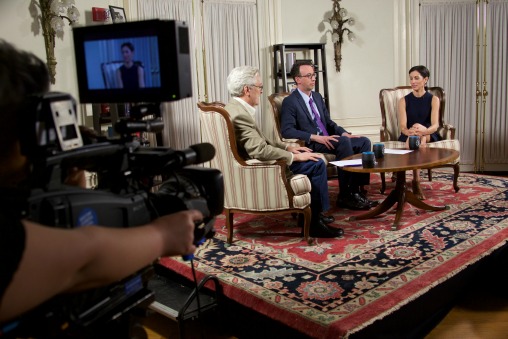 Ludes and Miller, who describe the concept as "Inside the Actor's Studio" meets CNN, also serve as co-hosts for the talk show. Each brings a unique perspective and professional experience to the project.  Miller—an accomplished storyteller in his own right—has published 14 books, as well as a number of series for The Providence Journal, including "Into the Heart: A Medical Odyssey," a nine-part series on the invention of open-heart surgery and "The War on Terror: Coming Home," an eight-part series about returning veterans of the post-9/11 wars in Afghanistan and Iraq. He also produced a documentary, "Coming Home," which was nominated for Outstanding Documentary at the New England Emmy Awards.
Ludes, in contrast, is the self-described "policy guy."  In nearly 20 years in Washington, D.C., Ludes immersed himself in national security issues, served as a national security advisor to then-Senator John Kerry, now Secretary of State, built a think-tank, and shepherded President-elect Obama's four priority nominees for leadership of the Department of Defense through successful Senate confirmations.
While the hosts come at the show from different perspectives, the conversation brings them together.  Miller focuses on the guest's storytelling craft, while Ludes explores the ways in which the guest's work contributes to shaping public understanding of issues and, where appropriate, policy itself.  Together, the two hosts hope to educate audiences not simply about any single issue a guest may talk about, but about the power of storytelling in American society today.
The first two guests, appearing before live audiences at the Pell Center in Newport, R.I., set the bar high.
Lisa Genova, who also won the 2015 Pell Center Prize, was the first guest on Story in the Public Square. In a smart and provocative conversation, she shared how her personal narrative shaped her voice as an author and the impact of her work on communities hidden by neurological disease and conditions.  Having earned a Ph.D. in neuroscience from Harvard University, Genova is uniquely qualified to bring these stories to life.  In four best-sellers, she's profiled people living with Alzheimer's disease, autism, traumatic brain injury, and now Huntington's disease, in her latest book, Inside the O'Briens.  She sees herself as an advocate for people who heretofore have been lost in public discussions, set aside by society that is intimidated—if not scared—by diseases and conditions they don't understand.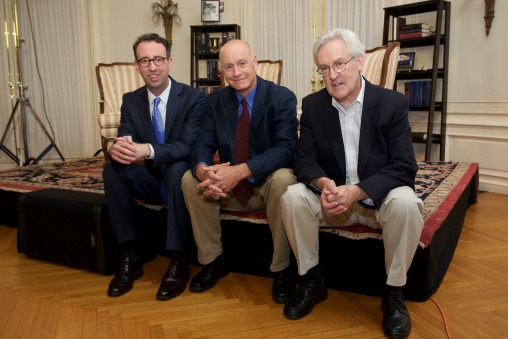 The show's second guest, Dan Barry, elaborated on how his background living in a working-class community in Rhode Island helped shape his work as journalist.  Barry, who was part of a Pulitzer-winning team at The Providence Journal, was also a finalist for two other Pulitzer prizes at the New York Times.  In columns and series for the Times, Barry often employs a behind-the-scenes approach to reporting—heading in the opposite direction of the reporters covering big events. In his coverage of riots in Ferguson, Missouri, last year, for example, Barry profiled the people who work for the police department in that embattled city.  Unlike Genova, Barry does not see himself as an advocate, but both writers spoke eloquently about the importance of empathy in their work.
"In their own unique ways, Lisa and Dan are exactly the kind of storytellers we will profile on Story in the Public Square," said Miller.  "Their stories are full of heart, emotion, unforgettable characters, and meaning.  Whether they see themselves as advocates or not is almost irrelevant.  The fact is, both of these writers give voice to those who are otherwise voiceless—and in so doing enrich the public debate."
With the pilot episodes taped, Ludes and Miller are now focused on building a successful series.  "Rhode Island PBS has committed to broadcasting the episodes we've shot in Fall 2015," said Ludes.  "But these are stories that deserve the biggest audience."  To gain national distribution, the show will need at least 12 episodes.  "It's all about funding at this point," continued Ludes.  "We know we've got a great idea.  Now we need to find the sponsor who will bring this to a national audience."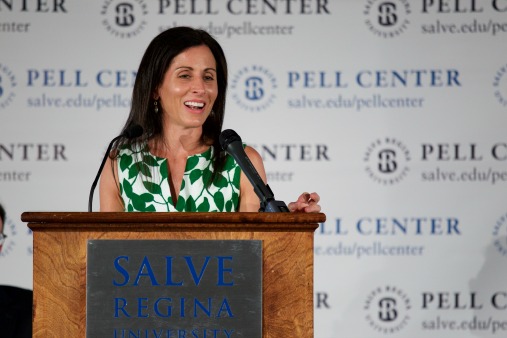 NEWPORT, R.I.—Lisa Genova is on a mission.  The Harvard-trained neuroscientist and author of four best-selling novels, including Still Alice and the recently published Inside the O'Briens, wants to use the books she writes to change lives, end stigma, and create a world where we can talk about survivors of Alzheimer's and other neurological diseases and conditions.
Genova was honored for her work with the 2015 Pell Center Prize for Story in the Public Square on June 4.  The award is given each year to a storyteller whose work contributes to public understanding on important issues.
The scale of the task Genova has set for herself is difficult to grasp.  In 2015, 5.4 million Americans are living with Alzheimer's disease—a number that is projected to grow to 16 million by 2050.  This year, the direct costs of Alzheimer's care will total $226 billion.  By 2050, that number will grow to $1.1 trillion—a significant portion of which is paid by Medicare. Alzheimer's disease is the sixth most deadly disease in the United States, yet it is the only disease in the top ten for which there is no known prevention or cure.  That's not to say researchers aren't trying.  According to Fortune magazine, between 2002 and 2012, pharmaceutical companies brought 244 compounds to trial to treat Alzheimer's.  Unfortunately, only one compound received FDA approval while 14 are still being tested.  The success rate in that time-frame for Alzheimer's drugs seeking FDA approval was 0.4%; for cancer the success rate was 19%.
For Genova, her mission began when her grandmother died of Alzheimer's.  "I come from a large Italian family," the author said in accepting the Pell Center Prize, "and I wasn't [my grandmother's] primary caregiver."  But with a Ph.D. in neuroscience from Harvard University, Genova set out to learn everything she could about Alzheimer's and share it with her parents and aunts.
"I did that," Genova explained.  "I learned quite a bit, but it was mostly about how to be a caregiver.  And I learned a lot about the neuroscience of Alzheimer's which was fascinating to me as a neuroscientist but it didn't help me, as a granddaughter, stay connected to my grandmother who didn't know who I was."
At the time, Genova confided to a friend, "Someday, I want to write a novel about a woman with Alzheimer's and tell it from her perspective."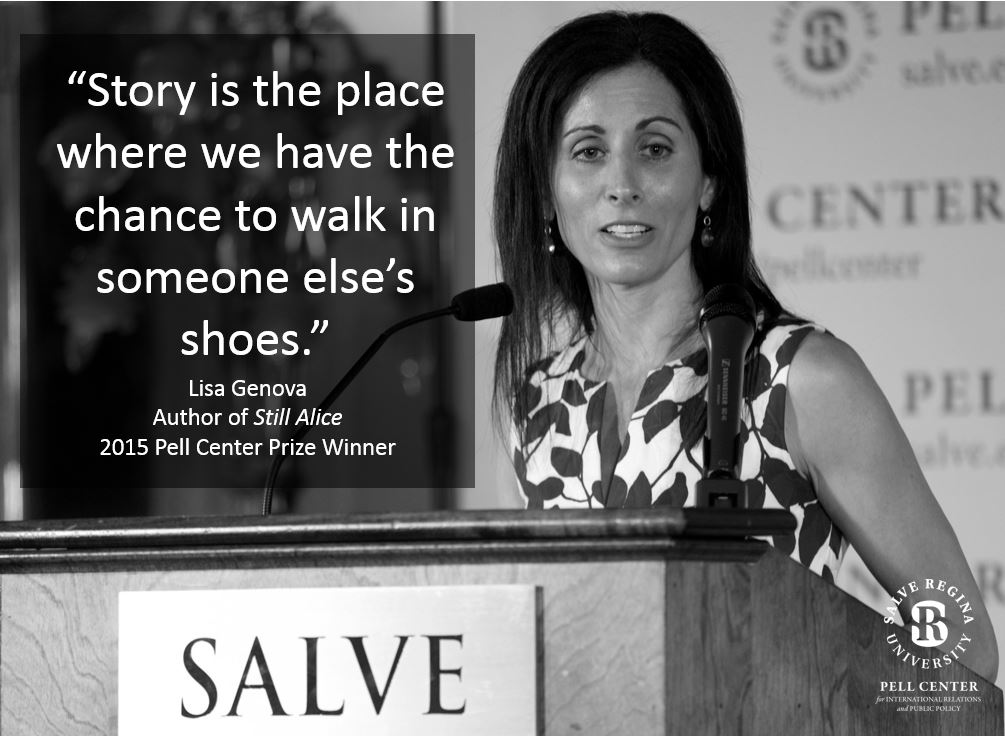 That someday came several years later when Genova began to write.  "I had that intuitive understanding—that fiction, that story—is the place where we have the chance to walk in someone else's shoes," Genova said, "that we can explore empathy, and that if you have empathy, then that's the way that you can stay connected to someone who might not remember who you are; or remember how you are connected.  But you can still feel that connection if I can understand you, despite your losses in memory or cognition or language."
Still Alice went on to incredible success.  After selling the novel out of the trunk of her car for 10 months as a self-published author, the novel about a Harvard professor living with early-onset Alzheimer's has spent 56 weeks on the New York Times best-seller list and was adapted into a major motion picture.  Julianne Moore won an Academy Award in 2015 for her portrayal of Alice.
For Genova, though, the mission is not just about Alzheimers.  The three novels that followed Still Alice focused on other neurological conditions and diseases: Left Neglected (traumatic brain injury); Love Anthony (autism); and Inside the O'Briens (Huntington's disease).  Each new novel has been a best seller, and each has opened a conversation that Genova believes is key to the fight against these diseases and conditions.
"We've seen this happen with cancer," Genova said.  "No one spoke about cancer 40-50 years ago. They whispered. It was called the 'Big C,' right? Nobody spoke of cancer and so we didn't wear the looped ribbons and bake casseroles and go on carpools and support our neighbors and loved ones who had cancer. They went through that alone. And something changed. It was conversation; we began talking about it openly. And then all of the looped ribbons and the walks and things started to happen. And it's no coincidence that we now have treatments and survivors."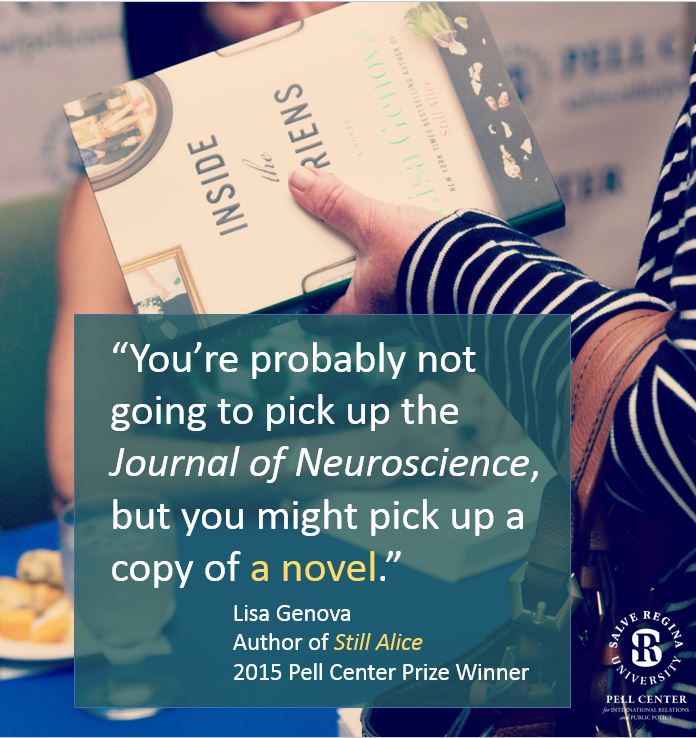 "And so one of the things that I believe that Still Alice has done, and that I'm doing as well with the other books, is inviting conversation about topics that are pretty scary," Genova continued.  "You're probably not going to go read the Journal of Neuroscience this month but you might pick up a copy of a novel."  Then, in conversations with friends and family, Genova believes understanding will grow—and that in itself is something: "We may not be able to cure these diseases today but we can do something about the loneliness."
The Pell Center prize was presented to Genova by Pell Center Executive Director Jim Ludes, Story in the Public Square Director G. Wayne Miller, and Salve Regina University President Sister Jane Gerety.
"The emotional power of each of Lisa's novels is remarkable," said Ludes.  "My thought, as I read them before meeting Lisa, was that she had to be someone of tremendous empathy.  To write, as she does so beautifully, of those who society has simply written off, to give voice to the voiceless through stories that are wonderfully accessible, that's a rare gift.  We are so happy to honor her."
"I tend to stay focused on my purpose," concluded Genova, "which is writing stories that will help people living with neurological diseases and conditions feel less ignored, less feared, and understood. This, this honor tonight is so incredibly deeply meaningful to me, so thank you."
A partnership between the Pell Center at Salve Regina University and The Providence Journal, Story in the Public Square is an initiative to study, celebrate, and tell stories that matter. The Pell Center Prize for Story in the Public Square is an award recognizing a contemporary storyteller whose work has had a significant impact on the public dialogue—previous winners are Pulitzer Prize winning journalist Dana Priest (2013) and Emmy-winning screenwriter Danny Strong (2014). For more information on Story in the Public Square, please visit public story.org.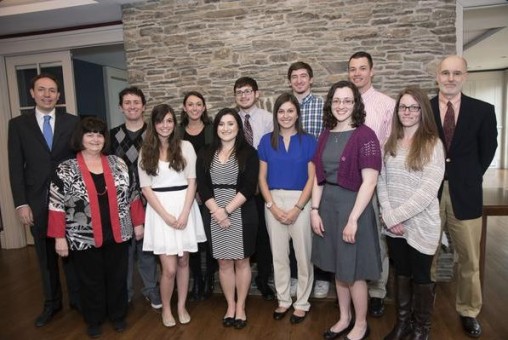 Newport, R.I.—Sixty-six Rhode Island students earned the Herbert and Claiborne Pell Medal for U.S. History this year.  The medal, administered now by the Pell Center at Salve Regina University, recognizes college and high school students in the state who have excelled in U.S. History.
The Pell Medal was originally presented by Senator Claiborne Pell and his wife, Mrs. Nuala Pell, for more than 50 years. After Mrs. Pell's passing in April 2014, the Pell Center at Salve Regina University agreed to become the steward of the medal process.
"It has been a joy and an honor to recognize many of our most promising students across Rhode Island," said Clay Pell who has personally presented several of the medals at events across the state.  "To me, this medal represents my grandparents' reverence for the past as well as their confidence in future generations."
Pell Center Executive Director Dr. Jim Ludes said, "While I chose a career in public policy, I prepared for that career by studying history. So I'm especially grateful that the Pell Center can help continue this beautiful tradition."
Established by the Pell family, the Pell Medal is named for Representative Herbert C. Pell and his son, Senator Claiborne Pell.  Herbert Pell served as a member of Congress and American Minister to Portugal and Hungary, while Claiborne Pell, who is responsible for the creation of the Pell Grants and the National Endowment for the Humanities, served in the Senate for 36 years and worked to strengthen American foreign policy.
"I also want to recognize Ms. Jan Demers," said Ludes.  "For years Jan helped Senator and Mrs. Pell administer the medal.  We at the Pell Center know we have big shoes to fill in our new role and we are grateful for the support and encouragement Jan has given us."
The winners of the 2015 Herbert and Claiborne Pell Medal for excellence in the study of U.S. History are:
Barrington
F. Nelson Blount, St. Andrew's School
Madeline Schirber, Barrington High School
Bristol
Sabrina Dasilva, Mount Hope High School
Andrew Carter, Roger Williams University
Central Falls
Leslie McBurney, Central Falls High School
Coventry
Jared Flamand, Coventry High School
Cranston
Jonathan Penta, Cranston High School East
Cumberland
Justin Wood, Cumberland High School
East Greenwich
Zachary Johnson, East Greenwich High School
Mary McKenney, Rocky Hill School
East Providence
Monica Barbosa, East Providence High School
Dante Diwan, Providence Country Day School
Harrisville
Samantha Mancone, Burriville High School
Johnston
Tiana D'Acchioli, Johnston Senior High School
Kingston
Rebecca Giguere, University of Rhode Island
Lincoln
Benjamin P. Chiacchia, Lincoln High School
Reymy Pena, William M. Davies, Jr. Career and Technical High School
Middletown
Erin Keating, St. George's School
Samantha Plezia, Middletown High School
Narragansett
Rayne Henley, The Ocean Tides School
Cole Metzger-Levitt, Middlebridge School
Eileen Sullivan, Narragansett High School
Newport
Mitchell Cardon, Paul W. Crowley East Bay Met School
Catherine Hermes, Rogers High School
Jessica Rose, Salve Regina University
Brandon Watson, Paul W. Crowley East Bay Met School
North Kingstown
Joseph Black, North Kingstown High School
Lydia Sgouros, North Kingstown High School
North Providence
Brendan Walker, North Providence High School
North Scituate
Christine Wagner, Ponaganset High School
North Smithfield
Diane Newberry, North Smithfield High School
Pawtucket
Vanessa Dos Anjos, St. Raphael Academy
Nathan Gagnon, William E. Tolman High School
Judiana Moise, Blackstone Academy Charter School
Djita Sidibe, Charles E. Shea High School
Portsmouth
David Brower, Portsmouth Abbey School
Chris Norton, Portsmouth High School
Providence
Estrella Argueta, Hope High School
Elizabeth Bitgood, Rhode Island College
Jasmin Cantera, Academy for Career Exploration
Johanny Castillo, Paul Cuffee Upper School
Hannah Duncan, Brown University
Lexus Fernandez, Mount Pleasant High School
Emma Funaki, Rhode Island School of Design
Kaly Heng, Central High School
Julianna Marandola, La Salle Academy
Henry Mayer, Classical High School
James Morin, Providence College
Julissa Sabater, School One
Rose Maso, Lincoln School
Scituate
Robert Capron, Scituate High School
Smithfield
Kalah Caruso, Bryant University
Megan Long, Smithfield High School
Wakefield
John Albert, The Prout School
Rieley Auger, South Kingstown High School
Warwick
Henry Cascella, Pilgrim High School
Riley Chabot, Bishop Hendricken High School
Hanah Ellis, Warwick Veterans Memorial High School
Hunter Heberg, Toll Gate High School
Tuon Mi, Community College of Rhode Island
Westerly
Kyra McCormick, Westerly High School
West Greenwich
Brianna McFadden, Exeter-West Greenwich High School
West Warwick
Kristen DiSano, West Warwick High School
Wood River Junction
Lydia Crandall, Chariho Regional High School
Woonsocket
T.J. Bergeron, Beacon Chart High School for the Arts
Adam Mercier, Mount Saint Charles Academy
Abigail Shobako, Woonsocket High School

Story Day is the annual conference for Story in the Public Square, a partnership between the Pell Center and The Providence Journal that studies and celebrates public storytelling.
Story Day 2014 examined moving images: animation, feature documentary and television, as well as short documentary and video. Through an engaging and interactive series of discussions with accomplished storytellers, the audience took part in a fun and informative day that also featured interactive storytelling, winners of the student contest, and presentation of the 2014 Pell Center Prize for Story in the Public Square to Emmy-winning screenwriter, producer and actor Danny Strong, who delivered the keynote address.
Strong's "Game Change," the 2012 HBO production about the 2008 presidential election, won a Golden Globe, a primetime Emmy, a Writers Guild of America Award and a Producers Guild of America Award. His 2008 HBO film "Recount," about the 2000 presidential election, won a primetime Emmy. Strong also wrote Lee Daniels' "The Butler" and "Mockingjay," the two-part "Hunger Games" finale.
Strong is also an accomplished Hollywood actor, having played roles in the TV series "Mad Men," "Grey's Anatomy," "How I Met Your Mother," "Seinfeld," "Gilmore Girls" and, early in his career, the character Jonathan Levinson in the hit show "Buffy the Vampire Slayer." He also acted as a producer on many of his projects, including "The Butler," "Game Change" and "Recount."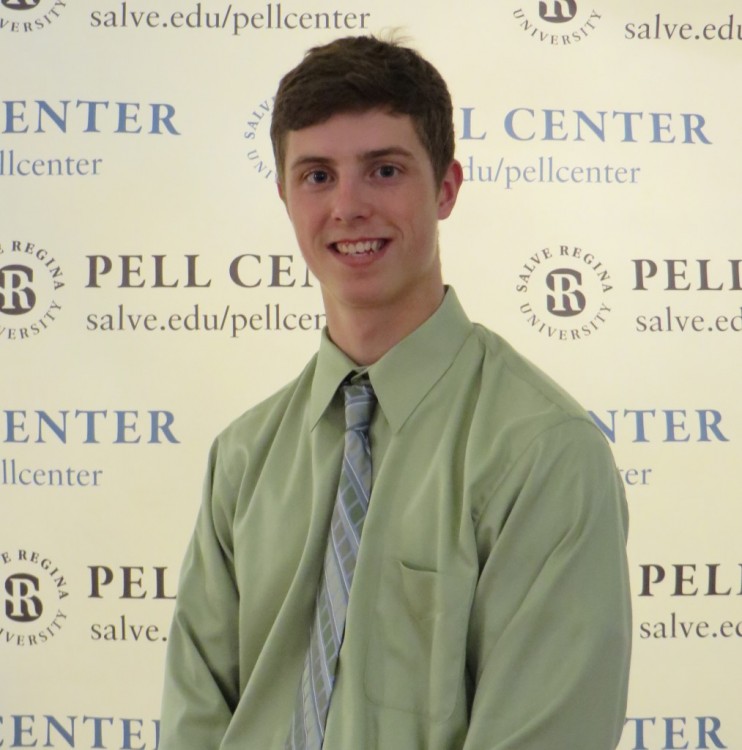 NEWPORT, R.I. — Nuala Pell Leadership Fellow Jacob Lang has been accepted to present at the Empire and Nation: Undergraduate Conference in Budapest, Hungary in August 2015.
Lang will present his paper "Israel and Changing International Politics."
A philosophy major from N. Attleboro, Massachusetts, Lang was recently selected to be a member of the 2015-2016 Nuala Pell Leadership Program. Annually, the Program provides 12 diverse, high-achieving, Salve Regina University sophomores with leadership training and opportunities.
The "Empire and Nation" conference is co-hosted by the Department of History and the Department of Medieval Studies at Central European University in Budapest. The conference is devoted to rethinking the role of empires and nations in history.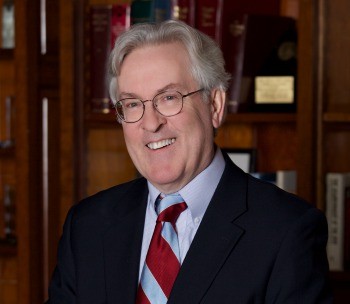 G. Wayne Miller, Pell Center visiting fellow and Story in the Public in the Square director, is a storyteller in his own right.
A staff writer for The Providence Journal,  Miller shares powerful accounts of individuals, families and loved ones affected by mental health issues and serves as an advocate for mental healthcare reform throughout Rhode Island and in the United States. Miller has also published several books, including Toy Wars: The Epic Struggle Between G.I. Joe, Barbie and the Companies That Make Them (Random House/Times Books, 1998), King of Hearts: The True Story of the Maverick Who Pioneered Open Heart Surgery (Random House/Times Books, 2000), and An Uncommon Man: The Life and Times of Senator Claiborne Pell (University Press of New England, 2011).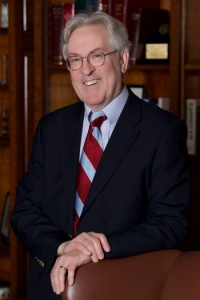 Over the course of your writing career, you've published an extensive body of work. Your portfolio consists of reporting, feature writing, fiction and non-fiction, but what's most impressive is the diversity of subjects you write about. What draws you to cover a particular subject?
First and foremost, people and their stories. I am compelled by stories of people who take journeys, who take risks, who experience love and loss, who endure, who are honest and loyal, who surprise themselves and others, who prevail despite conflict, who give back to the world, who inspire the rest of us with their courage, wisdom and tenacity. I love writing about kids, these wonderful new people who still believe in magic. I must say, however, that I am not big into villains. I guess I remain an optimist after all these years. Hard to sometimes, looking at what's happening on and to the planet, but I still do.
After people, themes. I have a great interest in public-policy issues—and "public," of course, is people. When I can marry a good people story to an important issue—well, doesn't get much better than that. My all-time favorite newspaper story remains "The Growing Season," a 12-part series in The Providence Journal about the late Frank Beazley, who spent most of his adult life as a quadriplegic at Zambarano state hospital. Here was a man who had every right to be bitter and broken, and yet he became a celebrated artist, a champion of people with disabilities, and an inspiration to us all. He raised awareness of a critical public-policy issue — how we care for the most fragile members of society—in a way few others could have. Ask anyone who saw him at General Assembly hearings or the former governors who paid him visits. I was honored and humbled to become his friend, and give him a voice in the media.
You've won nearly 50 honors and awards—most recently, the Bell of Hope Mental Health Heroes Award from the Mental Health Association of Rhode Island. In your opinion, to what extent can the power of narrative shape the public dialogue on issues like mental health?
It can have a significant effect, in a way that statistics and data can't, not that those aren't important, too. This gets back to people. Humans are hard-wired to have an interest in others, so when you tell someone's story — at least, when you tell it right — you command attention. And, in writing about people living with mental illness, you evoke empathy and compassion, which hopefully can lead to better understanding of an often-misunderstood issue, which in turn can lead to lessening of stigma and public policy change.
My most recent writing about mental health, part of a continuing Providence Journal series, was a three-part look at a woman living with bipolar disorder and her family. I chose the title, "Katie's Story," quite deliberately: the hope was that readers would see it and be drawn in by the intimacy of using a first name, and the prospect of reading a story. Since our cave-day ancestors gathered around the fire, people have loved stories!
In their remarks at the State House Bell of Hope ceremony, Elizabeth H. Roberts, secretary of the Executive Office of Health and Human Services, and Maria Montanaro, director or the state department of Behavioral Healthcare, Developmental Disabilities and Hospitals, thanked me for writing "Katie's Story," noting that it was a moving reminder of the people in their care—and the improvements needed in a fragmented and underfunded system. They are executives in positions of power to make it happen. Here's hoping.
In addition to writing, you've been successful as a film maker. Coming Home (2011), a documentary that explores the experience of veterans who fought The War on Terror in the Middle East, won the Edward R. Murrow Award from the Radio Television Digital News Association and was nominated for outstanding documentary at the 35th annual New England Emmy Awards. How does your experience as a writer complement your film making?
The key things in the writer's toolbox—the need to observe, listen, question, research, understand, etc.—were invaluable when I got into film. I quickly learned that writing and film are two sides of the same storytelling coin. Text or moving image, you're dead in the water without a good story.
In your experience, what ways are writing and film making similar? In what ways are they different?
Only difference is that one relies on words, the other more on images… Okay, there are other differences, but they are mostly technical. Writing is pretty much a solitary deal, filmmaking a collaborative effort. A pen and paper, or screen and computer, are all a writer needs; filmmakers must have the right equipment with knowledgeable operators. Editors are critical to both writing and film.
One of your books, The Uncommon Man, is an extensive biography of the late Senator Claiborne deBorda Pell, Rhode Island's longest serving senator. It happens that the National Endowment of Humanities, one of the senator's lasting legacies in the United States, is celebrating its 20th anniversary. What do you believe is the greatest legacy Senator Pell left for Rhode Island and the nation?
In a direct, concrete way: the Pell Grants. More broadly, his devotion to the public discourse and his belief that we all have a civic duty that we should exercise. These are principles incorporated in the Pell Center, needless to say.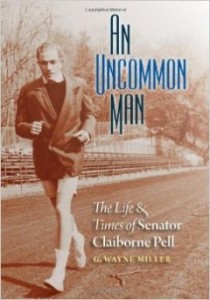 There have been many changes in the media landscape since the beginning of your career to present. Despite your workload and community involvement, how have you managed to adapt to those changes?
It helps that I get up very early—a habit that began years ago when my children were young, and I wanted to devote time to them as their days began. So the pre-dawn hours are critical to the thing dearest to my heart, after my wife and family: my writing.
In general, I have adapted by being flexible; by welcoming new ideas and formats such as social media; by never forgetting how lucky I have been to have supportive publishers and editors from the very start; and by always remembering that at the end of the day, literally and figuratively, we all love a good story.
Miller's next book, Car Crazy: The Battle for Supremacy Between Ford and Olds and the Dawn of the Automobile Age, will be released November 2015 and is now available to pre-order. Connect with Miller on Twitter and LinkedIn.