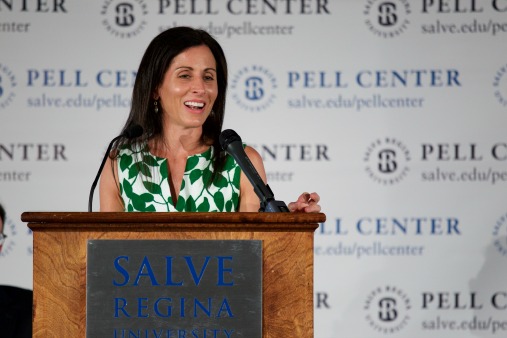 NEWPORT, R.I.—Lisa Genova is on a mission.  The Harvard-trained neuroscientist and author of four best-selling novels, including Still Alice and the recently published Inside the O'Briens, wants to use the books she writes to change lives, end stigma, and create a world where we can talk about survivors of Alzheimer's and other neurological diseases and conditions.
Genova was honored for her work with the 2015 Pell Center Prize for Story in the Public Square on June 4.  The award is given each year to a storyteller whose work contributes to public understanding on important issues.
The scale of the task Genova has set for herself is difficult to grasp.  In 2015, 5.4 million Americans are living with Alzheimer's disease—a number that is projected to grow to 16 million by 2050.  This year, the direct costs of Alzheimer's care will total $226 billion.  By 2050, that number will grow to $1.1 trillion—a significant portion of which is paid by Medicare. Alzheimer's disease is the sixth most deadly disease in the United States, yet it is the only disease in the top ten for which there is no known prevention or cure.  That's not to say researchers aren't trying.  According to Fortune magazine, between 2002 and 2012, pharmaceutical companies brought 244 compounds to trial to treat Alzheimer's.  Unfortunately, only one compound received FDA approval while 14 are still being tested.  The success rate in that time-frame for Alzheimer's drugs seeking FDA approval was 0.4%; for cancer the success rate was 19%.
For Genova, her mission began when her grandmother died of Alzheimer's.  "I come from a large Italian family," the author said in accepting the Pell Center Prize, "and I wasn't [my grandmother's] primary caregiver."  But with a Ph.D. in neuroscience from Harvard University, Genova set out to learn everything she could about Alzheimer's and share it with her parents and aunts.
"I did that," Genova explained.  "I learned quite a bit, but it was mostly about how to be a caregiver.  And I learned a lot about the neuroscience of Alzheimer's which was fascinating to me as a neuroscientist but it didn't help me, as a granddaughter, stay connected to my grandmother who didn't know who I was."
At the time, Genova confided to a friend, "Someday, I want to write a novel about a woman with Alzheimer's and tell it from her perspective."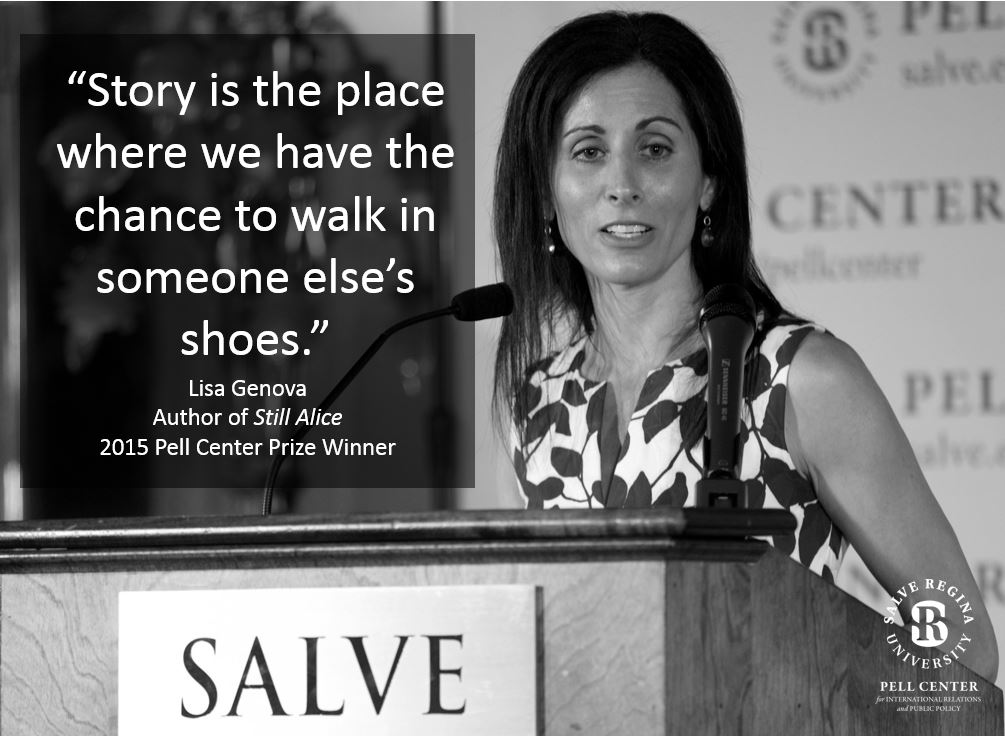 That someday came several years later when Genova began to write.  "I had that intuitive understanding—that fiction, that story—is the place where we have the chance to walk in someone else's shoes," Genova said, "that we can explore empathy, and that if you have empathy, then that's the way that you can stay connected to someone who might not remember who you are; or remember how you are connected.  But you can still feel that connection if I can understand you, despite your losses in memory or cognition or language."
Still Alice went on to incredible success.  After selling the novel out of the trunk of her car for 10 months as a self-published author, the novel about a Harvard professor living with early-onset Alzheimer's has spent 56 weeks on the New York Times best-seller list and was adapted into a major motion picture.  Julianne Moore won an Academy Award in 2015 for her portrayal of Alice.
For Genova, though, the mission is not just about Alzheimers.  The three novels that followed Still Alice focused on other neurological conditions and diseases: Left Neglected (traumatic brain injury); Love Anthony (autism); and Inside the O'Briens (Huntington's disease).  Each new novel has been a best seller, and each has opened a conversation that Genova believes is key to the fight against these diseases and conditions.
"We've seen this happen with cancer," Genova said.  "No one spoke about cancer 40-50 years ago. They whispered. It was called the 'Big C,' right? Nobody spoke of cancer and so we didn't wear the looped ribbons and bake casseroles and go on carpools and support our neighbors and loved ones who had cancer. They went through that alone. And something changed. It was conversation; we began talking about it openly. And then all of the looped ribbons and the walks and things started to happen. And it's no coincidence that we now have treatments and survivors."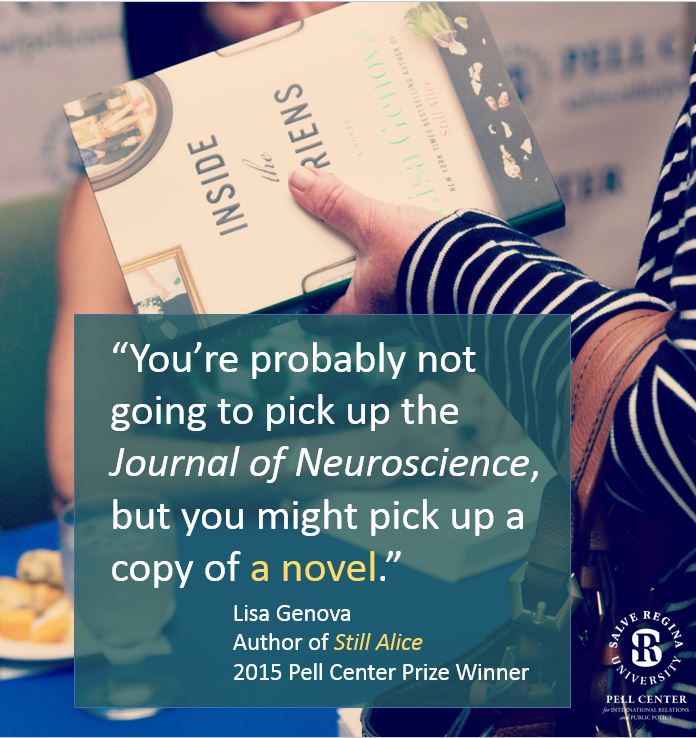 "And so one of the things that I believe that Still Alice has done, and that I'm doing as well with the other books, is inviting conversation about topics that are pretty scary," Genova continued.  "You're probably not going to go read the Journal of Neuroscience this month but you might pick up a copy of a novel."  Then, in conversations with friends and family, Genova believes understanding will grow—and that in itself is something: "We may not be able to cure these diseases today but we can do something about the loneliness."
The Pell Center prize was presented to Genova by Pell Center Executive Director Jim Ludes, Story in the Public Square Director G. Wayne Miller, and Salve Regina University President Sister Jane Gerety.
"The emotional power of each of Lisa's novels is remarkable," said Ludes.  "My thought, as I read them before meeting Lisa, was that she had to be someone of tremendous empathy.  To write, as she does so beautifully, of those who society has simply written off, to give voice to the voiceless through stories that are wonderfully accessible, that's a rare gift.  We are so happy to honor her."
"I tend to stay focused on my purpose," concluded Genova, "which is writing stories that will help people living with neurological diseases and conditions feel less ignored, less feared, and understood. This, this honor tonight is so incredibly deeply meaningful to me, so thank you."
A partnership between the Pell Center at Salve Regina University and The Providence Journal, Story in the Public Square is an initiative to study, celebrate, and tell stories that matter. The Pell Center Prize for Story in the Public Square is an award recognizing a contemporary storyteller whose work has had a significant impact on the public dialogue—previous winners are Pulitzer Prize winning journalist Dana Priest (2013) and Emmy-winning screenwriter Danny Strong (2014). For more information on Story in the Public Square, please visit public story.org.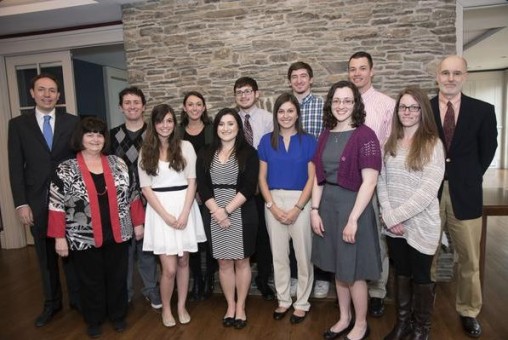 Newport, R.I.—Sixty-six Rhode Island students earned the Herbert and Claiborne Pell Medal for U.S. History this year.  The medal, administered now by the Pell Center at Salve Regina University, recognizes college and high school students in the state who have excelled in U.S. History.
The Pell Medal was originally presented by Senator Claiborne Pell and his wife, Mrs. Nuala Pell, for more than 50 years. After Mrs. Pell's passing in April 2014, the Pell Center at Salve Regina University agreed to become the steward of the medal process.
"It has been a joy and an honor to recognize many of our most promising students across Rhode Island," said Clay Pell who has personally presented several of the medals at events across the state.  "To me, this medal represents my grandparents' reverence for the past as well as their confidence in future generations."
Pell Center Executive Director Dr. Jim Ludes said, "While I chose a career in public policy, I prepared for that career by studying history. So I'm especially grateful that the Pell Center can help continue this beautiful tradition."
Established by the Pell family, the Pell Medal is named for Representative Herbert C. Pell and his son, Senator Claiborne Pell.  Herbert Pell served as a member of Congress and American Minister to Portugal and Hungary, while Claiborne Pell, who is responsible for the creation of the Pell Grants and the National Endowment for the Humanities, served in the Senate for 36 years and worked to strengthen American foreign policy.
"I also want to recognize Ms. Jan Demers," said Ludes.  "For years Jan helped Senator and Mrs. Pell administer the medal.  We at the Pell Center know we have big shoes to fill in our new role and we are grateful for the support and encouragement Jan has given us."
The winners of the 2015 Herbert and Claiborne Pell Medal for excellence in the study of U.S. History are:
Barrington
F. Nelson Blount, St. Andrew's School
Madeline Schirber, Barrington High School
Bristol
Sabrina Dasilva, Mount Hope High School
Andrew Carter, Roger Williams University
Central Falls
Leslie McBurney, Central Falls High School
Coventry
Jared Flamand, Coventry High School
Cranston
Jonathan Penta, Cranston High School East
Cumberland
Justin Wood, Cumberland High School
East Greenwich
Zachary Johnson, East Greenwich High School
Mary McKenney, Rocky Hill School
East Providence
Monica Barbosa, East Providence High School
Dante Diwan, Providence Country Day School
Harrisville
Samantha Mancone, Burriville High School
Johnston
Tiana D'Acchioli, Johnston Senior High School
Kingston
Rebecca Giguere, University of Rhode Island
Lincoln
Benjamin P. Chiacchia, Lincoln High School
Reymy Pena, William M. Davies, Jr. Career and Technical High School
Middletown
Erin Keating, St. George's School
Samantha Plezia, Middletown High School
Narragansett
Rayne Henley, The Ocean Tides School
Cole Metzger-Levitt, Middlebridge School
Eileen Sullivan, Narragansett High School
Newport
Mitchell Cardon, Paul W. Crowley East Bay Met School
Catherine Hermes, Rogers High School
Jessica Rose, Salve Regina University
Brandon Watson, Paul W. Crowley East Bay Met School
North Kingstown
Joseph Black, North Kingstown High School
Lydia Sgouros, North Kingstown High School
North Providence
Brendan Walker, North Providence High School
North Scituate
Christine Wagner, Ponaganset High School
North Smithfield
Diane Newberry, North Smithfield High School
Pawtucket
Vanessa Dos Anjos, St. Raphael Academy
Nathan Gagnon, William E. Tolman High School
Judiana Moise, Blackstone Academy Charter School
Djita Sidibe, Charles E. Shea High School
Portsmouth
David Brower, Portsmouth Abbey School
Chris Norton, Portsmouth High School
Providence
Estrella Argueta, Hope High School
Elizabeth Bitgood, Rhode Island College
Jasmin Cantera, Academy for Career Exploration
Johanny Castillo, Paul Cuffee Upper School
Hannah Duncan, Brown University
Lexus Fernandez, Mount Pleasant High School
Emma Funaki, Rhode Island School of Design
Kaly Heng, Central High School
Julianna Marandola, La Salle Academy
Henry Mayer, Classical High School
James Morin, Providence College
Julissa Sabater, School One
Rose Maso, Lincoln School
Scituate
Robert Capron, Scituate High School
Smithfield
Kalah Caruso, Bryant University
Megan Long, Smithfield High School
Wakefield
John Albert, The Prout School
Rieley Auger, South Kingstown High School
Warwick
Henry Cascella, Pilgrim High School
Riley Chabot, Bishop Hendricken High School
Hanah Ellis, Warwick Veterans Memorial High School
Hunter Heberg, Toll Gate High School
Tuon Mi, Community College of Rhode Island
Westerly
Kyra McCormick, Westerly High School
West Greenwich
Brianna McFadden, Exeter-West Greenwich High School
West Warwick
Kristen DiSano, West Warwick High School
Wood River Junction
Lydia Crandall, Chariho Regional High School
Woonsocket
T.J. Bergeron, Beacon Chart High School for the Arts
Adam Mercier, Mount Saint Charles Academy
Abigail Shobako, Woonsocket High School

Story Day is the annual conference for Story in the Public Square, a partnership between the Pell Center and The Providence Journal that studies and celebrates public storytelling.
Story Day 2014 examined moving images: animation, feature documentary and television, as well as short documentary and video. Through an engaging and interactive series of discussions with accomplished storytellers, the audience took part in a fun and informative day that also featured interactive storytelling, winners of the student contest, and presentation of the 2014 Pell Center Prize for Story in the Public Square to Emmy-winning screenwriter, producer and actor Danny Strong, who delivered the keynote address.
Strong's "Game Change," the 2012 HBO production about the 2008 presidential election, won a Golden Globe, a primetime Emmy, a Writers Guild of America Award and a Producers Guild of America Award. His 2008 HBO film "Recount," about the 2000 presidential election, won a primetime Emmy. Strong also wrote Lee Daniels' "The Butler" and "Mockingjay," the two-part "Hunger Games" finale.
Strong is also an accomplished Hollywood actor, having played roles in the TV series "Mad Men," "Grey's Anatomy," "How I Met Your Mother," "Seinfeld," "Gilmore Girls" and, early in his career, the character Jonathan Levinson in the hit show "Buffy the Vampire Slayer." He also acted as a producer on many of his projects, including "The Butler," "Game Change" and "Recount."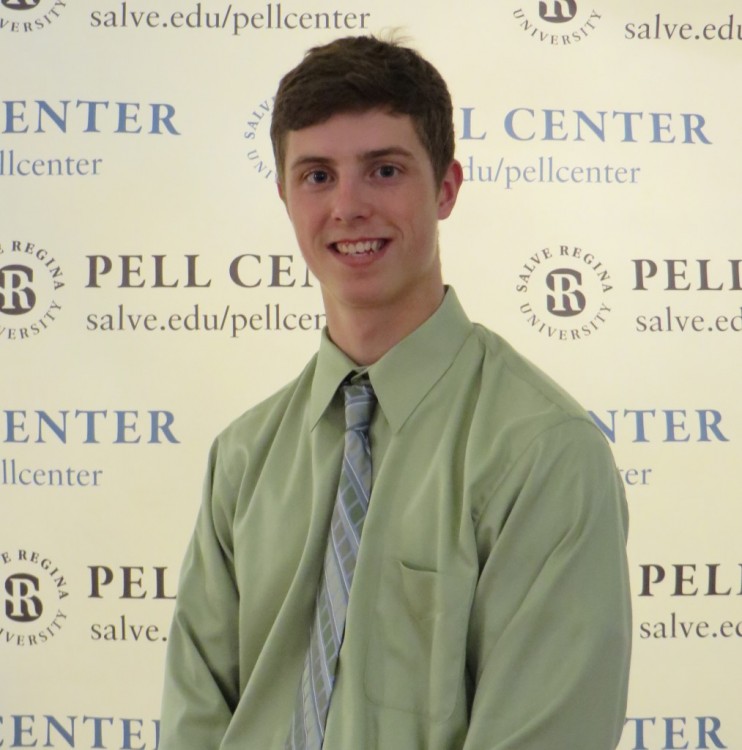 NEWPORT, R.I. — Nuala Pell Leadership Fellow Jacob Lang has been accepted to present at the Empire and Nation: Undergraduate Conference in Budapest, Hungary in August 2015.
Lang will present his paper "Israel and Changing International Politics."
A philosophy major from N. Attleboro, Massachusetts, Lang was recently selected to be a member of the 2015-2016 Nuala Pell Leadership Program. Annually, the Program provides 12 diverse, high-achieving, Salve Regina University sophomores with leadership training and opportunities.
The "Empire and Nation" conference is co-hosted by the Department of History and the Department of Medieval Studies at Central European University in Budapest. The conference is devoted to rethinking the role of empires and nations in history.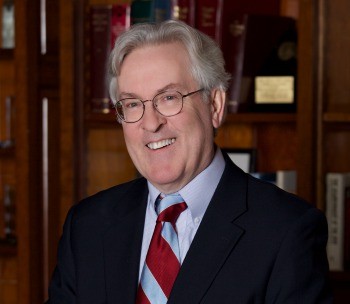 G. Wayne Miller, Pell Center visiting fellow and Story in the Public in the Square director, is a storyteller in his own right.
A staff writer for The Providence Journal,  Miller shares powerful accounts of individuals, families and loved ones affected by mental health issues and serves as an advocate for mental healthcare reform throughout Rhode Island and in the United States. Miller has also published several books, including Toy Wars: The Epic Struggle Between G.I. Joe, Barbie and the Companies That Make Them (Random House/Times Books, 1998), King of Hearts: The True Story of the Maverick Who Pioneered Open Heart Surgery (Random House/Times Books, 2000), and An Uncommon Man: The Life and Times of Senator Claiborne Pell (University Press of New England, 2011).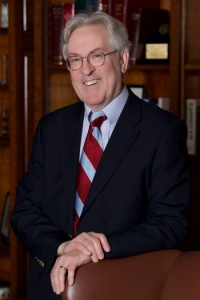 Over the course of your writing career, you've published an extensive body of work. Your portfolio consists of reporting, feature writing, fiction and non-fiction, but what's most impressive is the diversity of subjects you write about. What draws you to cover a particular subject?
First and foremost, people and their stories. I am compelled by stories of people who take journeys, who take risks, who experience love and loss, who endure, who are honest and loyal, who surprise themselves and others, who prevail despite conflict, who give back to the world, who inspire the rest of us with their courage, wisdom and tenacity. I love writing about kids, these wonderful new people who still believe in magic. I must say, however, that I am not big into villains. I guess I remain an optimist after all these years. Hard to sometimes, looking at what's happening on and to the planet, but I still do.
After people, themes. I have a great interest in public-policy issues—and "public," of course, is people. When I can marry a good people story to an important issue—well, doesn't get much better than that. My all-time favorite newspaper story remains "The Growing Season," a 12-part series in The Providence Journal about the late Frank Beazley, who spent most of his adult life as a quadriplegic at Zambarano state hospital. Here was a man who had every right to be bitter and broken, and yet he became a celebrated artist, a champion of people with disabilities, and an inspiration to us all. He raised awareness of a critical public-policy issue — how we care for the most fragile members of society—in a way few others could have. Ask anyone who saw him at General Assembly hearings or the former governors who paid him visits. I was honored and humbled to become his friend, and give him a voice in the media.
You've won nearly 50 honors and awards—most recently, the Bell of Hope Mental Health Heroes Award from the Mental Health Association of Rhode Island. In your opinion, to what extent can the power of narrative shape the public dialogue on issues like mental health?
It can have a significant effect, in a way that statistics and data can't, not that those aren't important, too. This gets back to people. Humans are hard-wired to have an interest in others, so when you tell someone's story — at least, when you tell it right — you command attention. And, in writing about people living with mental illness, you evoke empathy and compassion, which hopefully can lead to better understanding of an often-misunderstood issue, which in turn can lead to lessening of stigma and public policy change.
My most recent writing about mental health, part of a continuing Providence Journal series, was a three-part look at a woman living with bipolar disorder and her family. I chose the title, "Katie's Story," quite deliberately: the hope was that readers would see it and be drawn in by the intimacy of using a first name, and the prospect of reading a story. Since our cave-day ancestors gathered around the fire, people have loved stories!
In their remarks at the State House Bell of Hope ceremony, Elizabeth H. Roberts, secretary of the Executive Office of Health and Human Services, and Maria Montanaro, director or the state department of Behavioral Healthcare, Developmental Disabilities and Hospitals, thanked me for writing "Katie's Story," noting that it was a moving reminder of the people in their care—and the improvements needed in a fragmented and underfunded system. They are executives in positions of power to make it happen. Here's hoping.
In addition to writing, you've been successful as a film maker. Coming Home (2011), a documentary that explores the experience of veterans who fought The War on Terror in the Middle East, won the Edward R. Murrow Award from the Radio Television Digital News Association and was nominated for outstanding documentary at the 35th annual New England Emmy Awards. How does your experience as a writer complement your film making?
The key things in the writer's toolbox—the need to observe, listen, question, research, understand, etc.—were invaluable when I got into film. I quickly learned that writing and film are two sides of the same storytelling coin. Text or moving image, you're dead in the water without a good story.
In your experience, what ways are writing and film making similar? In what ways are they different?
Only difference is that one relies on words, the other more on images… Okay, there are other differences, but they are mostly technical. Writing is pretty much a solitary deal, filmmaking a collaborative effort. A pen and paper, or screen and computer, are all a writer needs; filmmakers must have the right equipment with knowledgeable operators. Editors are critical to both writing and film.
One of your books, The Uncommon Man, is an extensive biography of the late Senator Claiborne deBorda Pell, Rhode Island's longest serving senator. It happens that the National Endowment of Humanities, one of the senator's lasting legacies in the United States, is celebrating its 20th anniversary. What do you believe is the greatest legacy Senator Pell left for Rhode Island and the nation?
In a direct, concrete way: the Pell Grants. More broadly, his devotion to the public discourse and his belief that we all have a civic duty that we should exercise. These are principles incorporated in the Pell Center, needless to say.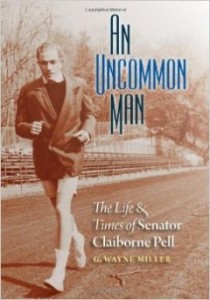 There have been many changes in the media landscape since the beginning of your career to present. Despite your workload and community involvement, how have you managed to adapt to those changes?
It helps that I get up very early—a habit that began years ago when my children were young, and I wanted to devote time to them as their days began. So the pre-dawn hours are critical to the thing dearest to my heart, after my wife and family: my writing.
In general, I have adapted by being flexible; by welcoming new ideas and formats such as social media; by never forgetting how lucky I have been to have supportive publishers and editors from the very start; and by always remembering that at the end of the day, literally and figuratively, we all love a good story.
Miller's next book, Car Crazy: The Battle for Supremacy Between Ford and Olds and the Dawn of the Automobile Age, will be released November 2015 and is now available to pre-order. Connect with Miller on Twitter and LinkedIn.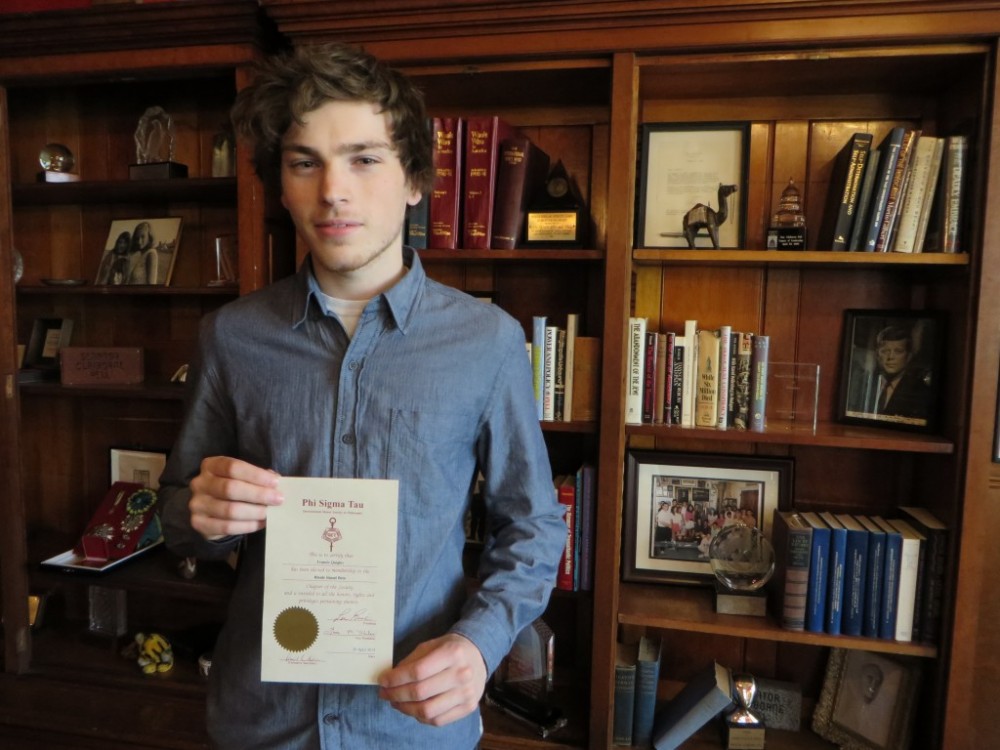 Pell Center work study Frank Quigley '16 was recently inducted in Phi Sigma Tau, the international honor society in philosophy, during the Spring 2015 semester.
He was also selected to be a part of Who's Who Among Students in American Colleges and Universities, an exclusive honor conferred by more than 1,000 universities and colleges nationwide.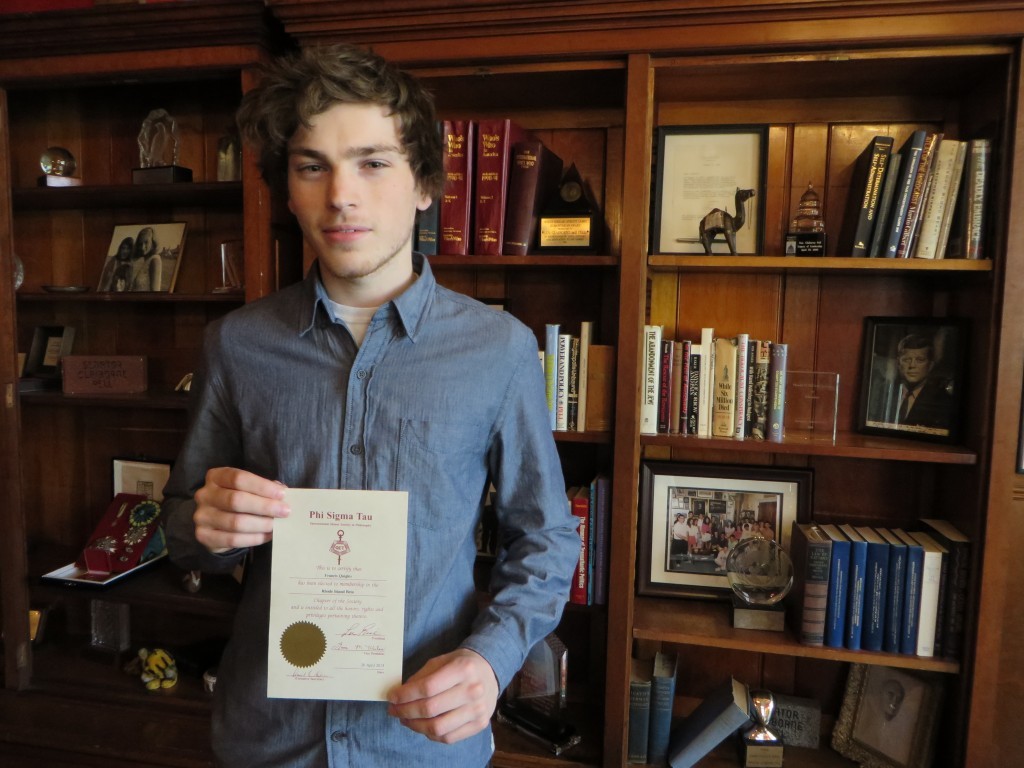 Quigley is a double-major in American History and Philosophy at Salve Regina University. As a Pell Center work study, Quigley is responsible for shooting, editing and publishing video of Pell Center lectures, as well as conducting research for Pell Center fellows. Quigley also contributes to the Pell Center's blog.
View the Pell Center's latest lecture, Civil War and the Making of Modern America, on YouTube.
We want to know where their food comes from—why wouldn't we also think about where our clothing comes from?
Two years have passed since the Rana Plaza collapse, one of the most tragic industrial disasters in recent history. Over 1,100 died and 2,500 more were injured—the worst part is that not much has changed for the surviving garment factory workers directly affected by the Rana Plaza or the industry as a whole.
Believe it or not, fashion industry's supply chain is even harder to navigate than the agricultural sector. The process for clothing manufacturing doesn't start at factories like Rana Plaza—before garment workers can sew the fabric, the fabric needs to be made and designed. For the fabric to be made, the fibers need to be treated. For the fibers to be treated in the first place, the raw material needs to be picked…
With each step of the process, there are questions that need to be asked—Is the process for picking the raw material ethical and environmentally-friendly? Are farm hands picking cotton of legal working age and earning a decent wage? What dyes are being used for the fabric? Are they toxic? How are the working conditions of the garment factories?
Then what happens when the clothes leave the factory is an entirely different story altogether. Distribution. Marketing and advertising. Selling. The parts of the industry that the average person is the most familiar with.
Unfortunately, the real behind-the-scenes of the fashion industry—the not-so glamorous factories, the impoverished workers—continue to be overlooked. The stories of those who lost their loved ones and their livelihoods as a result of the Rana Plaza continue to be overlooked.
One Norwegian reality television show, Sweatshop: Deadly Fashion, sent three fashion bloggers to work at a garment factory in Cambodia. In the trailer, one of the young women cries and asks the camera, "What kind of life is this?"
There are movements in place to raise more awareness of these controversial issues surrounding the fashion industry among consumers, the strongest being Fashion Revolution Day held on April 24, which commemorates the anniversary of the Rana Plaza collapse. Fashion Revolution Day invites people to ask themselves the big question—who made your clothes?
Fashion Revolution Day: A Day to Ask #WhoMadeMyClothes? | The Huffington Post
Rana Plaza: rallies in Bangladesh as victims await compensation | The Guardian
DNA of 135 Rana Plaza Victims Still Not Found | BBC News
'Human Cost of Cheap Clothes': Retail giants fail to pay Rana Plaza victims compensation | RT
NEWPORT, R.I. – New York Times best-selling author Lisa Genova will be honored June 4 at Salve Regina University when she receives the third annual Pell Center Prize for Story in the Public Square, an award recognizing a contemporary storyteller whose work has had a significant impact on the public dialogue.
Genova, who holds a Ph. D. in neuroscience from Harvard University, has written about neurological diseases and their impact on affected individuals and their families. Her works include Inside the O'Briens (2015), Love Anthony (2012), Left Neglected (2011), and Still Alice (2009), which has spent 56 weeks on the New York Times bestseller list and been made into a major motion picture.
Genova will receive the award at an event on June 4, 2015 on the campus of Salve Regina University in Newport, RI.  Additional details will be released in coming weeks.
"I'm honored and thrilled to be receiving the 2015 Pell Center Prize," Genova said. "Thank you for recognizing storytelling as an accessible way to understand complex and often frightening neurological diseases and disorders."
"Lisa Genova is a talented storyteller whose work prompts us to consider the personal experience of living with disease," said Jim Ludes, executive director of the Pell Center. "We are thrilled to welcome her to Salve Regina University."
Said Story in the Public Square Director G. Wayne Miller, "With her science background and gift for narrative, Lisa occupies a unique position in the literature of Alzheimer's Disease and other neurological disorders. She has helped prompt a national discussion about individuals and families with these diseases—and the overall public-health ramifications of an aging population."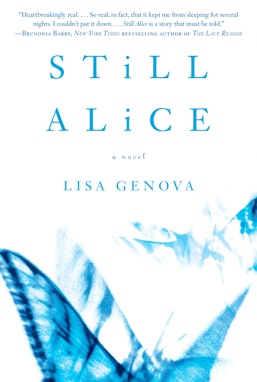 Still Alice tells the story of Alice Howland, a Harvard professor, wife and mother, who battles early-onset Alzheimer's disease. The novel has been recognized by several book clubs and is now a film from Sony Pictures Classics starring Julianne Moore, Alec Baldwin, Kristen Stewart, Kate Bosworth, and Hunter Parrish. Julianne Moore won the 2015 Best Actress Oscar for her role as Alice Howland.
Inside The O'Briens (2015), Genova's fourth novel, tells the story of a family living with Huntington's Disease. Within a week of being published, Inside The O'Briens landed on the New York Times bestseller list and was recognized by the Library Journal as "a gut-wrenching and memorable read."
Previous winners for the Pell Center Prize are Danny Strong (2014), an Emmy-winning screenwriter, producer and actor; and Dana Priest (2013), two-time Pulitzer Prize-winning former Washington Post writer, now the John S. and James L. Knight Chair in Public Affairs Journalism at the Philip Merrill College of Journalism, University of Maryland.
The Pell Center for International Relations and Public Policy at Salve Regina is a multidisciplinary research center focused at the intersection of politics, policies and ideas. Dedicated to honoring Sen. Claiborne Pell's legacy, the center promotes American engagement in the world, effective government at home and civic participation by all Americans.
A partnership between the Pell Center and The Providence Journal, Story in the Public Square is an initiative to study, celebrate, and tell stories that matter. For more information, please visit publicstory.org.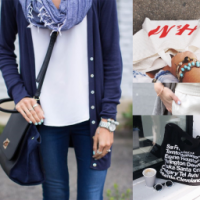 In April 2013, a clothing factory in Bangladesh collapsed and killed over 1,100 garment workers and injured nearly 2,500 more.
Nearly 30 major "fast fashion" retailers from the around the globe, including Primark, the U.K. equivalent of Forever XXI, were using this particular factory at the time of its collapse. Two years later, the impact of the Rana Plaza tragedy has pushed for major players in the apparel industry to become more socially responsible.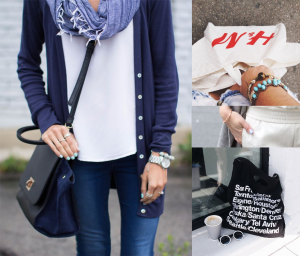 Although some large fashion retailers are implementing better practices, should responsibility also be placed on the everyday shopper to improve the current condition of the "fast fashion" industry?
On Tuesday, April 21, 2015, Salve Regina University students, staff and faculty are invited to explore the Rana Plaza collapse through the consumer perspective—participants will discuss the meaning of "fast fashion" and its consequences, as well as alternatives to "fast fashion." The discussion will be held in Miley Private Dining Room from 11:45am-12:45pm. Free lunch is provided and space is limited. RSVP to [email protected].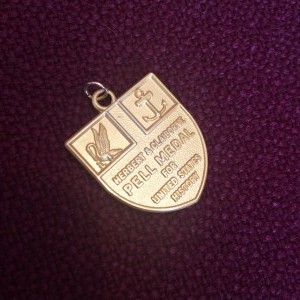 NEWPORT, R.I. — The Pell Center at Salve Regina University today announced it would administer the Herbert Pell and Claiborne Pell Medal for U.S. History.
Established by the Pell family, the Pell Medal is named for Representative Herbert C. Pell and his son, Senator Claiborne Pell.  It is a testament to their belief that understanding American history is essential to leadership.  Accordingly, the medal is awarded annually to one student at each high school and college in the state who has excelled in the study of U.S. history.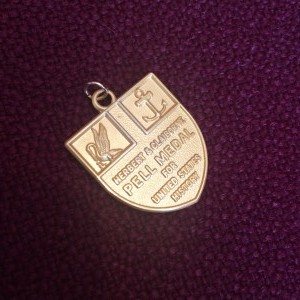 The medal, which features a pelican on the left side and an anchor on the right, symbolizes the Pell family and the state of Rhode Island.  Herbert C. Pell served as a member of Congress and American Minister to Portugal and Hungary, while Claiborne Pell, who is responsible for the creation of the Pell Grant and the National Endowment for the Humanities, served in the Senate for 36 years and worked to build strong foreign relations for the United States.
The medal was originally presented by Senator Pell and his wife, Mrs. Nuala Pell.
"We are humbled to serve as stewards of this wonderful tradition," said Pell Center Executive Director Jim Ludes.
"I am so happy that the Pell Medal will continue to recognize Rhode Island's next generation of students," said Clay Pell.  "Across every corner of the state, former recipients have told me how much this special recognition has meant to them.  I would like to thank the Pell Center at Salve Regina University for their partnership, and I look forward to meeting many future Pell Medal recipients in the years to come."
Selection forms will be sent to schools in April and the medals distributed before the end of the school year.
The Pell Center for International Relations and Public Policy at Salve Regina University is a multi-disciplinary research center focused at the intersection of politics, policies and ideas. Dedicated to honoring Senator Pell's legacy, the center promotes American engagement in the world, effective government at home and civic participation by all Americans.