Earlier this month, Senator John McCain spoke at the U.S. Naval War College about the importance of America's role as a global superpower. The event, co-hosted by the Naval War College and the Pell Center, was held in the Spruance Auditorium and was well-attended by the public.
Following introductions made by Senator Sheldon Whitehouse and Salve Regina University president Sister Jane Gerety, McCain began by stating the world we live in has been "sustained by American power and influence."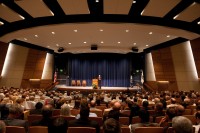 "The United States has made many friends–and made plenty of mistakes," McCain acknowledged, "but it happened because American power and influence persevered."
McCain proposed that the presence of American armed forces around the globe is what keeps war at bay. As the American military presence decreases, McCain insisted that American power and influence is at risk.
"America is not a normal nation," said McCain. "We are an exceptional and indispensable nation in maintaining liberal world order." Only days before McCain's lecture, ISIS, the militant Sunni group, began fighting in northern Iraq.
McCain believes that rebuilding the nation's hard power should be the most important task to reaffirm the United States' credibility as a superpower. According to McCain, "the United States' greatest limitation is not the question of options, but of resolve and imagination."
"If America chooses not to lead in the world, our highest hopes will be left defenseless."
To watch Senator McCain's lecture, visit the U.S. Naval War College's YouTube channel.

100 Years After the Start of World War I
The War to End All Wars? Hardly. But It Did Change Them Forever | The New York Times
40 Maps that explain World War I | Vox
Scars of World War I Linger in Europe on Eve of Centennial | The Wall Street Journal
The defining event of the 20th century is not the Second World War, but the first.  The spark that became an inferno was lit 100 years ago this week.  The war itself was industrial slaughter on a global scale.  It ended empires, ushered in the American century, and redrew maps across Eastern Europe and the Middle East.  The consequences of those lines are still being played out in places like Iraq and Syria today.  The war also led to broad social revolutions in the Atlantic world, political revolution in Russia, and, in its failed peacemaking, sowed the seeds of World War II.  The last veteran of the "Great War," as it was called, is no longer with us, but the consequences of that conflict continue to shape the world today. – James Ludes, Executive Director of the Pell Center
Climate Change and Property Loss
Risky Business: The Economic Risks of Climate Change in the United States | Scribd
Climate change and the economy: The cost of doing nothing | The Economist
On N.C.'s Outer Banks, scary climate-change predictions prompt a change of forecast | The Washington Post
Some of the most respected U.S. leaders of recent decades – including George Schultz, Olympia Snowe, Robert Rubin and others – have collectively endorsed a new report on likely economic impacts of global warming ("Risky Business"). According to the report, the most significant risks include "damage to coastal property and infrastructure from rising sea levels and increased storm surge, climate-driven changes in agricultural production and energy demand, and the impact of higher temperatures on labor productivity and public health." A story on the report in the Economist points out that "business concerns about the climate are growing sharper [in the U.S.], even if public opinion is not."

In other words, while many of us are complacent about the problem or even scratching our heads wondering whether it is real (mostly thanks to deliberate efforts to sow confusion), others are making careful assessments of the practical stakes involved. These assessments can be very concerning, which is why, according to a Washington Post report, realtors and property owners along the North Carolina coast have tried to persuade their state to abandon official sea rise forecasts that could send coastal property values plummeting. As the Post point out, rejecting the forecasts is one rational (if short-term) way to preserve the salability of properties. But surely there are others to consider. –Joseph Grady, Senior Fellow for Public Policy
Hacktivism and The World Cup
Hackers Take Down World Cup Site in Brazil | The New York Times
Hacktivist Group Anonymous Targets World Cup | Forbes
Will the World Cup Actually Help Brazil to Solve Its Problems? – If it does, don't thank FIFA, thank the protestors | Foreign Policy
World Cup controversies in Brazil are supposed to be about team selection and tactics, but this year they've focused on much bigger issues: jobs, poverty, public services, and corruption. The World Cup has served to catalyze civil society groups and strengthen the voice of average Brazilians around these issues, but offline activists have not been nearly as successful in getting their voices heard as the online hacktivists who are carrying out a series of distributed denial-of-service attacks and website defacements.

In a story that reads a little bit like Robin-Hood-meets-the-Internet, hacker group Anonymous Brazil says they started a hacking campaign, called #OpHackingCup, to protest the lavish spending on the soccer games in a country struggling to provide even basic services. They appear to have successfully taken down the 2014 World Cup site for a few hours this week and claim to have started at least 100 other attacks against sponsors and the Brazilian government since the World Cup began. Cybersecurity concerns—especially cybercrime and ID theft—are unsurprisingly common at sporting events of this magnitude. In fact, as we become increasingly reliant on digital technologies and social media to create, share, and store information, buy and exchange tickets and merchandise, we are also becoming a particularly attractive target for hackers and cyber criminals.

While Anonymous hopes to gain political leverage through their attacks and other hackers join in trying to collect information and money through World Cup-related hacktivism, we should all use our common sense when googling our favorite soccer players or opening emails offering cheap game tickets if we want to avoid becoming victims of scams ourselves. So, as the United States advances to the next round, enjoy watching the World Cup, but be on alert to ensure that losses only occur on the soccer field. –Francesca Spidalieri, Fellow for Cybersecurity
China and America's Battle in Cyberspace: Hyper or Reality?
China and America's Dangerous Battle in Cyberspace | The National Interest
American Businesses in China Feel Heat of a Cyberdispute | The New York Times
Five Myths About Chinese Hackers | The Washington Post
New charges of Chinese military units conducting "targeted economic espionage campaigns" against U.S. and European industries are stirring up a cycle of accusation and counteraccusation between the two nations and threatening tit-for-tat retaliation among Chinese and American technology companies. The U.S. accuses Chinese individuals and organizations with hacking into the networks of its companies in order to steal confidential business information, sensitive trade secrets, and internal communications for competitive advantage. China denies the allegations and declares that it is a victim of cyber attacks, often emanating from U.S.—a claim strengthened by leaks of former National Security Agency (NSA) contractor Edward Snowden. While there is no question that China-based computers have hacked into a variety of governmental agencies and private companies, these new accusations are raising the specter of a trade war and increasing anxiety among American companies that do business in China. Even worse is that if these accusations are not well understood and managed, they risk to foment the hype of a cyber war with China and bring back the old rhetoric of a "cyber Pearl Harbor" and apocalyptic future of U.S. cities paralyzed under cyber attack. Clearly, China has no intention of attacking its largest trading partner—Beijing holds over a trillion dollars in U.S. securities!—and cyber espionage does not provide grounds for waging war, even if military units are the spies.-Francesca Spidalieri, Fellow for Cyber Leadership
Climate Adaptation
Rhode Island secures funds for coastal resiliency programmes | Sand and Gravel
Rhode Island Senate approves climate change legislation | The Providence Journal
What Will Adaptation Cost? An Economic Framework for Coastal Community Infrastructure | National Oceanic and Atmospheric Administration
A new round of federal grants will help coastal communities – including several in the Ocean State – protect themselves against future storms like Sandy. Just last week, the Rhode Island Senate also unanimously approved the formation of a Climate Change Council to look into protecting infrastructure, and other steps related to global warming. Protecting ourselves from rising seas and new weather patterns will not be easy or inexpensive – as a report released last year by the National Oceanic and Atmospheric Administration discusses – but as conditions along the world's coastlines continue to change measurably, in ways that will have impacts on businesses, agriculture, recreation, building safety, shoreline ecosystems and so forth, action now will prevent greater costs and losses later.- Joseph Grady, Senior Fellow for Public Policy
Iraq
Dick and Liz Cheney: "The Collapsing Obama Doctrine" | The Wall Street Journal
Megyn Kelly to Dick Cheney: "Time and Time Again, History has Proven You Got it Wrong" on Iraq | Real Clear Politics
The Gall of Dick Cheney | The New York Times
Iraq presents a stern midterm challenge for Mr. Obama | The Washington Post
In the same week that the President who won office promising to end America's wars committed American troops to bolster the Iraqi military, the former Vice President who helped lead the country to war a decade ago leveled a broadside of criticism that even prompted Megyn Kelly of FoxNews to ask Dick Cheney, "what do you say to those who say you were so wrong about so much at the expense of so many?"

It was all part of a week of coverage of events in Iraq that focused on the blame game.  "Who lost Iraq" was the essential thrust of the question.  Critics of the Bush administration were quick to point out that they had led America to war on flimsy premises and misjudged the depth of resistance to American occupation.  Critics of the Obama administration obsessed over their decision to not leave a residual force behind in Iraq.

Of course, everyone was cherry picking facts to serve their own version of the truth.  And that's a shame.  For fifty years after the Second World War, American diplomats favored stability over democracy in the Middle East because the forces that might be unleashed were uncontrollable.  Yet in the last decade, America has become a revolutionary force in the Middle East.  The sins of the Bush administration are obvious.  But the Obama administration—beginning with the President's much heralded speech in Cairo in 2009—has provided rhetorical encouragement to those who would seek regime change throughout the Arab world—and has called explicitly for change in Tunisia, Libya, Egypt, and Syria.  Now, officials intimate, the United States will not do more in Iraq without the departure of Iraqi Prime Minister Nouri al Maliki.

For all of the criticism the Bush administration received for advocating "regime change" in Iraq, the Obama administration has leaned farther forward, at least rhetorically, in calling for the toppling of governments throughout the region.

This is a dangerous game—as events in the region have made clear—and not one many of us expected this president to play so frequently.- James Ludes, Executive Director of the Pell Center
Cybersecurity as a Leadership Issue
Exclusive: U.S. companies seek cyber experts for top jobs, board seats | Reuters
If You Think Cybersecurity Is 'Just an IT Problem,' Prepare to Get Owned | NextGov
Cyber Security Risk: Perception vs. Reality in Corporate America | Wired
"High-profile data breaches such as the one at Target are injecting a new sense of urgency for U.S. companies to hire cybersecurity experts in newly elevated positions and bring technologists on to their boards. The modern C-suites, however, must first learn to think of cybersecurity as a business risk more than a compliance issue, and take ownership of their company's cybersecurity instead of treating it as a merely IT problem. Unfortunately, when it comes to cyber risk, the mismatch between perception and reality is great. As research has shown, a natural optimism bias combined with a lack of understanding of cyber risk can lead business executives to believe that their company's security posture is better than it actually is. While cyber risk may never go away, understanding the reality can help many companies take action to lower this risk. And as I argued in my study "One Leader at a Time" over a year ago, senior leaders across society must be equipped with a deep understanding of the cyber context in which they operate to harness the right tools, strategies, people, and training to respond to a dynamic and rapidly-developing array of cyber threats."- Francesca Spidalieri, Fellow for Cyber Leadership
Healthy Democracy
Political Polarization in the American Public | Pew Research Center
The two key factors behind our polarized politics | Washington Post
Could America Become Mississippi? | Slate
"Can Americans still talk to each other across party lines and come up with plans for our common future, solutions to our shared challenges? A new report from the Pew Research Center for the People and the Press finds, perhaps not surprisingly, that Americans who identify with the two major parties are increasingly distrustful and antagonistic towards each other, and even prefer to live in different kinds of places. A commentary from a political scientist, published earlier this year by the Washington Post, argues that our current polarization is based mainly on different beliefs about "how much government should help people." And on a theme that is certainly related, a writer from Slate reports on a recent psychological study looking at the relationship between racial perceptions and political ideology: White voters become more ideologically conservative when made aware of demographic shifts that may put them in the minority. For anyone concerned about the future of our democracy, and our ability to work together for common purposes, these studies suggest an important challenge: How do we bring more Americans together when some powerful forces seem to be driving us apart?"- Joseph Grady, Senior Fellow for Public Policy
International Relations
Militants Sweeping Toward Baghdad | The New York Times
Counting the Dead in Benghazi | Foreign Policy
The Return of al-Qaeda | Washington Post
"The headlines are startling.  Extremists sweeping across Iraq.  The Iraqi army quitting in exhaustion.  In Libya, the cycle of extra-judicial violence only escalates—leaving some to wonder aloud who can contain the violence and return some semblance of order to the country.  The common theme in these stories is the demise of strong central authorities who ruled with a ruthlessness reserved to tyrants of the worst sort.  But they ruled, and their societies were relatively peaceful—in sharp contrast with the Iraq of the last decade and the Libya of the last few years.

The lessons for American foreign policy are too numerous to count, but let's start with one insight from history: instability attracts extremists and welcomes strongmen.  After World War I and the dissolution of the Ottoman Empire, the League of Nations granted a mandate to Britain in Mesopotamia.  British diplomats like Gertrude Bell—famous for traveling across the desert and living amongst the Bedouins—devised a state whose boundaries and structure demonstrate little regard for historic animosities.

In the 35 years from 1933 to the Ba'th seizure of power in 1968, Iraq suffered from 25 incidents of extra-constitutional disturbances: coups, attempted coups, uprisings, sectarian and political hostilities, and so forth.  25 incidents in 35 years—that's an average of one every 17 months.  If we expand the calendar to Saddam's rise to prominence in 1978, the incidents average one every 18 months.

The governments in Iraq and Libya are fractured and weak.  More violence is likely—as is the rise of ruthless leaders who will deal viciously with extremists."- James Ludes, Executive Director of the Pell Center
NEWPORT, R.I. – Arizona Senator and former presidential candidate John McCain will present "An Evening with Senator John McCain" during an evening lecture Thursday, 6:30 p.m., at the U.S. Naval War College (NWC). The event is being co-hosted with Salve Regina University's Pell Center for International Relations and Public Policy.
McCain served for 22 years in the Navy as a naval aviator and is a graduate of the U.S. Naval Academy in Annapolis, Md. and National War College in Washington, D.C. During his time in service he became a Prisoner of War for more than five years. Following his release, he returned to the U.S. and continued to serve in the Navy until his retirement in 1981.
McCain has received numerous awards, including the Silver Star, Legion of Merit, Purple Heart and Distinguished Flying Cross, and has been involved with the U.S. Congress and Senate for 30 years in on-going service to the United States.
The event is sold out, but it will be broadcast live online at https://www.usnwc.edu/mccainlecture
Additional information about Senator John McCain can be accessed at http://www.mccain.senate.gov/public/index.cfm/home.
For more information about NWC, visit www.usnwc.edu.
For more information about the Pell Center, visit http://pellcenter.org/about/.
Update 6/18/14: Watch "An Evening with Senator McCain" on YouTube.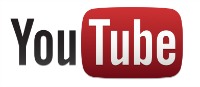 Whether it's cybersecurity or economics, the Pell Center fellows are highly active thought leaders in their fields. Starting this week, the Pell Center fellows will be sharing articles that caught their interest in their area of expertise:
Cybersecurity
"It is fundamental to reflect on the relationship between cybersecurity and socio-economic conditions to better inform how the policy decisions taken by governments, businesses and societal organizations today will shape the progress of technology and determine the future of global cybersecurity tomorrow. This report aims to give businesses and policy-makers a framework for evaluating today's decisions and to effectively plan ahead. Ultimately, making more data-driven decisions and dedicating resources to support them can create a less daunting and more navigable terrain towards cyberspace for 2025, today, tomorrow, and beyond."- Francesca Spidalieri, Fellow for Cyber Leadership
Income Inequality
On Equality Denial | The New York Times
Lifting Living Standards in an Open Economy: The Danger of Front-Loading Income Inequality | Progressive Politics After the Crash (I.B. Tauris, 2013)
"There is an interesting and important debate going on about the level and the consequences of "income inequality" in the U.S. The three articles above represent three different types of discussions. The first is a New York Times op-ed by economist Paul Krugman, followed by a response to Krugman in Forbes, written by a Manhattan Institute sociologist. Finally, see a  recent, thought-provoking book chapter written by a professor of Sociology and Political Science at the University of Arizona. The questions at the core of the discussion are ones that concern us all–Is it fine for a smaller percentage of Americans to own a growing share of our country's wealth? Or should we shift some policies (e.g. related to early education, minimum wage, college loans, etc.) that could spread prosperity more broadly?"- Joseph Grady, Senior Fellow for Public Policy
"Hacking back" techniques–engaging in cyber intrusions on the initial adversary–are becoming increasingly appealing to companies that wish to identify and expose hackers, and potentially cripple the operations of cyber attackers. Companies employing these techniques, however, need to consider potential legal exposure and ethical issues, and be mindful that these activities may incite hackers frustrated with such countermeasures to hit even harder. This panel discussion will review current international and domestic thinking and their relationship to conducting cyber counter strikes against identified adversaries. U.S. laws and articles often do not contain language and definitions regarding the use of a counter strike or fail to completely address the potential of active defense in cyberspace. In addition, these same laws exacerbate the private companies' ability to actively defend their Intellectual Property (IP) and business interests online with offensive actions. This panel will explore key offensive cyber operation concepts, domestic and international law implications of active defense, and the Tallinn Manual research in relation to countermeasures. The overall objective is to encourage further analysis of the concept of 'privatized cyber counter strike' in order to fully understand how this online activity may influence the future of offensive cyber attack deterrence. The panelists for this event are:
Joe Provost, CEO of Syncstate;
Karl Wadensten, President of VIBCO;
Michael Schmitt, Chairman of the International Law Department at the US Naval War College, and main author of the "Tallinn Manual on the International Law Applicable to Cyber Warfare" (NATO Cooperative Cyber Defence Centre of Excellence);
Col Bitzes, Staff Judge Advocate of the US Cyber Command; and
Robert Clark, Distinguished Professor of Law for the US Naval Academy's Center for Cyber Security. Studies.
Date:             May 20, 2014 Time:   8:30 am – 9:00 am networking breakfast; 9:00 am – 11:00 am panel discussion Place: Pell Center at Salve Regina University Young Building 518 Ruggles Ave.  (on the corner of Bellevue Ave. and Ruggles Ave.) Newport, RI RSVP to [email protected] or 401-341-2927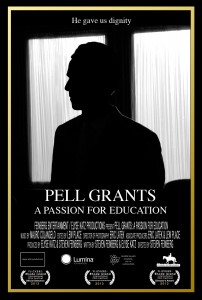 NEWPORT, R.I. – Filmmakers Elyse Katz and Steven Feinberg will join former members of the late Senator Claiborne Pell's staff on Wednesday, April 30, for a screening of Pell Grants: A Passion for Education.
The 2013 documentary, which premiered at last summer's Rhode Island International Film Festival, tells the story of the celebrated Pell Grants and the role of higher education in today's ever-changing world.
The screening begins at 7 p.m. at Salve Regina University's Pell Center, located in the Young Building, at the corner of Bellevue and Ruggles Avenues. The event is free and open to the public but please RSVP to mailto:[email protected]or 401-341-2927.
Following the screening, Feinberg and Katz will join former Pell staff members Thomas Hughes, David Evans and Sarah Flanagan for a question-and-answer period.
The screening is sponsored by the center's Story in the Public Square program, publicstory.org, which on April 11 staged its second annual all-day conference on the topic of Moving Images: public storytelling in Hollywood, documentary, animation and video filmmaking.
More about Pell Grants: A Passion for Education can be found at www.facebook.com/IAmPell
Date:             April 30, 2014
Time:   7:00 p.m.
Place:
Pell Center at Salve Regina University
Young Building
518 Ruggles Ave.  (on the corner of Bellevue Ave. and Ruggles Ave.)
Newport, RI
RSVP to [email protected] or 401-341-2927
Mrs. Nuala Pell, philanthropist and widow of the late Sen. Claiborne de Borda Pell, passed away early Sunday morning, The Providence Journal reports:
Word of her passing prompted an outpouring of tribute.

"An extraordinary woman whose grace and decency infused everything she did and everything Senator Pell did," is how Sen. Jack Reed remembered her. "She was just a wonderful person."

"Nuala Pell's remarkable lifetime of public service left an indelible mark on our state," said Sen. Sheldon Whitehouse. "Alongside her husband, Senator Claiborne Pell, she was a passionate advocate for the arts and humanities — and, above all, for the people of our Ocean State."
To read the full article, visit The Providence Journal website.
Salve Regina University released a statement over the weekend:
"We are deeply saddened at the loss of our dear friend Nuala Pell who served Salve Regina University faithfully for so many years as a trustee," said Sister Jane Gerety, the University's president.  "She was a tireless advocate for our students, and through her support of the Pell Center, named for her late-husband Senator Claiborne Pell, connected our students to the world."

Gerety continued, "We had the opportunity to celebrate Nuala's life last summer when we established a leadership program for our students in her name.  Her humility at the thought of an event to honor her stood in sharp contrast to the outpouring of affection for Nuala from far and wide.  We know we are not alone in mourning her passing today."

Pell Center Executive Director Jim Ludes added: "Mrs. Pell touched lives across Rhode Island with her humanity, her grace, and her spirit of service.  The Pell Center is dedicated to carrying on the ideals by which she and her husband lived their lives.  We are saddened today, but grateful for all she shared with us in her remarkable life."
NEWPORT, R.I. — Pioneering TV investigative journalist Jim Taricani heads an award-winning lineup of screen storytellers who will show and discuss their work during the second annual Story in the Public Square conference April 11 at Salve Regina University's Pell Center.
Founder of NBC Channel 10's celebrated I-Team, Taricani has won five regional Emmy awards, along with an Edward R. Murrow award for investigative journalism and a number of other journalism awards. He covered the New England Mafia for more than 25 years and became a champion of press freedom when a federal judge in 2004 sentenced him to six months of home confinement for refusing to disclose a confidential source. Taricani then became a nationally recognized advocate for the passage of a federal shield law for journalists.
Joining Taricani, who recently announced his plans to retire April 1 from NBC Channel 10, will be: Kendall Moore, associate professor of journalism and film media at the University of Rhode Island; Agnieszka Woznicka, animation artist and associate professor at the Rhode Island School of Design; and Teja Arboleda, an award-winning documentarian, writer and educator.
"Jim, Kendall, Agnieszka and Teja are four of the premiere screen storytellers of our time," said Story in the Public Square director G. Wayne Miller. "This is a rare opportunity to view some of the best of their work and meet and participate in discussion with them."
The theme of this year's Story Day is Moving Images: public storytelling  in TV, animation, feature-length documentary filmmaking, and short documentary/video. Emmy-winning screenwriter, producer, and actor Danny Strong will deliver the keynote address and be honored with the second annual Pell Center Prize for Story in the Public Square.
Strong's Game Change, the 2012 HBO production about the 2008 presidential election, won a Golden Globe, a primetime Emmy, a Writers Guild of America Award, and a Producers Guild of America Award. His 2008 HBO film Recount, about the 2000 presidential election, won a Primetime Emmy. Part I of the Mockingjay Hunger Games finale will be released this fall. Part II is currently in production. Strong recently signed to script the remake of Guys and Dolls.
Strong is also an accomplished Hollywood actor, having played roles in the TV series Mad Men, Grey's Anatomy, How I Met Your Mother, Seinfeld, Gilmore Girls and, early in his career, the character Jonathan Levinson in the hit show Buffy the Vampire Slayer. He also acted as a producer on many of his projects, including Lee Daniels' The Butler, Game Change and Recount.
During the conference, audience members will have the chance to make short films of their own. The day concludes with an evening screening of Strong's Game Change.
Winners of the 2014 student storytelling contest will also be honored on April 11. Hgukigh school and college students still have until March 30 to enter the contest, which carries a Grand Prize of $1,000 and the opportunity to share the stage with Strong. To enter, please visit www.publicstory.org and follow the instructions at "Student Contest."
The general public is invited to attend the 2014 Story Day, sponsored by the Story in the Public Square program, a partnership of The Providence Journal and the Pell Center. Register through the link at www.publicstory.org.  The $25 fee includes lunch at the magnificent Ochre Court and the evening screening at Jane Pickens Theater. Members of the Salve community and all high school and college students are admitted free — but pre-registration is required.
Dana Priest, two-time Pulitzer Prize-winning Washington Post writer, was the 2013 winner of the Pell Center Prize for Story in the Public Square at last year's inaugural Story Day conference. Gary Hart was the keynote speaker.
Find us on Facebook at www.facebook.com/StoryInThePublicSquare
Follow us on Twitter: @pubstory
The hashtag for the April 11 conference is #publicstory.