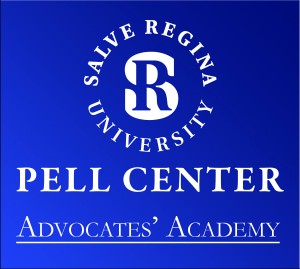 The Pell Center's Advocates' Academy seeks to help nonprofit policy advocates create a more engaged and informed public dialog.  
NEWPORT, R.I. − This fall, the Pell Center at Salve Regina University will launch the Advocates' Academy, a skill- and coalition-building program for nonprofit communicators.
The Advocates' Academy is designed to help policy advocates in both the public and nonprofit sectors who seek to more effectively engage and inform audiences, including the general public, funders, opinion leaders, and policy makers. Communicators from a range of important nonprofit organizations around the state will meet once a month throughout the Fall semester to develop their skills and capacity in this critical area, to practice new approaches in a comfortable setting, to develop ties with a community of advocates working on the same goals, and to hear from experts in both the theory and practice of effective framing.
The Advocates' Academy promotes the Pell Center's mission to create more informed and engaged dialogue, among both the public and leaders, about critical issues and policy choices facing our society. More specifically, the Advocates' Academy falls under the umbrella of the Center's "Informed Democracy" program, which seeks to promote broader understanding of some of the key ideas that underlie public policy discussions in areas such as sustainability or the role of government in the economy.
The program is led by Pell Center Senior Fellow Joseph Grady, Ph. D., who has spent more than fifteen years helping advocates find better communications approaches with the firms he cofounded, Cultural Logic and the Topos Partnership.
"Even the best communicators can hit a wall where they find it hard to get through to audiences that don't share the same knowledge and background," said Grady. "That's where the training in this Advocacy Academy starts.  We'll focus on the best ways to reach broader audiences, and how to offer a clearer, more compelling picture of important policy choices.  In the end, these skills are at the heart of effective advocacy."
The South China Sea is a strategic water-way, a collection on uninhabited rocks and shoals, and the scene of rising international tensions between the People's Republic of China, Vietnam, the Philippines, Japan, and the United States.
Join the U.S. Naval War College's Toshi Yoshihara for a candid conversation about China's capabilities and intentions and the challenge facing U.S. policy in the South China Sea.
Tuesday, September 9, 2014
7:00 p.m.
Bazarsky Lecture Hall
O'Hare Academic Center
Salve Regina University
Please RSVP on the Pell Center's Eventbrite page. If you have any questions, please email [email protected] or call 401-341-7462.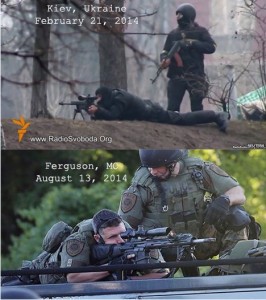 The Ebola Outbreak and Global Health
Unseating the First Horseman | The Economist
The Ebola Outbreak Shows Why the Global Health System is Broken | Bloomberg BusinessWeek
The Top 3 Public Health Trends in Africa | Forbes
The recent Ebola outbreak in West Africa has spread alarm across the globe. The world concern has shed light on global health and the state of the health systems of individual countries. When it comes to infectious diseases and possible pandemics, prevention is key, according to The Economist. The recent Ebola outbreak should serve as "a wake-up call to governments everywhere" as evidence that the international health system is broken. "Preventing a recurrence of this tragedy will require more money and attention on global progress against infectious disease and epidemics," according to the Bloomberg Businessweek. Looking toward a number of up-coming international summits on global health, Forbes asked some of the world's leading voices "to paint a comprehensive picture of key trends, challenges and opportunities to realizing healthcare access and treatment around the world."- Carolyn Deady, Fellow for Global Challenges
It Could Never Happen Here
How Police are Keeping Journalists from Doing their Jobs in Ferguson | The National Journal
Ferguson and the Militarization of Police | U.S. News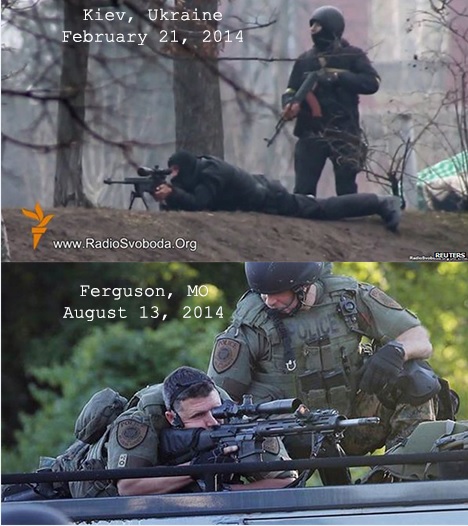 On February 21, 2014, the world gasped at the sight of security forces in Kiev, Ukraine, firing sniper rifles into crowds of unarmed civilians.

On August 13, 2014, we gasped at the site of American police officers armed for combat, staring down a sniper-scope at a crowd of unarmed civilians.

In the case of Ukraine, the security forces opened fire on the civilians, the backlash toppled the regime and a new government took its place.

In Ferguson, MO, law enforcement didn't fire on the crowds, but the disturbances in Ferguson began with the shooting of a young, unarmed African-American man by the police.

The news last night came fast and furious.  Journalists were arrested, as were political leaders.  One video shows an al Jazeera camera crew setting up for a live-shot.  They are obviously targeted with a tear-gas canister.  As the crew escaped the billowing cloud, an armored truck drove in and as one officer trained what appeared to be an M-16 at the fleeing journalists others broke-down their camera and lighting.

Someone didn't want them to tell the story of what was happening there—and the crew from al Jazeera wasn't alone, as Alexia Campbell and Reena Flores make clear in their chilling account.

What does it say when police, armed for combat, turn their guns on citizens?  Or when law-abiding journalists are kept from reporting an important story?

It tells me that something in our republic is broken—something important.  For several years we've seen evidence of a creeping authoritarianism in the United States.  Its seeds are scattered widely, but they all find fertile soil in the unmistakable gap between the people and the government that serves them.  It's this rot in the core of our democracy that says, on the one hand, "the government is the problem" and, on the other, that "it's okay to aim sniper rifles at crowds of civilians."  These are two sides of the same wicked coin.

Such sentiments are dangerous—in a lot of different ways—and they highlight the need for a national dialogue about the relationship between citizens and the state in the 21st century.  What we saw last night just shouldn't happen in the United States—not ever. – James Ludes, Executive Director
Racial Bias
Gov. Nixon promises 'operational shift' in handling of Ferguson protests | St. Louis Post-Dispatch
State of the Science: Implicit Bias Review 2013 | Kirwan Institute
Innocent until Primed: Mock Jurors' Racially Biased Response to the Presumption of Innocence | PLOS
An evolving page on the web site of the St. Louis Post-Dispatch chronicles the awful and disturbing events in Ferguson, Missouri this week, following the police shooting of an unarmed young African-American, Michael Brown – which now include tear gas and rubber bullets aimed at unarmed crowds, and the arrests of several journalists and a city alderman.

The story playing out in Ferguson reminds us (if we needed reminding) that racial tension is anything but gone in this country, even if some have hoped that the passage of time, and developments like the election of President Barack Obama mean that a sad and difficult societal challenge is mostly behind us.

The truth is that racial attitudes remain very problematic and a source of violence like what we are now witnessing (again) in Ferguson. A wealth of social psychology research – much of which is summarized in a 2013 review from the Kirwan Institute for the Study of Race and Ethnicity (Ohio State University) – establishes that implicit racial bias is far more widespread in U.S. society than many of us would like to believe, and that these attitudes that may even be unconscious have implications for everything from how police deal with suspects to how pediatricians deal with children of different races.

One recent experimental study suggests that a courtroom procedure "specifically designed to eliminate bias," the instruction to jurors that people are innocent until proven guilty, "may instead serve as an implicit racial cue resulting in attentional bias" – that is, they may predispose jurors to start picturing and looking for African-American suspects. We have a long way to go before we can feel comfortable that Americans of different races are on equal footing in courtrooms, doctors' offices or the streets of our communities.- Joseph Grady, Senior Fellow for Public Policy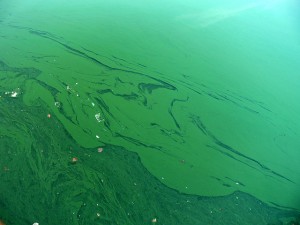 Central Role of Policy Change
This is climate change: Ohio's water crisis was a manmade disaster | Salon
Inequality: Don't Blame the Market | Center for Economic and Policy Research
Two commentaries from this past week – one from Salon and one from the Center for Economic and Policy Research – remind us that the choices we make as a society, i.e. through public policy, have profound consequences in every area of our lives. In Ohio, hundreds of thousands of people lost access to fresh water thanks to a massive algae bloom in Lake Erie, and the Salon writer points out that our choices regarding agriculture, infrastructure and energy use have all contributed to creating the conditions for the problem: Our current agricultural regulations allow excessive phosphorous to build up in Lake Erie and elsewhere, inadequate sewer systems can't handle increasing rainwater and therefore lead to overflows into natural waterways, energy policy supports fossil fuel use which is contributing to a shifting climate that includes warmer temperatures and greater rainfall in certain areas. As the Salon writer points out: "What happened this weekend in Ohio can't be called a natural disaster." In a commentary with interesting parallels, Dean Baker of CEPR points out the policy choices that have created the conditions for a rising gap between those at the top of the US economy and the rest of us – a series of choices that include our trade policies, our support of the financial investment industry, and even our patent laws. The implication of both of these pieces is that if we want good drinking water, a reasonably equitable society, or other goals, we need to pay attention to the (policy) choices we are making in these areas.-Joseph Grady, Senior Fellow for Public Policy
The Politics of National Security Misses the Point
Does Foreign Policy Affect mid-term elections? | The Hill
China to build lighthouses on five isles in defiance of U.S. call | Reuters
Russia massing 20,000 troops on Ukraine border, NATO warns | The Globe and Mail
If you turned on one of the cable news networks this week, you saw a lot of breaking news about two American Ebola patients being transferred to hospitals in the United States.  It's hard not to be drawn in to watch people in bio-hazard suits and wonder what they must be thinking and feeling in that moment.

But lost amidst that flurry of fear-laced news were important developments in Ukraine, where investigators still have not finished searching the scene of MH17, where Russian forces are again massing on the border, and where Vladimir Putin seems determined to test the resolve of the West.

Also lost this week is the latest chapter in the new, dark age descending on Iraq.  40,000 civilians are trapped on Mount Sinjar where they have fled the advance of Islamist militants and fear annihilation because of their faith.  This is only the latest account of a religious minority in Iraq facing conversion or death at the hands of extremists.

And then in the Pacific—the simmering crisis that never seems to make the headlines—China announced this week it would build lighthouses on islands it claims in the South China Sea.  The problem with these aids to navigation stems from the fact the islands are also claimed by Vietnam.

So it's not really any wonder that the President's foreign policy approval ratings have taken a hit.  Everyone who views this solely in the context of the horse race—specifically the 2014 mid-term elections—however misses the real significance of these numbers.

Whatever the merits of the Obama administration's approach to foreign policy, the President has failed to articulate a vision of America's role in the world that seems worthy of the moment we find ourselves in and the challenges emerging from East Asia, the Middle East, Africa, and our own Southern border.  While he has eschewed the transformative mission of his predecessor (Bush 43 invaded Iraq; Obama restrained the hawks in his own administration on Syria), he has been willing to intervene for humanitarian purposes (Libya).

Yet in failing to pursue a strategy, the President not only risks knee-jerk reactions to long-term challenges, he fails to explain to the American people—and, in fact, publics around the world—just what the United States believes and what it values.

The bottom line is this: Secretary of State John Kerry has immersed himself in the most dramatic issues and crises in the world today.  But deploying John Kerry is not a strategy—it's crisis management.  Here, in the sixth year of the Obama presidency, the administration should be more capable than that.- James Ludes, Executive Director
Health Care Reform
GAO report details flaws behind $840M O-Care website rollout | The Hill
Part of the Solution: Pre-Baccalaureate Healthcare Workers in a Time of Health System Change | The Brookings Institution
Health care reform is a perennial issue in America. Reforming the US health care system – which represents 1/7 of the nation's economy – presents numerous challenges for public officials. Under the best of circumstances, the presence of entrenched stakeholders (e.g., hospitals, insurers, physicians, pharmaceutical manufacturers, etc.) makes it difficult to achieve meaningful reform. Alas, the implementation of the Affordable Care Act was far from ideal in 2013, and continued challenges remain as the administration prepares to implement a mandate for employers to provide coverage in the coming months.

As we approach the one year anniversary of the botched rollout of the ACA signup in October, supporters of reform must turn their attention to rebuilding public confidence. Without trust – and faith – in public officials' ability to successfully implement reform, the twice-delayed employer mandate is also likely to face a chilly reception from the business community. In addition, questions about the value-added of state operated health insurance exchanges will also continue to appear, as oversight agencies and investigative reports unpack the causes and consequences of the website woes in 2013.

The business of health care also featured prominently in reports this week, as a Brookings Institution report underscored the fact that the health care industry is a job-creating machine. At a time when much of the economy remains stuck in neutral, health care institutions provide a wide range of opportunities, particularly for entry-level workers without a college education. The business community and the public will be watching carefully in the coming months as the second phase of ObamaCare implementation takes hold. – Bob Hackey, Visiting Fellow for Health Policy
New Pell Center Study Charts a Path to Cybersecurity Professionalization
Study Recommends Cybersecurity Professional Group | Providence Journal
New Study Promotes Creation of Professional Association to Address Cybersecurity Workforce Shortfall | Fierce Government IT
Pell Study Calls for Professional Cybersecurity Association | Providence Business News
In my new study released this week by the Pell Center at Salve Regina University, I argue that the current cybersecurity ecosystem is failing to meet the wide variety of cyber threats we face today. With more threats than there are professionals to handle them, I outline why a national cybersecurity association would solidify the field as a profession, support individuals engaged in it, establish clear professional standards, create proper education and training requirements, and serve the public good. Numerous studies have identified the skill gaps and the varying cyber-related educational programs and initiatives that currently exist, but we have no unifying strategy to prioritize all these existing cybersecurity initiatives, no basic standards to assure that someone claiming special skills actually has them, and no single organization that can take ownership of the field. In other words, there is no focal point or center of gravity around which to organize.  My study charts a path to professionalize the field by establishing and sustaining such a professional group, which is deemed critical to standards, status, and successful efforts to secure the nation's infrastructure.

In order to achieve this goal, we need an overarching organizational framework to develop, manage, and oversee the training, education, certification, and continuous professional development of a qualified cybersecurity workforce along a career continuum. This framework would also help guide leaders across society in harnessing the right people with the right knowledge, skills, and abilities to the right challenges in a rapidly-evolving environment.  Counterparts in other fields–like the American Medical Association and American Bar Association–offer blueprints for how to professionalize the cybersecurity industry.

The study was lauded by experts and field practitioners alike. Congressman Jim Langevin (D-RI) stressed the need "not only to improve our standards of cyber protection, but also to develop a workforce of highly skilled individuals," and praised "the Pell Center for its continued focus on improving cybersecurity." James Lewis, Director of the CSIS Strategic Technologies Program, concurred with the study's conclusions and asserted that "if you think about professionals in any field, they need to have the right skills and competencies, and they have to be able to show that the possess them." Michael Assante, former President of the National Board of Information Security Examiners and member of the Council on CyberSecurity, stated that "professionalization will require an organized effort; we cannot wait for the field to figure itself out." He continued: the nation's increasing reliance on secure, reliable, and safe cyber systems cannot afford to "wait for some 'natural' progression in the pursuit of clear competency and performance standards for cyber professionals."

The full report, "Professionalization of Cybersecurity" is available to download here.- Francesca Spidalieri, Fellow for Cyber Leadership
Political Psychology
Why people have different political orientations, political division
Scientists Are Beginning to Figure Out Why Conservatives Are…Conservative | Mother Jones
More hype about political attitudes and neuroscience | The Washington Post
Differences in negativity bias underlie variations in political ideology | Cambridge Journals
Writing in Mother Jones, science writer Chris Mooney summarizes a body of recent psychology research that examines the link between a person's political outlook and their emotional and even physiological response to various kinds of stimuli, such as images that include blood or spiders. The brief version of a key finding is that conservatives appear to be more responsive to and more focused on these "negative" stimuli than liberals are. A post this week in the Washington Post's political science blog "The Monkey Cage" takes exception to some presentational aspects of the Mother Jones piece, but acknowledges that the substance of the article, and of the scientific paper it is based on (in the important journal Behavioral and Brain Sciences), are intriguing and potentially important. As Americans work (or struggle) to figure out how to have constructive dialog about important questions that face us as a society – or as cities, states, etc. – it is worth bearing in mind that political differences often aren't about things like facts. Instead, they are often based on deep-seated differences in how we see the world. Understanding more about the nature of these differences may be a helpful step towards more civil dialog. As the psychologists point out in the abstract to their scientific paper, "identifying differences across ideological groups is not tantamount to declaring one ideology superior to another." And science writer Mooney hopefully offers that this type of scientific understanding of our differences may lead to "a better way of acting in politics that leads to less dysfunction and less gridlock."- Joseph Grady, Senior Fellow for Public Policy
Russian President Vladimir Putin
Why nothing will dent Vladimir Putin's soaring popularity at home | The Guardian
Sanctions Have Little Effect On Putin's Incredible Popularity In Russia | Business Insider
As Sanctions Pile Up, Russians' Alarm Grows Over Putin's Tactics | The New York Times
President Obama this week announced a new round of sanctions on Russia in response to the country's continued involvement in the crisis in Ukraine and its support of pro-Russian separatists in the Eastern European country. This announcement came just hours after the European Union agreed for the first time to impose economic sanctions on Russia, measures that were coordinated with the United States.

Despite these sanctions and allegations of Russia's involvement in the downing of Malaysia Airlines flight MH17 over Ukraine by pro-Russian separatists, Russian President Vladimir Putin is unlikely to suffer any marked decrease in his popularity at home. Two of the following articles cite a Pew Center poll conducted on July 18 (days before flight MH17 was shot down) showing Putin's popularity to be higher than ever with an 83% approval rating. Business Insider rightly suggests that the Pew poll may not be accurately reflect favorability of Putin, as many Russian respondents may have responded favorably out of fear of oppression from their government. Another poll, published this week by the independent Russian pollster Levada (viewed as well-respected by Western media) found that 82% of Russians thought that MH17 was brought down by either a Ukrainian fighter plane or a missile. Only 3% of those surveyed thought that pro-Russian insurgents were to blame. With the majority of Russians perceiving that the Kremlin had no involvement in the downing of the aircraft, it is very likely that President Putin's approval ratings in his country remain intact or have possibly increased over the past week.

The Guardian article explains how Putin's popularity at home can be traced, in large part, to the Russian media, much of which is state-run. The New York Times suggests that Russians are alarmed by Putin's recent tactics. However, you have to consider that there is little room for dissent in Russian politics. Some lawmakers may disagree with President Putin and may be concerned for the future of their country but most would be very reluctant to go against their president and his political machine. –Carolyn Deady, Fellow for Global Challenges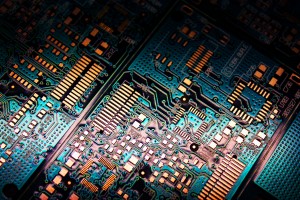 A nationally recognized, professional association deemed critical to standards, status, and successful efforts to secure the nation's infrastructure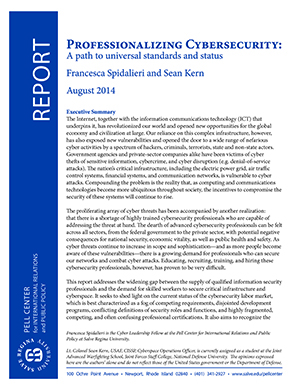 NEWPORT, R.I. – In a new study released today by the Pell Center at Salve Regina University, fellow Francesca Spidalieri and Lt. Colonel Sean Kern, USAF, call for the creation of a professional association to address shortcoming in the cybersecurity industry.  In an era of countless studies identifying skills gaps and expanding opportunities for qualified individuals, this study charts a path to professionalizing the field.  The key element of the proposal is the creation of a professional association for the cybersecurity industry.
"There is a widening gap between the supply and demand of qualified cybersecurity professionals," said Spidalieri. "As schools and training institutes proliferate to meet that need, basic standards are needed to assure that someone claiming special skills actually has them. Fortunately, there are analogues in medicine—the American Medical Association—and law—the American Bar Association—that demonstrate sound models for professionalizing the cybersecurity workforce."
"Achieving cybersecurity is far more than a technical problem: it is fundamentally a people problem," said Kern. "And since cybersecurity is a people problem, there must be a people solution. This requires developing an overarching organizational framework to develop, manage, and oversee the training, education, certification, and continuous professional development of a qualified cybersecurity workforce along a career continuum, and to guide leaders across society in harnessing the right people with the right knowledge, skills, and abilities to the right challenges in a rapidly-evolving environment."
The study is part of the Cyber Leadership Project at the Pell Center and follows previous reports that explored the failing of America's most prestigious civilian and military graduate programs to educate their students—and ultimately the nation—for an era of persistent cyber threat.
"The U.S. is clearly struggling to develop and sustain the talent needed to meet the wide variety of cyber threats we face," said Jim Ludes, Pell Center Executive Director. "The need for a cadre of cyber-strategic leaders and a knowledgeable and experienced cyber workforce has never been greater, yet their present capabilities lag behind the current threat."
"Unfortunately," noted Spidalieri, "the cybersecurity industry in this country is highly fragmented and characterized by a fog of competing requirements, disjointed development programs, conflicting definitions of security roles and functions, and many different competing and often confusing commercial certifications. In short, the present reality is inadequate to address the threat at hand."
Spidalieri and Kern's proposed alternative to today's decentralized approach to cybersecurity workforce development is to create a national professional association in cybersecurity to solidify the field as a profession, to support individuals engaged in it, to establish professional standards and prescribe education and training, and, finally, to support the public good. A nationally recognized independent professional association would serve as a clearinghouse for the cybersecurity profession and a focal point for education, training, communication, participation, facilitation, support, and negotiation within the cybersecurity workforce. Additional member professional associations could then act as representatives of each cybersecurity specialty, similar to how the American Medical Association (AMA) has a professional association for each medical specialty.
"Cyber attacks on both public and private entities are becoming increasingly common, and estimates of the value lost through cyber crime targeting intellectual property run into the hundreds of billions of dollars each year," said Congressman Jim Langevin, who serves on the House Armed Services and House Select Intelligence Committees, and is the ranking Democratic member of the Subcommittee on Intelligence, Emerging Threats and Capabilities. "We currently face a critical shortage of cybersecurity professionals. In order to successfully combat cyber crime and cyber terrorism, we must not only improve our standards of cyber protection, but also develop a workforce of highly skilled individuals for this emerging field. That will take a serious commitment to recruitment, training and education efforts in the cyber disciplines, and I applaud the Pell Center for its continued focus on improving cybersecurity."
"We do not consider this study as providing a final solution to the shortage of an advanced cybersecurity workforce, and we recognize that the professionalization process would unfold over the course of several years and would involve many different stakeholders," Kern said. "But we hope that this work catalyzes additional research and efforts to unify this complex ecosystem under a common purpose, seek ways to mobilize commitment to change, develop a shared vision, foster consensus, and institutionalize a commonly accepted approach."
The full report, "Professionalization of Cybersecurity" is available to download here.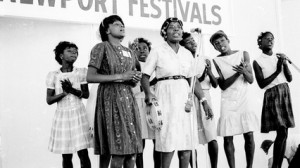 2014 RIIFF partners with Story in the Public Square for documentary screenings
NEWPORT, R.I.− The Pell Center at Salve Regina University's Story in the Public Square program will partner with the Rhode Island International Film Festival for an afternoon of cinematic storytelling featuring the documentaries "The War Photographers" and the festival world premiere of "The Newport Effect" on Saturday, August 9 at the Jane Pickens Theater in downtown Newport.
"Although folk music and war photography may not seem to have much in common, both are media used to publicly share the human experience," said G. Wayne Miller, Director of Story in the Public Square. "It is only fitting that these two important movies be screened together in Newport, which has witnessed war, peace and plenty of music over its long history."
The afternoon begins with "The War Photographers," which recounts the personal experiences of award-winning photojournalists who risk their lives covering conflict in the world's most dangerous war zones, past and present, including Vietnam, Iraq, Afghanistan, Somalia, Sudan and the Middle East. The following film screening, "The Newport Effect," chronicles the history of the legendary Newport Folk Festival and its profound impact on the world of folk music and social activism. Started in 1959 by jazz impresario George Wein, the Newport Folk Festival has laid the foundation for music festivals of today.
"The Newport Effect" filmmakers Beverly Penninger and Alyson Young, and Newport Folk Festival producer emeritus Robert Jones, will be on hand to discuss the film and the festival.
Tickets are available on Eventbrite or visiting the following link: http://bit.ly/1uA0KxA
Tickets will also be available at the Jane Pickens box office on Aug. 9.
War and Peace: Two Films, Two Moving Stories
Saturday, August 9, 2014 at 2:00 p.m.
49 Touro Street
Newport, RI 02840
About Story in the Public Square
A partnership between the Pell Center and The Providence Journal, Story in the Public Square is an initiative to study, celebrate, and tell stories that shape the public dialogue.
To learn more about SIPS, visit www.publicstory.org and stay connected on Facebook at www.facebook.com/StoryInThePublicSquare and Twitter @pubstory.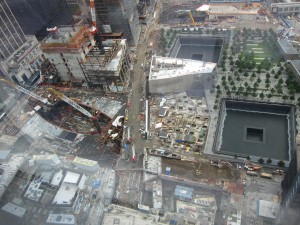 9/11 Commission Warns Us That "History May Be Repeating Itself" in Cyberspace
9/11 Commission report authors warn nation of cyberattack threats | The Washington Post
The 9/11 Commission Is Back With a New Warning for America | The Daily Beast
Today's Rising Terrorist Threat and the Danger to the United States: Reflections on the Tenth Anniversary of The 9/11 Commission Report | Bipartisan Policy Center
Ten years after releasing a landmark report on the Sept.11, 2001 terrorist attacks, the same 9/11 Commission is raising new alarms about the threat of cyber attacks to the United States. Their final analysis may appear grim: the country is practically asleep at the wheel when it comes to preventing attacks to our critical information infrastructure, just as intelligence failures left the nation vulnerable to terrorist groups like al Qaeda before 2001. The report concludes "one lesson of the 9/11 story is that, as a nation, Americans did not awaken to the gravity of the terrorist threat until it was too late. History may be repeating itself in the cyber realm."

And in contrast to all the backslapping about what a good job the 9/11 Commission had done in forging a unanimous report from 10 commissioners, half Republican, half Democrats, no one had a good word to say about Congress. They all urged lawmakers to pass comprehensive cybersecurity legislation to let private companies work with the government to counter threats, despite concerns about privacy provisions. In addition, the authors say more transparency is needed to help a skeptical public understand the threat. In fact, one of the reasons Congress has failed to enact cybersecurity legislation is perhaps that Americans haven't demanded it and that the government hasn't explained clearly and in specific terms the severity of the cyber threat and what's at stake to the public. People's distrust after the Snowden revelations, coupled with the lack of knowledge of even highly educated people across sectors about what 'cyberspace' is, and how growing cyber threats may directly affect our information, businesses, and government, has so far discouraged the general public from rallying around specific cybersecurity policies and pushing Congress to pass legislation.

Congress is currently considering a number of cybersecurity bills, so this may be a good time to take action whether you're a citizen who needs more information on the topic, or whether you're a local or national representative who needs to better appeal to his/her constituencies!- Francesca Spidalieri, Fellow for Cyber Leadership
Attitudes Towards Poverty
Some Republicans push compassionate, anti-poverty agenda ahead of 2016 contest | The Washington Post
The big problem with Paul Ryan's new poverty plan | The Washington Post
Attitudes Toward Poverty Show Dramatic Change | The Wall Street Journal
The Washington Post reports this week that a number of GOP leaders and future candidates are taking an unexpected stance towards poverty and safety-net services. Paul Ryan, well-known for proposals to cut spending on services that help Americans of limited means, is offering a new proposal that downplays actual cuts, and he is quoted as saying, "I wanted to remove [the discussion of how to alleviate poverty] from the old-fashioned budget fight. . . ." The article refers to this shift as part of a "rebranding effort" on the part of certain Republicans, and not surprisingly, the Washington Post's liberal blog, the Plum Line, sees the new stance as cynical and politically motivated. From the perspective of the blogger, "it's hard to avoid the conclusion that [Ryan's new plan is] still driven by the longstanding conservative desire to limit the help we give to the poor." Still, there is something new in the plan, if only its packaging. This shift in emphasis may reflect a trend identified in a Wall Street Journal – NBC poll from last month, that identified a noticeable shift over the past twenty years in how Americans view poverty: "In 1995, Americans were twice as likely to believe poverty resulted from people not doing enough to help themselves out as to attribute it to external forces … [while] Americans are now as likely to blame poverty on circumstances beyond people's control as they are to believe the poor aren't doing enough to dig themselves out of it." The Great Recession and its aftermath may have more Americans recognizing that circumstances can create economic difficulties we are not individually responsible for.- Joseph Grady, Senior Fellow for Public Policy
Health Policy
Two Americas on health care, and danger of further division | The New York Times
Government's Most Visible Failures, 2001-14 | The Brookings Institution
How do we learn from the past? Paul Light's study of government failures over the past decade provides important lessons for health policy. Policymakers who don't understand past problems, in short, are likely to repeat them. The design and implementation of the Affordable Care Act ("Obamacare") offers a glimpse of the good, the bad, and the ugly sides of government efforts to tackle difficult policy problems.

On the one hand, millions of Americans gained health insurance coverage through expanded Medicaid eligibility, new rules on insurers extending coverage to adult children and persons with pre-existing conditions, and subsidized coverage purchased on newly created health insurance exchanges. At the same time, both the design of the ACA and its implementation underscore the limits of public efforts to heal the health care system.

This week, two federal appellate courts handed down conflicting rulings about whether residents in states that did not operate their own health insurance exchanges could qualify for subsidized health insurance coverage. This is a major challenge to the ACA as most individuals purchasing coverage qualify for subsidies.

The US Supreme Court will need to resolve these inconsistent opinions during the 2014-15 term. The ACA expressly states (in many places) that subsidies are only available through "state exchanges" but when it passed the law in 2010 Congress expected that most, if not all, states would set up their own marketplaces.

At the same time, the administration postponed key provisions of the law such as the employer mandate, and waived minimum coverage requirements due to a firestorm of opposition from insured individuals with bare-bones policies. More than four years after its passage, the ACA remains a work in progress whose political future is still uncertain. – Bob Hackey, Visiting Fellow for Health Policy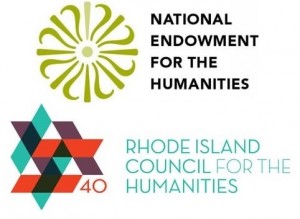 Pell Center Production of "Ajax" will tour RI this autumn, feature community dialogue
NEWPORT, RI – The Pell Center at Salve Regina University won a special grant from the Rhode Island Council for the Humanities (RICH) to support a theatrical production of "Ajax"—a Greek tragedy set in the Trojan War—as a vehicle for opening community conversations about the challenges facing veterans returning from war.
The grant was made possible by the National Endowment for the Humanities (NEH) as part of its "Standing Together: The Humanities and the Experience of War" special initiative, which supports veterans-related programming within each state and encourages a national network of humanities programming for America's military, veterans, and their communities.
The Department of Veterans Affairs estimates that post-traumatic stress disorder (PTSD) affects 20% of Iraq veterans and 11% of those who served in Afghanistan.  Sadly, the emotional trauma of war is not a modern phenomenon.  More than 2,500 years ago, the Greek playwright Sophocles explored the emotional cost of war in a short play, "Ajax."
The Pell Center's production of "Ajax," using a new translation by James Scully, will open on November 11, 2014—Veterans Day—at Salve Regina University.  Then, in partnership with Providence College, the production will tour the state, appearing in each of Rhode Island's five counties over the following weeks. Each performance will be followed by a community forum on veterans' issues.  Dates, venues, and ticket information will be announced at a later date.
"This project, with the help of NEH and RICH, builds upon a long tradition of 'activist performance' in the theater that views storytelling as a positive force for social change," said Dr. Robert Hackey, professor at Providence College and visiting fellow at the Pell Center. "By drawing attention to significant issues, theater can stimulate a dialogue in the community that continues long after the performance.  We sincerely hope this production and the conversations that follow will connect veterans and their families more deeply to their communities and to the resources that exist to help people navigating the transition from war to peace."
Pell Center Executive Director Dr. Jim Ludes praised the partnerships that will make this production possible.  "We are grateful to the NEH and to RICH for giving us this opportunity to tell an ancient tale whose power endures and still sheds light on the human experience," said Ludes.  "And we're thrilled to be working with our colleagues at Providence College, especially Bob Hackey, to bring this production and community forum to audiences across Rhode Island."
Elizabeth Francis, Executive Director of RICH, lauded the production's use of theater to educate the Rhode Island Community about PTSD. "We are proud to support the Pell Center's use of the humanities—in this case a classic piece of theater—as the entry to a public discussion of a vital contemporary issue," said Francis. "'Ajax' reminds us that some scars of war are invisible.  We hope this creative use of the humanities spurs an important conversation in our communities and helps those who need it."
"Ajax" will be produced as part of Story in the Public Square, a Pell Center initiative to study, celebrate, and tell stories that improve public understanding of important issues.
# # #
The Pell Center will be hosting one lecture, two panel discussions, and one theatrical production during the Fall 2014 semester. Stay tuned for registration details on the blog, Facebook, and Twitter:
Tensions in the South China Sea
September 9, 2014, 7:00 p.m.
Bazarsky Lecture Hall, O'Hare Academic Center
The South China Sea is a strategic water-way, a collection on uninhabited rocks and shoals, and the scene of rising international tensions between the People's Republic of China, Vietnam, the Philippines, Japan, and the United States. Join the U.S. Naval War College's Toshi Yoshihara for a candid conversation about China's capabilities and intentions and the challenge facing U.S. policy in the South China Sea.
The First World War at 100: Understanding the Cost, Legacy, and Meaning of the "Great War"
October 7, 2014, 7:00 p.m.
Bazarsky Lecture Hall, O'Hare Academic Center
The defining event of the 20th century was not the Second World War, but the first.  The spark that became an inferno was lit 100 years ago this year.  The war itself was industrial slaughter on a global scale.  It ended empires, ushered in the American century, and redrew maps across Eastern Europe and the Middle East.  The consequences of those lines are still being played out in places like Iraq and Syria today.  The war also led to broad social revolutions in the Atlantic world, political revolution in Russia, and, in its failed peacemaking, sowed the seeds of World War II.

Join three faculty members from Salve Regina University for a lively discussion of the legacy of the First World War in global politics, culture, and international relations.

William Leeman, Ph.D., Salve Regina University

James Ludes, Ph.D., Salve Regina University

Timothy Neary, Ph.D. Salve Regina University

John Quinn, Ph.D., Salve Regina University
Creating Good Jobs and Broad Prosperity
October 21, 2014, 7:00 p.m.
Bazarsky Lecture Hall, O'Hare Academic Center
Everyone wants a "better economy" – but there can be disagreements about what a good economy is, and also about what we can do to create one. Are good jobs and a good economy created through tax cuts? Through policies to make labor organizing easier? Through tax incentives to bring businesses into a state? Through job standards that require a living wage? By waiting for entrepreneurs to create the next boom? These are challenging questions that require attention to both economic dynamics and preferences about the kind of society we want to live in.

Kate Brewster, Economic Progress Institute (RI)

Joseph Grady, Ph.D., Salve Regina University

Doug Hall, National Priorities Project
Ajax: A Community Conversation About Returning Veterans
Presented with Story in the Public Square 
November 11-13, 2014, 7:00 p.m.
Megley Theater, Antone Academic Center
Lawrence Avenue (intersection of Leroy Avenue)
Salve Regina University
Ajax is an ancient Greek play that introduces audiences to the emotional trauma of war, by facilitating an engaging conversation about the challenges facing returning veterans.