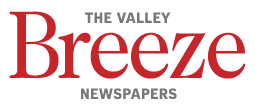 Earlier this month, The Valley Breeze newspaper wrote an article about Pawtucket leaders crediting the Leadership Matters program to increased efficiency in the city:
PAWTUCKET – Using new leadership tools and problem-solving skills, city leaders say they are achieving greater efficiency, smarter use of budgets, and improved relationships between departments.

"Not all of Pawtucket's bridge improvements are built of concrete and steel," said Mayor Donald Grebien. "Building bridges between our city's municipal departments also is paving the way to continued progress. And like the visible ones, these bridges are building momentum by maximizing resources and improving service to our citizens."

Grebien and other leaders are crediting a program called Leadership Matters R.I. as a key driver in recent positive shifts. They say it has enabled city workers to better work together to make improvements.
To read the full article, visit The Valley Breeze website.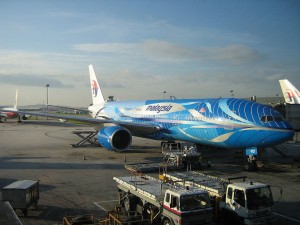 Users' Privacy and Online Content NOT Protected by the Fourth Amendment
The US Decides Everything Digital Is Not Protected By The Fourth Amendment | Business Insider
Government's Brief in Support of the Magistrate Judge's Decision to Uphold a Warrant Ordering Microsoft to Disclose Records Within Its Custody and Control | U.S. States District Court Southern District of New York
Obama Administration Says the World's Servers Are Ours | ArsTechnica
In a hotly contentious legal case that calls into question Fourth Amendment rights in a digital era, the US government has decided that data stored online—your emails, digital photos, etc.—does not enjoy the same type of Fourth Amendment protection as physical information.

The controversy was sparked by a drug trafficking case in which the US Justice Department demanded that Microsoft disclose emails stored in a datacenter in Dublin, Ireland. Microsoft contested the warrant contending that digital and physical property should be protected equally and that "the government cannot seek and a court cannot issue a warrant allowing federal agents to break down the doors of Microsoft's Dublin facility." The US government countered Microsoft's endeavors to keep data abroad safe from the prying eye of government officials, and justified its decision as a necessary one in a time where electronic communications can be exploited by "fraudsters" and "hackers," both domestically and abroad.

A chorus of tech giants including Apple, AT&T, Cisco, and Verizon have weighed in in support of Microsoft, stating that such a decision contradicts foreign data protection laws, and further erodes the trust—and ultimately the leadership—of US technologies in the global market, especially in the post-Snowden era.

The case is not over yet and the battle to protect users' privacy around the world is just at the beginning, so expect a lot of litigation on the issue. And while nobody reading this (we hope) is hiding drug trafficking info online, we'd bet a good number are storing their pictures online… apparently those are not protected by the Fourth Amendment the way, say, a physical photo album in your house would be.- Francesca Spidalieri, Fellow for Cyber Leadership
                                                  Not an ordinary, unordinary day
China tells U.S. to stay out of South China Seas dispute | Reuters
Japan Announces a Military Shift to Thwart China | The New York Times
China thinks it can defeat America in battle | The Week
I've been slowly building my depth on developments in the South China Sea where tensions between China, the United States, Japan, Vietnam and the Philippines are rising.  The more I read, the more convinced I've become that China is assertive because it believes it can be so with little consequence.

And then July 17, 2014 happened.  A Malaysia Airlines flight from Amsterdam to Kuala Lumpur went down over eastern Ukraine.  As of 5:00 PM yesterday, the U.S. government seems to believe the plane was shot-down.  Not too much earlier this afternoon, we learned that Israel had launched a ground-operation into Gaza following days of airstrikes and rocket attacks.

Certainly, none of the events today are unprecedented—as sad a comfort as that might be.  But combined with the Syrian civil war and it's 160,000 dead; the great-power land-grab that Russia pulled-off in Crimea; the continuing tumult in Libya; the clear inability of Iraqi defense forces to defend themselves despite a decade-long $25 billion investment from Uncle Sam; and the crisis on America's southern border in which 90,000 unaccompanied children will try to walk into the United States from unstable countries in the Western hemisphere and we're left to wonder, what happened?

Twenty years ago, the world's economy was expanding, democracy was spreading, the United Nations seemed relevant, and the rule of law seemed ascendant.  Now here we are, well into the second decade of the 21st century, and we're still suffering economically; democracy in the United States seems wholly dysfunctional at the federal level—at least; the United Nations hasn't been relevant since Colin Powell's presentation to the Security Council prior to the invasion of Iraq—you remember, the mobile biological weapons labs; and more than ever the only law that seems to matter is the natural law of force.

So China's more assertive in the South China Sea.  Japan is changing its interpretation of its constitution so it can act stronger in the region.  With so much changing globally I'm left to conclude that there is some common element that ties all of these crises together.

Are you ready?

The world no longer fears the United States.

Let that soak in for a bit.

Over a decade of conflict against ill-trained and poorly equipped insurgents in Iraq and Afghanistan, the world learned that the United States military is not unstoppable.  The American public can grow weary of conflict.  And international conventions do not matter if leaders and their followers are willing to endure short-term economic pain.

Am I suggesting that U.S. weakness is the reason someone shot-down Malaysian Airlines Flight 17 over Ukraine?  Of course not—at least not directly.

But I am strongly asserting that the level of disorder in the world is a function of the dangerous erosion of American power.  Whether that perception is real or merely perceived will matter only in the history books.  For now, it's important to ask the question as we ponder the path ahead.- Dr. James Ludes, Executive Director of the Pell Center

Pell Center at Salve Regina University to Use Grant to Support Rhode Island Corporate Cybersecurity Initiative
Newport, RI — The Pell Center has received a grant from the Verizon Foundation to strengthen cybersecurity in Rhode Island's corporate community. The $15,000 grant will support the Rhode Island Corporate Cybersecurity Initiative (RICCI) during the 2014-2015 academic year.
"The headlines over the last year alone underscore the reality that information security is an executive responsibility," said Pell Center Fellow Francesca Spidalieri. "With Verizon's generous support, RICCI is helping Rhode Island business leaders and companies be aware of and ready for cyber-threats."
Through RICCI, the Pell Center seeks to improve information sharing, raise awareness, encourage cybersecurity training, and foster the idea that information security is not just the domain of IT professionals. RICCI hosts regular seminars, briefings, training sessions, and exercises for corporate leaders. More than 30 companies from the defense, financial services, technology, healthcare, energy, transportation, and telecommunication industries participated in RICCI events since its creation last fall.  The initiative is open to any company doing business in Rhode Island.
Pell Center Executive Director Dr. Jim Ludes, said, "Verizon is a leader in connecting people and devices with its network and delivering cybersecurity solutions to global clients.  We are grateful for the company's strong support, which will enable the Pell Center to expand our efforts to better prepare leaders for an era of persistent cyber-threat."
Michele Cinquegrano, regional director of government affairs at Verizon, said, "RICCI is an exceptional program that targets an emerging risk to businesses in the digital age. We hope Verizon's support will help establish Rhode Island as a model for cyber leadership in communities around the country."
For additional Information, contact Mia Lupo (401) 341-7462
Pell Center Adjunct Fellow Robert Whitcomb discusses Islamic militant group ISIS in his article published on Monday on The WorldPost, a partnership between The Huffington Post and Berggruen Institute on Governance.
The Islamic State being set up in parts of Iraq and Syria (ISIS) challenges the idea of the nation-state as we in the West know it. The mostly young men who are the ISIS shock troops want to help swiftly impose the will of the ISIS on a swath of territory from Morocco to Pakistan in an extra-national empire that would justify its dictatorship by religion. Abu Bakr al-Baghdadi, the ISIS chief, would be its "caliph" — supreme leader.

In such utopian (or dystopian) schemes, ideology and theology are used to excuse what mostly ends up as just a power drive, often married to sadism and greed. The ISIS version of Islam promotes a totalitarian view of society in which all human activities are said to come under 7th century Koranic rules. It's particularly attractive to frustrated and often psychopathic young men seeking the opportunity to dominate others while finding clarity amidst the unsettling ambiguities of life. One thinks of the Nazis and Bolsheviks. (If only the World Health Organization could address the problem of crazy people seizing power. Unfortunately, however, psychopaths run some U.N. member nations.)
To read the full article, please visit The WorldPost website.
Robert Whitcomb is a Providence-based editor and writer and a former editor of The Providence Journal's editorial pages. He is also a former editor at The Wall Street Journal and International Herald Tribune. He writes for the Cambridge Management Group and on his personal blog, New England Diary. 

Independence Day
We're No. 1?  Americans Increasingly Don't Think So | The Washington Post
Millennials Didn't Abandon Our Institutions — Our Institutions Failed Them | Bill Moyers
We Need a Citizen-Maker Movement | The Huffington Post
The two separate Pew surveys cited in these articles are intimately related.  They tell us something about Americans and our institutions, but they tell us more about our leaders.  For a lot of Americans, the bloom is off the rose of our institutions.  They question America's exceptionalism.  They feel less optimistic about the country.  They don't trust our institutions.  But then why should they?  For more than a generation, the public has been fed a steady diet of "the government is to blame."

And in this age of political paralysis, an irresponsible and intransigent Congress, a President who threatens "executive action" on more issues every week, and a decreasingly objective press, who can blame the American public for feeling jaded about who we are and the health of our institutions?

But make no mistake—the real or imagined health of those democratic institutions is an unmistakably public responsibility.  We live in a republic—and so to our citizens falls the responsibility for the health of our democracy, the functioning of our institutions and the tone of our discourse.  Don't blame it on the government.  Don't blame it on the press.  Don't blame it on institutions.  It's us.

The challenge really is for citizens to lead, not to simply be led. – James Ludes, Executive Director of the Pell Center
The Role of Government
If Only Thomas Jefferson Could Settle the Issue | The New York Times
Beyond Red vs. Blue: The Political Typology | People Press
We're No. 1? Americans increasingly don't think so. | Washington Post
An interesting New York Times story in the week of Independence Day reports on a historical study of drafts of the Declaration of Independence. The issue is whether a particular period (yes, the punctuation mark) was in Thomas Jefferson's intended version of this founding document, or is rather a stray bit of ink. The researcher, Professor Danielle Allen, argues that the question has implications for understanding Jefferson's (and other founders') views of the role of government. After looking at many different published versions of the text, she concludes that the famous sentence beginning "We hold these truths to be self-evident …" was not intended to end with the reference to the "pursuit of Happiness," but went on to include the role of government in securing various rights, as another self-evident truth.

Given that one of the most divisive questions in American society concerns the role of government, it is interesting to ponder the real intentions here. A Pew Research Center report last week discussed a "typology" of eight different kinds of Americans, defined by their basic political outlook – but pointed out that this types are "unified by frustration with politics and little else." Most Americans, that is, regardless of their particular political outlook, have trouble seeing government as a force for good. And a Washington Post story, on the eve of Independence Day, discussing another Pew report, points out that Americans' declining belief in their country's greatness is significantly linked to frustration with government. So an important question for current Americans concerns the ideas in Jefferson's 238 year-old text: Do we still believe that government is a tool that can help Americans "effect their Safety and Happiness"?- Joseph Grady, Senior Fellow for Public Policy
Earlier this month, Senator John McCain spoke at the U.S. Naval War College about the importance of America's role as a global superpower. The event, co-hosted by the Naval War College and the Pell Center, was held in the Spruance Auditorium and was well-attended by the public.
Following introductions made by Senator Sheldon Whitehouse and Salve Regina University president Sister Jane Gerety, McCain began by stating the world we live in has been "sustained by American power and influence."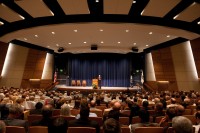 "The United States has made many friends–and made plenty of mistakes," McCain acknowledged, "but it happened because American power and influence persevered."
McCain proposed that the presence of American armed forces around the globe is what keeps war at bay. As the American military presence decreases, McCain insisted that American power and influence is at risk.
"America is not a normal nation," said McCain. "We are an exceptional and indispensable nation in maintaining liberal world order." Only days before McCain's lecture, ISIS, the militant Sunni group, began fighting in northern Iraq.
McCain believes that rebuilding the nation's hard power should be the most important task to reaffirm the United States' credibility as a superpower. According to McCain, "the United States' greatest limitation is not the question of options, but of resolve and imagination."
"If America chooses not to lead in the world, our highest hopes will be left defenseless."
To watch Senator McCain's lecture, visit the U.S. Naval War College's YouTube channel.

100 Years After the Start of World War I
The War to End All Wars? Hardly. But It Did Change Them Forever | The New York Times
40 Maps that explain World War I | Vox
Scars of World War I Linger in Europe on Eve of Centennial | The Wall Street Journal
The defining event of the 20th century is not the Second World War, but the first.  The spark that became an inferno was lit 100 years ago this week.  The war itself was industrial slaughter on a global scale.  It ended empires, ushered in the American century, and redrew maps across Eastern Europe and the Middle East.  The consequences of those lines are still being played out in places like Iraq and Syria today.  The war also led to broad social revolutions in the Atlantic world, political revolution in Russia, and, in its failed peacemaking, sowed the seeds of World War II.  The last veteran of the "Great War," as it was called, is no longer with us, but the consequences of that conflict continue to shape the world today. – James Ludes, Executive Director of the Pell Center
Climate Change and Property Loss
Risky Business: The Economic Risks of Climate Change in the United States | Scribd
Climate change and the economy: The cost of doing nothing | The Economist
On N.C.'s Outer Banks, scary climate-change predictions prompt a change of forecast | The Washington Post
Some of the most respected U.S. leaders of recent decades – including George Schultz, Olympia Snowe, Robert Rubin and others – have collectively endorsed a new report on likely economic impacts of global warming ("Risky Business"). According to the report, the most significant risks include "damage to coastal property and infrastructure from rising sea levels and increased storm surge, climate-driven changes in agricultural production and energy demand, and the impact of higher temperatures on labor productivity and public health." A story on the report in the Economist points out that "business concerns about the climate are growing sharper [in the U.S.], even if public opinion is not."

In other words, while many of us are complacent about the problem or even scratching our heads wondering whether it is real (mostly thanks to deliberate efforts to sow confusion), others are making careful assessments of the practical stakes involved. These assessments can be very concerning, which is why, according to a Washington Post report, realtors and property owners along the North Carolina coast have tried to persuade their state to abandon official sea rise forecasts that could send coastal property values plummeting. As the Post point out, rejecting the forecasts is one rational (if short-term) way to preserve the salability of properties. But surely there are others to consider. –Joseph Grady, Senior Fellow for Public Policy
Hacktivism and The World Cup
Hackers Take Down World Cup Site in Brazil | The New York Times
Hacktivist Group Anonymous Targets World Cup | Forbes
Will the World Cup Actually Help Brazil to Solve Its Problems? – If it does, don't thank FIFA, thank the protestors | Foreign Policy
World Cup controversies in Brazil are supposed to be about team selection and tactics, but this year they've focused on much bigger issues: jobs, poverty, public services, and corruption. The World Cup has served to catalyze civil society groups and strengthen the voice of average Brazilians around these issues, but offline activists have not been nearly as successful in getting their voices heard as the online hacktivists who are carrying out a series of distributed denial-of-service attacks and website defacements.

In a story that reads a little bit like Robin-Hood-meets-the-Internet, hacker group Anonymous Brazil says they started a hacking campaign, called #OpHackingCup, to protest the lavish spending on the soccer games in a country struggling to provide even basic services. They appear to have successfully taken down the 2014 World Cup site for a few hours this week and claim to have started at least 100 other attacks against sponsors and the Brazilian government since the World Cup began. Cybersecurity concerns—especially cybercrime and ID theft—are unsurprisingly common at sporting events of this magnitude. In fact, as we become increasingly reliant on digital technologies and social media to create, share, and store information, buy and exchange tickets and merchandise, we are also becoming a particularly attractive target for hackers and cyber criminals.

While Anonymous hopes to gain political leverage through their attacks and other hackers join in trying to collect information and money through World Cup-related hacktivism, we should all use our common sense when googling our favorite soccer players or opening emails offering cheap game tickets if we want to avoid becoming victims of scams ourselves. So, as the United States advances to the next round, enjoy watching the World Cup, but be on alert to ensure that losses only occur on the soccer field. –Francesca Spidalieri, Fellow for Cybersecurity
China and America's Battle in Cyberspace: Hyper or Reality?
China and America's Dangerous Battle in Cyberspace | The National Interest
American Businesses in China Feel Heat of a Cyberdispute | The New York Times
Five Myths About Chinese Hackers | The Washington Post
New charges of Chinese military units conducting "targeted economic espionage campaigns" against U.S. and European industries are stirring up a cycle of accusation and counteraccusation between the two nations and threatening tit-for-tat retaliation among Chinese and American technology companies. The U.S. accuses Chinese individuals and organizations with hacking into the networks of its companies in order to steal confidential business information, sensitive trade secrets, and internal communications for competitive advantage. China denies the allegations and declares that it is a victim of cyber attacks, often emanating from U.S.—a claim strengthened by leaks of former National Security Agency (NSA) contractor Edward Snowden. While there is no question that China-based computers have hacked into a variety of governmental agencies and private companies, these new accusations are raising the specter of a trade war and increasing anxiety among American companies that do business in China. Even worse is that if these accusations are not well understood and managed, they risk to foment the hype of a cyber war with China and bring back the old rhetoric of a "cyber Pearl Harbor" and apocalyptic future of U.S. cities paralyzed under cyber attack. Clearly, China has no intention of attacking its largest trading partner—Beijing holds over a trillion dollars in U.S. securities!—and cyber espionage does not provide grounds for waging war, even if military units are the spies.-Francesca Spidalieri, Fellow for Cyber Leadership
Climate Adaptation
Rhode Island secures funds for coastal resiliency programmes | Sand and Gravel
Rhode Island Senate approves climate change legislation | The Providence Journal
What Will Adaptation Cost? An Economic Framework for Coastal Community Infrastructure | National Oceanic and Atmospheric Administration
A new round of federal grants will help coastal communities – including several in the Ocean State – protect themselves against future storms like Sandy. Just last week, the Rhode Island Senate also unanimously approved the formation of a Climate Change Council to look into protecting infrastructure, and other steps related to global warming. Protecting ourselves from rising seas and new weather patterns will not be easy or inexpensive – as a report released last year by the National Oceanic and Atmospheric Administration discusses – but as conditions along the world's coastlines continue to change measurably, in ways that will have impacts on businesses, agriculture, recreation, building safety, shoreline ecosystems and so forth, action now will prevent greater costs and losses later.- Joseph Grady, Senior Fellow for Public Policy
Iraq
Dick and Liz Cheney: "The Collapsing Obama Doctrine" | The Wall Street Journal
Megyn Kelly to Dick Cheney: "Time and Time Again, History has Proven You Got it Wrong" on Iraq | Real Clear Politics
The Gall of Dick Cheney | The New York Times
Iraq presents a stern midterm challenge for Mr. Obama | The Washington Post
In the same week that the President who won office promising to end America's wars committed American troops to bolster the Iraqi military, the former Vice President who helped lead the country to war a decade ago leveled a broadside of criticism that even prompted Megyn Kelly of FoxNews to ask Dick Cheney, "what do you say to those who say you were so wrong about so much at the expense of so many?"

It was all part of a week of coverage of events in Iraq that focused on the blame game.  "Who lost Iraq" was the essential thrust of the question.  Critics of the Bush administration were quick to point out that they had led America to war on flimsy premises and misjudged the depth of resistance to American occupation.  Critics of the Obama administration obsessed over their decision to not leave a residual force behind in Iraq.

Of course, everyone was cherry picking facts to serve their own version of the truth.  And that's a shame.  For fifty years after the Second World War, American diplomats favored stability over democracy in the Middle East because the forces that might be unleashed were uncontrollable.  Yet in the last decade, America has become a revolutionary force in the Middle East.  The sins of the Bush administration are obvious.  But the Obama administration—beginning with the President's much heralded speech in Cairo in 2009—has provided rhetorical encouragement to those who would seek regime change throughout the Arab world—and has called explicitly for change in Tunisia, Libya, Egypt, and Syria.  Now, officials intimate, the United States will not do more in Iraq without the departure of Iraqi Prime Minister Nouri al Maliki.

For all of the criticism the Bush administration received for advocating "regime change" in Iraq, the Obama administration has leaned farther forward, at least rhetorically, in calling for the toppling of governments throughout the region.

This is a dangerous game—as events in the region have made clear—and not one many of us expected this president to play so frequently.- James Ludes, Executive Director of the Pell Center
Cybersecurity as a Leadership Issue
Exclusive: U.S. companies seek cyber experts for top jobs, board seats | Reuters
If You Think Cybersecurity Is 'Just an IT Problem,' Prepare to Get Owned | NextGov
Cyber Security Risk: Perception vs. Reality in Corporate America | Wired
"High-profile data breaches such as the one at Target are injecting a new sense of urgency for U.S. companies to hire cybersecurity experts in newly elevated positions and bring technologists on to their boards. The modern C-suites, however, must first learn to think of cybersecurity as a business risk more than a compliance issue, and take ownership of their company's cybersecurity instead of treating it as a merely IT problem. Unfortunately, when it comes to cyber risk, the mismatch between perception and reality is great. As research has shown, a natural optimism bias combined with a lack of understanding of cyber risk can lead business executives to believe that their company's security posture is better than it actually is. While cyber risk may never go away, understanding the reality can help many companies take action to lower this risk. And as I argued in my study "One Leader at a Time" over a year ago, senior leaders across society must be equipped with a deep understanding of the cyber context in which they operate to harness the right tools, strategies, people, and training to respond to a dynamic and rapidly-developing array of cyber threats."- Francesca Spidalieri, Fellow for Cyber Leadership
Healthy Democracy
Political Polarization in the American Public | Pew Research Center
The two key factors behind our polarized politics | Washington Post
Could America Become Mississippi? | Slate
"Can Americans still talk to each other across party lines and come up with plans for our common future, solutions to our shared challenges? A new report from the Pew Research Center for the People and the Press finds, perhaps not surprisingly, that Americans who identify with the two major parties are increasingly distrustful and antagonistic towards each other, and even prefer to live in different kinds of places. A commentary from a political scientist, published earlier this year by the Washington Post, argues that our current polarization is based mainly on different beliefs about "how much government should help people." And on a theme that is certainly related, a writer from Slate reports on a recent psychological study looking at the relationship between racial perceptions and political ideology: White voters become more ideologically conservative when made aware of demographic shifts that may put them in the minority. For anyone concerned about the future of our democracy, and our ability to work together for common purposes, these studies suggest an important challenge: How do we bring more Americans together when some powerful forces seem to be driving us apart?"- Joseph Grady, Senior Fellow for Public Policy
International Relations
Militants Sweeping Toward Baghdad | The New York Times
Counting the Dead in Benghazi | Foreign Policy
The Return of al-Qaeda | Washington Post
"The headlines are startling.  Extremists sweeping across Iraq.  The Iraqi army quitting in exhaustion.  In Libya, the cycle of extra-judicial violence only escalates—leaving some to wonder aloud who can contain the violence and return some semblance of order to the country.  The common theme in these stories is the demise of strong central authorities who ruled with a ruthlessness reserved to tyrants of the worst sort.  But they ruled, and their societies were relatively peaceful—in sharp contrast with the Iraq of the last decade and the Libya of the last few years.

The lessons for American foreign policy are too numerous to count, but let's start with one insight from history: instability attracts extremists and welcomes strongmen.  After World War I and the dissolution of the Ottoman Empire, the League of Nations granted a mandate to Britain in Mesopotamia.  British diplomats like Gertrude Bell—famous for traveling across the desert and living amongst the Bedouins—devised a state whose boundaries and structure demonstrate little regard for historic animosities.

In the 35 years from 1933 to the Ba'th seizure of power in 1968, Iraq suffered from 25 incidents of extra-constitutional disturbances: coups, attempted coups, uprisings, sectarian and political hostilities, and so forth.  25 incidents in 35 years—that's an average of one every 17 months.  If we expand the calendar to Saddam's rise to prominence in 1978, the incidents average one every 18 months.

The governments in Iraq and Libya are fractured and weak.  More violence is likely—as is the rise of ruthless leaders who will deal viciously with extremists."- James Ludes, Executive Director of the Pell Center
NEWPORT, R.I. – Arizona Senator and former presidential candidate John McCain will present "An Evening with Senator John McCain" during an evening lecture Thursday, 6:30 p.m., at the U.S. Naval War College (NWC). The event is being co-hosted with Salve Regina University's Pell Center for International Relations and Public Policy.
McCain served for 22 years in the Navy as a naval aviator and is a graduate of the U.S. Naval Academy in Annapolis, Md. and National War College in Washington, D.C. During his time in service he became a Prisoner of War for more than five years. Following his release, he returned to the U.S. and continued to serve in the Navy until his retirement in 1981.
McCain has received numerous awards, including the Silver Star, Legion of Merit, Purple Heart and Distinguished Flying Cross, and has been involved with the U.S. Congress and Senate for 30 years in on-going service to the United States.
The event is sold out, but it will be broadcast live online at https://www.usnwc.edu/mccainlecture
Additional information about Senator John McCain can be accessed at http://www.mccain.senate.gov/public/index.cfm/home.
For more information about NWC, visit www.usnwc.edu.
For more information about the Pell Center, visit http://pellcenter.org/about/.
Update 6/18/14: Watch "An Evening with Senator McCain" on YouTube.