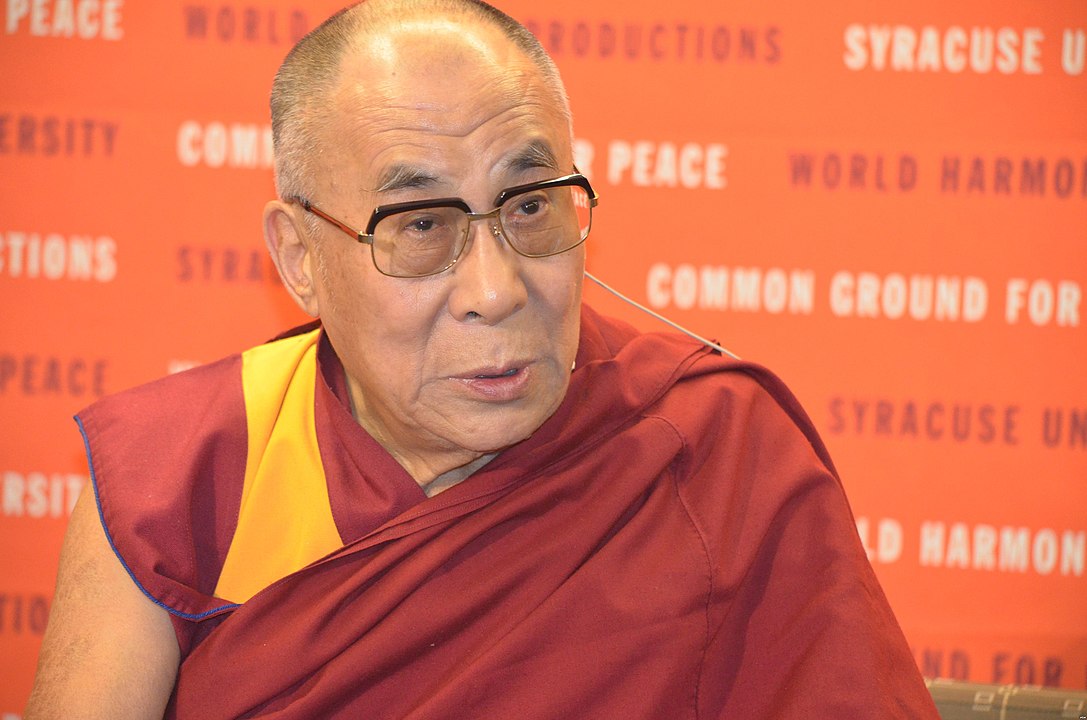 The relationship between China and India is widely considered one of the most consequential of the twenty-first century. The impact of China's repressive policies in Tibet however, is often overlooked. In his recent article published in Survival, the International Institute for Strategic Studies' journal for global politics and strategy, Pell Center Senior Fellow Iskander Rehman examines how Chinese influence in Tibet and its desire to exert control over the Dalai Lama's succession could impact its geographic neighbors, and India in particular.
Read the full article here.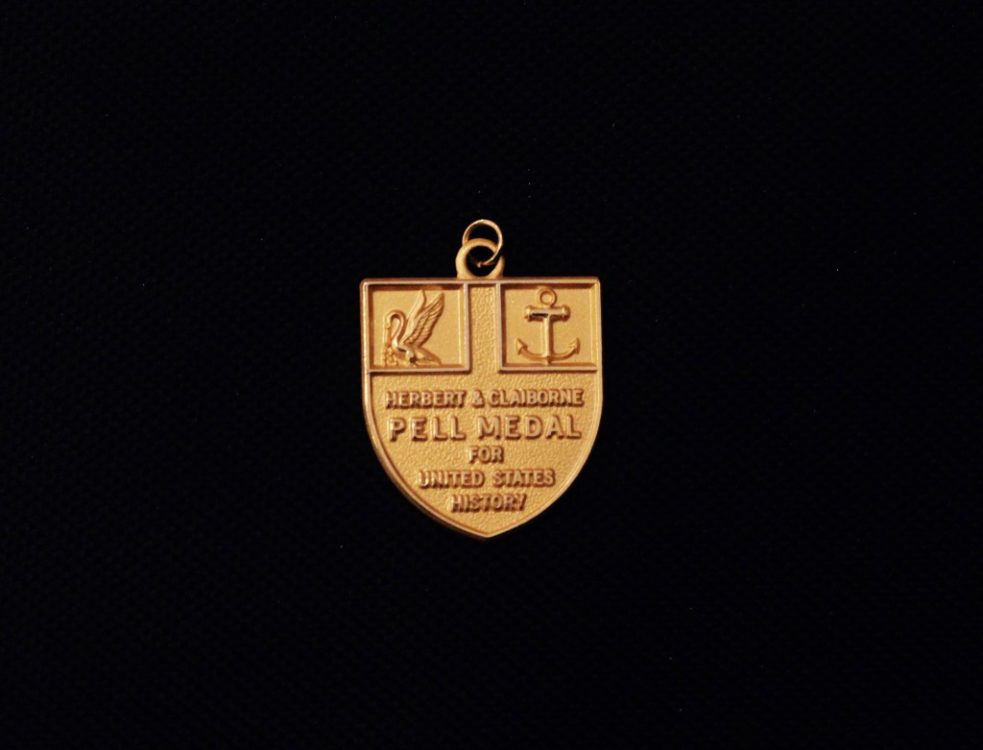 Newport, R.I. — Fifty-nine students from across Rhode Island earned the Herbert and Claiborne Pell Medal for U.S. History this year. The medal, originally presented by Senator Claiborne Pell and his wife, Mrs. Nuala Pell, recognizes college and high school students in the state who have excelled in U.S. History.
"The study of history is essential to understanding and protecting our republic," said Pell Center Executive Director, Dr. Jim Ludes. "The Pell Center at Salve Regina University is proud to continue honoring Rhode Island's best students of American history."
"The students in Rhode Island continue to earn well-deserved recognition for their exceptional dedication to U.S. history," said Clay Pell. "It has long been a goal of my family to learn from the past and prepare for the future."
Established by the Pell family, the Pell Medal is named for Representative Herbert C. Pell and his son, Senator Claiborne Pell. Herbert Pell served as a member of Congress and American Minister to Portugal and Hungary, while Claiborne Pell, who is responsible for the creation of the Pell Grants and the National Endowment for the Humanities, served in the Senate for 36 years and worked to strengthen American foreign policy.
The winners of the 2019 Herbert and Claiborne Pell Medal for excellence in the study of U.S. History are:
Barrington
Daniel Sheinberg, Barrington High School
Paige Buckett, St. Andrew's School
Bristol
Ella Hanley, Mt. Hope High School
Carolyn Westgate, Roger Williams University
Central Falls
Jacqueline Jimenez, Central Falls High School
Coventry
Zoe Adams, Coventry High School
Cranston
Eden Fisher, Cranston East High School
Cumberland
Julie Andrade, Cumberland High School
East Greenwich
Nicholas Sanzi, East Greenwich High School
East Providence
Gabrielle Patrone, East Providence High School
Laura McCarty, Providence Country Day School
Harrisville
Noel Teter, Burrillville High School
Johnston
Sophia DaCosta, Johnston Senior High School
Kingston
Cosette Boucher, University of Rhode Island
Lincoln
Nicholas Gaitanis, Lincoln High School
Patrick Kelly, William M. Davies Jr. Career and Technical High School
Middletown
Daniel Sullivan, Middletown High School
Narragansett
Owen McCadden, Narragansett High School
Newport
Samantha Farnsworth, Salve Regina University
Noah Manuel, Rogers High School
North Kingstown
Samuel Williams, North Kingstown High School
North Providence
Tina Chen, North Providence High School
Mel Ea, Moses Brown School
North Scituate
Jordan McGuire, Ponaganset High School
North Smithfield
Emma Grant, North Smithfield High School
Pawtucket
Norman Colindrez Rodrigues, Blackstone Academy Charter School
Ryan Deschene, Saint Raphael Academy
Evelina Do Rosario-De Barros, Shea High School
Jordan Klemanchuck, William E. Tolman High School
Portsmouth
Rebecca Downs-Honey, Portsmouth High School

Providence
Richard Aitchison, Rhode Island College
Anabeth O. Bostrup, Rhode Island School of Design
Tyler Gillette, La Salle Academy
Sophie Kupetz, Brown University
Haley Long, Classical High School
Amiya Mandapati, Lincoln School
Christian Martinez, Central High School
Laisha Mendez, Hope High School
Nicholas Moran, Providence College
Mikayla Ogni, School One
Gideon Parker, The Wheeler School
Joharianis Rodriguez, Paul Cuffee Upper School
Riverside
Shannon Dilorio, St. Mary Academy Bay View
Scituate
Conal Wilkie, Scituate High School
Smithfield
Victoria Richard, Smithfield High School
South Kingstown
Caroline Parente, South Kingstown High School
Tiverton
Sarah Downey, Tiverton High School
Wakefield
Benjamin Silvia, The Prout School
Warwick
Joseph D'Alfonso, Bishop Hendricken High School
Jamee Salisbury, Pilgrim High School
Rebecca Carcieri, Toll Gate High School
West Greenwich
Timothy Culton, The Greene School
West Warwick
Megan O'Kelly, West Warwick High School
Michelina Smith, Exeter-West Greenwich High School
Westerly
Adrianna Turano, Westerly High School
Wood River Junction
Sara Nunes, Chariho High School
Woonsocket
Alicia Bergeron, Mount Saint Charles Academy
Bridget Damon, Woonsocket High School
Emma Morris-Mensah, Beacon Charter High School for the Arts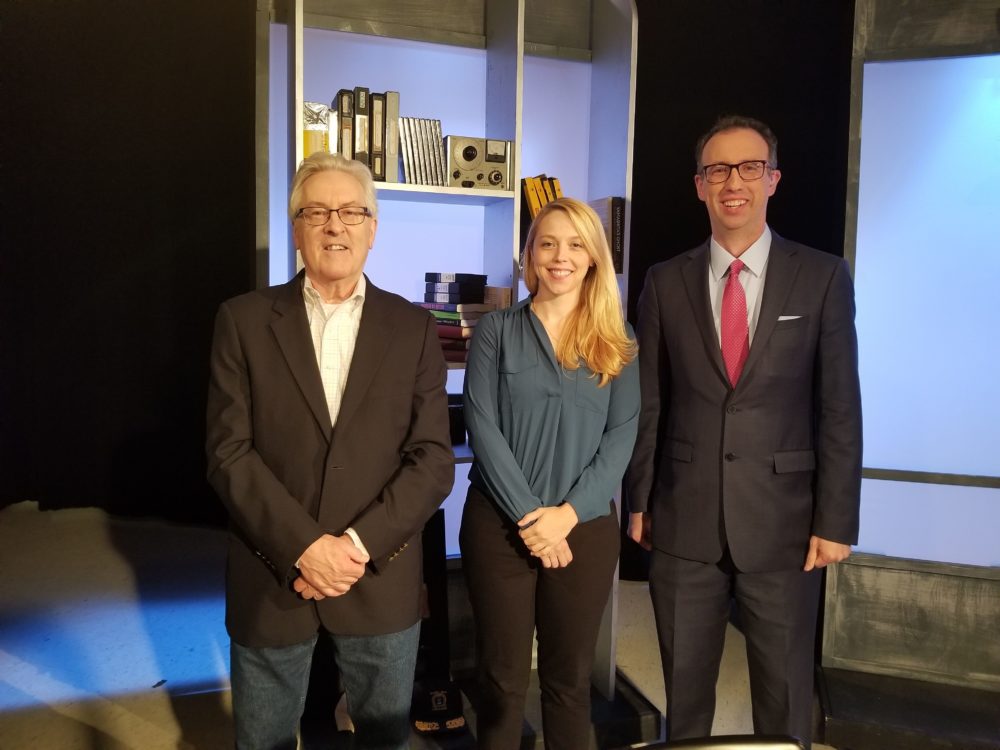 Air Dates: August 5-11, 2019
Identity politics are typically associated with marginalized groups—communities that have been defined as "other" by the dominant group in a political culture. Ashley Jardina argues that there is an emerging white-identity politics in American society today. 
Jardina is an Assistant Professor of Political Science at Duke University.  Her book White Identity Politics explores the nature of racial attitudes, the development of group identities, and the way in which these factors influence political preferences and behavior.  She is primarily interested in how Americans respond to increasing diversity, and her current project explores the conditions under which white racial identification and white consciousness among white Americans is a salient and significant predictor of policies, candidates, and attitudes toward racial and ethnic groups.
In her interview on "Story in the Public Square," Jardina describes her population of interest as the portion of the American white population whose sense of white ethnic identity is important to them. She says that this segment of whites "are interested in preserving a system of racial inequality because they benefit from it."  When co-host G. Wayne Miller asked about the source of the ideas behind strong white identity, Jardina explains that for these whites, demographics, among other factors, can trigger fear, saying, "when white people read census projections, they are more likely to…support politicians who they think will protect their group…" and even "become more politically conservative" as a result. 
"Story in the Public Square" broadcasts each week on public television stations across the United States. A full listing of the national television distribution is available at this link. In Rhode Island and southeastern New England, the show is broadcast on Rhode Island PBS on Sundays at 11 a.m. and is rebroadcast Thursdays at 7:30 p.m. An audio version of the program airs 8:30 a.m. & 6:30 p.m. ET, Sundays at 4:30 a.m. & 11:30 p.m. ET on SiriusXM's popular P.O.T.U.S. (Politics of the United States), channel 124. "Story in the Public Square" is a partnership between the Pell Center and The Providence Journal. The initiative aims to study, celebrate and tell stories that matter.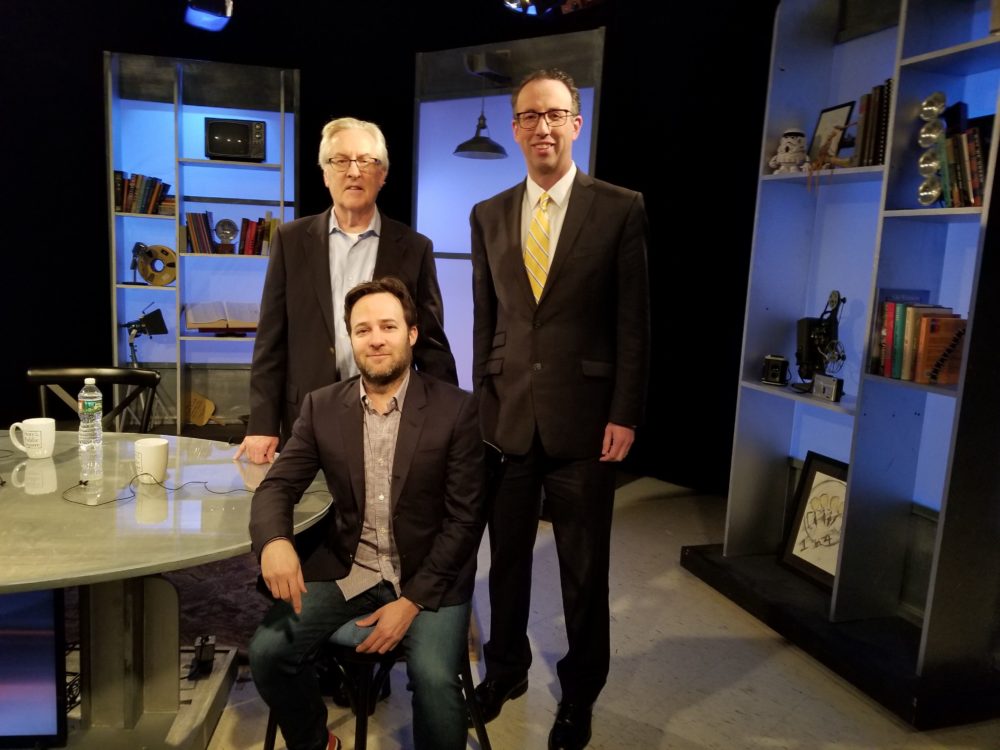 Air Dates: July 29-August 4, 2019
"Story in the Public Square" began as an annual, academic conference at Salve Regina University.  When we honored Danny Strong with the 2014 Pell Center Prize for Story in the Public Square, his acceptance speech was so moving, so incisive, and so eloquent about the power of story that a public television executive in the audience asked if she could broadcast it.  She did, and the rest is history.
Danny Strong is one of today's most prolific TV and big-screen talents with almost 50 acting credits, 11 screenwriting credits, eight producer credits and three directing credits. For screenwriting, he is best known for "Recount," "Game Change," Lee Daniels' "The Butler," and "Mockingjay," the two-part "Hunger Games" finale.  Strong is also known for the 2019 TV series "Proven Innocent" and the 2017 film "Rebel in the Rye," both of which he directed.  His most notable acting roles include appearances as characters on "Buffy the Vampire Slayer," "Gilmore Girls," "Mad Men," "Justified," and "Billions." He is co-creator and executive producer of the smash-hit "Empire."
Strong's "Game Change," the 2012 HBO production about the 2008 presidential election, won a Golden Globe, a primetime Emmy, a Writers Guild of America Award, and a Producers Guild of America Award.  Additionally, his 2008 HBO film "Recount," about the 2000 presidential election, won an Emmy.  Strong has also won an NAACP Image Award for "Empire" and was nominated for a Critics Choice Award and a Golden Globe for the show.
Strong uses film to tell stories with social impact, as he finds this kind of art to be "the most powerful," making his work in film "more dynamic [and] thought provoking."
"Story in the Public Square" broadcasts each week on public television stations across the United States. A full listing of the national television distribution is available at this link. In Rhode Island and southeastern New England, the show is broadcast on Rhode Island PBS on Sundays at 11 a.m. and is rebroadcast Thursdays at 7:30 p.m. An audio version of the program airs 8:30 a.m. & 6:30 p.m. ET, Sundays at 4:30 a.m. & 11:30 p.m. ET on SiriusXM's popular P.O.T.U.S. (Politics of the United States), channel 124. "Story in the Public Square" is a partnership between the Pell Center and The Providence Journal. The initiative aims to study, celebrate and tell stories that matter.
---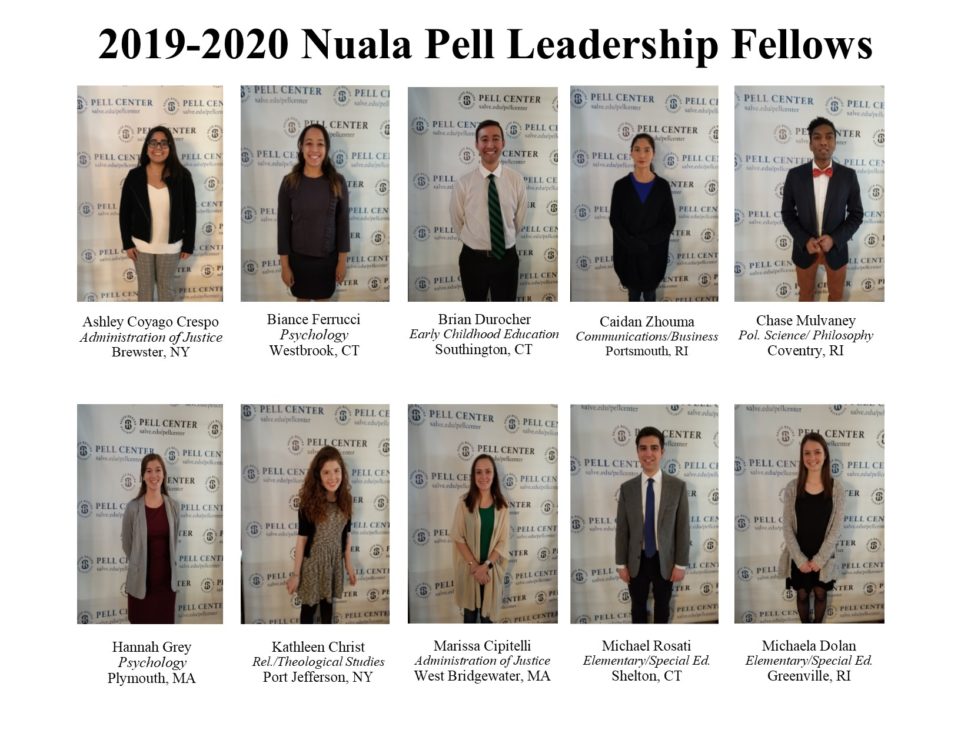 Ten rising juniors and seniors at Salve Regina University have been selected as fellows for the Nuala Pell Leadership Program for 2019-2020. This innovative leadership development program is run by the Pell Center and is named in honor of the wife of U.S. Senator Claiborne Pell. The program facilitates leadership development for the twenty-first century through monthly meetings where students will explore leadership theory, ethics, evolution of public issues and what it takes to be a leader in the public sector. Each student will also shadow a local leader involved in various segments of the public sector and reflect on their experience. Additionally, the new cohort will travel to Washington D.C. in the spring of 2020 to meet with Congressional leaders, policy makers, and others.
"It is such a privilege to work with these wonderful students," said Martha McCann Rose, program director. "I am confident they will continue change the world through public service in their future endeavors."
"Mrs. Pell had an unshakeable faith in the students of Salve Regina University to make the world a far better place," said Jim Ludes, Pell Center executive director. "When I see the students in this year's cohort, I find a reason to be optimistic about the future."
The 2019-2020 cohort of Nuala Pell Leadership Program fellows include:
Ashley Coyago-Crespo, Administration of Justice, Brewster, NY
Biance Ferrucci, Psychology, Westbrook, CT
Chase Mulvaney, Political Science & Philosophy, Coventry, RI
Hannah Grey, Psychology, Plymouth, MA
Michael Rosati, Elementary & Special Education, Shelton, CT
Brian Durocher, Early Childhood Education, Southington, CT
Michaela Dolan, Elementary & Special Education, Greenville, RI
Marisa Cipitelli, Administration of Justice, West Bridgewater, MA
Caidan Zhouma, English Communications & Business Administration, Portsmouth, RI
Kathleen Christ, Religious and Theological Studies, Port Jefferson, NY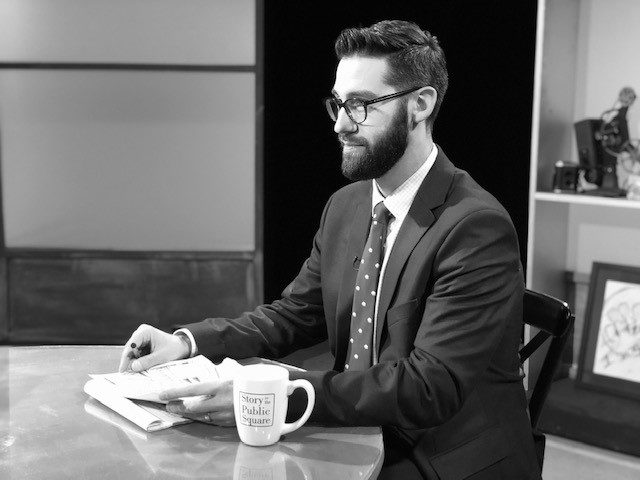 Air Dates: July 15-21, 2019
Editorial cartoonists occupy the space between writing and drawing—capturing truth and big ideas with seemingly simple illustration and an economy of words.  Pulitzer Prize-winning editorial cartoonist Adam Zyglis uses evocative images to connect with readers while conveying layers of meaning in a few words.
Zyglis has produced cartoons for The Buffalo News since 2004. His cartoons are internationally syndicated and have appeared in many publications around the world, including The Washington Post, USA Today, The New York Times and Los Angeles Times.  In 2013, he won the Clifford K. and James T. Berryman Award, given by the National Press Foundation. In 2007, 2011 and 2015 he won a National Headliner Award, sponsored by the Atlantic City Press Club. Additionally, in 2015 Zyglis was awarded the Grambs Aronson Cartooning with a Conscience award and the Pulitzer Prize.
Zyglis described his liberal arts education, with a major in mathematics and computer science as "training, in a way, for cartooning," He describes a good cartoon as one where "everything in [it] has a purpose" and layers of meaning, delivering messages using symbols and visual metaphors.
Some of his award-winning work can be found at this link. 
"Story in the Public Square" broadcasts each week on public television stations across the United States. A full listing of the national television distribution is available at this link. In Rhode Island and southeastern New England, the show is broadcast on Rhode Island PBS on Sundays at 11 a.m. and is rebroadcast Thursdays at 7:30 p.m. An audio version of the program airs 8:30 a.m. & 6:30 p.m. ET, Sundays at 4:30 a.m. & 11:30 p.m. ET on SiriusXM's popular P.O.T.U.S. (Politics of the United States), channel 124. "Story in the Public Square" is a partnership between the Pell Center and The Providence Journal. The initiative aims to study, celebrate and tell stories that matter.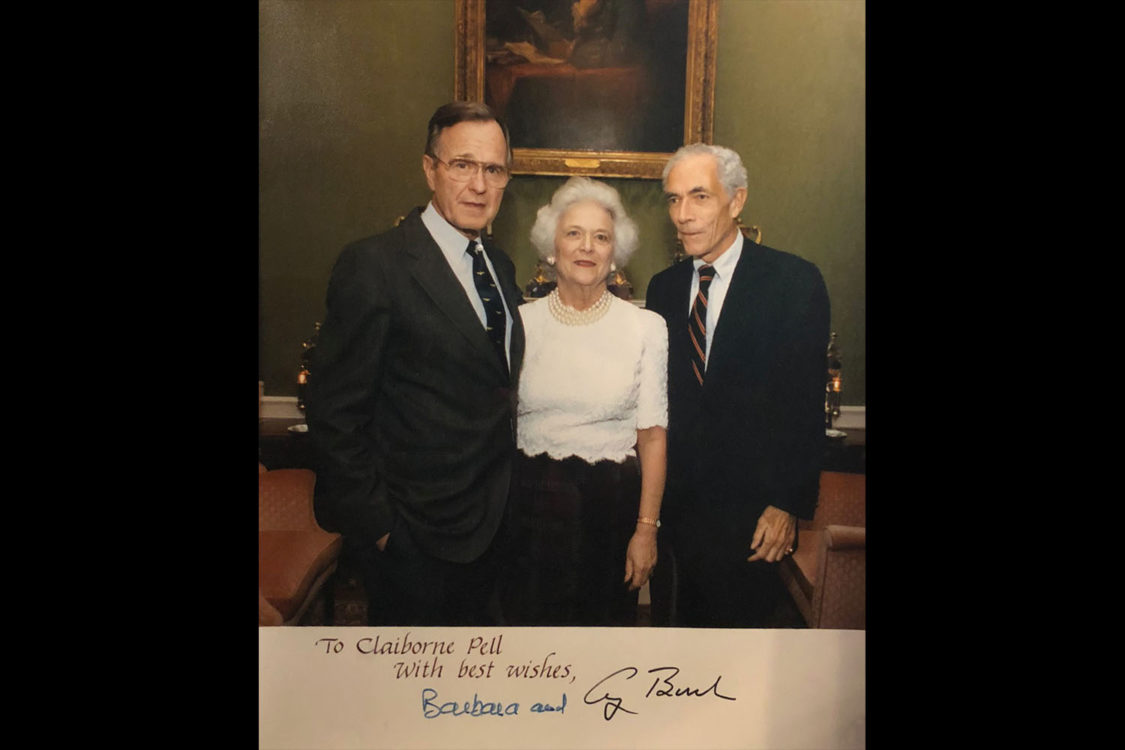 Adjunct Fellow Ray Raymond writes a personal remembrance of President George H.W. Bush.
West Point 5 October 1994. It was a cold, grey rainy day. Former President George H.W. Bush was on post to receive the Academy's highest honor, the Thayer Award. Established in 1958, the Thayer Award is given to an American citizen – civilian or military –whose contribution to protecting US national interests embodies West Point's values of "Duty, Honor and Country." Everyone on post was looking forward to honoring a beloved former Commander in Chief, a decorated World War II veteran. The one concern was whether the pouring rain would force the Superintendent Lt. General Howard Graves to cancel the parade in President Bush's honor. Miraculously, just as the Superintendent was about to cancel the parade, the rain stopped and the sun broke through bathing West Point's historic plain in a gentle Fall light.
I was there as a British diplomat, to represent Her Majesty's government and to honor President Bush, a man I greatly admired. Aged 70, dressed in an elegant blue suit, the former President looked fit and trim. With his characteristic graciousness and humility he greeted me warmly and thanked me for coming. He seemed touched that a representative of the British government was there to honor him. Although I had worked on UK-US relations during his Presidency, it was my first time meeting President Bush in person. It was also the first of several meetings I was privileged to have with him in his post-presidential years.
What stands out in my memory was not only his personal kindness and graciousness, but also the strength of his convictions and the clarity of his vision expressed in his address to the corps of cadets accepting the award and in a cadet seminar the following morning. His analysis of the challenges likely to face the United States in the late twentieth and early twentieth century was prescient, his understanding of the fragility of the rules-based post-Cold War liberal world order was deep, his call for continued American global leadership passionate and convincing.  President Bush said: "We face not the end of history but, rather, the march of history. Not the end of ideology but the resurgence of intolerant nationalism, religious fanaticism, and bloody ethnic strife fueled by the proliferation of deadly weapons and unrestrained terrorism." As ever, President Bush was the consummate realist. He did not mean that the US should be the world's policeman. Rather, he argued that the US should act " as a sheriff offering to organize and lead the posse against international wrongdoers, but not shouldering the burden alone or defending others' interests for them.  The US should focus its diplomatic and military efforts only when US interests and value were at risk; where US leadership "could make the critical difference" and where there was a "high probability of success."
The next morning President Bush led a seminar for cadets. One cadet asked him what he would have done if Congress had not given him authority to use force to drive Saddam Hussein out of Kuwait. Without hesitating for a second, President Bush replied that he would have launched military action anyway and challenged Congress to impeach him. There was the steely resolve that was so characteristic of President Bush when he was convinced that what he was doing was right.
As a British diplomat working on UK-US Relations, I had an unusual vantage point to observe President Bush's diplomacy as he summoned the universe of his knowledge, experience and skill to deftly navigate the US and its allies through the biggest realignment in international politics since the end of World War II. This was a period of unusual danger and opportunity in which the Berlin Wall and the "Iron Curtain" fell, Germany reunified,  Soviet Union collapsed, and Saddam Hussein invaded Kuwait.
Britain and the United States have enjoyed a unique relationship since World War II based upon shared values and interests. The special quality of the alliance has been grounded in a shared vision of an open, democratic rules-based liberal world order that they built together after World War II. They have also had the ability to disagree on how best to implement it.  As one US diplomat wrote of the "special relationship": "It is our ability to disagree, to argue passionately, candidly and forcefully with each other – and then to pick up the pieces, place our anger behind us and go forward together-that makes the relationship special and explain why it has thrived. "
President Bush valued the "special relationship" highly. He once described it as "the rock upon which all dictators this century have perished," referring to the joint role the two allies played in combating Nazism and Communism in the twentieth century. In dealing with the extraordinary international challenges from 1989 onwards, President Bush had a trusted but difficult ally in British Prime Minister Margaret Thatcher. She had had a long and intimate friendship with President Ronald Reagan, that had begun years before either of them was elected President or Prime Minister. They were ideological soul-mates: both fierce anti-communists, robust champions of free markets and free trade. President Bush shared these values although he was never an ideologue. But he and Mrs. Thatcher did not share a pre-existing friendship and I had the impression that cocooned in her unique relationship with President Reagan she neglected to cultivate George Bush as much as she should have done.
Diplomacy requires tact, discretion,  courtesy, graciousness, high intelligence and the ability to build lasting relationships of trust. Gorge H.W.Bush had all of these qualities in abundance. He needed them to deal with Mrs. Thatcher who had become accustomed to lecturing and occasionally dominating Ronald Reagan. President Reagan always seemed comfortable with this. President Bush was not. He was determined to put his own distinctive stamp on US foreign policy and to execute it with his own quiet brand of personal diplomacy. George Bush and Margaret Thatcher respected and trusted each other, but the personal chemistry was never as strong as it had been between Reagan and Thatcher.
President Bush and  Prime Minister Thatcher agreed that Mikhail Gorbachev was someone the West could work with to end the Cold War. They also agreed on the need for a resolute and if necessary a military response to Saddam Hussein's invasion of Kuwait. But German reunification presented a greater challenge for the Bush-Thatcher relationship. To end the Cold War, President Bush understood that he had to solve the century-old "German question". His solution was a reunified Germany within NATO. To that end,  in partnership with West German Chancellor, Helmut Kohl, he set out the basic principles to integrate a reunified Germany into NATO and the European Community. At first, the idea of a reunified Germany appalled Mrs. Thatcher. Her formative experience had been 1940: Britain's "finest hour" standing defiantly and successfully against Nazi Germany. I remember being tasked with identifying and inviting German experts at American Universities to a day-long seminar at Chequers, the Prime Minister's country retreat, to help her understand the enormity of the threat posed by a reunified Germany. It took all of President Bush's patient, personal diplomacy to persuade Mrs. Thatcher that a reunified Germany within NATO and the European Community was a prize worth winning.
I mourn the passing of a great and good man, a master diplomat. Like Senator Claiborne Pell, George H.W.Bush was the kind of public servant  America's Founders hoped for : a man of principle, unquestioned  and unquestionable integrity, humility and decency. Like Senator Pell, George H.W.Bush was a New England patrician with a profound sense of noblesse oblige. Above all, he was a visionary diplomat who steered the world through the biggest and most dangerous realignment of global politics since the end of the Second World War. I fear we may not see his like again.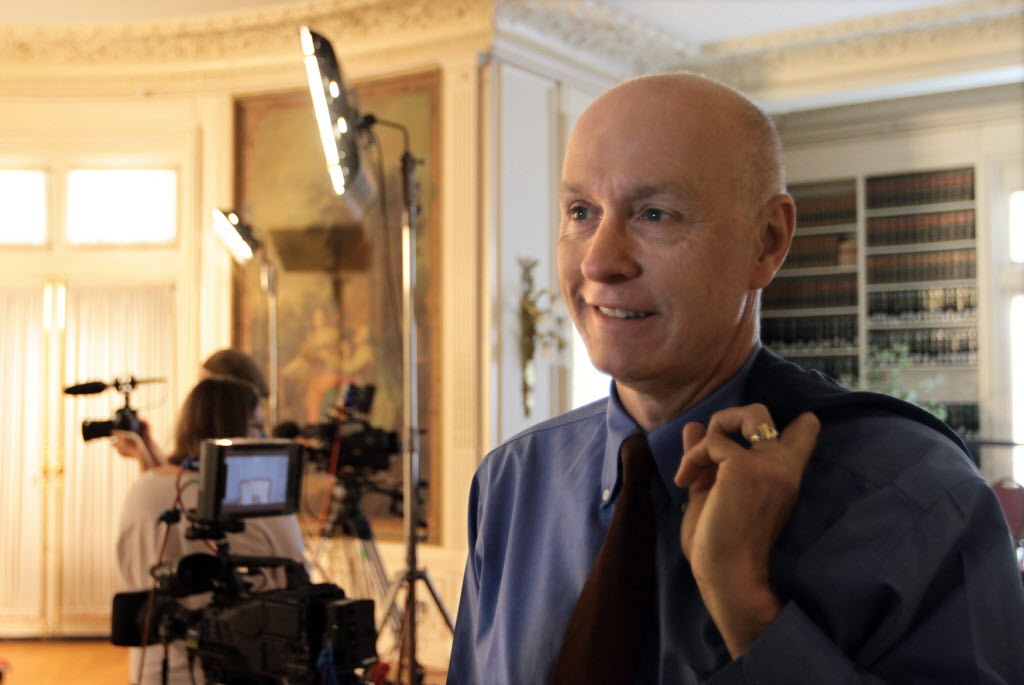 By: G. Wayne Miller
Dan Barry, a New York Times senior writer and the author of four books, has been named the 2018 recipient of the Pell Center Prize for Story in the Public Square. The prize, awarded annually since 2013, honors a storyteller whose work has significantly influenced the public dialogue.
Barry, a member of a Providence Journal team that won the 1994 Pulitzer Prize for Investigative Reporting and twice a Pulitzer finalist while at The Times, will receive the Pell Center Prize in a ceremony April 23 at Salve Regina University's Pell Center for International Relations and Public Policy. The next day, he will tape an episode of "Story in the Public Square" for broadcast on SiriusXM Satellite radio and Rhode Island PBS.
"When it was made clear to me that this was not some clerical mistake, I was truly humbled to learn that I was being awarded the Pell Center Prize for Story in the Public Square," Barry said. "The telling of stories is an essential pursuit; stories help us to navigate the shoals of the human condition. And I am deeply honored to join the past recipients, and to be thought of as a storyteller."
Barry joins two-time Pulitzer winner Dana Priest, who received the inaugural Pell Center Prize in 2013; Emmy-winning screenwriter and actor Danny Strong, the 2014 winner; Lisa Genova, the best-selling author of "Still Alice" and four other novels, honored in 2015; Pulitzer-winning photographer Javier Manzano, the winner in 2016; and last year's winner, filmmaker Daphne Matziaraki, whose documentary "4.1 Miles" was nominated for an Oscar.
"Having known Dan since he arrived at The Providence Journal in 1987 and having followed his career since, I can state with authority that his distinguished body of work stands as an extraordinary example of the power of narrative storytelling — not just to shape thinking but also to change lives," said G. Wayne Miller, a Journal staff writer and Story in the Public Square director.
"Dan Barry's writing is so moving because it is ultimately about the people he encounters: adult men living with developmental disabilities; a boxer whose last fight has left him with a brain injury; a young girl who as an adult uncovered a horrible secret in her hometown," said Pell Center executive director Jim Ludes. "Dan is an extraordinary storyteller who captures our minds and our hearts with the stories he tells. We're thrilled to be able to celebrate his work."
Barry's most recent book, "The Boys in the Bunkhouse: Servitude and Salvation in the Heartland," about men with intellectual disabilities who spent decades working at an Iowa turkey-processing plant while living in an old schoolhouse, was a searing story of exploitation and abuse – and eventual justice and freedom. It was recently named the All Iowa Reads selection for 2018.
His other books include "Pull Me Up," "City Lights: Stories About New York," and "Bottom of the 33rd: Hope, Redemption, and Baseball's Longest Game," set in Pawtucket. A collection of Barry's national columns for The Times, "This Land: Dispatches from Real America," is scheduled to be published in September. To read some of Dan's work at The New York Times, visit, www.nytimes.com/by/dan-barry.
The April 23 ceremony will begin at 7 p.m. and is free and open to the public. Space is limited and registration is required at, https://www.eventbrite.com/e/2018-pell-center-prize-for-story-in-the-public-square-tickets-42718921444.
Founded six years ago this month, Story in the Public Square is an initiative to study, celebrate, and tell stories that matter. A partnership of the Pell Center and The Providence Journal, the program sponsors public events, names the top public narrative each year, and produces the public affairs talk show for SiriusXM's P.O.T.U.S. channel and Rhode Island PBS. Past episodes may be viewed at http://pellcenter.org/story-in-the-public-square/episodes/
Visit Story in the Public Square at pellcenter.org, like on Facebook and follow on Twitter @PubStory.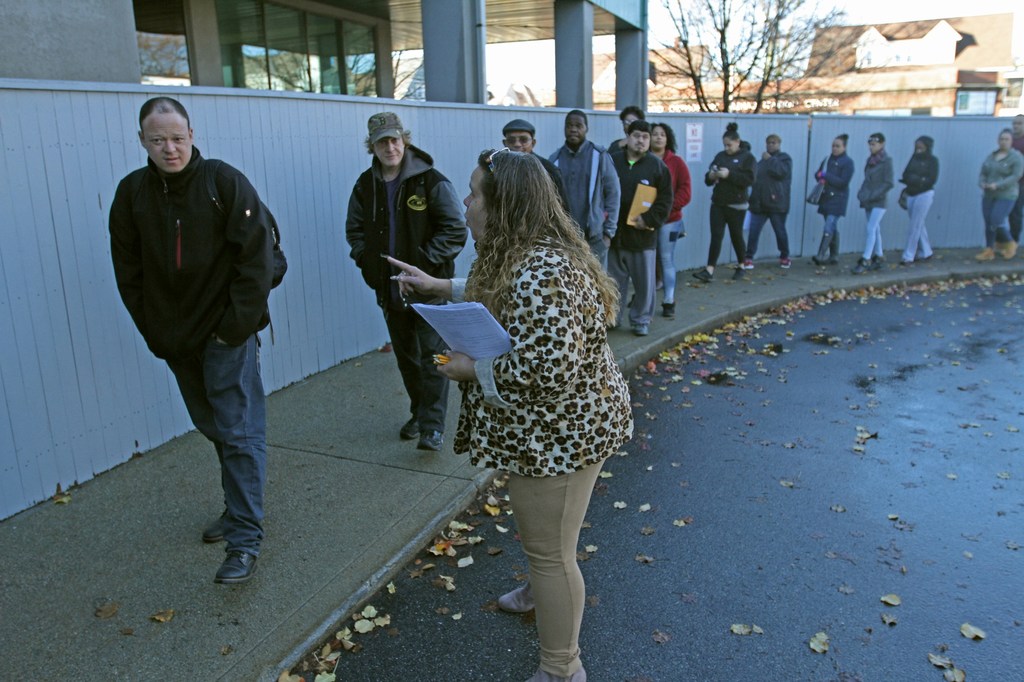 Panel of 18 judges decide fourth annual Pell Center contest
        By: G. Wayne Miller
NEWPORT, R.I – The continuing problems related to the state's public-benefits computer system known as Unified Health Infrastructure Project, or UHIP, has been voted the 2017 Pell Center Rhode Island Story of the Year by a panel of 18 judges from local media and academia.
UHIP was launched in September 2016. Still unresolved 15 months later, the UHIP debacle has caused lengthy delays in payments, problems with verification of eligibility, an extensive backlog in applications, and other issues affecting thousands of Rhode Islanders served by the state Department of Human Services.
The fiasco has led to the resignations of three top officials, prompted a lawsuit by the American Civil Liberties Union of Rhode Island, and led to a federal court appointment of a Special Master. Contractor Deloitte Consulting has credited the state tens of millions of dollars following an agreement with Gov. Gina Raimondo, and the issue figures to be a factor in the 2018 elections, observers predict.
Runners-up in this year's contest were the Nov. 9 deadly police chase and shooting in Providence and the continuing saga of the Pawsox, which in 2017 involved eventual relocation to another site in Rhode Island or possibly out-of-state.
"The police chase and shooting was the year's most dramatic story," said juror Alan Rosenberg, executive editor of The Providence Journal. "But the state's ongoing inability to fix a computer system that affects so many lives makes UHIP my choice as story of the year."
Tim White, Target 12 investigative reporter for WPRI TV, agreed, saying this story of "tens of thousands of underprivileged hurt by a massive IT disaster" was his top pick "because of the number of people impacted, the ripple effects it has had in government, with the firing of Elizabeth Roberts and launching of House oversight hearings, and the likelihood this will be a major issue in the 2018 elections."
"A significant problem negatively impacting benefit recipients who are in need," said Dan Paquet, announcer and executive producer with WPRO radio. "It also has caused concern for taxpayers angered and skeptical of government spending."
"We knew when we started this contest in 2014 that we would never lack for strong competition," said Pell Center Executive Director Jim Ludes. "The year 2017 did not disappoint."
"With a jury comprised of a broad representation of expert observers, reporters and analysts of Rhode Island events, our annual contest provides a valid assessment of what likely will – and will not – go into the state history books," said Journal Staff Writer G. Wayne Miller, director of the Pell Center's Story in the Public Square program.
As in earlier years, the 2017 top story was selected during two rounds of balloting. Among the other stories nominated during the first round were impacts of the Trump administration on Rhode Island, debate over Raimondo's free college tuition plan, the House/Senate standoff at the end of the 2017 General Assembly, Invenergy's proposed Burrillville power plant, Deepwater Wind's Block Island Wind Farm, and the state's opioid crisis.
The 2016 judges were: Scott Saracen, director/producer at Rhode Island PBS; Amanda Milkovits, Providence Journal Staff Writer; Steve Klamkin, WPRO radio; Doreen Scanlon, ABC-6 TV; Robert Hackey, Providence College professor; Lorén Spears, executive director of the Tomaquag Museum; Gene Valicenti, WPRO radio and NBC-10 TV; George T. Marshall, executive director of Flickers' Rhode Island International Film Festival and a professor at Roger Williams University; WPRO talk show host Dan Yorke; John Howell, editor and publisher of the Warwick Beacon; Judy Barrett Litoff, Bryant University professor of history and social sciences; John Palumbo, publisher of Rhode Island Monthly; M. Charles Bakst, retired Journal political columnist; and Rosenberg, White, Paquet, Ludes, and Miller.
Story in the Public Square is a partnership of The Providence Journal and the Pell Center at Salver Regina University. The Story in the Public Square program is broadcast weekly on Rhode Island PBS and Sirius XM Satellite Radio.
Readers can weigh in on the 2017 selection on Twitter, @pubstory, or Facebook, www.facebook.com/StoryInThePublicSquare. For more information on Story in the Public Square, visit publicstory.org.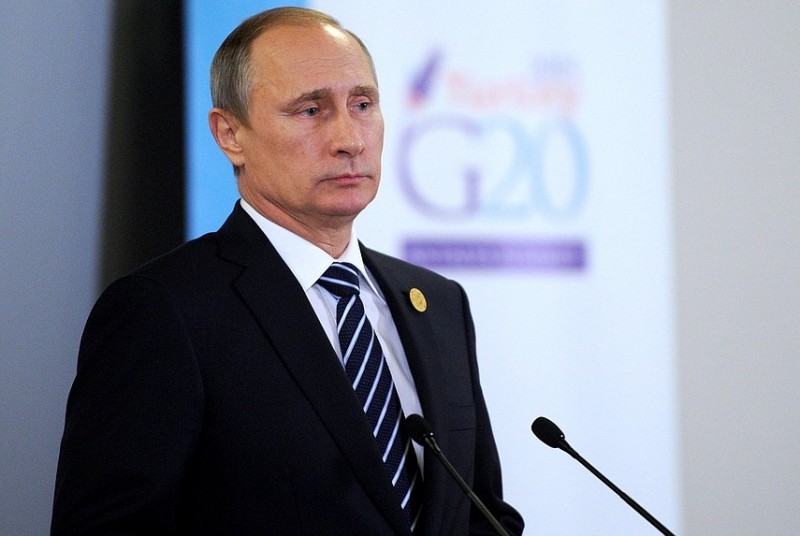 The Panama Papers | The International Consortium of Investigative Journalists
What are the Panama Papers? A guide to history's biggest data leak | The Guardian
Revealed: the $2bn offshore trail that leads to Vladimir Putin | The Guardian
Summary:
The Panama Papers is a collection of 11.5 million files (2.6 terabytes of data) that was leaked from Mossack Fonseca, the fourth largest offshore law firm in the world, based in Panama. The documents revealed in one of the biggest leaks ever were given anonymously to German newspaper Süddeutsche Zeitung, which then shared them with the International Consortium of Investigative Journalists (ICIJ), which further distributed the information. The documents expose how powerful world leaders as well as other rich people and groups use offshore bank accounts and shell corporations, outside of typical jurisdictions, to hide their wealth and/or avoid taxation. Panama Papers connected 12 heads of state, 61 of their relatives, and 128 other public officials to secret offshore companies. ICIJ says it will release a full list of companies and people identified in the Panama Papers in early May.
Russian President Putin:
Russia's President Putin was not personally named in the Panama Papers, however $2 billion can be traced back to him through several of his close associates operating a complicated money laundering system through Bank Rossiya. Putin's closest friend Sergei Roldugin seems to be at the center of the system. On record, Sergei Roldugin has amassed a personal fortune of hundreds of millions of dollars through shady deals, but files from his companies state that "the company is a corporate screen established principally to protect the identity and confidentiality of the ultimate beneficial owner of the company." (Likely Putin). A spokesperson of the Kremlin has claimed that the leak targeted Putin and the stability of politics in Russia before parliamentary elections. Dmitry Peskov, press secretary for President Putin, suggested some of the investigative journalists behind the leak were actually CIA and State Department officials.
Americans and the United States:
McClatchy newspapers, which was given access to the data from the ICIJ, reports that there are 3,500 United States addresses recorded in the documents (this does not necessarily mean all 3,500 are American citizens). Additionally, it is reported that there are scans of at least 200 United States passports among the files. Some Americans with dual citizenship may have also opened accounts under foreign passports. It is expected that most of the Americans are likely retirees using their accounts to purchase real estate outside the country. Currently, no United States politicians have been implicated by the documents.
Iceland's Prime Minister Resigns:
Iceland Prime Minister Sigmundur David Gunnlaugsson resigned on Tuesday, April 5, 2016 as protestors called for him to step down. The ICIJ investigation of the Panama Papers unearthed the fact that he and his wife had owned an offshore company in the British Virgin Islands. He violated parliamentary rules when he failed to tell of his multimillion dollar fortune. Gunnlaugsson's wife, a rich heiress, has claimed that the offshore company was hers and that she had payed taxes on her fortune.
China:
According to the ICIJ, China is heavily involved with Mossack Fonseca. 29% of Mossack Fonseca's offshore companies are incorporated in China and Hong Kong. China's wealthy businessmen, including Jackie Chan, have off shore holdings. Additionally, eight top leaders of China's Communist Party, Politburo Standing Committee, have relatives with offshore holdings. These include the brother-in-law of Xi Jinping, who has been fighting corruption, and the daughter of Li Peng, known for overseeing the 1989 Tiananmen Square protest military action.
FIFA:
Since the release of the Panama Papers, Swiss police have searched FIFA offices. Additionally, FIFA official Juan Pedro Damiani, a member of FIFA's Independent Ethics Panels, has resigned. The ICIJ investigation of the Panama Papers revealed his business dealings with three men that had been indicted in the United States for bribery and corruption. It also showed that Damiani had conducted deals with three other people expected and charged with wire fraud, money laundering, and bribery. Offshore companies of soccer players have also been uncovered, including one linked to Lionel Messi.
The leak of the Panama Papers has so far affected many countries as well as political leaders and other important people. It has also shed a light on the offshore law business and their practices. The coming consequences can only be speculated upon and are yet to be determined.
– Brooke Warner, Pell Center Intern
Photo credit of the President of Russia's Executive Office.