You are what you eat with Korsha Wilson
Air Dates: November 17-18, 2018
"You are what you eat" is an expression every grade school student has heard—either as a boast or as a taunt. Guest, Korsha Wilson says that "what we eat, what we cook, and the meals we share can tell us a lot about race, access, privilege, heritage, and culture."
Korsha Wilson writes about food, food media, race, class and more.
"I'm especially fascinated by how all of those things intersect and play out in restaurant spaces. I also host a weekly podcast on Heritage Radio Network called 'A Hungry Society'."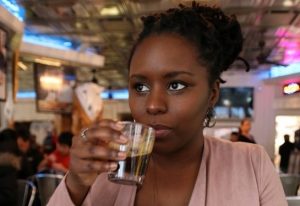 Heritage Radio network, heritageradionetwork.org, describes itself as: "HRN is the world's pioneer food radio station. The studio broadcasts live from two recycled shipping containers inside Roberta's Pizza, an innovative restaurant at the epicenter of Brooklyn's culinary renaissance. We run 100% on the support of our diverse community of members and partners."
Wilson's work has been published in The New York Times, Bon Appétit, The Boston Globe, Eater, Saveur, Taste, Boston Magazine, Village Voice, Munchies, Civil Eats, and Yes!. She is a graduate of The Culinary Institute of America and spent two years in journalism school at Emerson College before deciding to follow her passion for restaurants, food, and writing. She has also worked as a line cook, server, manager, and hostess in fine dining restaurants.
Her philosophy perhaps is best summarized in her June 27 article for Yes!, "Cooking Stirs the Pot for Social Change: Preparing food — and letting others in our communities cook for us — is how we become good citizens who engage with the communities around us."
"Every time we step to our stoves to make a meal we're engaging with the society around us. Each ingredient that we use, every technique, every spice tells a story about our access, our privilege, our heritage, and our culture. The foods and dishes we consume are all part of larger forces that impact our lives. Our appetites and what we crave are the result of our place in the world at that time."
Wilson has written about three cookbooks, Feed the Resistance, The Sioux Chef's Indigenous Kitchen, and The Immigrant Cookbook. They each show how the act of cooking can be a platform for social justice and social action.
"Story in the Public Square" airs on Rhode Island PBS in Rhode Island and southern Massachusetts on Sundays at 11 a.m. and is rebroadcast Thursdays at 7:30 p.m. An audio version of the program airs Saturdays at 8:30 a.m. & 6:30 p.m. ET, Sundays at 4:30 a.m. & 11:30 p.m. ET on SiriusXM's popular P.O.T.U.S. (Politics of the United States), channel 124. "Story in the Public Square" is a partnership between the Pell Center and The Providence Journal. The initiative aims to study, celebrate and tell stories that matter.