June 17, 2017 – "Story in the Public Square"
The media's role in modern American politics is that of investigator, arbitrator, and even king maker. Guest Thomas Patterson argues that, contrary to popular belief, media bias is not about left and right, but about positive and negative.
Patterson is Bradlee Professor of Government and the Press at the John F. Kennedy School of Government at Harvard University. He is the author of Informing the News: The Need for Knowledge-Based Journalism, The Vanishing Voter, Out of Order, and The Unseeing Eye, among many others.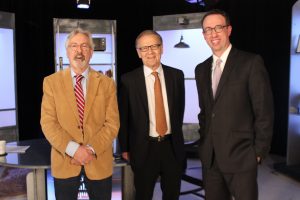 Patterson's articles have appeared in Political Communication, Journal of Communication, and other academic journals, as well as in the popular press.
"Story in the Public Square" airs on Rhode Island PBS in Rhode Island and southern Massachusetts on Sundays at 11 a.m. and is rebroadcast Thursdays at 7:30 p.m. An audio version of the program airs Saturdays at 8:30 a.m. & 10:30 p.m. ET and Sundays at 1:30 p.m. ET on SiriusXM's popular P.O.T.U.S. (Politics of the United States), channel 124.
Story in the Public Square is a partnership between the Pell Center and The Providence Journal. The initiative aims to study, celebrate, and tell stories that matter.