Pell Center Champions Data Privacy Day 2018
For the third year in a row, the Pell Center is participating in Data Privacy Day (DPD) – an international effort held annually on Jan. 28 to raise awareness about the importance of privacy and protecting personal information. The event commemorates the Jan. 28, 1981 signing of Convention 108 – the first legally binding international treaty dealing with these issues. DPD champions recognize and support the principle that all organizations share the responsibility of being conscientious stewards of personal information.  Across the country and around the globe, organizations like the Pell Center at Salve Regina University are providing tips and advice about data privacy issues and highlighting easy ways to protect personal information, including using strong passwords to secure your devices, updating privacy settings, and deleting apps you're no longer using. In North America, the Data Privacy Day initiative is officially led by the National Cyber Security Alliance (NCSA) – a nonprofit, public-private partnership dedicated to promoting a safer, more secure, and more trusted internet.
"Each year, the Day's theme is Respecting Privacy, Safeguarding Data and Enabling Trust – all principles that the Pell Center strongly embraces and promotes throughout the year during dedicated seminars, workshops, and conferences as part of the Rhode Island Corporate Cybersecurity Initiative (RICCI)," said Francesca Spidalieri, Senior Fellow for Cyber Leadership at the Pell Center. RICCI brings together Rhode Island senior leaders and security professionals from across defense, financial services, technology, healthcare, energy, telecommunication, and law enforcement and government agencies. The goal is to address critical cybersecurity and privacy challenges in the private and public sectors and promote best practices, business continuity and resiliency planning.
With new data breaches and ransomware attacks hitting the news daily, individuals and organizations should take advantage of every opportunity to discuss the importance of protecting personal data and empowering senior leaders to take better actions to safeguard sensitive information and digital assets. DPD emphasizes the need for organizations to consider privacy a good business practice and inform employees and consumers about the value of their personal information. Ensuring the confidentiality, integrity, and availability of data is critical to maintaining trust, not only in private companies, but also in public institutions, universities, and research centers. This not only means having the right policies and security solutions in place but making sure everyone in every given organization that comes into contact with confidential data knows how to protect it. Organizations should recognize that data privacy starts with the individual users and that employees can be the first line of defense. However, they must receive proper training to know what they can do to protect their own personal information and, as a consequence, their organizations.
As many of the blogs, articles, and twitter chats point out this week, holding regular data privacy and cybersecurity seminars and training in organizations, of all sizes and in all sectors, can serve to develop a culture of security and privacy across the entire enterprise, better communicate internal cybersecurity policies and procedures, address specific security and privacy issues, and remind everybody of their fundamental role in maintaining an organization's strong cybersecurity posture.
"Companies of all sizes and from all industries are continuously collecting enormous amounts of personal data. Consumers want to know how their personal information is collected and protected and with whom it is shared," said Russ Schrader, NCSA's executive director. "In fact, respecting privacy is not only a protective measure, but also a smart strategy for enabling consumer trust and enhancing reputation and growth."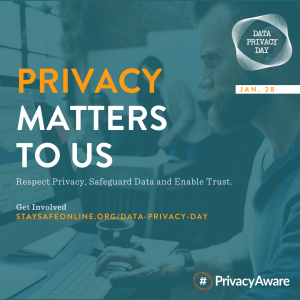 As the world becomes increasingly connected and the Internet of Things (IoT) continues to expand, consumers' concerns about the hot-button issues of data security and privacy are deepening. A recent survey addressing what consumers really think about sharing their personal information indicates that 81 percent of Americans feel they have lost control over the way their personal data is collected. The proliferation of connected devices coupled with consumer unease sends a clear message that in order to build trust, organizations must address privacy concerns, safeguard data, and be open and honest about how personal information is collected, used, and shared.
Raising visibility of initiatives like DPD and spurring ongoing discussions will help to maintain global awareness, even as single celebrations and cybersecurity headlines fade from the front page. In continuing to support this initiative, the Pell Center hopes that efforts like Data Privacy Day continue to increase individuals' awareness about safeguarding their own privacy and highlight why it's important for organizations, senior leaders, and regular citizens to be responsible data stewards.
For more information about getting involved in Data Privacy Day and becoming a Champion, visit staysafeonline.org/data-privacy-day. You can also follow NCSA on Facebook and Twitter for updates and resources and use the official hashtag #PrivacyAware to join the conversation.
For more information and to RSVP to future cybersecurity seminars at the Pell Center, visit http://pellcenter.org/rhode-island-corporate-cybersecurity-initiative/.