New Report Compares the U.S. Financing of Higher Education to Global Competitors
NEWPORT, R.I. – A report published by the Pell Center at Salve Regina University explores how American students finance their education in comparison to students abroad. The four global models of higher education are represented by the United States, England, Japan, and Denmark.
T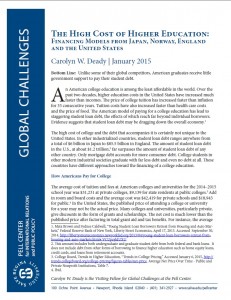 he American model of paying for a college education has led to $1.2 trillion in student loan debt. For the most part, college students in other modern industrial societies graduate with far less debt and even no debt at all.
"For most American college students, paying for college means paying off student loans," said the report's author, Carolyn Deady.  "While no one can credibly challenge the long-term value of a college education," she continued, "the way the American system works puts an enormous burden on young Americans who have no choice then but to delay major purchases such as cars and real estate.  The results for the American economy are real."
The study, "The High Cost of Higher Education," is part of a Pell Center effort to examine American policy challenges in a global context.  The first study, published in 2014, focused on rates of incarceration and recidivism.
"There is a lot we can learn from the way other countries approach the same kinds of challenges we face in the United States," said Pell Center Executive Director Jim Ludes.  "The so-called 'way we've always done it' is not the only way, and it may not always be the best way," he continued.  "With this project, we want to examine the world around us and ask one simple question.  Are there other ways tackle certain issues?  In the case of paying for higher education, the answer is yes."
The full report, "The High Cost of Higher Education," is available to download here.