February 4, 2017 – "Story in the Public Square"
How we play and how we teach our children to play are tremendously important narratives in public life. Jonathan Alexandratos argues that "toys are texts," and we should read them with the same analytical eye we bring to books, movies, songs, and other media.
Jonathan Alexandratos is a playwright and professor of English at Queensborough Community College in New York City. His edited collection of academic essays on the narrative in toys is titled "Articulating the Action Figure: Essays on the Toys and Their Messages," and will be out in May of 2017 from McFarland.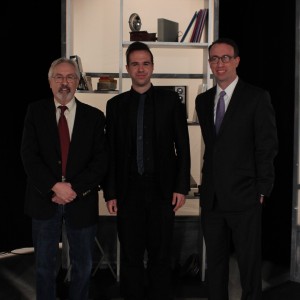 "Story in the Public Square" airs on Rhode Island PBS in Rhode Island and southern Massachusetts on Sundays at 11 a.m. and is rebroadcast Thursdays at 7:30 p.m. An audio version of the program airs Saturdays at 8:30 a.m. & 6:30 p.m. ET and Sundays at 1:30 a.m. & 12:30 p.m. ET on SiriusXM's popular P.O.T.U.S. (Politics of the United States), channel 124.
Story in the Public Square is a partnership between the Pell Center and The Providence Journal. The initiative aims to study, celebrate, and tell stories that matter.