Documentary Filmmaker Daphne Matziaraki to Receive 2017 Pell Center Prize
Newport, R.I. – Filmmaker Daphne Matziaraki, whose documentary about the European refugee crisis was nominated for an Academy Award, has been named the 2017 recipient of the Pell Center Prize for Story in the Public Square. The prize, awarded annually since 2013, honors a storyteller whose work has significantly influenced the public dialogue.
"It is an incredible honor to be awarded the prestigious Pell Center Prize for Story in the Public Square and to be in the great company of past years' outstanding winners," said Matziaraki, whose documentary "4.1 Miles" was a 2016 New York Times Op-Doc, and winner of several awards, including Vimeo best Documentary of the Year.
"'4.1 Miles' is extremely timely, and this award sends out a powerful message: That today, our responsibility as filmmakers to tell important stories is more necessary than ever," Matziaraki said.
Matziaraki joins journalist and two-time Pulitzer winner Dana Priest, who received the inaugural Pell Center Prize in 2013; Emmy-winning screenwriter and actor Danny Strong, the 2014 winner; Lisa Genova, the best-selling author of Still Alice and three other novels, the 2015 honoree; and Pulitzer-winning photographer, filmmaker and war correspondent Javier Manzano, last year's winner.
Matziaraki will receive the 2017 prize, conferred by the Pell Center at Salve Regina University, during a ceremony the evening of Monday, June 5, 2017. The next day, she will be a guest on "Story in the Public Square." The program airs nationally on SiriusXM satellite radio and on Rhode Island PBS. Directed by Matziaraki, the short documentary "4.1 Miles" depicts a Hellenic Coast Guard captain and crew from the island of Lesbos who, against odds, undertake many missions to attempt to save thousands of children, women and men who are attempting to cross the Aegean Sea to Greece as the European migrant crisis unfolds. Shot in the tradition of cinéma vérité, its cinematography and graphic presentation of life-and-death drama distinguish the film.
"Daphne's film captures the essence of the human tragedy of the Syrian and related refugee crises unlike any other story I have seen," said G. Wayne Miller, Providence Journal Staff Writer, Pell Center Visiting Fellow, and director and co-founder of Story in the Public Square. "With its raw emotions, it literally took my breath away – while imparting a deeper understanding of the unconscionable tragedy the world is witness to."
Pell Center Executive Director Jim Ludes said: "To say that I was moved when I first saw '4.1 Miles' is a gross understatement. Daphne Matziaraki captures the desperate plight of refugees and one coast guard officer's efforts to save their lives. It is human. It is emotional. It is a profoundly important story in 2017, and we are humbled to recognize it."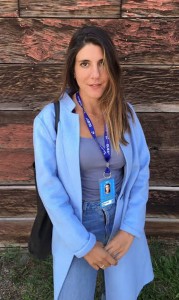 A native of Greece, Matziaraki, 35, holds a bachelor's degree in politics and sociology from the University of Bristol, United Kingdom; a master's in international relations from the University of Bristol; and a masters in journalism (documentary filmmaking) from the University of California, Berkeley. Matziaraki has worked as a radio, television and multi-media journalist in America and Greece. She lives now in the San Francisco Bay area.
"In awarding the 2017 prize to Daphne, we also confirm our commitment to the next generation of storytellers," Miller said. "This has been a Pell Center commitment from the start, and for me personally, a decades-long commitment to young people in their careers."
Founded in 2012, Story in the Public Square is an initiative to celebrate, study and tell stories that matter. A partnership of the Pell Center and The Providence Journal, the program sponsors public seminars and discussions, annually names a local and national story of the year, and is guided by a culturally and creatively diverse Story Board.
Learn more about Daphne and "4.1 Miles" at www.daphnematziaraki.com. Please be advised the documentary contains some graphic scenes.
RSVP for the 2017 Pell Center Prize for Story in the Public Square presentation on June 5, 2017 here.