April 8, 2017: "Story in the Public Square"
As long as there has been live theater, artists have grappled with the public issues of their day. From the ancient Greeks to today, theater has had the power to provoke, inspire, and challenge authorities and orthodoxies. This week, playwright-director Kevin Doyle and actor Sauda Jackson help us explore the power of theater.
Kevin Doyle is the artistic director of the New York City-based international theater company, Sponsored by Nobody. Doyle is a graduate of the Drama Studies program at Purchase College-SUNY. His plays have been translated into French and Romanian, while receiving productions in the United States and the European Union. In 2007, Doyle founded Sponsored By Nobody, an international theatre company which has established a reputation in New York and Europe for presenting abrasive theatre that refuses to relinquish the idea of art as a catalyst for social change.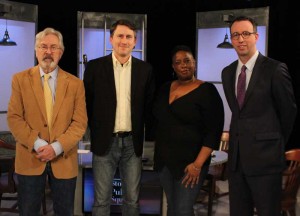 Sauda Jackson is an actor who has had the distinct pleasure of working at the forefront of experimental New York theatre. Jackson studied Acting at Eastern Illinois University and Brooklyn College-CUNY. Jackson has worked with Sponsored By Nobody on Behind The Bullseye, ATM or this is [not] new york, THE AЯTS and as a regularly featured actor in SBN's Tropismes series at JACK in Brooklyn.
"Story in the Public Square" airs on Rhode Island PBS in Rhode Island and southern Massachusetts on Sundays at 11 a.m. and is rebroadcast Thursdays at 7:30 p.m. An audio version of the program airs Saturdays at 8:30 a.m. & 6:30 p.m. ET and Sundays at 1:30 a.m. & 12:30 p.m. ET on SiriusXM's popular P.O.T.U.S. (Politics of the United States), channel 124.
Story in the Public Square is a partnership between the Pell Center and The Providence Journal. The initiative aims to study, celebrate, and tell stories that matter.