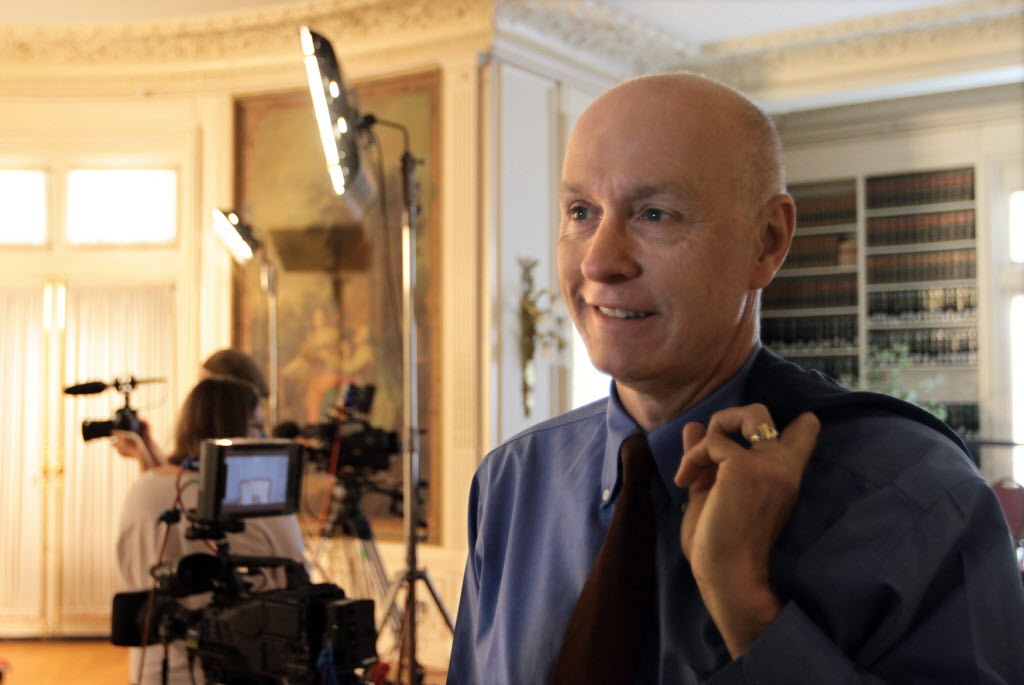 By: G. Wayne Miller
Dan Barry, a New York Times senior writer and the author of four books, has been named the 2018 recipient of the Pell Center Prize for Story in the Public Square. The prize, awarded annually since 2013, honors a storyteller whose work has significantly influenced the public dialogue.
Barry, a member of a Providence Journal team that won the 1994 Pulitzer Prize for Investigative Reporting and twice a Pulitzer finalist while at The Times, will receive the Pell Center Prize in a ceremony April 23 at Salve Regina University's Pell Center for International Relations and Public Policy. The next day, he will tape an episode of "Story in the Public Square" for broadcast on SiriusXM Satellite radio and Rhode Island PBS.
"When it was made clear to me that this was not some clerical mistake, I was truly humbled to learn that I was being awarded the Pell Center Prize for Story in the Public Square," Barry said. "The telling of stories is an essential pursuit; stories help us to navigate the shoals of the human condition. And I am deeply honored to join the past recipients, and to be thought of as a storyteller."
Barry joins two-time Pulitzer winner Dana Priest, who received the inaugural Pell Center Prize in 2013; Emmy-winning screenwriter and actor Danny Strong, the 2014 winner; Lisa Genova, the best-selling author of "Still Alice" and four other novels, honored in 2015; Pulitzer-winning photographer Javier Manzano, the winner in 2016; and last year's winner, filmmaker Daphne Matziaraki, whose documentary "4.1 Miles" was nominated for an Oscar.
"Having known Dan since he arrived at The Providence Journal in 1987 and having followed his career since, I can state with authority that his distinguished body of work stands as an extraordinary example of the power of narrative storytelling — not just to shape thinking but also to change lives," said G. Wayne Miller, a Journal staff writer and Story in the Public Square director.
"Dan Barry's writing is so moving because it is ultimately about the people he encounters: adult men living with developmental disabilities; a boxer whose last fight has left him with a brain injury; a young girl who as an adult uncovered a horrible secret in her hometown," said Pell Center executive director Jim Ludes. "Dan is an extraordinary storyteller who captures our minds and our hearts with the stories he tells. We're thrilled to be able to celebrate his work."
Barry's most recent book, "The Boys in the Bunkhouse: Servitude and Salvation in the Heartland," about men with intellectual disabilities who spent decades working at an Iowa turkey-processing plant while living in an old schoolhouse, was a searing story of exploitation and abuse – and eventual justice and freedom. It was recently named the All Iowa Reads selection for 2018.
His other books include "Pull Me Up," "City Lights: Stories About New York," and "Bottom of the 33rd: Hope, Redemption, and Baseball's Longest Game," set in Pawtucket. A collection of Barry's national columns for The Times, "This Land: Dispatches from Real America," is scheduled to be published in September. To read some of Dan's work at The New York Times, visit, www.nytimes.com/by/dan-barry.
The April 23 ceremony will begin at 7 p.m. and is free and open to the public. Space is limited and registration is required at, https://www.eventbrite.com/e/2018-pell-center-prize-for-story-in-the-public-square-tickets-42718921444.
Founded six years ago this month, Story in the Public Square is an initiative to study, celebrate, and tell stories that matter. A partnership of the Pell Center and The Providence Journal, the program sponsors public events, names the top public narrative each year, and produces the public affairs talk show for SiriusXM's P.O.T.U.S. channel and Rhode Island PBS. Past episodes may be viewed at http://pellcenter.org/story-in-the-public-square/episodes/
Visit Story in the Public Square at pellcenter.org, like on Facebook and follow on Twitter @PubStory.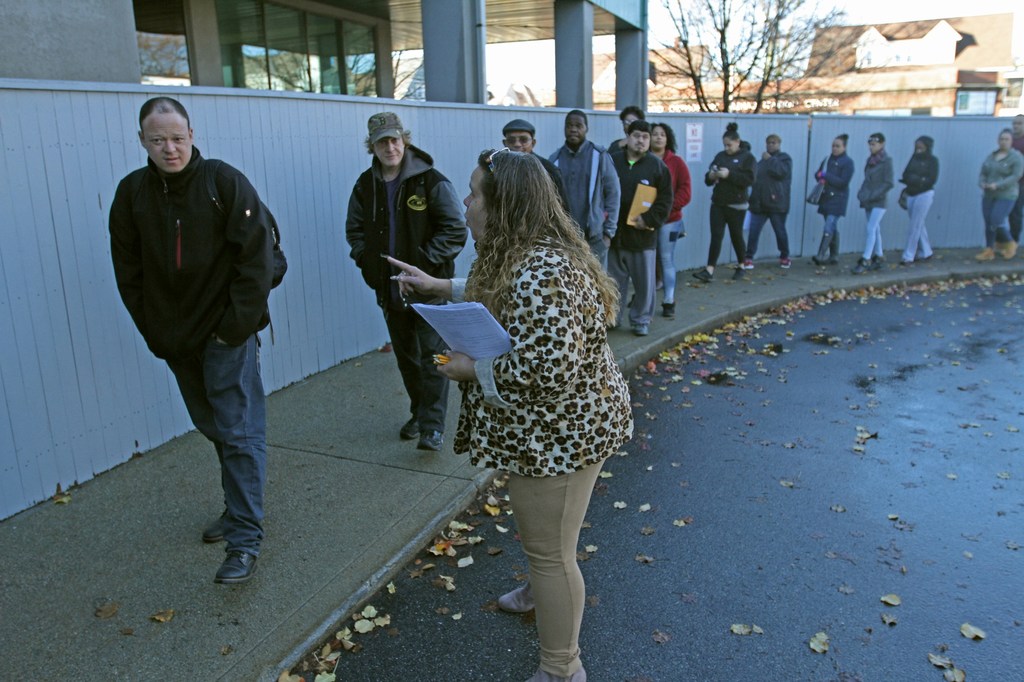 Panel of 18 judges decide fourth annual Pell Center contest
        By: G. Wayne Miller
NEWPORT, R.I – The continuing problems related to the state's public-benefits computer system known as Unified Health Infrastructure Project, or UHIP, has been voted the 2017 Pell Center Rhode Island Story of the Year by a panel of 18 judges from local media and academia.
UHIP was launched in September 2016. Still unresolved 15 months later, the UHIP debacle has caused lengthy delays in payments, problems with verification of eligibility, an extensive backlog in applications, and other issues affecting thousands of Rhode Islanders served by the state Department of Human Services.
The fiasco has led to the resignations of three top officials, prompted a lawsuit by the American Civil Liberties Union of Rhode Island, and led to a federal court appointment of a Special Master. Contractor Deloitte Consulting has credited the state tens of millions of dollars following an agreement with Gov. Gina Raimondo, and the issue figures to be a factor in the 2018 elections, observers predict.
Runners-up in this year's contest were the Nov. 9 deadly police chase and shooting in Providence and the continuing saga of the Pawsox, which in 2017 involved eventual relocation to another site in Rhode Island or possibly out-of-state.
"The police chase and shooting was the year's most dramatic story," said juror Alan Rosenberg, executive editor of The Providence Journal. "But the state's ongoing inability to fix a computer system that affects so many lives makes UHIP my choice as story of the year."
Tim White, Target 12 investigative reporter for WPRI TV, agreed, saying this story of "tens of thousands of underprivileged hurt by a massive IT disaster" was his top pick "because of the number of people impacted, the ripple effects it has had in government, with the firing of Elizabeth Roberts and launching of House oversight hearings, and the likelihood this will be a major issue in the 2018 elections."
"A significant problem negatively impacting benefit recipients who are in need," said Dan Paquet, announcer and executive producer with WPRO radio. "It also has caused concern for taxpayers angered and skeptical of government spending."
"We knew when we started this contest in 2014 that we would never lack for strong competition," said Pell Center Executive Director Jim Ludes. "The year 2017 did not disappoint."
"With a jury comprised of a broad representation of expert observers, reporters and analysts of Rhode Island events, our annual contest provides a valid assessment of what likely will – and will not – go into the state history books," said Journal Staff Writer G. Wayne Miller, director of the Pell Center's Story in the Public Square program.
As in earlier years, the 2017 top story was selected during two rounds of balloting. Among the other stories nominated during the first round were impacts of the Trump administration on Rhode Island, debate over Raimondo's free college tuition plan, the House/Senate standoff at the end of the 2017 General Assembly, Invenergy's proposed Burrillville power plant, Deepwater Wind's Block Island Wind Farm, and the state's opioid crisis.
The 2016 judges were: Scott Saracen, director/producer at Rhode Island PBS; Amanda Milkovits, Providence Journal Staff Writer; Steve Klamkin, WPRO radio; Doreen Scanlon, ABC-6 TV; Robert Hackey, Providence College professor; Lorén Spears, executive director of the Tomaquag Museum; Gene Valicenti, WPRO radio and NBC-10 TV; George T. Marshall, executive director of Flickers' Rhode Island International Film Festival and a professor at Roger Williams University; WPRO talk show host Dan Yorke; John Howell, editor and publisher of the Warwick Beacon; Judy Barrett Litoff, Bryant University professor of history and social sciences; John Palumbo, publisher of Rhode Island Monthly; M. Charles Bakst, retired Journal political columnist; and Rosenberg, White, Paquet, Ludes, and Miller.
Story in the Public Square is a partnership of The Providence Journal and the Pell Center at Salver Regina University. The Story in the Public Square program is broadcast weekly on Rhode Island PBS and Sirius XM Satellite Radio.
Readers can weigh in on the 2017 selection on Twitter, @pubstory, or Facebook, www.facebook.com/StoryInThePublicSquare. For more information on Story in the Public Square, visit publicstory.org.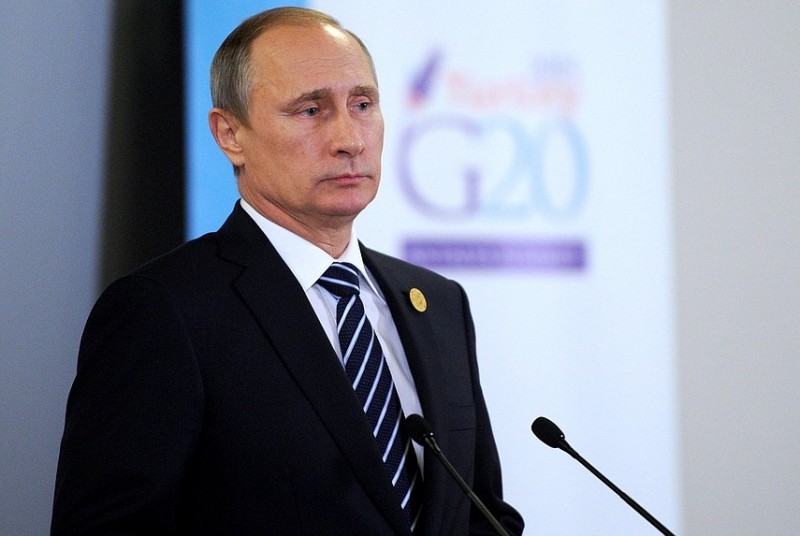 The Panama Papers | The International Consortium of Investigative Journalists
What are the Panama Papers? A guide to history's biggest data leak | The Guardian
Revealed: the $2bn offshore trail that leads to Vladimir Putin | The Guardian
Summary:
The Panama Papers is a collection of 11.5 million files (2.6 terabytes of data) that was leaked from Mossack Fonseca, the fourth largest offshore law firm in the world, based in Panama. The documents revealed in one of the biggest leaks ever were given anonymously to German newspaper Süddeutsche Zeitung, which then shared them with the International Consortium of Investigative Journalists (ICIJ), which further distributed the information. The documents expose how powerful world leaders as well as other rich people and groups use offshore bank accounts and shell corporations, outside of typical jurisdictions, to hide their wealth and/or avoid taxation. Panama Papers connected 12 heads of state, 61 of their relatives, and 128 other public officials to secret offshore companies. ICIJ says it will release a full list of companies and people identified in the Panama Papers in early May.
Russian President Putin:
Russia's President Putin was not personally named in the Panama Papers, however $2 billion can be traced back to him through several of his close associates operating a complicated money laundering system through Bank Rossiya. Putin's closest friend Sergei Roldugin seems to be at the center of the system. On record, Sergei Roldugin has amassed a personal fortune of hundreds of millions of dollars through shady deals, but files from his companies state that "the company is a corporate screen established principally to protect the identity and confidentiality of the ultimate beneficial owner of the company." (Likely Putin). A spokesperson of the Kremlin has claimed that the leak targeted Putin and the stability of politics in Russia before parliamentary elections. Dmitry Peskov, press secretary for President Putin, suggested some of the investigative journalists behind the leak were actually CIA and State Department officials.
Americans and the United States:
McClatchy newspapers, which was given access to the data from the ICIJ, reports that there are 3,500 United States addresses recorded in the documents (this does not necessarily mean all 3,500 are American citizens). Additionally, it is reported that there are scans of at least 200 United States passports among the files. Some Americans with dual citizenship may have also opened accounts under foreign passports. It is expected that most of the Americans are likely retirees using their accounts to purchase real estate outside the country. Currently, no United States politicians have been implicated by the documents.
Iceland's Prime Minister Resigns:
Iceland Prime Minister Sigmundur David Gunnlaugsson resigned on Tuesday, April 5, 2016 as protestors called for him to step down. The ICIJ investigation of the Panama Papers unearthed the fact that he and his wife had owned an offshore company in the British Virgin Islands. He violated parliamentary rules when he failed to tell of his multimillion dollar fortune. Gunnlaugsson's wife, a rich heiress, has claimed that the offshore company was hers and that she had payed taxes on her fortune.
China:
According to the ICIJ, China is heavily involved with Mossack Fonseca. 29% of Mossack Fonseca's offshore companies are incorporated in China and Hong Kong. China's wealthy businessmen, including Jackie Chan, have off shore holdings. Additionally, eight top leaders of China's Communist Party, Politburo Standing Committee, have relatives with offshore holdings. These include the brother-in-law of Xi Jinping, who has been fighting corruption, and the daughter of Li Peng, known for overseeing the 1989 Tiananmen Square protest military action.
FIFA:
Since the release of the Panama Papers, Swiss police have searched FIFA offices. Additionally, FIFA official Juan Pedro Damiani, a member of FIFA's Independent Ethics Panels, has resigned. The ICIJ investigation of the Panama Papers revealed his business dealings with three men that had been indicted in the United States for bribery and corruption. It also showed that Damiani had conducted deals with three other people expected and charged with wire fraud, money laundering, and bribery. Offshore companies of soccer players have also been uncovered, including one linked to Lionel Messi.
The leak of the Panama Papers has so far affected many countries as well as political leaders and other important people. It has also shed a light on the offshore law business and their practices. The coming consequences can only be speculated upon and are yet to be determined.
– Brooke Warner, Pell Center Intern
Photo credit of the President of Russia's Executive Office.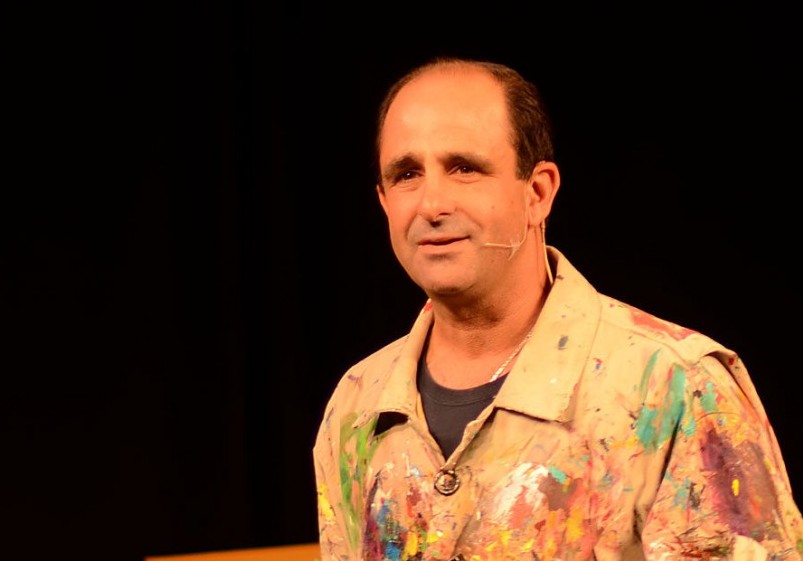 Nationally acclaimed artist, advocate and storyteller Jeff Sparr, founder of the renown PeaceLove Studios, has joined the Story in the Public Square (SIPS) Story Board, the creatively and culturally diverse advisory body to the program at Salve Regina University's Pell Center.
In addition to his many professional accomplishments, Jeff is a tireless champion and friend of people who, like him, live with mental illness. In building PeaceLove Studios into a national force, Sparr has inspired and helped countless others from many stations in life.
"I am honored to join this wonderful organization that truly understands the power of story and its ability to mobilize positive change in the world," Sparr said.
"After hearing about Jeff for some long while, I finally met him last year and wrote a story about him and PeaceLove for The Providence Journal," said SIPS director G. Wayne Miller. "The studio, the man, the mission – all blew me away. He is an incredible addition to our Story in the Public Square family."
Among other events this spring, Sparr will preside over the 2016 Peace of Mind Storytellers event, on May 19 at Sapinsley Hall at Rhode Island College. The day "will bring together leaders in the mental wellness space to share their stories and the work they are doing to help create peace of mind in the world. We create an experience that is unlike any speakers conference you've been to before," according to the PeaceLove folks. To register, visit http://bit.ly/23e9lnp
See the other Story Board members here.
Story in the Public Square is a partnership of the Pell Center and The Providence Journal.