Student Blog: Nuala Pell Leadership Fellows Visit Washington D.C.
On March 24, 2022, Salve Regina University students in the Nuala Pell Leadership Program arrived in our nation's capital to meet with Rhode Island's elected leaders and leaders from across the public sector.  The visit concluded the year-long leadership program that exposed our high-achieving student fellows to both the theory and practice of leadership and emphasized public service. One day prior to arriving in Washington, the students presented their research on various public issues to the Salve Regina University community at the University's annual SRyou Student Exposition.  The program is named in honor of the late Nuala Pell, wife of Sen. Claiborne Pell, who was an avid supporter of public service.
Day One — Beth Nickerson '23
As part of the Nuala Pell Leadership Program, I had the amazing opportunity to travel to Washington, D.C. for a few days. The first day was full of great experiences as we toured parts of the city and met with inspiring individuals. Some highlights of this day were our time at the Capitol Building and our meeting with Rhode Island Senators Reed and Whitehouse. We also had lunch with Clay Pell, the grandson of Senator Claiborne Pell and Nuala Pell. He told us stories from his own career and about his grandparents and it was nice to hear about the Pell family, one that is so important to our program and the Salve Regina community. As this was my first time in Washington D.C., it was an incredible experience to just see the U.S. Capitol Building, and we were lucky enough to also receive an official tour. My favorite part of the Capitol tour was being in the Rotunda where we saw statues of key historical figures and impressive paintings of major events throughout American History. One painting that stood out to me was the Declaration of Independence by John Trumbull. I learned about this painting in history class with Dr. Leeman, and it was great to see it in person. After our tour, we met with Sen. Jack Reed and Sen. Sheldon Whitehouse in Sen. Reed's office. It was a great opportunity to speak with them and we asked them questions about current issues facing our country and about their experiences as Senators. This conversation provided us with insight into the inner workings of policymaking and how a Senator's office functions. I am so grateful for the chance to be a part of this visit and to engage in these enlightening experiences.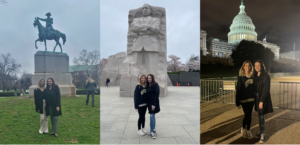 Left: Lindsey Smith '23 (left) and Beth Nickerson '23 (right) stand in front of a statue of Rhode Island native and American Revolutionary War General Nathanael Greene in Stanton Park in Washington, D.C.  Middle: Smith '23 and Nickerson '23 stand in front of the Dr. Martin Luther King Jr. National Memorial.  Right: Smith '23 and Nickerson '23 in front of the U.S. Capitol Building in Washington.
Day Two — Lindsey Smith '23
On our second day in Washington, D.C. we had the opportunity to sight-see on the National Mall and meet with Georg Sparber, the Ambassador of Liechtenstein to the United States. We first traveled to the National Mall, where the Smithsonian museums are located. Our first destination was the American History Museum where we visited exhibits on American democracy, the First Ladies, and the American Presidency. We saw an interesting exhibit called "Girlhood," which displayed the progression of girls' jobs, education, politics, health, and clothing over time which represented their struggles and successes with gaining inclusion in American society. At the African American History and Culture Museum, we saw the "Paradox of Liberty" which focused on the creation of a nation built around freedom and inclusion, while there continued to be the exclusion of a huge portion of the population from equal rights and citizenship, enslaved peoples. This exhibit featured President Thomas Jefferson's relationship and the children he had with an enslaved woman, Sally Hemmings, and documents such as the Bill of Rights and the Louisiana Purchase. The existence of slavery perpetuated the falsity of democratic progress while misrepresentation and bigotry of the African American community still remained.
In the afternoon, we had the incredible opportunity to meet with the Ambassador of Liechtenstein to the United States, Georg Sparber. He discussed the importance of the relationship between Claiborne and Nuala Pell and the royal family of Liechtenstein, the Princely family. Ambassador Sparber shared personal leadership advice from his experiences with us, such as the importance of devoting your life to a cause that you are passionate about. He spoke about Liechtenstein's international diplomacy, and the country's deep commitment to fighting against human rights violations, such as those currently taking place against Ukrainian citizens. Ambassador Sparber explained that a core idea of diplomacy that his nation holds is one devoted to self-determination. He gave insight into the successes of his country in the areas of funding for education, as well as in domestic safety for its citizens. Ambassador Sparber also discussed their reliance on the workforce, which is impressively made up of a large portion of citizens from surrounding countries. Overall, Ambassador Sparber was welcoming, engaging, and intuitive, and his nation promotes a progressive view of international and domestic policy.
We concluded the day with dinner at the Sequoia restaurant, where we enjoyed good food and Shirley Temples. We also explored the shops and streets in Georgetown before heading back to the National Mall to admire the beautiful buildings. We were able to see the Washington Monument, the museums, and the U.S. Capitol building illuminated at night. Our second day in D.C. was eye-opening and eventful, and one we will always remember.