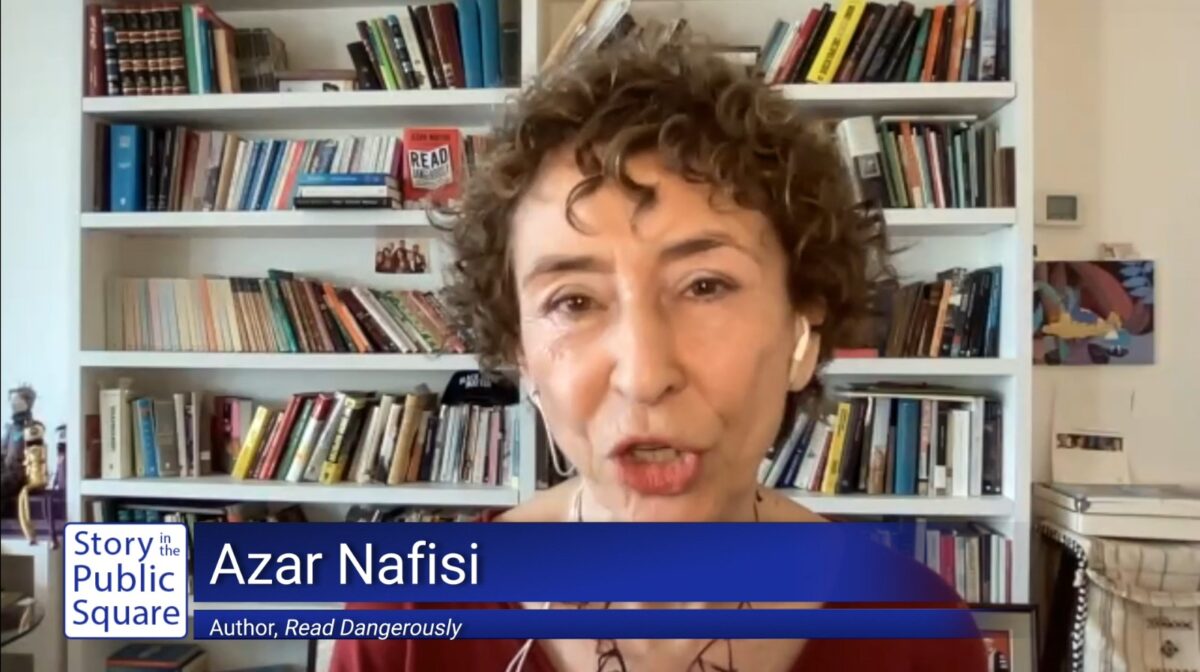 Air Dates: April 11-17, 2022
So much of our modern life is built upon simplifying the complex.  We reduce social interactions to likes and follows on social media and dilute the "news" in our favorite echo chambers.  But Azar Nafisi warns that life is not simple and the complexity found in great literature is ultimately liberating of the mind and essential to the health of our democracy.
Dr. Azar Nafisi is best known as the author of the national bestseller "Reading Lolita in Tehran: A Memoir in Books," a compassionate and often harrowing portrait of the Islamic revolution in Iran and how it affected one university professor and her students.  Born and raised in Iran, she came to the United States to earn her Ph.D. at the University of Oklahoma during the 1970s. Afterward, Nafisi returned to Iran and taught English at the University of Tehran. In 1981, she was expelled for refusing to wear the mandatory Islamic veil and did not resume teaching until 1987. She taught at the Free Islamic University and Allameh Tabatabai, and went on to a fellowship at Oxford University, teaching and conducting a series of lectures on culture and the important role of Western literature and culture in Iran after the Revolution in 1979.  Nafisi returned to the United States in 1997—earning national respect and international recognition for advocating on behalf of Iran's intellectuals, youth, and especially young women.  Nafisi was a Fellow at the Foreign Policy Institute of Johns Hopkins University's School of Advanced International Studies (SAIS) in Washington, DC, where she taught aesthetics, culture, and literature, and taught courses on the relation between culture and politics.  She also served as Director of The Dialogue Project & Cultural Conversations there.  She has lectured and written extensively in English and Persian on the political implications of literature and culture, as well as the human rights of the Iranian women and girls and the important role they play in the process of change for pluralism and open society in Iran.  She has been consulted on issues related to Iran and human rights both by the policymakers and various human rights organizations across the world.
On this episode of "Story in the Public Square," Nafisi discusses the importance of literature and the free exchange of ideas to democracy and her latest book, "Read Dangerously: The Subversive Power of Literature in Troubled Times," which was published last month.
"Story in the Public Square" continues to broadcast each week on public television stations across the United States. A full listing of the national television distribution is available at this link. In Rhode Island and southeastern New England, the show is broadcast on Rhode Island PBS on Sundays at 11 a.m. and is rebroadcast Thursdays at 7:30 p.m. An audio version of the program airs Saturdays at 8:30 a.m., 4:30 p.m. ET, and Sundays at 1:30 a.m., 2:30 p.m. & 9:30 p.m. ET, and Mondays at 2:30 a.m. ET on SiriusXM's popular P.O.T.U.S. (Politics of the United States), channel 124. "Story in the Public Square" is a partnership between the Pell Center and The Providence Journal. The initiative aims to study, celebrate and tell stories that matter.
Related Posts