Pell Center Fellow to Instruct Cybersecurity Course

NEWPORT, R.I.—The Pell Center's Senior Fellow for Cyber Leadership, Francesca Spidalieri, has designed and is now teaching a new graduate-level course, Management of Cyber Opportunities and Threats (MGT 558). The course, which is a new core requirement, represents a distinctive feature of the Salve Regina MBA program and is open to students from other academic disciplines as well.
Cybersecurity is increasingly central to the purview of senior business executives and is not something that should be left to IT departments.  This insight, derived from pioneering research at the Pell Center and around the world, is part of the reason the new course will be a requirement for all Salve Regina MBA students. Salve Regina's MBA program aims to train leaders for the twenty-first century, and Spidalieri's course will provide students with an understanding of opportunities and threats of doing business in cyberspace, and will address a variety of topics, including: the advantages and risks of new technology innovations; risk assessment related to security breaches and privacy; intellectual property; industrial espionage; business continuity; and resiliency planning. Students will learn strategies on how to prevent and mitigate cyber risks and will acquire the tools to build a comprehensive incident response plan, including disaster recovery and business continuity.
"We are excited to have Francesca Spidalieri teach the Management of Cyber Opportunities and Threats course," says Traci Warrington, Dean of Professional Studies at Salve Regina University. "Her contributions to the cybersecurity field are important across industry sectors, and we look forward to the opportunity that students will have to interact with, and learn from, Ms. Spidalieri."
"When the Pell Center began looking at cybersecurity two years ago, master's degree programs were really in the stone-age when it came to preparing leaders for an era of persistent cyber threat," said Pell Center Executive Director Jim Ludes.  "It's exciting to see Salve Regina University lead the way to prepare the next generation of executives."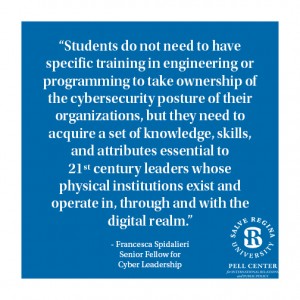 In 2013, Spidalieri published a study* that detailed the failing of America's most prestigious graduate programs to prepare their graduates—and ultimately the nation—for cybersecurity challenges. To date, this remains the only study on the status of cyber education for non-technical leaders in the country and has been cited in various other academic reports and news articles addressing the need to develop cyber-strategic leaders and encourage senior executives to take ownership of their organizations' cybersecurity. Various colleges and universities have added cybersecurity degrees and concentrations since the study's publication, but most of these programs remain highly technical.
"The goal of this course is to turn our students into 'cyber-strategic leaders' who possess a deep understanding of the cyber context in which they operate and who are able to harness the right tools, strategies, people, and training to respond to a dynamic and rapidly-developing array of cyber threats," says Spidalieri.
According to Spidalieri, "students do not need to have specific training in engineering or programming to take ownership of the cybersecurity posture of their organizations, but they need to acquire a set of knowledge, skills, and attributes essential to 21st century leaders whose physical institutions exist and operate in, through, and with the digital realm."
Dr. Arlene Nicholas, the graduate director of MBA/MS management programs at Salve Regina University, notes that "the MBA program revised its core to address the resourceful foresight necessary for current and future managers."
"The administration of business and workers needs to include the cyber access of customers, suppliers, and employees," Dr. Nicholas says.  "Hiring methods, record keeping, billings, advertising, consulting and the myriad of cyber business used every day requires managers and workers to be aware of safe practices."
*Download the PDF of Spidalieri's study One Leader at Time: The Failure to Educate Future Leaders for an Age of Persistent Cyber Threat