Pell Center Debuts New Website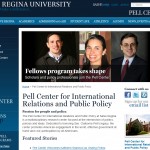 Newport–The Pell Center for International Relations and Public Policy at Salve Regina University relaunched its official website, www.salve.edu/pellcenter, today, Monday, March 4, 2013.
The redesigned site features the latest news and events from the Pell Center, an expanded roster of fellows, and social media links for the Pell Center's Facebook, Twitter and blog to increase opportunities for public interaction.
"The new site reflects important developments at the Pell Center, including the growth of our own research capacity and the vitality of our events," said Jim Ludes, Executive Director of the Pell Center. "It was important for us to better integrate social media as well," Ludes continued, "We don't just want to be on broadcast all the time, we want to be part of a public conversation."
The website also features a new project at the Pell Center.  Story in the Public Square, in partnership with the Providence Journal, is a year-round initiative to study and celebrate storytelling's impact on public affairs. Story in the Public Square will launch with a conference, free and open to the public, on April 12, 2013.  Registration, when it opens, will be available through the Pell Center website.  Additional information about registration will be released later this week.