Pell Center Announces Inaugural Nuala Pell Fellowships
12 Salve Regina University Students Selected for Leadership Program named for Mrs. Nuala Pell
Newport, RI—The Pell Center has named the inaugural class of Nuala Pell Fellows—members of the Salve Regina University class of 2017 who have been selected from a highly competitive pool of applicants to receive leadership development training over the course of their sophomore year at the University.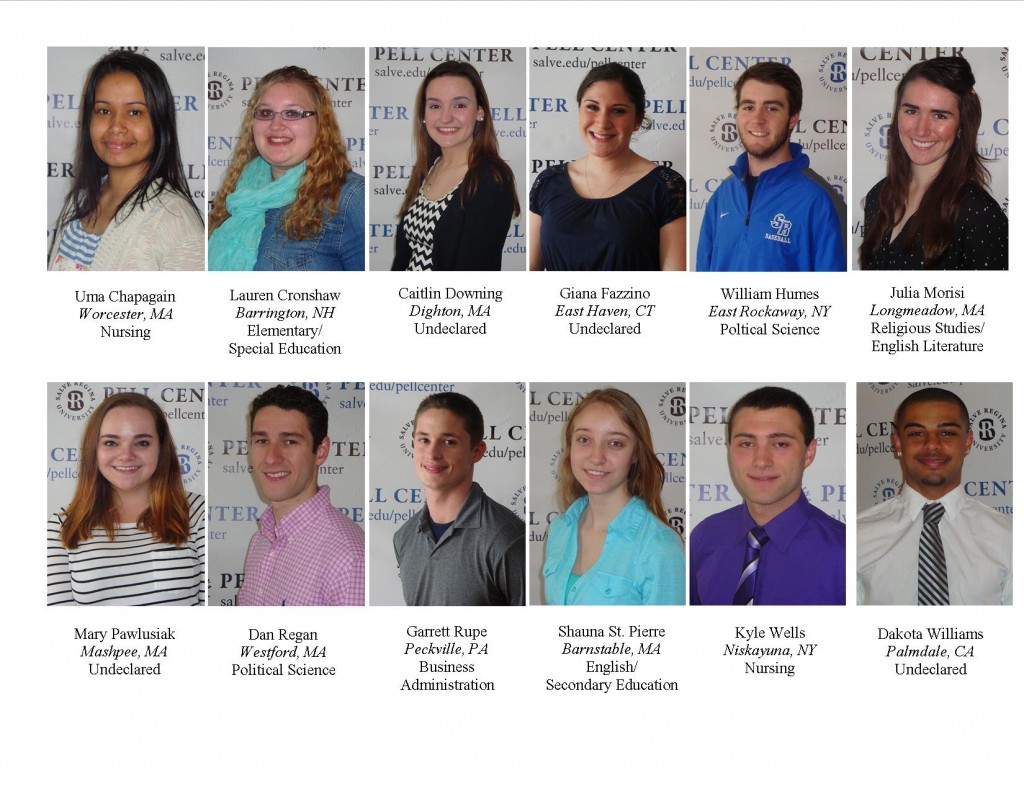 Salve Regina University President Sister Jane Gerety, RSM, praised the students for their commitment to leadership and service. "We are called by our mission and our vision for this institution to prepare students for lives of distinction in service to others," said Sister Jane.   "These young men and women have embraced that call and we are so very proud of them."
The Nuala Pell Leadership Program in Public Service is named for long-time Salve trustee Nuala Pell who was also the wife of Senator Claiborne Pell. Through her own service and leadership, she made important contributions to her community with a humility and grace all too rare today. Although Mrs. Pell passed away earlier this spring, last summer she helped design and create the program which now bears her name.
As Nuala Pell Fellows, the students selected from the class of 2017 will participate in nearly 60 hours of seminar instruction on leadership and the complex challenges facing effective leaders today. They will also undertake a community service project and turn their attention to public issues with an understanding about how their voices can change the conversation.
The program will be delivered by the core staff of the Pell Center and members of the University faculty. Seminars will be leavened with outside speakers whose personal experience or story of leadership will educate and inspire.
"The Nuala Pell Leadership Program in Public Service is intended to be a transformative experience for its participants," said Pell Center Executive Director Jim Ludes, Ph.D. "This generation of young Americans will have to address a long list of challenges—from a changed climate to demographic and resource shifts that will challenge the familiar and the comfortable. As a nation we will need leaders committed to service to meet these challenges head-on. We're thrilled that the Pell Center can honor Mrs. Pell while at the same time contributing to the public good for years to come."
"Anyone who was blessed to know Nuala knows the gentleness of her spirit and the dignity with which she treated everyone she met," continued Sr. Jane. "We believe the grace she embodied in her life is essential to effective leaders today and we're delighted that the Pell Center is home to this initiative."
About the Pell Center
The Pell Center is a multi-disciplinary research center—or think-tank—on the campus of Salve Regina University. Named for former-Senator Claiborne Pell, the center promotes and studies good governance, public engagement, and effective leadership at home and abroad.
 #   #   #