Pell Center and Naval War College to host "An Evening with Senator John McCain"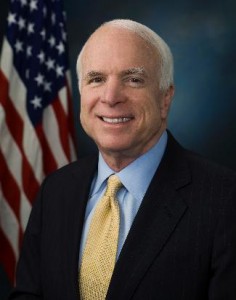 NEWPORT, RI ̶ On Thursday, June 12, 2014 the Pell Center and the U.S. Naval War College will host "An Evening with Senator John McCain." The Arizona Senator and 2008 Republican Party nominee for President will speak in Spruance Auditorium at the Naval War College from 6:30 PM – 8:00 PM.
Pell Center Executive Director Jim Ludes welcomed the opportunity to host a national hero, saying, "We are delighted to work with our colleagues at the Naval War College to host Senator McCain. His legacy of faithful service to the United States is an inspiration and we are eager to welcome him to Newport."
"We also owe a debt of gratitude," continued Ludes, "to Rhode Island's own Senator Sheldon Whitehouse for bringing us all together for what promises to be a very special night."
Senator John McCain entered the Naval Academy in June of 1954. He served in the United States Navy as a pilot until 1981 and received numerous awards, including the Silver Star, Legion of Merit, Purple Heart, and Distinguished Flying Cross. He graduated from the National War College in Washington, D.C. in 1973.
Senator McCain was elected to the U.S. House of Representatives from Arizona in 1982 and elected to the United States Senate in 1986. Some of the key issues Senator McCain focuses on include agriculture; budget, taxes and economy; defense and national security; education and healthcare.
Limited seating is available. To register, please click here.
Date: Thursday, June 12, 2014
Time: 6:30 PM – 8:00 pm
Place:  Spruance Auditorium
U.S. Naval War College
686 Cushing Road
Newport, RI
# # #