Pell Center Releases "State of the States on Cybersecurity" Report
Eight States Lead the Rest in Cybersecurity Readiness
New Pell Center study establishes benchmarks for state government in meeting the cyber threat
Newport, R.I. — Eight U.S. states are leading the rest in cybersecurity readiness.  In a new report from the Pell Center at Salve Regina University, Senior Fellow Francesca Spidalieri reviews the efforts of state governments in California, Maryland, Michigan, New Jersey, New York, Texas, Virginia, and Washington.  These states provide a collective overview of sound approaches to "protect infrastructure, information, and operations."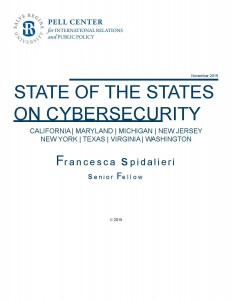 The study, "State of the States on Cybersecurity," highlights effective mechanisms and creative solutions that state governments and their leaders have devised to take advantage of existing assets, to better protect critical infrastructure, to promote information sharing, to grow their cybersecurity industry, and to attract qualified talent to their states.
States were chosen based on their recognition of cybersecurity as a priority and their strong commitment to increase their security and resilience against cyber threats. "These states are exercising their responsibility through both government action by leveraging policies, plans, laws, regulations, and standards, and by providing the right set of incentives and assistance for other stakeholders," said Spidalieri.
"With greater and greater frequency, state governments are falling victim to an array of cyber threats, including data breaches, tax fraud, and political hacktivism," said Pell Center Executive Director Jim Ludes.  "This new study shines a light on the states that are leading the way in preparing for and mitigating these threats so that others can follow."
According to Spidalieri, "Local and state governments, just like the federal government, hold the information of millions of people and depend on information communication technologies and the Internet to provide a number of services to their citizens, to maintain critical infrastructure as public utilities, to share information across states and federal networks, and to make sure that first responders receive the data they need in crisis situations. This is why it is critical," she continued, "that states protect their cyber infrastructure and digital investments and develop comprehensive plans to increase their preparedness and resilience."
It is important that cybersecurity measures are enforced at the state-level to protect citizens and reduce cyber risks. Maintaining the most recent security products, tools, and plans is just as important as educating users in the proper practices to reduce their cyber risks. The initiatives exemplified throughout this new report provide models for other states and jurisdictions to follow and offer a useful set of effective mechanisms and activities at the state-level to put recommended action into practice.
"State of the States on Cybersecurity" is part of the ongoing Cyber Leadership Project at the Pell Center and follows previous reports that investigate critical issues in cybersecurity leadership development across the United States.
The full report is available for download here.