Nuala Pell Leadership Fellows Explore D.C.
On the morning of October 30, 2015, Salve Regina's Nuala Pell Leadership Fellows returned to the Embassy of Liechtenstein to speak with Ambassador Claudia Fritsche in a more formal capacity about her personal background and concept of leadership.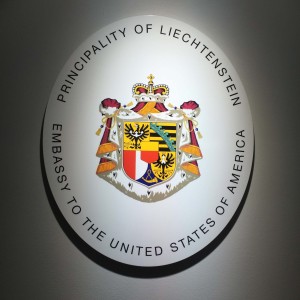 We were both shocked and inspired to learn that the Ambassador had not received a higher education, as it was very difficult for young women in those days to get an education. To say that she is an exemplary role model for leadership would be an understatement. She came to the United States 25 years ago and created Liechtenstein's first post with the United Nations, followed by the country's first Embassy in the US. She has been in diplomatic service for 42 years.
Fritsche describes her position and responsibilities as a commitment, especially as her nation and embassy are quite small, disallowing her to delegate as a large nation like the U.S. or China would. Additionally, she articulated that as an ambassador representing your country, sometimes you will have to fight for an idea or belief that is not your own. However, she was adamant that despite the challenges, she is motivated by a love of her country and has found that being highly involved in some things is better than having a small hand in many things. Some causes she finds important to herself and Liechtenstein are human rights (especially gender issues and women peace and security), international law, and the environmental agenda.
When asked what advice she would give to aspiring leaders, Fritsche replied, "never think you know everything and always ask questions."
Our next leader, Dennis Wholey, is a television host and producer from Rhode Island. He jokingly described himself as a follower, not a leader, but a follower of his dreams. Coming from a humble background, Wholey, like Claudia Fitsche, said that the key to success is learning how to ask questions and listen to what people have to say. He continued on to explain that to be considered a good leader, you have to have a clear idea, then you have to become good at the craft, gathering knowledge and experience, and then have the ability to motivate others to become involved in your cause.
Of the leaders we had spoken with so far, Dennis was very relatable, and sometimes it felt like we were talking more about ourselves than him because he was genuinely curious about our own backgrounds and dreams. One very meaningful moment was when he asked one of the fellows about her major, and she said she had chosen it to make herself more marketable – something many college students can connect to. Dennis Wholey insisted that she reevaluate her decision, to make sure that she loves what she is studying, to chase down her dreams regardless of what other people say.
After eating lunch from one of the many food trucks in D.C., the fellows visited the World Bank. We were welcomed by several bank representatives from different countries, including Lebanon, Albania, Romania, the United States, and Nigeria. The World Bank's mission is to end poverty and the people we met with are responsible for working on specific projects, such as putting bathrooms in schools in Africa, to end poverty through creating a stable infrastructure for the government, who is their client. They explained to us that the World Bank has a strong, positive reputation throughout the world and when they commit to aid a country, it will often encourage other organizations to join the cause. However, the opposite is also true – if the World Bank does not get involved, it is unlikely that the country will receive aid from other organizations.
The representatives spent a lot of time talking about the importance of cooperation in regards to leadership because in their positions, they have to work with many other people who are all leaders in their own right. They said that it wasn't uncommon for people other than the designated leader to take charge, which can be challenging in some ways for the good of the project. Some other advice the representatives had for us was to listen to what other people's opinions are and to also have confidence in your own ideas. At the end of the day, they said that they enjoy all work they do because they are able to make a difference through an organization that has the means.
Next, we met with Iain Guest to discuss the Advocacy Project, specifically about Advocacy Quilting. The Advocacy Project (AP) gives a voice to struggling communities by opening dialogue about their conflict, and one method is through quilting. Women in community based organizations tell their stories through quilt panels that are sent to the United States to be assembled.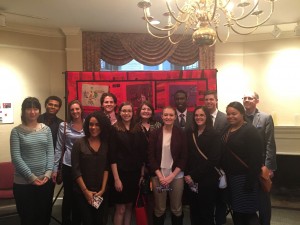 Some quilts are quite graphic, while others are symbolic. The quilt from Kenya was made by Rehema widows and explicitly portrayed images of a burning house, female genital mutilation and the general inequalities between men and women in Kenya. Another quilt consisted of several hands that had henna designs drawn on them, reaching outward towards light and hope, representing the discrimination faced by LGBTI in India. There were five quilts in total displayed, all representing different causes, and all passionately made and inspiring.
Guest told us that leaders in their line of work emerge very naturally because the people in their organization are fully committed to giving underrepresented populations a voice and the quilts, while beautiful and intricate, they are a symbol of pain.
Personally, the day challenged my own definition of leadership. Through the leaders we spoke with, it was clear that a good leader can be a good follower, a role model, and a believer following their passion. – Kay Scanlan, Nuala Pell Leadership Fellow