August, 2016: "White House Chronicle: Story in the Public Square"
This weekend, "White House Chronicle: Story in the Public Square" hosts Jim Ludes and G. Wayne Miller welcome ESPN's Raina Kelley to the show. Kelley is the managing editor of ESPN's new site, The Undefeated, a content initiative focused on the intersection of sports, race and culture. The site features in-depth reporting, commentary and insight on race and culture through the lens of sports.
Kelley delves into the tensions and conversations that led to the founding of theundefeated.com.
"Sports plays such a huge role in American society, but it's more than games," said Ludes. "Sports can often be the starting point for conversations about race and identity and meritocracy—issues that are front and center in our public life. I found it remarkable to learn of ESPN's investment in The Undefeated, but, as Raina makes clear in our interview, this is a real commitment by ESPN to long-form journalism about stories that matter."
"White House Chronicle" airs nationwide on some 200 PBS and public, educational and governmental (PEG) access stations; and worldwide on Voice of America Television and Radio. An audio version of the program airs four times every weekend on SiriusXM Radio's popular POTUS (Politics of the United States), Channel 124: Saturdays at 8 a.m. and 5:30 p.m. ET, and Sundays at 1 a.m. and 4:30 p.m. ET.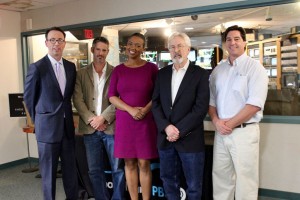 In Rhode Island and southern Massachusetts, the program airs Sundays at 11:30 a.m. on Rhode Island PBS, Digital 36.1, and other carriers; and 7 p.m. Sunday on PBS Learn, Digital 36.2, and other carriers.
Story in the Public Square is a partnership of The Pell Center at Salve Regina University and the Providence Journal.
Locally, the broadcast will be aired on Sunday, August 7, 2016 at 11:30 a.m. on Rhode Island PBS (WSBE).