"An Evening with Senator McCain" to Stream Live
NEWPORT, R.I. – Arizona Senator and former presidential candidate John McCain will present "An Evening with Senator John McCain" during an evening lecture Thursday, 6:30 p.m., at the U.S. Naval War College (NWC). The event is being co-hosted with Salve Regina University's Pell Center for International Relations and Public Policy.
McCain served for 22 years in the Navy as a naval aviator and is a graduate of the U.S. Naval Academy in Annapolis, Md. and National War College in Washington, D.C. During his time in service he became a Prisoner of War for more than five years. Following his release, he returned to the U.S. and continued to serve in the Navy until his retirement in 1981.
McCain has received numerous awards, including the Silver Star, Legion of Merit, Purple Heart and Distinguished Flying Cross, and has been involved with the U.S. Congress and Senate for 30 years in on-going service to the United States.
The event is sold out, but it will be broadcast live online at https://www.usnwc.edu/mccainlecture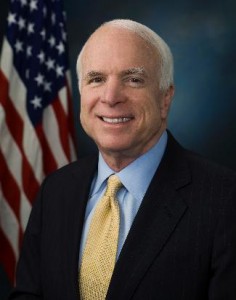 Additional information about Senator John McCain can be accessed at http://www.mccain.senate.gov/public/index.cfm/home.
For more information about NWC, visit www.usnwc.edu.
For more information about the Pell Center, visit http://pellcenter.org/about/.
Update 6/18/14: Watch "An Evening with Senator McCain" on YouTube.