2015 Reading Across RI Kickoff
Last Saturday, the Pell Center hosted the 2015 Reading Across Rhode Island kickoff, a partnership between The Rhode Island Center for the Book and the Rhode Island Council for the Humanities. Norwegian by Night, written by Derek B. Miller, is the selected book.
The event featured a panel discussion with two speakers: Robert Hackey, professor of Health Management and Policy at Providence College and a visiting fellow at the Pell Center, and Marta Martinez, the Executive Director of Rhode Island Latino Arts. Jim Ludes, Executive Director of the Pell Center, moderated the discussion.
Living Literature, an organization dedicated to teaching literature with an imaginative, hands-on approach, also gave a preview performance of Norwegian by Night.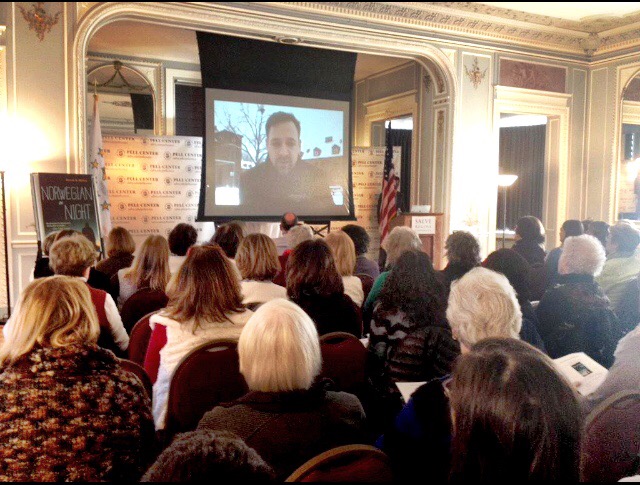 Reading Across Rhode Island programming will continue in libraries, schools, bookstores, businesses, and senior centers throughout the state, culminating with the May Breakfast at Rhodes on the Pawtuxet where author Derek Miller will speak about the book.
The Rhode Island Center for the Book celebrates the art and heritage of reading, writing, making, and sharing books. Through a variety of programs and activities, the Center promotes a love for books among people of all ages and backgrounds across Rhode Island.
The Rhode Island Center for the Book is hosted by the Rhode Island Council for the Humanities.  The Humanities Council is a state affiliate of the National Endowment for the Humanities, and is dedicated to inspiring and supporting intellectual curiosity and imagination is all Rhode Islanders.