Senior Fellow Leads Marathon Cybersecurity Awareness Month for the Pell Center
November 8, 2017
Just off historic Bellevue Avenue, tucked away in a cozy corner cubicle of the Young Building, a powerhouse woman draws an international audience. From Europe, to our nation's capital, to this city by the sea, Pell Center Senior Fellow Francesca Spidalieri is known for her expertise in cybersecurity. If you've had the pleasure of meeting Francesca, you're aware of her passion to educate people of all ages and backgrounds on cybersecurity, and work with companies in all sectors to improve their cybersecurity posture.
For the third year in a row, Spidalieri led the Pell Center in joining the annual National Cyber Security Awareness Month (NCSAM) campaign – an effort to raise awareness about the importance of cybersecurity and to share useful
resources through social media and various events. She spearheaded the initiative for the Pell Center as part of the ongoing Cyber Leadership Project. Over the course of October alone, she published reports in the United States and abroad and locally joined Rhode Island Governor Gina Raimondo and Congressman Jim Langevin for a series of roundtable discussions. In addition, she appeared as a guest speaker on the WADK1540 show, "The Business of Newport County," with Bruce Newbury to discuss the month's activities and best practices to protect businesses from cyber threats. Finally, Spidalieri continued to engage in discussions on legislature she helped influence and coordinated a rich Cybersecurity Event Series at the Pell Center aimed at promoting cybersecurity awareness across industries in Rhode Island.
The events hosted at the Pell Center were part of the Rhode Island Corporate Cybersecurity Initiative (RICCI) – an ongoing effort designed to bring together senior leaders across various industries, including defense, financial services, technology, healthcare, energy, telecommunication, law enforcement, and academia, to discuss the most pressing cyber threats facing corporate and public sector leaders in the digital age; and promoting best practices to prevent, protect, mitigate, respond, and remediate cyber incidents.
The RICCI event, "Cybersecurity & the Healthcare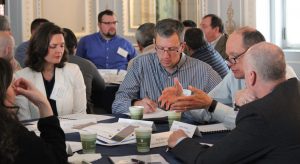 Industry – Current Issues and Practical Guidance," for instance, focused on the lessons learned from the Cybersecurity and Healthcare tabletop exercise hosted by the Pell Center in May 2017, which explored new approaches to improve practices and relations between boards of directors and security leaders. The moderated conversation that followed featured senior leaders from Lifespan who discussed how good internal relationships can enable organizations to better prevent, respond to, and recover from incidents, and help mitigate cyber-risks. You can read more about the tabletop exercise, along with key issues and recommendations on the latest Pell Center report, "SURVIVING A CYBER ATTACK: Preparedness and Resiliency in Action."
Helping to secure government agencies and public services at the federal and state level was also a major area of focus for Spidalieri this month, and a regular topic of study in her research. Rhode Island is taking multiple proactive steps to secure critical infrastructures, modernize legacy systems, prepare and defend its local agencies from cyber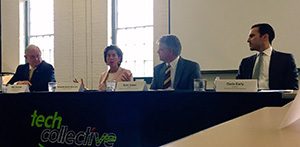 incidents, grow the state's cyber workforce, and create a vibrant IT and cybersecurity industry. Spidalieri has been actively engaged in many of the State's initiatives. She was invited to join the newly-established Congressman Jim Langevin's Cyber Rhode Island Advisory Committee, which will provide a forum to foster collaboration and provide input and suggestions to better represent Rhode Island's cybersecurity interests at the federal level. Spidalieri also participated in a cybersecurity roundtable discussion sponsored by Governor Raimondo, and other members of her Cabinet, for representatives of industry and academia to address cybersecurity workforce development efforts in Rhode Island.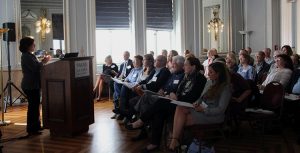 The Pell Center hosted a Cybersecurity Summit for state electoral officials in collaboration with the RI Board of Elections and RI Secretary of State, Nellie Gorbea's Office. This first-of-its-kind Summit convened over 100 local elections and IT officials from around the State and served to highlight national conversations around elections and cybersecurity, provide an overview of how elections systems work in Rhode Island, and train attendees on best practices to help keep these systems secure. Both Spidalieri and Dr. Jim Ludes, Executive Director of the Pell Center, spoke at the Summit. They helped shed light on the national security concerns related to malicious activities carried out by cyber criminals and foreign-state actors, and on best practices to secure the integrity and confidentiality of our elections.
Spidalieri later appeared along Congressman Langevin at a dedicated cybersecurity event for the  RI Society of Certified Public Accountants (RISCPA). During the seminar, "National Cybersecurity Awareness Month – A Practical Approach to Managing and Reducing Cyber Risks," she provided an overview of both the opportunities and threats of doing business in an era of hyper-mobility and hyper-connectivity, and addressed different approaches to improve the overall security posture of any organization operating in the digital age. She also discussed the RI Identity Theft Protection Act of 2015 – which she helped update and strengthen in 2015.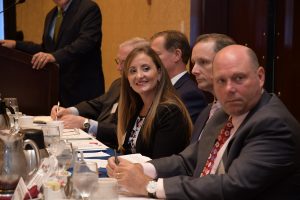 Finally, Spidalieri took part in the Annual PBN Cybersecurity Summit, where she discussed the recent Equifax breach and other common cyber risks to businesses, the shortage of a qualified cybersecurity workforce, and lessons learned from the field. Other panelists included Mike Steinmetz, Rhode Island State Cybersecurity Officer and Principal Advisor of Homeland Security; Captain John Alfred, Division's Cyber Crimes Unit and State Fusion Center of RI State Police; Jeffrey Ziplow, Cybersecurity Risk Assessment Partner; Matt Cullina, CEO of Cyberscout; Jerry Alderman, President, N.E. Region Property and Casualty of Marsh & McLennan; and Lin Foster Freeman, Partner and Chair of Data Privacy and Cybersecurity Team at Robinson and Cole. The expert panelists were asked about current trends and issues in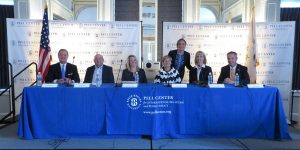 cybersecurity and spoke to their specific areas of expertise.
Mr. Alderman and Ms. Freeman spoke at the Pell Center earlier in the month on a panel for the RI Realtors Association. During the seminar, "Real Estate in the Age of Persistent Cyber Threat: A Practical Approach to Managing Cyber Risks," the expert practitioners discussed specific cyber risks to the real estate industry, and addressed disclosure obligations and notification requirements as well as pre- and post-breach best practices. They also explored the current state of the cyber insurance market and available coverage.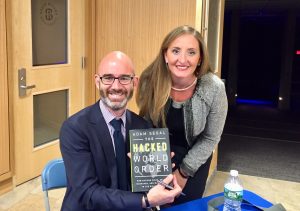 While many of the Pell Center events were specific to industries, others were aimed at a more general audience. Renowned guest speakers included Adam Segal, Ira A. Lipman Chair of Emerging Technologies and National Security and Director of the Digital and Cyberspace Policy Program at the Council on Foreign Relations (CFR). He discussed his latest book, The Hacked World Order, during a riveting lecture on the geopolitics of cyberspace, the era of 'fake news', and the future of the Internet.
The topic of cybersecurity in general reminds us that no matter what sector or industry, knowing best practices is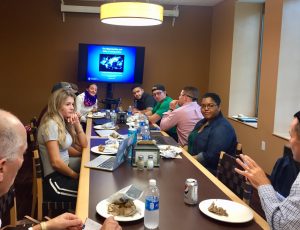 import globally. Spidalieri contributed an article for the newly established Cybersecurity Observatory at the Italian Institute for International Political Studies. In her article, "Italy: Building a Cyber Resilient Society," she discussed cybersecurity in the European Union and charted a path for Italy to become a cyber-resilient nation able to prosper and be secure in the digital age. Lastly, Spidalieri and Pell Center cybersecurity intern Darwin Salazar, moderated a roundtable discussion with Salve students and faculty. The purpose was to explore the opportunities and risks of living online and being constantly connected. They also included tips on how to stay safe online and use social media wisely.
Looking back on the jam packed NCSAM, sharing information and resources doesn't stop here, and neither does Francesca Spidalieri's involvement and enthusiasm. The Fall 2017 Cybersecurity Event Series continues through December. Please visit the Rhode Island Corporate Cybersecurity Initiative (RICCI) webpage for more information on all upcoming events. For additional information, contact Francesca Spidalieri, Pell Center Senior Fellow for Cyber Leadership.