Senator McCain Discusses "America's Global Leadership"
Earlier this month, Senator John McCain spoke at the U.S. Naval War College about the importance of America's role as a global superpower. The event, co-hosted by the Naval War College and the Pell Center, was held in the Spruance Auditorium and was well-attended by the public.
Following introductions made by Senator Sheldon Whitehouse and Salve Regina University president Sister Jane Gerety, McCain began by stating the world we live in has been "sustained by American power and influence."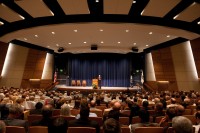 "The United States has made many friends–and made plenty of mistakes," McCain acknowledged, "but it happened because American power and influence persevered."
McCain proposed that the presence of American armed forces around the globe is what keeps war at bay. As the American military presence decreases, McCain insisted that American power and influence is at risk.
"America is not a normal nation," said McCain. "We are an exceptional and indispensable nation in maintaining liberal world order." Only days before McCain's lecture, ISIS, the militant Sunni group, began fighting in northern Iraq.
McCain believes that rebuilding the nation's hard power should be the most important task to reaffirm the United States' credibility as a superpower. According to McCain, "the United States' greatest limitation is not the question of options, but of resolve and imagination."
"If America chooses not to lead in the world, our highest hopes will be left defenseless."
To watch Senator McCain's lecture, visit the U.S. Naval War College's YouTube channel.