Salve Regina's Pell Center Hosts Inaugural Conference On U.S. Polarization
APRIL 20, 2023
NEWPORT, RI—The Pell Center for International Relations and Public Policy at Salve Regina University hosted its inaugural public conference on U.S. partisan polarization Monday.  The half-day conference took place against the backdrop of unprecedented threats from increased polarization, both in and out of the political sphere.  It explored the causes and impacts of polarization and identified applied conflict resolution techniques that can facilitate unification in America.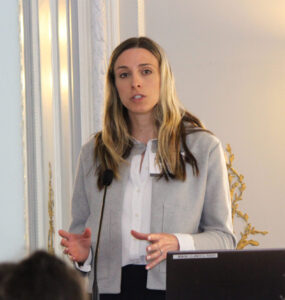 Pell Center Associate Director Katie Langford moderated Monday's conference, which featured an interdisciplinary panel with Nealin Parker, Executive Director of Search for Common Ground USA, the world's largest fully dedicated peacebuilding organization, Dr. Prerna Singh, a Mahatma Gandhi Associate Professor of Political Science and International Studies at Brown University and Dr. Sean Westwood, an Associate Professor in the Department of Government at Dartmouth College.  The panelists discussed elite and affective polarization, identity and using nationalism to promote inclusion.
The conference concluded with questions from attendees and a keynote address from Columbia University professor and renowned expert on constructive conflict resolution, Peter Coleman.  Colman said three conditions must be met for protracted divisions; a critical mass of citizens must be "fed up with the status quo," society must be sufficiently destabilized in order to seriously question its most basic assumptions, and "we must see a way out."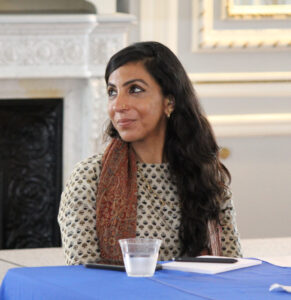 "The conference was a wonderful opportunity to better understand U.S. partisan polarization, a topic that is both ubiquitous and difficult to discuss," Langford remarked following the conference.  "I'm grateful to the panelists, the keynote speaker, and the Newport community for coming together in a commitment to the future of U.S. democracy."
As for future Center work in this area, Langford said, "The Pell Center looks forward to publishing its first Polarization Index, which will analyze data on a broad range of topic—like issue polarization, affective polarization, and perceptions of the health of American democracy– to provide a holistic understanding of what defines polarization in the United States." The index, to be published within the next month, is part one of a two part series.