'Truck tolls' roads, bridges plan named R. I. Story of the Year
Newport, R.I. – Governor Gina Raimondo's ambitious and controversial plan to modernize aging state roads and bridges – in part, through the imposition of tolls on trucks – has been voted the 2016 Pell Center Rhode Island Story of the Year.
Raimondo's blueprint, approved by the General Assembly in February, was selected by a panel of 19 judges from the media and academia. Runners-up in the annual contest were the governor's failed "Cooler & Warmer" tourism campaign, and Corruption at the State House: House Finance Chair Raymond E. Gallison Jr. Resigns.
The RhodeWorks plan is "a story that's going to keep giving, I think for years to come," said panelist John Howell, editor and publisher of the Warwick Beacon.
"The story helped the public think about important questions – how, what and why programs are financed and the impact this particular program may have on our state. It fueled discussion and made us question and use our intellects," said best-selling author Padma Venkatraman, a member of the Pell Center's Story in the Public Square Story Board.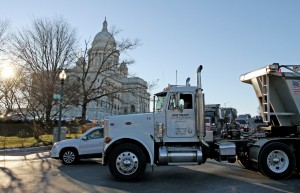 RhodeWorks aims to improve Rhode Island's decaying highway infrastructure. While few disagree with that goal, partial financing of improvements through the use of tolls assessed by gantries on 18-wheel trucks created a firestorm of protest, with some companies threatening to leave Rhode Island and industry groups taking political action. The tolls became a factor in some local and General Assembly races; prompted a flurry of letters to the editor, op-ed pieces, and online postings; and kept the talk shows busy.
Even Vice President Joe Biden weighed in, praising RhodeWorks on a May visit to Rhode Island and urging other governors to follow Raimondo's initiative.
"The gov, you took a lot of heat as I understand, at least that's my impression, but you got the bill passed," Biden told officials, business leaders and highway workers at a state Department of Transportation garage in East Providence.
The Local Story of the Year was selected during a process that began with nominations by the 19-judge panel and concluded with voting on a ballot of the three most-nominated stories. Stories that were nominated but did not make the final ballot included Rhode Island's reaction to the election of Donald Trump; the first woman, Col. Ann Assumpico, named superintendent of State Police; Republican Steve Frias nearly defeating Democrat House Speaker Nicholas Mattiello; St. George's School reaching a settlement with victims of sexual abuse; the ongoing 38 Studios saga; and the January death of former Providence Mayor Vincent A. "Buddy" Cianci at 74.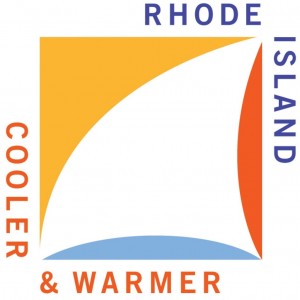 But "Cooler & Warmer" and "Corruption at the State House: House Finance Chair Raymond E. Gallison Jr. resigns" topped the ballots of several judges.
"House Finance Chairman Raymond Gallison's abrupt resignation was a stunning turn of events that left a huge hole in the Speaker's leadership team and left constituents in Bristol/Portsmouth without representation on Smith Hill," said Tim White, of WPRI-12 TV and Fox Providence. "It also reinforced the notion that Rhode Island is a hotbed of corruption."
John Palumbo, publisher of Rhode Island Monthly, said this of Cooler & Warmer: "This was the first major initiative of the Raimondo administration which was also a major campaign promise… We waited almost a year for the 'taadaa' moment. It was much like a vaudevillian pratfall – meaning, it fell flat on its face."
"The voting in this election year was tough, particularly with many national developments directly impacting Rhode Island," said Pell Center Executive Director Jim Ludes. "But RhodeWorks was topping headlines before 2016 began, and continued throughout the year.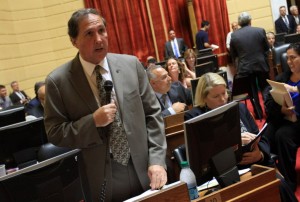 As John Howell said, expect it to be making news into 2017 and beyond."
"It is sometimes said that Rhode Island is a theme park for journalists, and that goes for consumers of local news as well," said G. Wayne Miller, Providence Journal staff writer and director of the Pell Center's Story in the Public Square program. "This year did not disappoint."
The 2016 judges were: Michelle R. Smith, Associated Press, Providence; Steve Klamkin, WPRO radio; Steve Forleo, faculty member and student-newspaper adviser at Community College of Rhode Island; Doreen Scanlon, ABC-6 TV; Robert Hackey, Providence College professor; Lorén Spears, executive director of the Tomaquag Museum and a Story in the Public Square governor; Gene Valicenti, WPRO radio and NBC-10 TV; George T. Marshall, executive director of Flickers' Rhode Island International Film Festival and a professor at Roger Williams University; Carol Kozma, Providence Journal staff writer; Susan H. Areson, former deputy executive editor of The Providence Journal; Dan Paquet, executive producer of The News with Gene Valicenti, WPRO radio; M. Charles Bakst, retired Journal political columnist; Judy Barrett Litoff, Professor of History, Bryant University; and Venkatraman, Howell, White, Palumbo, Ludes, and Miller.
The winner of the Pell Center National Story of the Year will be announced next week by Miller and Ludes.
Story in the Public Square is a partnership of the Pell Center and The Providence Journal.
Readers can weigh in on the 2016 selection on Twitter @pubstory, or Facebook, 
Images courtesy of The Providence Journal.