Pell Center Brings Cybersecurity Awareness to the Forefront in US & Europe
Newport, RI – For the fourth year in a row, the Pell Center joined the annual National Cyber Security Awareness Month (NCSAM) campaign – a far-reaching awareness and education initiative about the importance of cybersecurity at home as well as in the workplace. Pell Center Senior Fellow Francesca Spidalieri spearheaded the initiative for the Pell Center as part of the ongoing Cyber Leadership Project and participated in multiple discussions and events in Europe and the United States.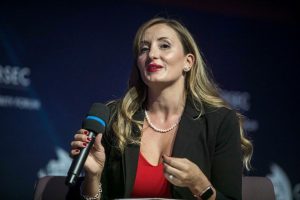 While in Europe, Spidalieri was the guest speaker for the "Secure in Mind" podcast with host Nick Kelly. She spoke about the widening gap between the demand for cybersecurity talent and the supply of a professional workforce, and emphasized the need for strong female mentors to encourage more women to join this rewarding and highly-profitable field.  She also moderated a plenary session on "Attribution and Credible Response as Foundations of Cybersecurity" during the European Cybersecurity Forum (CYBERSEC) in Krakow, Poland – one of the largest public policy conferences in Europe dedicated to the strategic challenges of cybersecurity. The panel discussion featured world-renown cybersecurity experts and practitioners, including Chris Painter, former U.S. Cyber Ambassador; Alexander Klimburg, Director of the Cyber Policy and Resilience Program at Hague Centre for Strategic Studies and author of the best-selling book "The Darkening Web;" Ciaran Martin, CEO of the UK National Cyber Security Centre; Rafal Rohozinski, CEO of SecDev Group; Jarno Limnell, Professor of Cybersecurity at the Finnish Aalto University; and Partyk Pawlak, the Executive Director of the EUISS Brussels.
In Rhode Island, she spoke at the Annual PBN Cybersecurity Summit, where she took part in the "Designing Cybersecurity's Strategy: Moving from Detect and Defend to Predict and Prevent" panel and discussed how companies can develop better cybersecurity measures to prevent, mitigate, and respond to cyber threats and train their workforce to become their first line of defense.  She also joined Congressman Jim Langevin for his biannual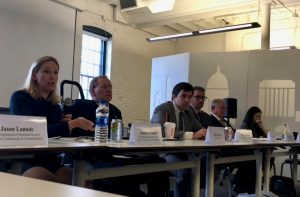 Cybersecurity Advisory Committee meeting, which featured DHS chief cybersecurity official Janette Manfra who spoke about the security of our electoral system and other critical infrastructure.  Finally, Francesca discussed election security and how to better secure states' voter registration databases and voting machines in a special report on NBC 10 on "Hacking the Vote"; and hosted a half-day conference at the Pell Center on cybersecurity workforce development and awareness.
The conference hosted at the Pell Center was part of the ongoing Rhode Island Corporate Cybersecurity Initiative (RICCI) – an effort designed to bring together senior leaders across various industries, including defense, financial services, technology, healthcare, energy, telecommunication, law enforcement, and academia, to discuss the most pressing cyber threats facing corporate and public sector leaders in the digital age; and promoting best practices to prevent, protect, mitigate, respond, and remediate cyber incidents. The Pell Center partnered with the Tech Collective – RI's foremost information technology association – and with cybersecurity companies Anomali and Tevora for this year's conference, titled "Educating for a Career in Cybersecurity & Raising Cybersecurity Awareness within your Organization."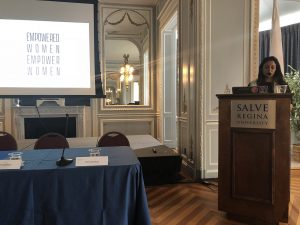 The event helped shine a spotlight on the critical need to build a strong, cyber-secure workforce, address the cybersecurity skills gap, and encourage every workplace to create a culture of cybersecurity from the boardroom to the server room. Susan Peediyakkal, Cyber Threat Intelligence Program Lead Consultant at Booz Allen Hamilton, delivered a keynote address and discussed how the shortage of well-trained cybersecurity professionals continues to be a key risk to our economy and national security. She emphasized that inspiring the next generation of interested and capable cybersecurity professionals to better safeguard our ever-expanding cyber ecosystem must be the starting point to building stronger defenses. Ms. Peediyakkal's also covered best practices for hiring, educating, and retaining highly sought-after cybersecurity professionals.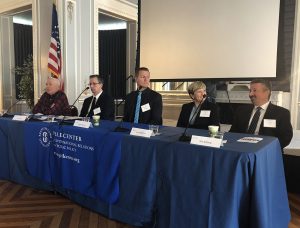 Spidalieri also moderated a panel discussion with cybersecurity experts from the engineering, legal, academic, consulting, and digital forensics fields, including O'Shea Bowens, CEO and Founder of Null Hat Security; Joe Provost, Computer Scientist & Professor at Salve Regina University; Linn Freedman, Principal at Robinson & Cole; Rick Norberg, CEO at Vertikal6; and Clayton Riness, Managing Director Threat Services at Tevora.
Please visit the Rhode Island Corporate Cybersecurity Initiative (RICCI) webpage for more information on all our upcoming events.
For additional information, contact Francesca Spidalieri, Pell Center Senior Fellow for Cyber Leadership.