March 4, 2017: "Story in the Public Square"
Everyone who has ever gone to school has something to say about teachers, about schools, and about education in general. But is popular opinion—fueled, often, by myth and anecdote—as valid as the considered judgments of educators and researchers?  Educational leader Dr. Irvin Scott joins hosts Jim Ludes and G. Wayne Miller to help make sense of the education debate.
Dr. Irvin Scott is an educator who began his career with 15 years in the classroom as an English teacher and choral director. Dr. Scott progressed his career as a public school administrator, including several years as the Chief Academic Officer of the public schools in Boston, MA.  In 2011, Dr. Scott became the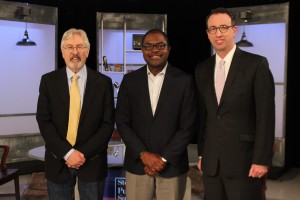 deputy director for K-12 education at the Bill and Melinda Gates Foundation, where he led the investment of $300 million in initiatives focused on transforming how teachers are recruited, developed, and rewarded.  Dr. Scott is now a Senior Lecturer at Harvard University's Graduate School of Education.
"Story in the Public Square" airs on Rhode Island PBS in Rhode Island and southern Massachusetts on Sundays at 11 a.m. and is rebroadcast Thursdays at 7:30 p.m. An audio version of the program airs Saturdays at 8:30 a.m. & 6:30 p.m. ET and Sundays at 1:30 a.m. & 12:30 p.m. ET on SiriusXM's popular P.O.T.U.S. (Politics of the United States), channel 124.
Story in the Public Square is a partnership between the Pell Center and The Providence Journal. The initiative aims to study, celebrate, and tell stories that matter.