March 25, 2017: "Story in the Public Square"
From Richard Nixon to Donald Trump, leaders on both sides of the political aisle have described the state of American healthcare in terms intended to scare and mobilize voters. Guest Bob Hackey argues that those cries of crisis have warped the healthcare debate.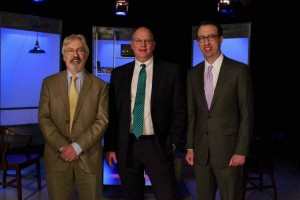 Hackey is a political science professor at Providence College, as well as the director of the Health Policy & Management Department. He is the author of Cries of Crisis: Rethinking the Health Care Debate (Nevada, 2012) and The New Politics of State Health Policy (Georgetown, 1997), and the co-editor of Rethinking Health Care Policy: The New Politics of State Regulation (Kansas, 2001).
"Story in the Public Square" airs on Rhode Island PBS in Rhode Island and southern Massachusetts on Sundays at 11 a.m. and is rebroadcast Thursdays at 7:30 p.m. An audio version of the program airs Saturdays at 8:30 a.m. & 6:30 p.m. ET and Sundays at 1:30 a.m. & 12:30 p.m. ET on SiriusXM's popular P.O.T.U.S. (Politics of the United States), channel 124.
Story in the Public Square is a partnership between the Pell Center and The Providence Journal. The initiative aims to study, celebrate, and tell stories that matter.