Lisa Genova: Neuroscientist, Best Selling Author, Advocate and 2015 Pell Center Prize Winner
NEWPORT, R.I.—Lisa Genova is on a mission.  The Harvard-trained neuroscientist and author of four best-selling novels, including Still Alice and the recently published Inside the O'Briens, wants to use the books she writes to change lives, end stigma, and create a world where we can talk about survivors of Alzheimer's and other neurological diseases and conditions.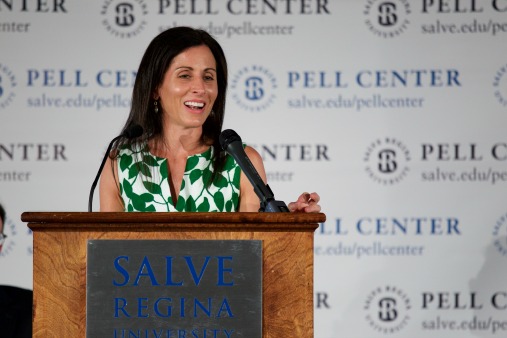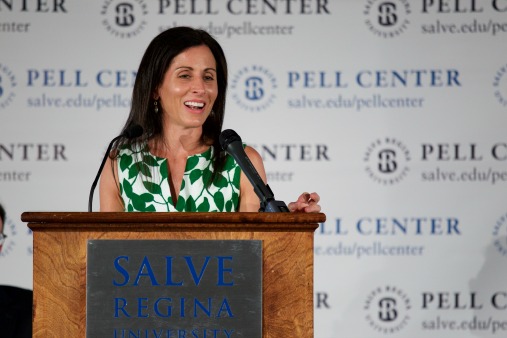 Genova was honored for her work with the 2015 Pell Center Prize for Story in the Public Square on June 4.  The award is given each year to a storyteller whose work contributes to public understanding on important issues.
The scale of the task Genova has set for herself is difficult to grasp.  In 2015, 5.4 million Americans are living with Alzheimer's disease—a number that is projected to grow to 16 million by 2050.  This year, the direct costs of Alzheimer's care will total $226 billion.  By 2050, that number will grow to $1.1 trillion—a significant portion of which is paid by Medicare. Alzheimer's disease is the sixth most deadly disease in the United States, yet it is the only disease in the top ten for which there is no known prevention or cure.  That's not to say researchers aren't trying.  According to Fortune magazine, between 2002 and 2012, pharmaceutical companies brought 244 compounds to trial to treat Alzheimer's.  Unfortunately, only one compound received FDA approval while 14 are still being tested.  The success rate in that time-frame for Alzheimer's drugs seeking FDA approval was 0.4%; for cancer the success rate was 19%.
For Genova, her mission began when her grandmother died of Alzheimer's.  "I come from a large Italian family," the author said in accepting the Pell Center Prize, "and I wasn't [my grandmother's] primary caregiver."  But with a Ph.D. in neuroscience from Harvard University, Genova set out to learn everything she could about Alzheimer's and share it with her parents and aunts.
"I did that," Genova explained.  "I learned quite a bit, but it was mostly about how to be a caregiver.  And I learned a lot about the neuroscience of Alzheimer's which was fascinating to me as a neuroscientist but it didn't help me, as a granddaughter, stay connected to my grandmother who didn't know who I was."
At the time, Genova confided to a friend, "Someday, I want to write a novel about a woman with Alzheimer's and tell it from her perspective."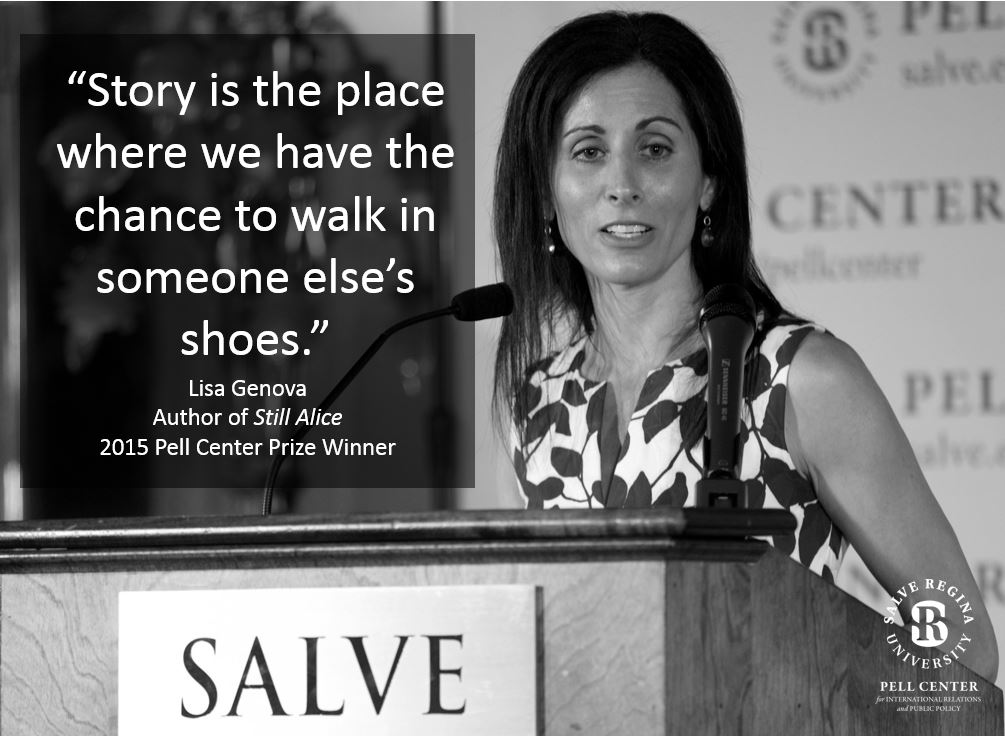 That someday came several years later when Genova began to write.  "I had that intuitive understanding—that fiction, that story—is the place where we have the chance to walk in someone else's shoes," Genova said, "that we can explore empathy, and that if you have empathy, then that's the way that you can stay connected to someone who might not remember who you are; or remember how you are connected.  But you can still feel that connection if I can understand you, despite your losses in memory or cognition or language."
Still Alice went on to incredible success.  After selling the novel out of the trunk of her car for 10 months as a self-published author, the novel about a Harvard professor living with early-onset Alzheimer's has spent 56 weeks on the New York Times best-seller list and was adapted into a major motion picture.  Julianne Moore won an Academy Award in 2015 for her portrayal of Alice.
For Genova, though, the mission is not just about Alzheimers.  The three novels that followed Still Alice focused on other neurological conditions and diseases: Left Neglected (traumatic brain injury); Love Anthony (autism); and Inside the O'Briens (Huntington's disease).  Each new novel has been a best seller, and each has opened a conversation that Genova believes is key to the fight against these diseases and conditions.
"We've seen this happen with cancer," Genova said.  "No one spoke about cancer 40-50 years ago. They whispered. It was called the 'Big C,' right? Nobody spoke of cancer and so we didn't wear the looped ribbons and bake casseroles and go on carpools and support our neighbors and loved ones who had cancer. They went through that alone. And something changed. It was conversation; we began talking about it openly. And then all of the looped ribbons and the walks and things started to happen. And it's no coincidence that we now have treatments and survivors."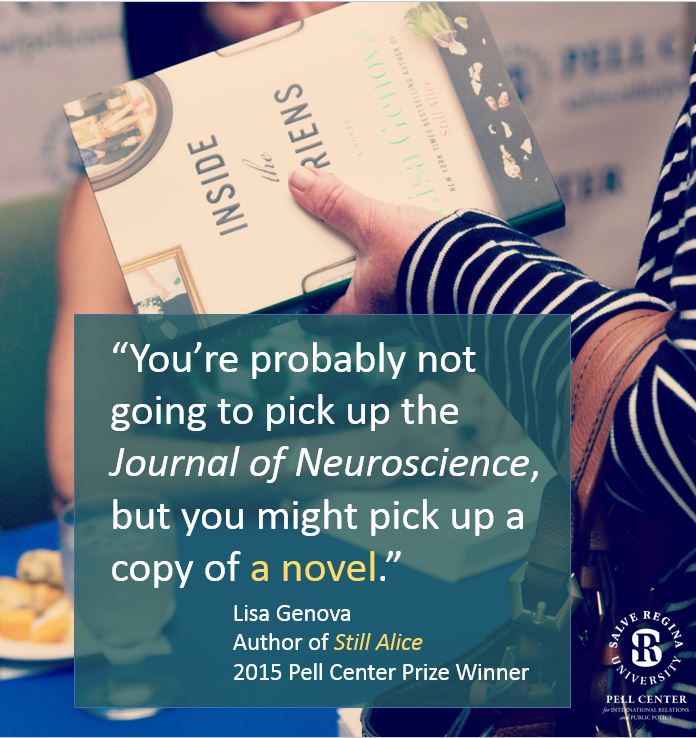 "And so one of the things that I believe that Still Alice has done, and that I'm doing as well with the other books, is inviting conversation about topics that are pretty scary," Genova continued.  "You're probably not going to go read the Journal of Neuroscience this month but you might pick up a copy of a novel."  Then, in conversations with friends and family, Genova believes understanding will grow—and that in itself is something: "We may not be able to cure these diseases today but we can do something about the loneliness."
The Pell Center prize was presented to Genova by Pell Center Executive Director Jim Ludes, Story in the Public Square Director G. Wayne Miller, and Salve Regina University President Sister Jane Gerety.
"The emotional power of each of Lisa's novels is remarkable," said Ludes.  "My thought, as I read them before meeting Lisa, was that she had to be someone of tremendous empathy.  To write, as she does so beautifully, of those who society has simply written off, to give voice to the voiceless through stories that are wonderfully accessible, that's a rare gift.  We are so happy to honor her."
"I tend to stay focused on my purpose," concluded Genova, "which is writing stories that will help people living with neurological diseases and conditions feel less ignored, less feared, and understood. This, this honor tonight is so incredibly deeply meaningful to me, so thank you."
A partnership between the Pell Center at Salve Regina University and The Providence Journal, Story in the Public Square is an initiative to study, celebrate, and tell stories that matter. The Pell Center Prize for Story in the Public Square is an award recognizing a contemporary storyteller whose work has had a significant impact on the public dialogue—previous winners are Pulitzer Prize winning journalist Dana Priest (2013) and Emmy-winning screenwriter Danny Strong (2014). For more information on Story in the Public Square, please visit public story.org.