July 10, 2016: "White House Chronicle: Story in the Public Square"
Pulitzer Prize-winning photographer and documentary filmmaker Javier Manzano, who recently received the Pell Center Prize for Story in the Public Square, will be featured this week on "White House Chronicle: Story in the Public Square."
Manzano captures the stories of people all over the world, from American workers who built nuclear weapons for the Cold War to fighters in the Syrian civil war. He won the 2013 Pulitzer Prize for Feature Photography for his photo, distributed through Agence France-Presse, of Syrian rebel soldiers guarding their position as light streams through bullet holes in a wall.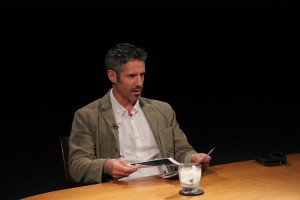 "Javier Manzano is a storyteller with real insight into some of the world's most pressing problems.  Our conversation with him reflects what he witnessed for all of us in Syria and other war zones.  It's a compelling episode." said G. Wayne Miller, director of Story in the Public Square.
"White House Chronicle" airs nationwide on some 200 PBS and public, educational and governmental (PEG) access stations; and worldwide on Voice of America Television and Radio. An audio version of the program airs four times weekends on SiriusXM Radio's popular POTUS (Politics of the United States), Channel 124: Saturdays at 8 a.m. and 5:30 p.m. ET, and Sundays at 1 a.m. and 4:30 p.m. ET.
In Rhode Island and southern Massachusetts, the program airs Sundays at 11:30 a.m. on Rhode Island PBS, Digital 36.1, and other carriers; and 7 p.m. Sunday on PBS Learn, Digital 36.2, and other carriers.
Story in the Public Square is a partnership of The Pell Center at Salve Regina University and the Providence Journal. Ludes is executive director of The Pell Center and Journal Staff Writer Miller directs the Story in the Public Square program.
Locally, the broadcast will be aired on Sunday, July 10, 2016 at 11:30 a.m. on Rhode Island PBS (WSBE).
Read more about the 2016 Pell Center Prize for Story in the Public Square.
See Javier's work here.