Witness: Photographer and Filmmaker Javier Manzano Receives 2016 Pell Center Prize for Story in the Public Square
Newport, R.I. – One day in Aleppo, Syria, in 2012, Javier Manzano was in a car driving along a road.  He found himself in one of the world's most dangerous places because he is a photojournalist and there was a story to tell.
As they drove, he saw the road in front of him erupt as a Syrian Air Force bomb detonated.  His car screeched to a halt and as the driver tried to reverse course, a second explosion detonated 40-50 meters to his rear- igniting the car behind him and killing everyone inside it.
Fearing that the planes would soon return to strafe the road with cannon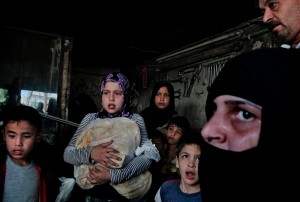 fire, Manzano and his fellow travelers scampered to safety, ducking into a former welding shop where women and children huddled, clutching loaves of bread they had just stood in line to receive.  The picture he snapped in that moment tells a story—a young Syrian girl, the look of anguished worry clear in her eyes, the bread she had been waiting for held close.
This is the face of the Syrian civil war and we know it in the west because people like Javier Manzano are willing to risk their lives to tell the stories of those who can't.
* * *
On June 21, Manzano was honored with the 2016 Pell Center Prize for Story in the Public Square. The prize honors a storyteller whose work has significantly influenced the public dialogue. Previous winners are Pulitzer Prize winning-journalist Dana Priest (2013), Emmy-winning screenwriter Danny Strong (2014), and best-selling author Lisa Genova (2015).
Sitting in Newport, RI, the afternoon before receiving the Pell Center prize, Manzano described candidly the emotions his work provokes in himself.  "I'm pretty angry," he says.  "You see these things, you report on these things, you show the world, but somewhere over the Atlantic the story gets lost and policies don't change."
Javier Manzano's personal story began in Mexico where he was born to an American mother and Mexican father.  After college and graduate school, he began work as a photographer for the Rocky Mountain News before that paper ceased publication.  When it folded, Manzano drove to the Mexican border and began working as a freelance photographer documenting the drug and gang violence along the Rio Grande border between the United States and Mexico.  Sleeping in his own car, showering at a local Y, and developing local relationships, Manzano honed his craft and documented the bloody violence of a local police force engaged in conflict with a ruthless drug gang.
Since then, Manzano has worked in Syria, Iraq, Afghanistan, Libya and Nigeria, among other countries, where he has captured the carnage of war and the best and worst of humanity.
During his time in Syria, Manzano captured a haunting image of two Syrian rebels in their fighting position in an abandoned building.  Shrapnel holes in the metal screen on the front of the building yielded fingers of light piercing the darkness.  Manzano captured the image on his camera and sold it as a freelancer to Agence France Presse for $150.  Months later, the image he captured earned Manzano rightful recognition with the 2013 Pulitzer Prize for Feature Photography.  Manzano was the first freelance photographer to be recognized with the award in 17 years.
* * *
At the reception that follows the presentation of the Pell Center Prize, Manzano is given the rock-star treatment.  Audience members clamber for the opportunity to ask him a question.  He responds patiently to every question—though most ask the same question over and over.  "Is it dangerous?"  "Are you a target?"  "Why do you accept so much risk?"
In his remarks, Manzano had stressed the difficulties that freelance journalists face when they travel to cover conflict stories. "It's a commitment that you have because there's no other way to keep going." There are days, he admits, when he doesn't want to go back out, doesn't want to don the Kevlar body armor that is as vital to his work as are his cameras.  "It's what journalism is about, it's about telling stories," he says, "that is your job… Sometimes it is not pleasant. Sometimes you don't want to go out there, you don't want to go to visit a front line."
He cautions against freelance journalists simply buying a plane ticket and following a story; instead, Manzano advises his younger colleagues to properly prepare themselves with medical supplies, body protection, and training.  A number of charities now support preparing journalists and photographers for service in combat zones—something that could have saved lives earlier in the War on Terror.
While freelance journalists face a myriad of challenges, it can be an advantage to have the flexibility to stay in a certain place for longer periods of time than staff journalists. Manzano prefers to make residence in close proximity to where his stories are based. Projects have taken him to Afghanistan, Syria, Mexico, and Turkey for years at a time.
"It gives you a greater understanding of what the situation really is, so you can translate that to your audience… in imperfect terms, because I am not Syrian, I am not Iraqi, I am a white man with some khaki pants and multiple pockets, telling you what the story is," said Manzano.
* * *
In presenting the fourth Pell Center Prize to Manzano, Pell Center Executive Director Jim Ludes heralded the photographer's role in shining a light in the dark corners.
"This evening, we put our own humble stamp of endorsement on Javier Manzano," Ludes said.  "In the most dangerous locations, often amidst death and destruction, he bears witness for all of us.  In the unblinking eye of his camera, he has captured courage and fear, desperation and hope, valor, death, horror, and even love.  He is an accomplished storyteller, in the truest sense of the word, who deepens our humanity by sharing stories that we might wish we didn't have to know.  But, stories that, as citizens of this planet, we must know.  And because of Javier Manzano and his work, we do."
Manzano acknowledged the gravity of his work.
"There is a message that someone still wants to tell you from inside Syria. Do not forget about us," he told the audience.  "[T]he vast majority of the casualties of war are civilians that couldn't get out in time or they're just stuck, they have no choice, and you question 'Why am I doing this if I don't see any change across the pond, across the Atlantic?'"  He continued, "It makes our job very hard to justify until someone you're photographing pulls you back and tells you 'Photograph my son, and photograph my pain, photograph me."
Senator Claiborne Pell believed it was important that we speak for those who cannot, or dare not, speak.  The same spirit animates the work of Javier Manzano. He finished, "I wish we could give [their loved ones] back to them, but the most we can offer is that their voice is going to be heard somewhere."
A partnership between the Pell Center at Salve Regina University and The Providence Journal, Story in the Public Square is an initiative to study, celebrate, and tell stories that matter.