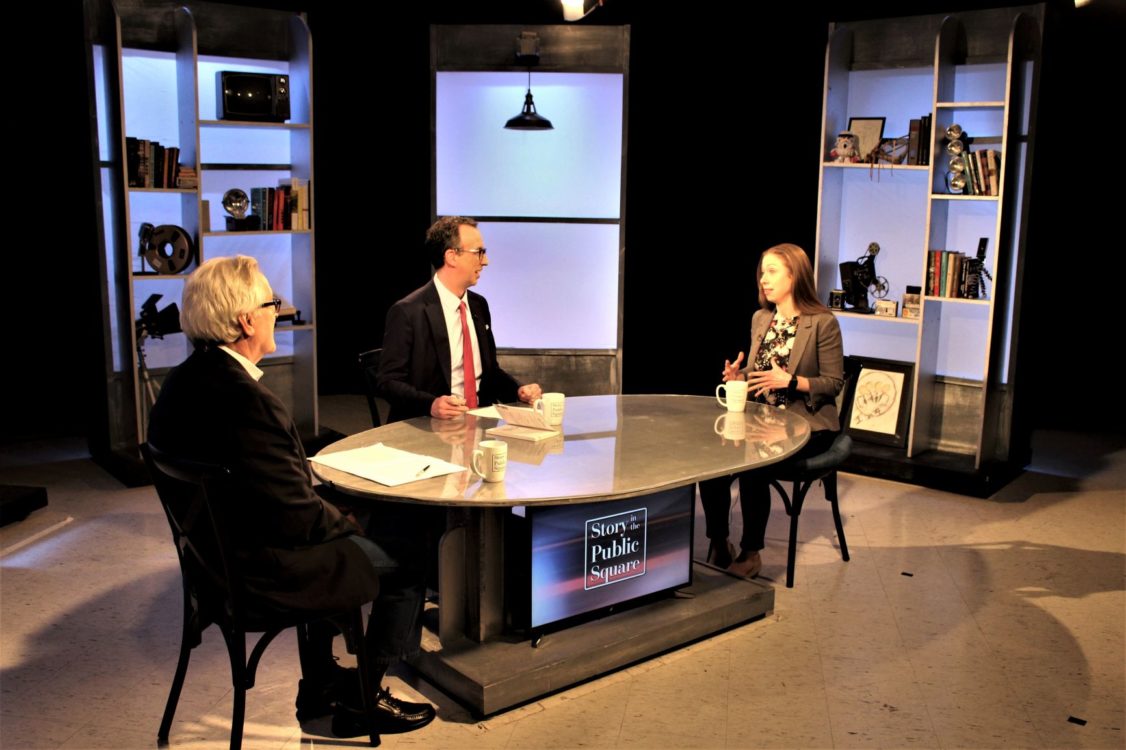 This episode was made possible through our partnership with the Rhode Island Center for the Book.
Air Dates: March 23-29, 2020
President John F. Kennedy once said, "[one person] can make a difference. And everyone should try." Chelsea Clinton is the author of a series of books for young readers inspired by that same sense of idealism.
Chelsea Clinton is the Vice Chair of the Clinton Foundation and works alongside her parents, President Bill Clinton and Secretary Hillary Rodham Clinton, to drive the vision and work of the Clinton Foundation. Over the past 13 years, the Foundation has built partnerships with great purpose among governments, businesses, NGOs, and individuals everywhere to strengthen health systems in developing countries, fight climate change, expand economic opportunity in Africa, Latin America, and the United States, and increase opportunity for women and girls around the world. Chelsea and Secretary Clinton co-lead the Foundation's newest initiative, No Ceilings: The Full Participation Project, which helps advance the full participation of women and girls around the world. Clinton also serves on the boards of the Clinton Health Access Initiative, the School of American Ballet, the Africa Center and the Weill Cornell Medical College, and is the Co-Chair of the Advisory Board of the Of Many Institute at NYU. Clinton is the best-selling author of a series of books for young readers, including, "Start Now! You Can Make a Difference," which empower the next generation of change makers to take action on some of the world's most urgent challenges.
On this episode of "Story in the Public Square," Clinton discusses her passion for empowering young people to advocate for positive change and emphasizes the power young leaders have to inspire those around them to act on pertinent issues. Clinton describes finding her voice as she wrote children's books, saying she listened to kids and the kind of questions they were grappling with. She listened to how they were supporting and challenging each other and asked for their honest feedback on her drafts. Clinton says, "I hope that I am helping empower kids to translate whatever they're concerned about into something they actually can do."
"Story in the Public Square" broadcasts each week on public television stations across the United States. A full listing of the national television distribution is available at this link. In Rhode Island and southeastern New England, the show is broadcast on Rhode Island PBS on Sundays at 11 a.m. and is rebroadcast Thursdays at 7:30 p.m. An audio version of the program airs 8:30 a.m. & 6:30 p.m. ET, Sundays at 4:30 a.m. & 11:30 p.m. ET on SiriusXM's popular P.O.T.U.S. (Politics of the United States), channel 124. "Story in the Public Square" is a partnership between the Pell Center and The Providence Journal. The initiative aims to study, celebrate and tell stories that matter.
Related Posts