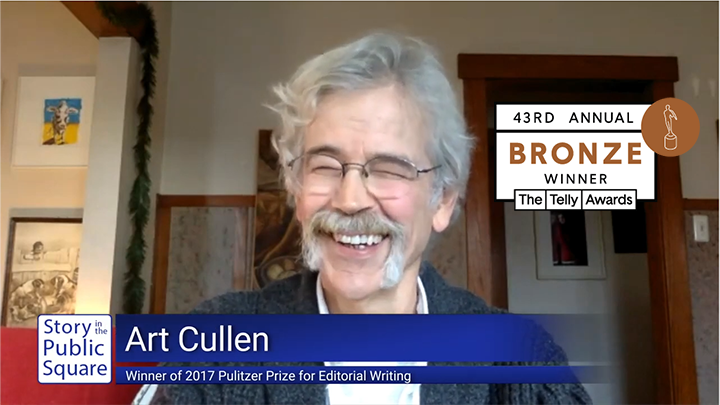 For the sixth time in five years, the Pell Center at Salve Regina University has been honored with a Telly Award for "Story in the Public Square."  The 2022 Bronze Award in the Social Impact category is for an episode on the importance of local news featuring Art Cullen, publisher of The Storm Lake Times in Storm Lake, Iowa.
The Telly Awards are the world's largest honor for video and television content across all screens.  This year, more than 12,000 entries from around the world were considered.  Winners include large and small production companies, including ViacomCBS, Warner Bros. Worldwide TV Marketing, Sony Music Entertainment, Microsoft, ESPN, PBS Digital Studios, Feed the Children, Fast Company, and the Pell Center at Salve Regina University.
"We're humbled to once again have our work recognized by the Telly Awards," said Jim Ludes, executive director of the Pell Center who is also executive producer and host of the show along with G. Wayne Miller.  "Because of the pandemic, we produced 92 episodes over the last two years remotely and we had to work through a whole range of practical challenges from acquiring good cameras when there was a global shortage of them to finding a reliable video platform to record each episode.  Through it all, our guests remained the key to producing good television and this award affirms that."
"This wasn't our first look at the painful decline of local newspapers around the United States," said G. Wayne Miller, who is also an award-winning journalist with The Providence Journal. "But we knew as soon as we taped it that Art Cullen—a Pulitzer Prize winning journalist, himself—had shared a compelling narrative about the essential function that local newspapers play in our democracy."
"Story in the Public Square" is produced by the Pell Center at Salve Regina University and presented by Rhode Island PBS via NETA, the National Educational Telecommunications Association.  The show is currently seen in more than 86 percent of the nation's television markets with over 500 weekly broadcasts.  It can also be heard multiple times each weekend on SiriusXM's POTUS Channel.  The show has won five previous Telly Awards for excellence in politics and commentary as well as social impact in 2021, 2020 (twice); 2019, and 2018.
The series will kick off its ninth national season during the week of Monday, July 4, 2022.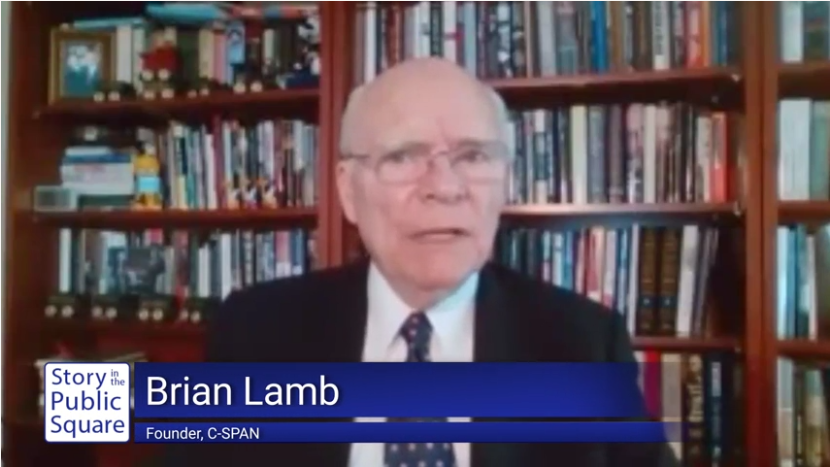 Air Dates: August 23-29, 2021
Before 1979, the only way to see the proceedings of Congress was to visit the Capitol.  Brian Lamb believed the American public had a right to see government working and convinced the cable industry to create C-SPAN, the Cable-Satellite Public Affairs Network.
After serving in the United States Navy, Lamb worked as a White House staffer and as the Washington bureau chief for Cablevision magazine.  Known for his unobtrusive interview style, direct questions, and balanced approach, Lamb has hosted C-SPAN's "Booknotes" and "Q&A."  His awards include the Presidential Medal of Freedom and the National Humanities Medal.
In this episode of "Story in the Public Square," Lamb discusses the inspiration for C-SPAN; the reaction to cameras in Congress and the value the public would receive from adding them to the Supreme Court.  He also reflects on recent politics, including the January 6 insurrection.
"Story in the Public Square" broadcasts each week on public television stations across the United States. Check your local listings for broadcasts in your area. In Rhode Island and southeastern New England, the show is broadcast on Rhode Island PBS on Sundays at 11 a.m. and is rebroadcast Thursdays at 7:30 p.m. An audio version of the program airs five times each weekend on SiriusXM's popular P.O.T.U.S. Channel (No. 124).  Listen Saturdays at 8:30 a.m., 4:30 p.m. and 10:30 p.m. ET; Sunday at 10:30 p.m.; or Monday at 2:30 a.m.  "Story in the Public Square" is a partnership between the Pell Center and The Providence Journal.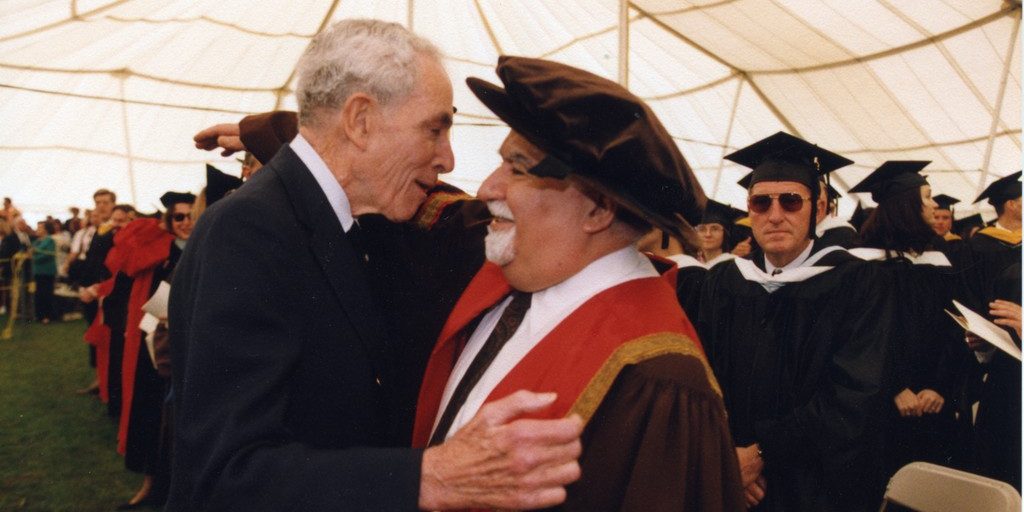 In the last quarter of the 20th century, and the first quarter of the 21st, few figures in the worlds of philanthropy and higher education tower as large as Vartan Gregorian.  An immigrant who understood the power of America's role in the world, a champion of peace, international dialogue, and social justice, the institutions Dr. Gregorian led—including the New York Public Library, Brown University, and the Carnegie Corporation of New York—reflected his idealism, his fundamental commitment to the pursuit of wisdom, and his genuine belief in the ability we all share to leave the world a better place.
Salve Regina University presented Dr. Gregorian with an honorary degree in 1998.  The degree citation heralded him for his innovation, his truth-seeking, and his pursuit of "solutions to critical world problems."
Salve Regina University and the Pell Center remember him and mourn with those who loved him.  The world is a better place because of Vartan Gregorian.
I moved to Washington, DC, when I was 22 years old to go to graduate school at Georgetown University.  I used to visit Capitol Hill regularly to use the Library of Congress.  Every chance I had, I would walk across the street and walk the grounds of the Capitol.  In those days—before Capitol Police officers were murdered in the line of duty in 1998 and before 9/11—you could enter through a couple of different open-doors.  Security was always stunningly light.  You could wander through the rotunda without an appointment, or visit the old Senate chamber, or even try to find that spot in the hall of whispers that always dazzles tour groups.  By the first time friends came to visit, I knew how to give a tour without having to take a tour.
When I was alone, my last stop, always, was on the West front of the Capitol.  I'd move to the spot at the center-point of the building, on a balcony overlooking the mall, and imagine the view on an inauguration day.  "And so my fellow Americans," I'd begin when no one else was around.
In 2002, I went to work for Senator John Kerry.  With a badge and a role, I had access.  I could go where I needed to go.  I could access the tunnels between the office buildings and the Capitol building.  When I was staffing my boss, I could go on the Senate floor, and the euphoria that accompanied those days still lingers with me.  There were places I never mastered, like the so-called "hide-aways," members' private offices in the Capitol building hidden among a rabbits warren of twisting stairs and narrow hallways.  Sometimes when I needed to get over to the House office buildings, I'd aim for one and wind up in another.  It was a maze and I'd get lost.
Over those years, though, I came to love the Capitol—its artwork, its architecture, and especially it's purpose.
In these stately halls rests the representative body of the American sovereign: the people.  In these halls have raged debates that linger down through history—the Missouri Compromise, the 13th amendment, the end of Reconstruction, declarations of war, the creation of Social Security, the Voting Rights Act, and more.  This is where America's representatives meet to debate and settle the great issues of our day—not through the trial of combat, but through debate, deliberation, negotiation, and compromise.  Is it pretty?  Rarely.  Is it boisterous and frustrating?  Almost always.  Anyone who thinks "politics" is a dirty word, however, fails to recognize that "politics" is, in fact, how we resolve big issues without killing one another.
That's why today's violence in the Capitol—the breaching of the sanctuary of democracy—is so stunning and so dangerous.  It's not that there was ever a real prospect of the mob toppling our government—it's the threshold President Trump has crossed again and again: undermining faith in the free elections he lost, stoking resentments, pitting Americans against Americans, and encouraging a mob to march on the Capitol to soothe his wounded ego.  If we accept that partisans can turn their mobs on the institutions of our democracy, then politics becomes a race for the largest, strongest, best armed mob.  That's not a republic, it's Mad Max, it's a comic book idea of governance, or, worse—it's fascism.
Today we saw open-insurrection in the streets of Washington, DC, and violence in the halls of the U.S. Capitol threaten the order and functioning of our sacred democracy.  It's unconscionable.  Its perpetrators and instigators must all be brought to justice.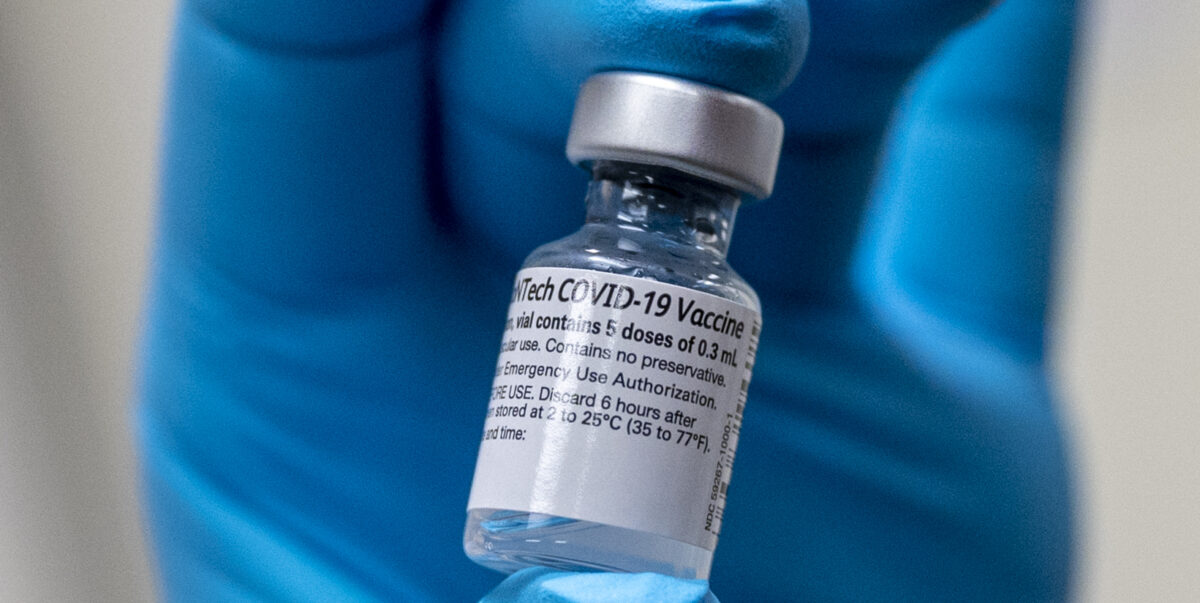 Since the 1980s, 75 million people have been infected with the human immuno-deficiency virus, the virus that causes AIDS.  32 million people have died.  In 2009, about 1.4 billion people were infected by H1N1, the swine flu.  It killed 575,000 people, globally.  Ebola, in the 2014 outbreak, killed 11,310 people of the 28,616 it infected.  In every one of those cases, disinformation from Russia stoked anxieties, obscured the truth, and pitted communities against one another.  Expect more of the same in the roll-out of coronavirus vaccines.
The most well-known example of disease-disinformation is the HIV/AIDS disinformation campaign that began with three Soviet agents planting a story in an English-language newspaper in India in 1983.  The story claimed that the virus that causes AIDS was man-made, engineered in a U.S. government lab, to target the black and homosexual communities.  By 1987, the story had been reprinted or broadcast in 80 countries and in 30 languages.  The Soviets were undermining America in the developing world.  They were also picking at the scab on America's original sin: slavery and its legacy of racism.  At the height of the AIDS crisis, the story did tremendous damage to U.S. credibility abroad and at home.  By 1998, an NIH-funded study found that 27.3% of African American men and 31.2% of African American women believed AIDS was "an agent of genocide created by the U.S. government to kill off minority populations."
Since the COVID-19 pandemic began, the Russians have been humming a familiar refrain.  As early as January, 27, 2020, a Russian broadcaster, citing a Russian military expert, alleged that the novel coronavirus was engineered by the United States in order to attack China.  The report also pointed to the Richard Lugar Center for Public Health Research, a U.S. funded lab in Tbilisi, Georgia—and not a new target of Russian disinformation—as one of the possible places the "weapon" was developed.  A few days later, hackers posted a fraudulent story to a Lithuanian news site claiming that a U.S. military officer serving with the NATO mission in Lithuania, had contracted the virus.
Earlier this year, the U.S. State Department cited several thousand social media accounts which previously supported causes as diverse as Russia's intervention in Syria and the Yellow Vest protests in France, but now post "almost near identical" messages about coronavirus in English, Spanish, Italian, German and French, while repeating the old refrain that the virus was created by the United States government to attack China.
Perhaps more ominously, given the release of the new coronavirus vaccines, Russia has stoked the debate over vaccine safety in the United States since at least 2015.  Unlike the 2016 election where Russia created social-media content and injected it into the American political campaign, the online campaign around vaccines has been driven by amplifying American voices and boosting hashtags associated with both the anti-vax and pro-vax movements.  That even-handedness is intentional and sinister.  For Moscow, the issue isn't any preferred policy outcome, its objective is division, fear, and the exploitation and exacerbation of America's internal divisions—even around matters of public health. With some Americans already viewing pandemic response through a partisan lens, we can expect Russia to amplify questions about the safety of COVID-19 vaccines—even from irrational voices—while at the same time boosting those who support vaccines.
The public shouldn't be surprised, either, to learn of breathtaking claims about potential vaccine side-effects.  Already, memes and social media posts have flooded networks in India and Brazil warning that the Astra-Zeneca vaccine developed at Oxford University might turn its recipients into monkeys.
The incoming administration of President-elect Joe Biden faces a daunting challenge: corralling an out-of-control pandemic, organizing the logistical challenge of inoculating 320 million Americans, and fighting the on-going "infodemic" that has compounded every aspect of the pandemic response, not just in the United States, but around the world.  The single most important thing the Biden administration can do is call-out vaccine disinformation whenever they see it.  As fanciful as it may seem to suggest, the administration must also get help from Congress, too.  Bipartisan agreement among elected leaders cues bipartisan consensus among the American people, even on complicated issues.  Finally, the White House must adopt some old-school politicking and secure the support of major news outlets—in print and broadcast, online, and, yes, on cable. Education is the only way to inoculate the vaccine from hostile disinformation.  Everyone needs to do their part.
America's adversaries will seek to divide us on every issue they can find to exploit.  The coronavirus pandemic is no different.  But we can defeat lies and disinformation with an ironclad commitment to the truth, to science, and to a renewed conviction to work together, as Americans, to serve our common good.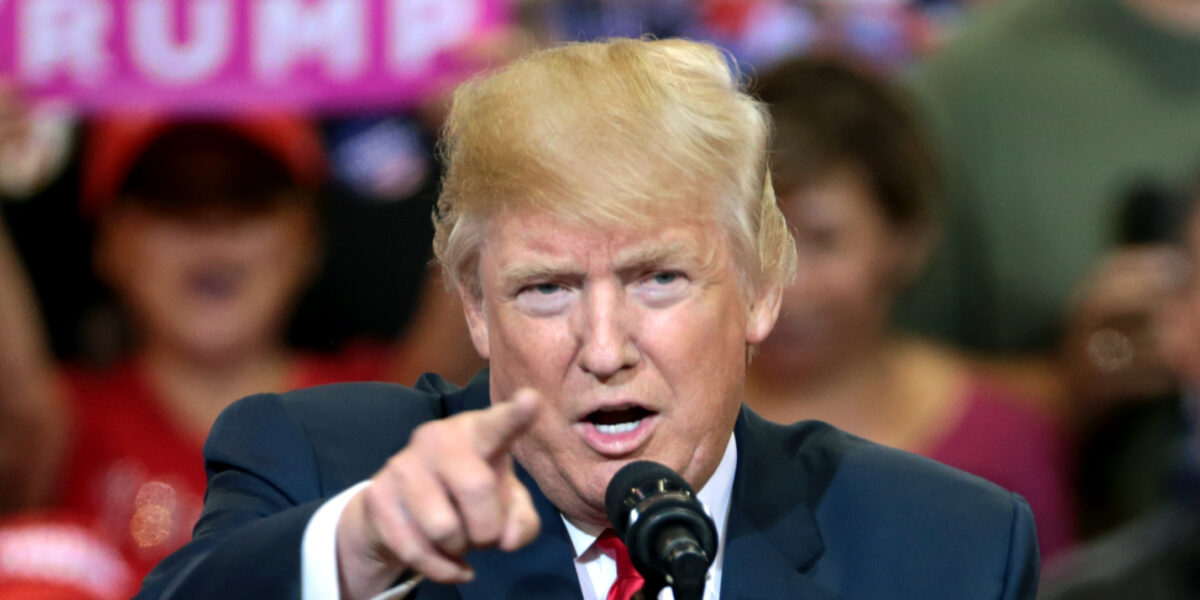 This week, the notes I take to write this essay were marked by a terrifying consistency: American democracy is under assault.  And just as in some of the worst/best horror movies that I watched as a teenager, the calls are coming from inside the house: in this case, the White House.
Let's be crystal clear: the president of the United States has locked himself on a path in which he seems determined to burn the republic down in his final weeks in office.  He is calling openly for legally-cast ballots to be thrown out.  He has urged Republican lawmakers in Pennsylvania, Michigan, Georgia, Arizona, and Wisconsin to reject the popular vote in their states and seat their own electors.  He has threatened and coerced Republican governors in Arizona and Georgia.  He openly attacked the patriotism and integrity of the Republican secretary of state in Georgia, calling him "an enemy of the people."  In the last several days he warned the Republican attorney general in Georgia to not oppose a Texas suit in the Supreme Court to dismiss legally cast and counted ballots in Georgia, Pennsylvania, Michigan, and Wisconsin.
His allies in congress are aiding and abetting this arson of democracy, with a floor fight looming on accepting the votes from the electoral college.
The president's cheerleaders in the media stoke unfounded conspiracy theories, fabrications, and outright lies with the zealousness of a cult following their dear leader.  Rush Limbaugh went so far as to suggest the nation is moving toward secession while the Arizona GOP asked its Twitter followers if they were willing to die for Donald Trump.
And Trump supporters are convinced by his lies. Seventy percent of New Hampshire Republicans believe that Biden's election is illegitimate.  Worse, crowds are threatening public officials with violence—including murder and lynching—because of their defense of the integrity of the nation's elections.
To be clear, the president and his allies have not been able to muster any credible claims of meaningful electoral fraud in any of the more than 50 court cases they have lost.  Republican governors in Arizona and Georgia have joined their colleagues in other states in certifying the results of the 2020 election which all add up to a 7 million vote win for Joe Biden and 306 electoral college votes.  In 2016, Donald Trump declared his 306 electoral college votes a "land slide," even though he lost the popular vote by 3 million.
There are some who have said—and I'm paraphrasing—"President Trump is just processing his loss.  Let him have his recounts.  Let him demand his investigations.  Let him process this in his own way."
Well, he's had his recounts, and he's had his investigations, and they have yielded nothing other than the fact that election workers counted votes and Donald Trump lost.  At this point, the president is either delusional or lying in a desperate attempt to hold onto power at all costs.  Both scenarios are terrifying.
At long last we have reached the moment where Americans, Democrats and Republicans, elected officials and private citizens, need to say with one voice, "enough."
I take no pleasure in saying this, but with tortured logic in public utterances and private demands, the president of the United States is a threat to the integrity of the American republic and this 231 year old experiment in self-rule.  Our response can't be to countenance it any longer or placate him or let him use our democracy as a punching bag to work out his demons.  The republic is more important and more sacred than his fragile ego or any political calculation about the future, and every American needs to say that, now.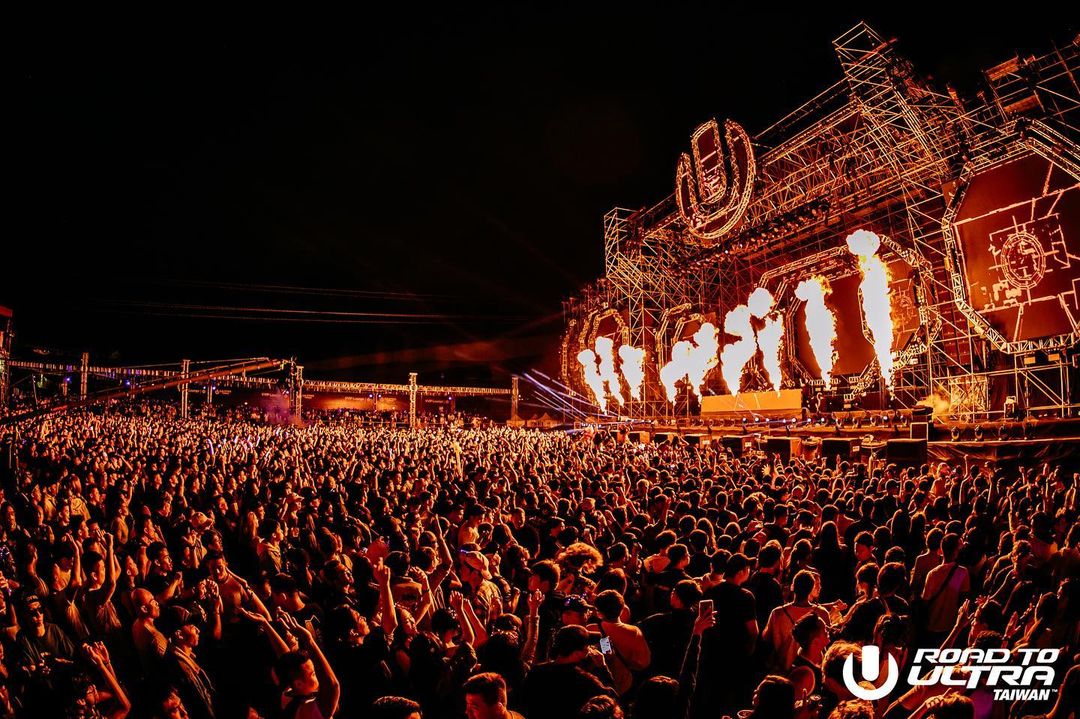 Yesterday, Dr. Robert Redfield, the director of the Centers for Disease Control and Prevention, warned that this winter could be "the most difficult time in the public health history of the nation."  According to his estimates, another 200,000 Americans may die in the next two months from COVID-19, which would raise the total death toll to something in excess of 450,000 Americans in less than one year.  To put that in perspective, 407,316 Americans died in the 3 years and about 10 months of World War II between the attack on Pearl Harbor and the formal surrender of Japan.
If 200,000 Americans die from the COVID-19 virus in the next 60 days, that means that we will have lost, on average, 3,333 Americans every day for two months.  In contrast, 2,977 Americans were killed in the attacks of September 11, 2001.  I'm old enough to remember those attacks.  I was close enough—living in Arlington, Virginia, at the time—that I heard the crash when American Airlines flight 77 flew into the Pentagon.  I watched friends go off to war after those attacks.  As a Senate staffer, I had the solemn privilege of attending funerals at Arlington National Cemetery.  I know the price my country is willing to pay to protect its citizens.  But in 2020, I find myself wondering what my fellow citizens are willing to do to protect one another.
More than 100,000 Americans are hospitalized right now because of the pandemic.  Earlier this week, Dr. Ashish Jha, the dean of the Brown University School of Public Health explained that the proportion of COVID patients being hospitalized is falling.  His suspicion: hospitals are filling up and the bar is getting higher for admissions.  According to Dr. Jha, someone who might have been admitted for care on November 3rd, may not be admitted on December 3rd—because there aren't enough beds.  Some of the patients who stay home will recover.  Some will die at home.  That's the stark risk that doctors are taking when they determine whether to admit someone to a hospital.
We have to ask ourselves—and not in some rhetorical way—how did this happen?  How did the United States—the wealthiest country on planet Earth, a leader in science and technology, possessor of the strongest military machine the world has ever known, capable of destroying life on this planet in a 30 minute apocalyptic spasm, the home to Hollywood, and Dollywood, and Disneyworld as well as Google, Tesla, and Apple—how did the United States become the epicenter of the planet's worst out-break?
More than 270,000 Americans have died since the pandemic began.  That's 15 times more deaths than in Germany, 57 times more deaths than in China, and more than 7,700 times more deaths than in Vietnam.
Meanwhile, Taiwan, one of the most densely populated countries on the planet, has had only 602 cases of COVID-19.  It has been more than 200 days since Taiwan had a locally-contracted case.  Over the entire course of the pandemic, only 7 people have died from the disease on Taiwan.  In contrast, Florida, which has about the same population as Taiwan, has had more than 1 million cases since the beginning of the pandemic, 8,847 cases were reported on December 1, alone.  18,775 Floridians have died because of COVID.
Taiwanese officials achieved their remarkable record by shutting down their boarders when reports of a new virus emerged from China; they restricted travel; they distributed masks; and they used rigorous contact tracing to find and quarantine anyone who may have been exposed to the virus.  Taiwan quarantined 340,000 people who may have been exposed for the full 14 days, regardless of whether they tested negative.  In exchange, 23 million others have been able to live normal lives.  Two weeks ago, 10,000 fans attended the Road to Ultra music festival in Taiwan–that's the image you see at the top of this post.
President Donald Trump is adored by his supporters.  72 million of them voted for him—the second most of any candidate in history—and they are passionate.  Many of them sincerely believe he is the victim of election fraud simply because he has told them that he was: not because he has presented any real evidence, or won any court cases. They believe him because they trust him.  Imagine if Donald Trump had told his supporters to wear masks.  Imagine if instead of making it okay to flaunt quarantine and social distancing guidelines in the name of economic recovery, the president had doubled down on the production of PPE, told people to stay home, and provided the resources to support robust contact tracing the way Taiwan did.
I'll tell you something: if Donald Trump had been that kind of empathetic leader, he would have won reelection in a crushing landslide.  The American economy would be roaring.  Life in these United States would be much more normal.  We would not be looking into the jaws of a deadly winter.  And countless thousands of our fellow Americans would be alive to share the holidays with their families.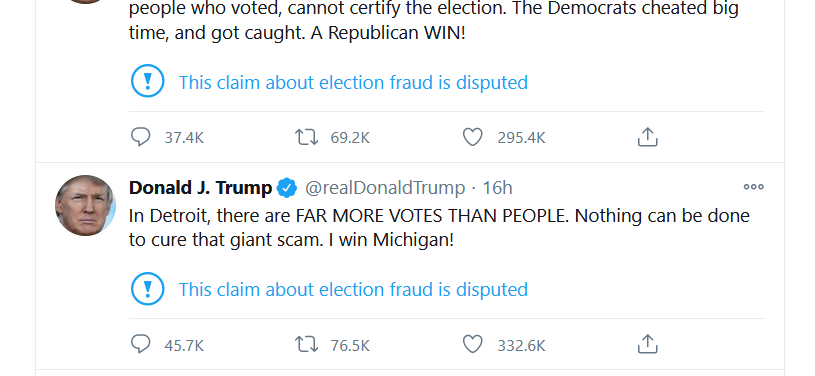 One of my favorite topics to teach is the 16th century scientific revolution in Europe.  If I could, I would spend an entire semester dissecting the way Ptolemy's second-century explanation of the universe prevailed for 13 centuries, only to be challenged by Copernicus and then utterly destroyed by Tycho Brahe and Johanne Keppler, who turned 20 years of nightly observations of the heavens into three laws of planetary motion:
Planets have elliptical orbits around the sun, not circular.
Planets do not move at uniform speeds in their orbits.
The length of time a planet takes to orbit the sun once is related to its distance from the sun.
Where Ptolemy and Copernicus speculated about the movements they could see in the heavens, Kepler was able to prove and predict the movements of the heavens with precise, mathematical calculations.
This was the start of the scientific revolution—a period which laid the foundation for the modern world by supplanting faith with reason.  In the next two centuries, philosophers pondered whether science and reason should replace orthodoxy in every aspect of human life, including law and governance.  It's in this era that the Western mind began to think of "progress."  Thinkers grappled with questions of epistemology: how do we know what we know?  John Locke, in his Essay Concerning Human Understanding advanced the argument that all ideas—and all knowledge—are derived from human experience.  He said the human mind is a blank-slate—a tabula rasa—and that all that follows is determined by education and social institutions.
It's this flowering of knowledge that historians refer to as "The Enlightenment."  In it, great thinkers revived ancient theories of governance from Rome and Greece and gave them a modern foundation.  The American and French Revolutions sprang from this intellectual and political ferment and with them the language of individual human rights, the idea that governments are instituted to protect liberties and serve the common good, not the interest of the king, while they draw their authority to rule—their very sovereignty—not anointed as a divine right, but derived from the consent of the people.
The legacy of these ideas continues to shape the modern world to this very day, but they are under assault in the United States right now.  With the news of the last week from Pfizer and Moderna, we should be in the midst of a joyous celebration of the liberating power of the human mind and science.  Instead, we're reading reports that people's last words before being intubated are that they don't trust the doctors and they don't believe COVID is real.  We've just completed the pageant of democracy in this country, and the losing candidate is Tweeting about electoral fraud that doesn't exist while the Republican Secretary of State in Georgia warns he's receiving pressure to throw out legally cast votes by none-other-than the chairman of the Senate Judiciary Committee, Senator Lindsey Graham.  It's remarkable that only 50 percent of Republican voters believe Donald Trump is the victim of electoral fraud.
President Trump has advanced an anti-Enlightenment philosophy of governance throughout his presidency, one I'll call, loosely, "post-modern." Essentially, he asserts that nothing is real and everything is possible.  Objective facts aren't as important as what we assert to be facts.  No evidence of electoral fraud?  No problem, he simply asserts there is voter fraud.  The president lost the popular vote, again?  Not a problem, he just Tweets, repeatedly, that he actually won while his lawyers seek to throw out legally cast ballots.  There is no objective reality.  Two people can observe the same thing and one view of the event is no more legitimate than the other.
But republican government—which vests its hopes in the educated and, yes, reasonable judgment of the people—cannot succeed if we refuse to agree on basic, knowable facts or if we substitute conspiracy theories for real knowledge and understanding.  My anxiety isn't driven by any concern over the 2020 election: Joe Biden won.  My anxiety is driven by the blows being driven into the Enlightenment's foundation as well as its legacy in the United States.
In the absence of facts, the final determinant of truth is power.  In the absence of reason, governments will function purely on power.  In the absence of commonwealth, the only purpose of the state is power.  Tragically, we know how this ends.  This way lies tyranny, maybe not in 2020 or 2024, but the seeds being scattered now by President Trump and his supporters will only yield a very bitter harvest.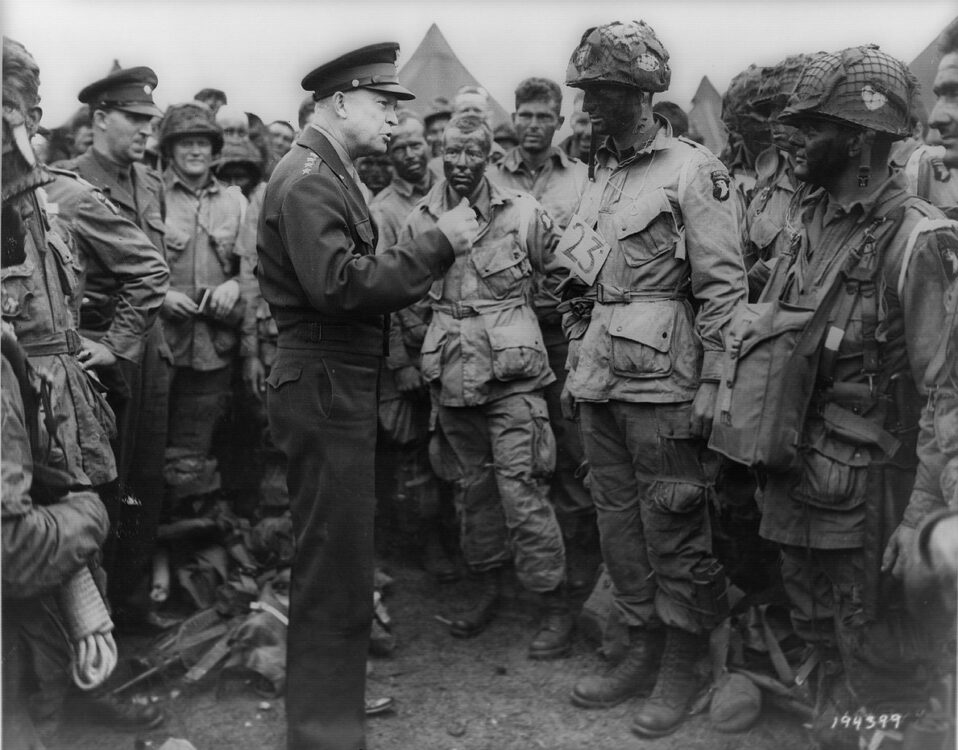 One week before D-Day, on May 29, 1944, Britain's air chief marshal Trafford Leigh-Mallory approached General Dwight Eisenhower with a warning.  As commander of the airborne assault on D-Day, Leigh-Mallory's paratrooper and glider units would be among the first to assault Hitler's Atlantic Wall, and the British general was worried.  The Germans had been reinforcing parts of the region targeted by U.S. airborne forces.  By his calculations, glider forces would suffer 70% losses; paratroopers wouldn't fare much better, losing 50% of their strength in the assault.  Leigh-Mallory called the prospect "futile slaughter" and recommended to Eisenhower that he scrap plans for the jumps by the American 82nd and 101st airborne divisions.
Eisenhower told Leigh-Mallory to put his proposal in writing—a paper-trail to protect the British officer as much as anything—and retreated to the privacy of his own counsel to think.  Ultimately, Ike kept the airborne assault in the plan—convinced that the added mass of U.S. forces dropped behind enemy lines would be essential to the success of operations on Utah and Omaha beaches.
But that's not the end of this story.
On June 5, as airborne troops marshaled at airfields across England, Eisenhower was among them.  In some of the most iconic images of the Second World War, we see Ike, animated, smiling, gesturing, talking to young men he was sending into a fight his top commander expected to be a "slaughter."  Eisenhower felt an obligation to be among them, to ask them about home, and to look them in the eye.  He didn't feel like he had to tell them what they were going to do.  They all knew.  He was there to remind them why.
Twenty years later, CBS News announced that Eisenhower would return to Normandy with Walter Cronkite to film a special retrospective on that day of days.  Before he left, Eisenhower's office received a letter from the mother of an American soldier who was buried at Coleville-sur-Mer, the American military cemetery overlooking Omaha Beach.  She hadn't been to France and didn't expect to ever travel there.  She asked Eisenhower, the former commander of the Allied Expeditionary Force, to pay respects at the grave of her son, PFC Herbert Kaufman, Plot B, Row 10, Grave 188.
Eisenhower did just that, not for the news cameras and not for publicity.  He did it for Mrs. Kaufman and her son and all the others like them.
Weeks later, in the CBS News special, Eisenhower said of those men lost on D-Day and over the entire course of World War II, "they bought us time to do better." I've thought of that statement over the years, whenever our country has faced trial and challenge and choices.  "They bought us time to do better."  The retired general wasn't talking about time to do better against the Nazis they fought in 1944 or the Soviets we faced in 1964.  His statement wasn't political, it was timeless.  It was a soldier's recognition that the blessings of liberty are won with the blood of young Americans sent in harm's way.  The statement "they bought us time to do better" wasn't about geopolitics, it was about who we are as a nation, what sins we have still to confess, and what demons we have still to expel.
I have long admired Eisenhower's practical idealism as president.  We don't think of Ike as a great leader in the civil rights movement, but he helped lay the foundation for progress in the decade that followed his presidency.  He completed the desegregation of the U.S. military; on his own authority he desegregated Washington, DC; and he deployed federal troops to enforce the Supreme Court's decision overturning segregation in public schools.  When he had the opportunity to nominate a Supreme Court justice 38 days before the election of 1956, Ike told his attorney general to find a Democrat he could nominate.  Eisenhower was the first Republican president since 1932, but he believed the Supreme Court should never be viewed as a partisan institution.
Eisenhower's life and legacy are reminders to all of us about the personal qualities of effective leaders.  He took blame but deflected credit.  He held himself personally accountable for his decisions—to the point where he would look men in the eye who he knew he was sending into grave danger.  He honored the sacrifice of those who died in the service of this country, and he understood their loss meant more than another entry on the honor roll of war dead.  As president, he governed by controlling the things he could control, while remembering that he served all Americans, not just the people who voted for him.
More than 75 million Americans have already cast their votes in this year's election.  Tens-of-millions more will go to the polls between now and next Tuesday.  Every one of us who does so faces a stark choice about what America will do with the time those G.I.s bought us.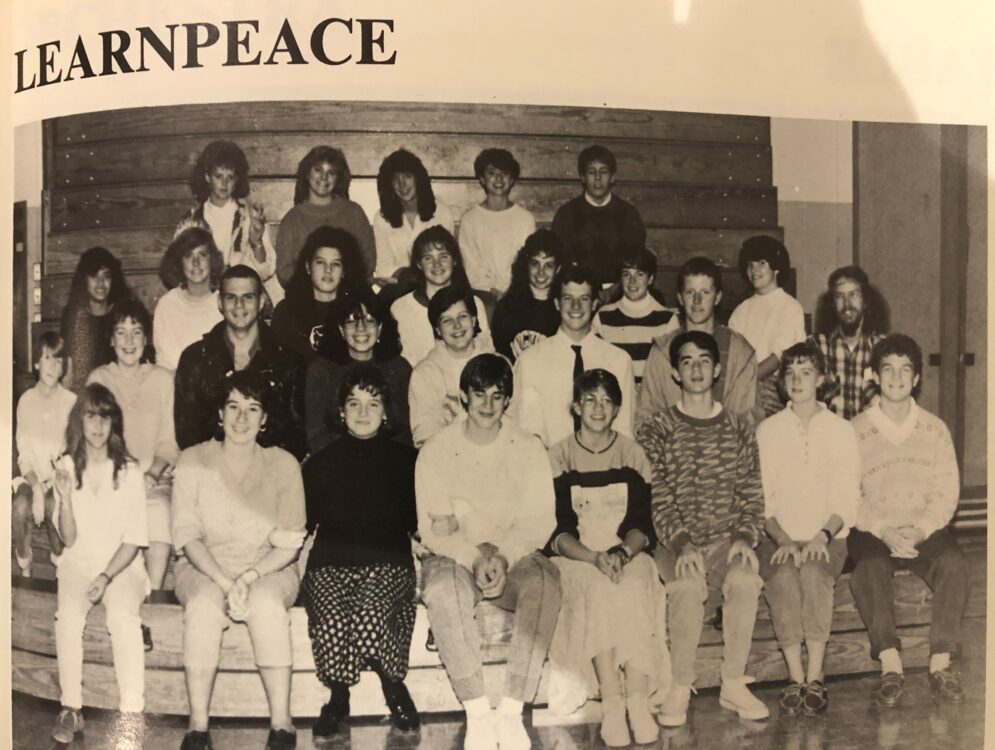 Every four years we have a presidential election that sets the agenda for the country for the following four years.  Theoretically, the election is the culminating moment of a national dialogue.  In the ideal, the vote is an expression of the nation's opinion, not necessarily on the fitness of candidates, but on the major issues of the day.
Growing up, I loved campaigns because of that Capra-esque idealism.  I reveled in the belief that as a nation, we had an opportunity to choose between two different visions for moving the country forward.  The direction didn't seem in doubt.  Elections seemed to be more about how to get things done—not whether.
In those days, I loved the skill of impassioned argument.  I used to watch, with rapt attention, former California Congressman Bob Dornan give speeches on the House floor about freedom in Latin America, about the struggle between the United States and the Soviet Union, about the promise of American exceptionalism.  I used to argue with my friends at the lunch table about funding the Contras.  I can remember debating with classmates about arms control and the need for a nuclear deterrent.
I was a good Cold Warrior in the 1980s.  I know I wasn't a typical teenager, and maybe my friends weren't typical either.  But they were my friends.  Even when we disagreed on fundamental of issues, we didn't stop being friends.  I never questioned their intelligence—in fact, I relied on it.  As I crafted my most sophisticated arguments about the struggle between East and West, I put my faith in their good faith arguments.  I put my faith in their reasonableness.  I put my faith in their intelligence.  In fact I feared it.  What if they knew something I didn't know?  What if they were smarter than me?
Those debates at drama club, in empty-classrooms after school, and in the parking lot of our favorite ice-cream place drove me to read, to want to know more about the world, and to be better informed so that I could hold my own in those debates with my friends.
I wish tonight's debate held out the promise of such idealism.
But American politics isn't a Frank Capra film.  Hell, it's not even an Aaron Sorkin screenplay.  Today it seems more like a middle-school drama club production, with less sophisticated dialogue.
Still, in the pitting of ideas against each other, there is hope.  On Friday, I'm going to moderate an issue forum between the College Republicans and the College Democrats in my day job at Salve Regina University.  These students have been preparing for it for weeks.  Interest on campus is high—even amidst mid-term exams and all the pandemic-stress.  My expectation is that both the College Democrats and the College Republicans will prepare seriously for this forum—at the very least mindful of not wanting to be publicly bested by their counterparts.  I hope they have read their rivals' positions, developed arguments for and against key proposals—on both sides, and generally immersed themselves in the issues they are debating.
I don't expect these students to find common ground, but I do hope that in preparing for this debate, they might learn something new about their opponents' concerns.  I know I did in my school-age debates and it helped educate me.
When I got to work professionally at the intersection of politics and policy, I carved out a reputation as a non-interventionist defense hawk.  (I didn't think the United States was well-served by military intervention, but when military action was necessary I wanted it to be overwhelming.)  My friends at the lunch table would probably still disagree with me, but they helped shape my thinking.  They helped challenge my assumptions.  They made me work harder.  Most of all, they taught me that intelligent people can disagree about complex issues.
We need rivals in life to challenge us and to spur us onward.  But for that to happen, we can't view our rivals as uneducated or unprincipled.  We have to believe that from them there is something worth learning.