Yoshihara Opens Pell Center's Fall 2014 Lecture Series with "South China Sea"
Earlier this month, Toshi Yoshihara, Ph.D., of the U.S. Naval War College discussed China's capabilities and intentions and the challenge facing U.S. policy in the South China Sea.
The lecture, "Tensions in the South China Sea," gave the audience an overview of the two main island chains and the main conflicts in the Southeast Asia, followed by a Q&A interview with Yoshihara led by Pell Center Executive Director James Ludes, Ph.D. Yoshihara provided an insight to China's relationships between other Southeast Asian countries–Vietnam, Japan, and the Philippines–as well as the United States. In the pre-9/11 era, Yoshihara pointed out how China's activity in the Southeast Asia was a priority on the U.S. foreign policy agenda.
Following the Q&A session, Toshihara answered several questions from the audience, including "What a U.S. military conflict with China would look like?" and "With the decline of U.S. Naval power, can Japan lead a coalition to hold the security fabric of the region together?"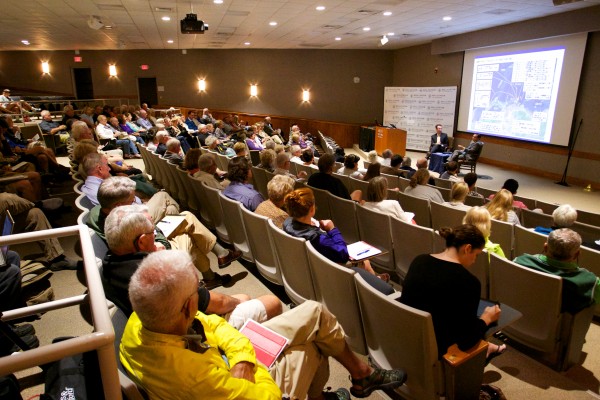 Yoshihara holds the John A. van Beuren Chair of Asia-Pacific Studies and is an affiliate member of the China Maritime Studies Institute at the U.S. Naval War College. Previously, he was a visiting professor in the Strategy Department at the Air War College. Dr. Yoshihara has also served as an analyst at the Institute for Foreign Policy Analysis, RAND, and the American Enterprise Institute. He holds a Ph.D. from the Fletcher School of Law and Diplomacy, Tufts University, an M.A. from the School of Advanced International Studies, Johns Hopkins University, and a B.S.F.S. from the School of Foreign Service, Georgetown University. Dr. Yoshihara is the co-author of Red Star over the Pacific: China's Rise and the Challenge to U.S. Maritime Strategy(Naval Institute Press, 2010), Indian Naval Strategy in the Twenty-first Century (Routledge, 2009), and Chinese Naval Strategy in the Twenty-first Century: The Turn to Mahan (Routledge, 2008). He is the co-editor of Strategy in the Second Nuclear Age: Power, Ambition, and the Ultimate Weapon (Georgetown University Press, 2012) and Asia Looks Seaward: Power and Maritime Strategy (Praeger Security International, 2008).
The Pell Center's next lecture, "The First World War at 100: Understanding the Cost, Legacy, and Meaning of the 'Great War,'" will be held on Tuesday, October 7, 2014 at 7:00 p.m. in Bazarsky Lecture Hall.