Recap: "How Did We Get Here? A Conversation with Robert Dallek"
Polarization is a major issue in American politics, but Robert Dallek is still optimistic. On October 1st, 2020, Dallek had an in-depth conversation around his most recent book "How Did We Get Here? From Theodore Roosevelt to Donald Trump." Dallek was joined by Pell Center Executive Director Dr. Jim Ludes and Salve Regina University history professor and Pell Honors Program Director Dr. William Leeman.
Dallek reminded us that there have always been challenges in politics, but it is crucial for us to find common ground to maintain our republic. Dallek explored many topics, including President Trump's lack of knowledge of American history, how the legacy of presidents led to the rise of Donald Trump, and the current division and challenges facing the United States.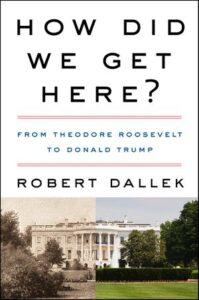 Dallek attempted to explain recent events and the political climate of America through the scope of history, saying, "political history remains a vital element of our national culture and I think it needs to be sustained." Dallek said he is concerned about the recent presidential debate, saying that President Trump seemed unpresidential and diminished the office of the president. Dallek feels that most people in this country have a great regard for the presidency and there is a sense that the presidency is a sacred institution with traditions that we should all be sensitive to. Dallek believes that the presidency has lost some of its dignity with the election of President Trump, though he is hopeful the next president can help the country move in a constructive direction.
Dallek reminds us the office of the president hasn't always been filled people with the most outstanding character. He noted that the presidency has had other low points, but the American people have always found a way to rebound. Dallek compared the Kennedy-Nixon debate to the recent presidential debate on September 29, 2020, where he believes Biden did what Kennedy did when he spoke to the American people directly.
The optimism of a renowned scholar like Dallek is sure to settle the minds of many who attended this event on October 1, as his view of the political landscape seemed firm. He acknowledged the political polarization but felt that the ups and downs of American politics, though worrisome, can be worked through as a society with a common goal. The event was a resounding success and Salve Regina University and the Pell Center were incredibly lucky to host Dallek for this event. His words of wisdom and profound knowledge of the American presidency were able to give the Salve community a spectacular insight on the current political climate.