Rhode Island Students Awarded Pell Medal for U.S. History
Newport, R.I.—Sixty-six Rhode Island students earned the Herbert and Claiborne Pell Medal for U.S. History this year.  The medal, administered now by the Pell Center at Salve Regina University, recognizes college and high school students in the state who have excelled in U.S. History.
The Pell Medal was originally presented by Senator Claiborne Pell and his wife, Mrs. Nuala Pell, for more than 50 years. After Mrs. Pell's passing in April 2014, the Pell Center at Salve Regina University agreed to become the steward of the medal process.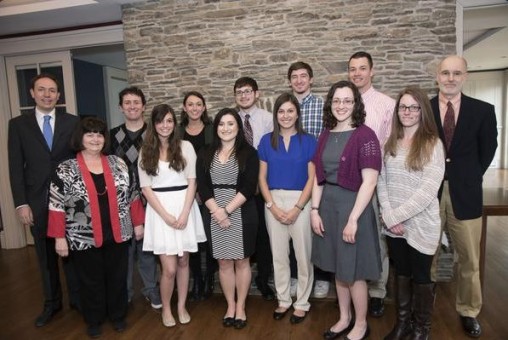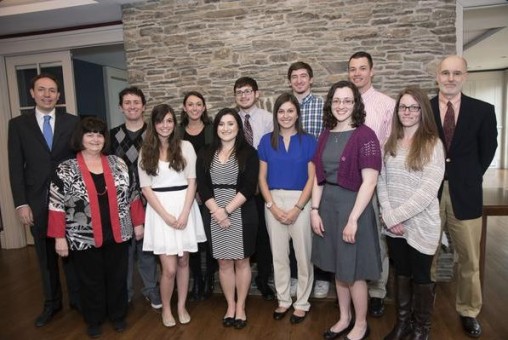 "It has been a joy and an honor to recognize many of our most promising students across Rhode Island," said Clay Pell who has personally presented several of the medals at events across the state.  "To me, this medal represents my grandparents' reverence for the past as well as their confidence in future generations."
Pell Center Executive Director Dr. Jim Ludes said, "While I chose a career in public policy, I prepared for that career by studying history. So I'm especially grateful that the Pell Center can help continue this beautiful tradition."
Established by the Pell family, the Pell Medal is named for Representative Herbert C. Pell and his son, Senator Claiborne Pell.  Herbert Pell served as a member of Congress and American Minister to Portugal and Hungary, while Claiborne Pell, who is responsible for the creation of the Pell Grants and the National Endowment for the Humanities, served in the Senate for 36 years and worked to strengthen American foreign policy.
"I also want to recognize Ms. Jan Demers," said Ludes.  "For years Jan helped Senator and Mrs. Pell administer the medal.  We at the Pell Center know we have big shoes to fill in our new role and we are grateful for the support and encouragement Jan has given us."
The winners of the 2015 Herbert and Claiborne Pell Medal for excellence in the study of U.S. History are:
Barrington
F. Nelson Blount, St. Andrew's School
Madeline Schirber, Barrington High School
Bristol
Sabrina Dasilva, Mount Hope High School
Andrew Carter, Roger Williams University
Central Falls
Leslie McBurney, Central Falls High School
Coventry
Jared Flamand, Coventry High School
Cranston
Jonathan Penta, Cranston High School East
Cumberland
Justin Wood, Cumberland High School
East Greenwich
Zachary Johnson, East Greenwich High School
Mary McKenney, Rocky Hill School
East Providence
Monica Barbosa, East Providence High School
Dante Diwan, Providence Country Day School
Harrisville
Samantha Mancone, Burriville High School
Johnston
Tiana D'Acchioli, Johnston Senior High School
Kingston
Rebecca Giguere, University of Rhode Island
Lincoln
Benjamin P. Chiacchia, Lincoln High School
Reymy Pena, William M. Davies, Jr. Career and Technical High School
Middletown
Erin Keating, St. George's School
Samantha Plezia, Middletown High School
Narragansett
Rayne Henley, The Ocean Tides School
Cole Metzger-Levitt, Middlebridge School
Eileen Sullivan, Narragansett High School
Newport
Mitchell Cardon, Paul W. Crowley East Bay Met School
Catherine Hermes, Rogers High School
Jessica Rose, Salve Regina University
Brandon Watson, Paul W. Crowley East Bay Met School
North Kingstown
Joseph Black, North Kingstown High School
Lydia Sgouros, North Kingstown High School
North Providence
Brendan Walker, North Providence High School
North Scituate
Christine Wagner, Ponaganset High School
North Smithfield
Diane Newberry, North Smithfield High School
Pawtucket
Vanessa Dos Anjos, St. Raphael Academy
Nathan Gagnon, William E. Tolman High School
Judiana Moise, Blackstone Academy Charter School
Djita Sidibe, Charles E. Shea High School
Portsmouth
David Brower, Portsmouth Abbey School
Chris Norton, Portsmouth High School
Providence
Estrella Argueta, Hope High School
Elizabeth Bitgood, Rhode Island College
Jasmin Cantera, Academy for Career Exploration
Johanny Castillo, Paul Cuffee Upper School
Hannah Duncan, Brown University
Lexus Fernandez, Mount Pleasant High School
Emma Funaki, Rhode Island School of Design
Kaly Heng, Central High School
Julianna Marandola, La Salle Academy
Henry Mayer, Classical High School
James Morin, Providence College
Julissa Sabater, School One
Rose Maso, Lincoln School
Scituate
Robert Capron, Scituate High School
Smithfield
Kalah Caruso, Bryant University
Megan Long, Smithfield High School
Wakefield
John Albert, The Prout School
Rieley Auger, South Kingstown High School
Warwick
Henry Cascella, Pilgrim High School
Riley Chabot, Bishop Hendricken High School
Hanah Ellis, Warwick Veterans Memorial High School
Hunter Heberg, Toll Gate High School
Tuon Mi, Community College of Rhode Island
Westerly
Kyra McCormick, Westerly High School
West Greenwich
Brianna McFadden, Exeter-West Greenwich High School
West Warwick
Kristen DiSano, West Warwick High School
Wood River Junction
Lydia Crandall, Chariho Regional High School
Woonsocket
T.J. Bergeron, Beacon Chart High School for the Arts
Adam Mercier, Mount Saint Charles Academy
Abigail Shobako, Woonsocket High School