Pulitzer Prize winner Dana Priest, former Sen. Gary Hart lead celebration of Story in the Public Square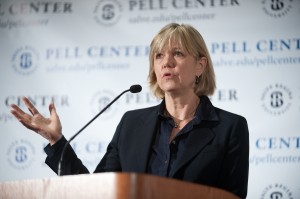 NEWPORT, R.I. — Pulitzer Prize-winning author and journalist Dana Priest was honored on Friday, April 12, 2013, with the inaugural Pell Center Prize for Story in the Public Square, an award recognizing a contemporary storyteller whose work has had a positive impact on public affairs.
Priest, a Washington Post staff writer, received the award during the maiden Story in the Public Square conference at Salve Regina University that also featured a keynote address by Gary Hart, former U.S. senator from Colorado and now an author and Huffington Post blogger. Winners of a student story contest were also announced at the Friday conference.
"Dana Priest's reporting has changed public policy.  Look no further than the stories for which she won her two Pulitzer Prizes: the CIA's secret prisons and deplorable conditions at Walter Reed Army Medical Center," said Jim Ludes, Executive Director of the Pell Center.
"This will be an annual award, and giving it first to Dana Priest speaks to how highly we respect and applaud her writing," said Story in the Public Square co-director and Providence Journal staff writer G. Wayne Miller. "Beyond her public-service contributions, she is an inspiration to journalists and anyone who cherishes the written word. She is a writer's writer."
Friday's day-long conference included a panel on ethical storytelling moderated by Karen Bordeleau, acting executive editor of The Providence Journal, and a panel moderated by Salve Regina University professor Donna Harrington-Lueker. The Journal's award-winning documentary, "Coming Home," about veterans of the wars in Iraq and Afghanistan, was shown.
Sophie Zander, a student at Ursinus College in suburban Philadelphia, took first prize in the inaugural SIPS student contest for her story, "A Boy." Honorable mentions went to Community College of Rhode Island's Madelin Schlenz's  "I Brought My Brother Home" and Central Connecticut State University's Ron Farina's "Unbreakable Embrace." The winners were chosen from a strong field of submissions challenged to write about the veteran's experience.
Friday's day-long conference was the official launch of the year-round Story in the Public Square program, which will include a fall event, a vigorous ongoing online conversation, storytelling resources and connections, and other activities related to the intersection of public policy and story in its many forms: writing, film, art, song and more.
Story in the Public Square is a partnership between the Pell Center and The Providence Journal. Friday's conference, which was expected to attract an audience of nearly 200, was made possible, in part, with a major grant award from the Rhode Island Council on the Humanities and the support of the David and Mildred Morse Charitable Trust.
For more about the conference and Story in the Public Square, visit www.publicstory.org
Find on Facebook: www.facebook.com/StoryInThePublicSquare
Follow on Twitter: @pubstory
Hash tag for Friday's event is #SIPS13