Providence Journal: Hart stresses home in storytelling forum at Salve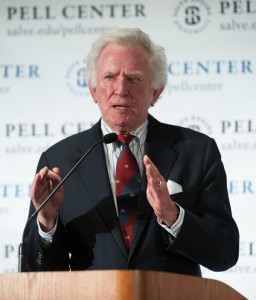 From Saturday's Providence Journal:
NEWPORT — One-time presidential candidate Gary Hart spoke in Newport on Friday as part of a daylong conference on storytelling hosted by Salve Regina University in partnership with The Providence Journal.

Hart was the keynote speaker at the inaugural Story in the Public Square conference hosted by the Pell Center for International Relations. He served in the U.S. Senate with Clairborne Pell, the Newport Democrat for whom the center is named. Hart, of Colorado, twice was an unsuccessful candidate for the Democratic presidential nomination. . . .

Now 76 and distanced from active politics, the former senator mostly stayed away from politics in his speech, focusing instead on the theme that stories connect us to "home."

"Stories will always resonate because we need them," said Hart, dressed in a dark sport coat that set off hair gone near totally silver. "There seems to be an elemental human need to tell ourselves and our children stories."

"We need stories to tell us where we are [and] where we are headed," Hart said. "We need stories most of all to find our way home."
For complete coverage, please click this link.