Pell Center Survey Shows Rhode Islanders Worried about Democracy, but Sources of Concern Differ by Political Affiliation
NEWPORT RI—Rhode Islanders are worried about the health of American democracy, but the source of their concern differs with political party affiliation.  This finding emerges from results of a new, state-wide study from the Pell Center at Salve Regina University.  The survey was directed by Pell Center Associate Director and Fellow Katie Langford Sonder and fielded by Embold Research between October 12-17, 2023.  It gathered responses from 887 registered voters in Rhode Island, with a modeled margin of error of 3.3%.  Respondents answered questions about the health of U.S. democracy, identified the top contributors to political polarization, and shared their news consumption habits.
The data reveals registered voters in Rhode Island possess high levels of national pride but are generally skeptical that the government works in the best interest of the common citizen. The majority believe the system of U.S. democracy is unhealthy and political polarization will increase over the next five years.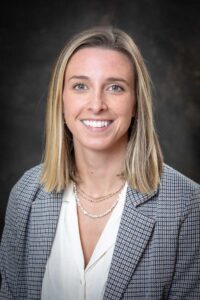 Despite partisan agreement that U.S. democracy is faltering, the major political parties disagree on the root causes of strife. There is bipartisan concern that election processes are free and fair, but Republicans identify voter fraud as a primary threat to U.S. democracy, while Democrats and Independents worry over voter suppression.
Across party lines, Rhode Islanders view disinformation and fake news as a primary contributor to political polarization. Voters in the Ocean State are more likely to trust local over national news and have the least amount of trust for news viewed on social media sites. Perhaps because of these concerns, voters tend to avoid the news, at least sometimes. Of those who disengage, over half avoid national news coverage.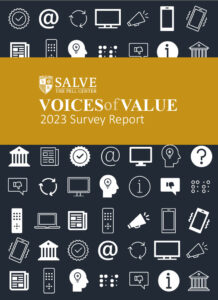 There are partisan differences in views of news media beyond a general fatigue and a concern for disinformation. Republicans are the least likely party to trust the national and local news and the most likely group to view partisan media as a threat to democracy. Over half get most of their information from Fox News. Democrats are the most trusting of the news media and the least likely group to actively avoid the news (though 44% say they sometimes do). They are six times more likely than Republicans to tune in to MSNBC. Independents are much more likely to trust local news—where they receive most of their information—over national news, but they are the most likely party to admit active avoidance.
Overall, Rhode Islanders are proud to be American but concerned for the health of democracy. The definition of democratic health varies across political parties—each group has different opinions on the primary contributors to polarization and threats to democracy. No matter party affiliation, however, voters in Rhode Island draw a connection between disinformation and polarization and view free and fair elections as a bedrock of U.S. democracy.
"These survey results show there is nuance to political polarization. The complexity goes beyond a simplified narrative of 'us vs. them,'" said Langford Sonder. "In an election, for example, Rhode Islanders want to ensure eligible voters have equal opportunity to vote and that every one of those votes count.  Hopefully, information like this sparks a new narrative and can help citizens, activists, and politicians alike begin important conversations about the ideals of a healthy democracy."
Cross tabs of the report data are available for download here.