Pell Center Roundtable: Virtual vs. Classroom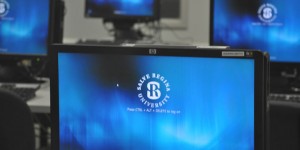 Today university learning occurs along traditional classroom models but hybrid and online-courses are occurring more and more. While some speculate that the online model will replace traditional-classroom learning, others vehemently disagree. As students, what type of learning experience works best for you? Come join us on Tuesday, October 29th to discuss the virtual classroom.
Join us on Tuesday, October 29th, 11:45 a.m. in the Breakfast Room at Ochre Court. Roundtable discussions are open to students, faculty and staff at Salve Regina University. The Pell Center will provide a free lunch. Space is limited. Please RSVP to [email protected].