Pell Center Roundtable Discussion: The Crisis in Syria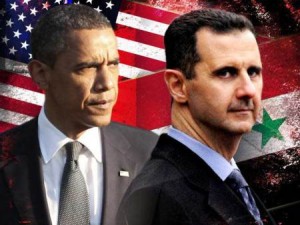 About one year ago, the President of the United States declared that the widespread use of chemical weapons in Syria would draw an armed U.S. military intervention.  On August 21, 2013, chemical weapons were employed against civilian targets in a suburb of Damascus, Syria.  According to reports, more than 1400 civilians were killed, including more than 400 children.  President Barack Obama responded by calling for an armed international response.  The United Nations declined.  NATO refused to act.  Even the United Kingdom—normally America's most reliable military ally—balked.  And so on Saturday, August 31, President Obama declared his intention to seek Congressional authorization to use force against Syria.
In the weeks that followed, the international opposition to armed force was matched—and possibly exceeded—by the opposition of an American public that is tired from more than a decade of war.
Join us Friday, September 20, to discuss the crisis, to learn the latest developments, and to share your views about American foreign policy, the handling of the crisis by the Obama administration, and the value of red-lines, ultimatums, and the prospect for disarming the regime of Bashar al Assad in the midst of the Syrian Civil War.
Open to students, faculty, and staff at Salve Regina University, the Pell Center will provide a free lunch.  Space is EXTREMELY limited.  Please RSVP to [email protected].
Date: September 20, 2013
Time: 11:45 a.m. – 12:45 a.m.
Place: Ochre Court – Breakfast Room