Peace With Justice – Bishop Mark J Hurley, the Black Power Movement, & Radical Justice in the Sixties
"Modern man listens more willingly to witnesses than to teachers, and if he does listen to teachers, it is because they are witnesses."(Pope Paul VI) Dr. William Issel is not only a teacher in Salve Regina University's History department, but also a witness of the Civil Rights Movement himself.  At the November 18th Pell Center lecture Peace with Justice —Bishop Mark J Hurley, the Black Power Movement, and Radical Justice in the Sixties, Issel touched on his own experiences as well as the work of Bishop Mark J Hurley during the Civil Rights Movement.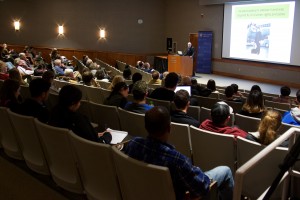 Bishop Hurley served as a Bishop in California for 17 years and allied himself in the fight against racial injustice during the Civil Rights Movement.  Hurley centered his religious work on the fight for social justice, and he traveled from the United States to the Vatican to participate in Vatican II, a renovation in the Catholic Church that opened the church to a more egalitarian and just global conversation.
Shortly after Vatican II, during the Papacy of Pope John XXIII, the Pope published the encyclical Pachem en Terrace in 1963, saying "truth calls for the elimination of every trace of racial discrimination."  Leaders such as Bishop Hurley had begun to make real changes in powerful ways – changes on the grounds of social justice, specifically racial discrimination.  1963, however, marked just the beginning of the movement.
The death of Martin Luther King Jr. in 1968 pushed a large number of people toward the opposition of racial inequality.  The new push also intensified the movement.  Hurley continued his participation in strikes, and demonstrations, despite the growing tension and violence. Issel participated as well, recalling his involvement in a campus strike that broke out in violence.  Issel said he spent that day bailing students out of jail.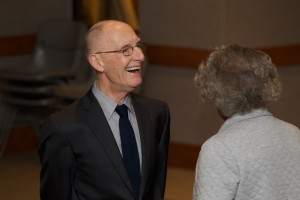 Issel posed several questions to the audience as a call for critical thought and action for today's world.  As a nation and as a global community, he asks, are we willing to work toward a moral economy? Are we willing to work for a democratic constitutional order that supports individual and group rights?  Are we willing to work for a global culture of civil friendship and cooperation?
According to Issel, this is what it takes to achieve the improved society that many people spend their lives striving for.  He asks these questions and undoubtedly proposes these changes not just as a history teacher, but also as a witness. – Julia Morisi