One Leader at a Time: Study Highlights Failures of American Higher Ed to Prepare Leaders for Era of Cyber Threat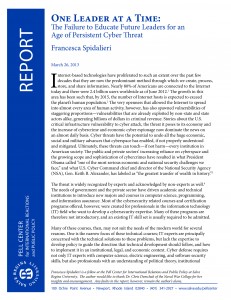 Newport, R.I. – America's colleges and universities are failing to prepare the next generation of leaders for responsibility in an age of cyber threat.  In a new study, "One Leader at a Time: The Failure to Educate Future Leaders for an Age of Persistent Cyber Threat,"  Pell Center Fellow Francesca Spidalieri details the failing of America's most prestigious graduate programs to prepare their graduates—and ultimately the nation—for leadership of critical institutions.
Cyber threats have the potential to undo all the huge economic, social and military advances that cyberspace has enabled. Ultimately, these threats can touch, if not harm, every institution in American society—from the U.S. government to banks and hospitals, universities, corporations, and more. It is no wonder then, that President Barack Obama referred to cybersecurity as "one of the most serious economic and national security challenges we face."
Yet the training of America's next generation of leaders has, on balance, remained remarkably unconnected to the challenges of this century.  In researching "One at a Time," Spidalieri surveyed 70 top-ranked master's-level programs in business, law, public affairs, public policy, international relations, criminal justice, and healthcare management.  The results provide an overview of current efforts by graduate-level programs in the United States to include information technology and cybersecurity education in their curricula.  Not one of the programs reviewed—not one—includes any aspect of cybersecurity among their core requirements.  In fact, of the 70 elite programs surveyed, only 10 clustered among five universities scored 3.0 or higher on a four-point scale to assess the exposure their students receive to cybersecurity issues.
"Ultimately, achieving cybersecurity is more than a technical problem," said Spidalieri who studies the issue for the Pell Center.  "It is an operational problem," she continued, "and only the leaders of institutions have the authority necessary to implement the fundamental, overarching policies that can begin to address some of these threats."
The report is based on the premise that institutional leaders need not have specific training in engineering or programming, but they must be equipped with a deep understanding of the cyber context in which they operate to harness the right tools, strategies, people, and training to respond to a dynamic and rapidly‐developing array of threats.
"The menace of cyber attack threatens our national and economic security, as well as our privacy," said Sen. Sheldon Whitehouse, who chaired the Senate Select Committee on Intelligence's Cybersecurity Task Force in 2010 and has been active in efforts to craft cybersecurity legislation.  "This report is a stark assessment of the role of higher education in preparing future leaders to face the challenges of modern cybersecurity.  I applaud the Pell Center for its ongoing work to raise awareness of cyber threats."
Pell Center Director Jim Ludes is worried about the readiness of institutions across the United States.  "Generally speaking, most institutions in our society," he said, "are run by individuals who lack any kind of training in cybersecurity.  These executives earned their degree in fields primarily relevant to their work, appropriately, and not in computer network security.  As a result, the pillars of our society—our universities, our hospitals, our local governments, our courts, and many of our businesses—are often led by individuals with an extremely limited exposure to cyber issues, except that offered through bitter experience."
The report—drafted after six months of research by Spidalieri—draws on a wealth of information and sources.   The fundamental question was whether these academic institutions included courses, occasional conferences or other forms of training for their students to gain a comprehensive understanding of the cyber context and the practical knowledge needed to manage the information security needs of their sector.  Although the report makes clear that some American universities have started to develop new content for cybersecurity education across different disciplines, the report also illustrates that the problem runs deep and wide. In brief, there remains a strong imbalance between the evident need for leaders to have, at minimum, a basic knowledge of the web, its players, technical dynamics, policy implications and emerging trends, and the marginal role that cyber-security education still plays in most graduate programs.
"We do not consider this survey as delivering a final verdict on the state of cybersecurity leadership development in America's higher education system," Spidalieri said, "but hope that this work catalyzes additional research into ways to develop non-technical cyber leaders across society."
Ludes added, "America's future security hinges on its ability to prepare leaders for the challenges of the digital age.  Our universities have to be part of the solution."
To download a copy of the report, click here.
#             #             #