Pell Center Cybersecurity Awareness Month Champion
On the occasion of the 14th annual National Cyber Security Awareness Month (NCSAM) – an annual campaign to raise public awareness about the importance of cybersecurity – the Pell Center at Salve Regina University is announcing the Fall 2017 Cybersecurity Event Series, part of its ongoing Rhode Island Corporate Cybersecurity Initiative (RICCI).
Recognizing the importance of fostering cybersecurity awareness and developing the next generation of cyber-strategic leaders, the Pell Center is supporting this national effort as a NCSAM Champion Organization for the third year in a row and is actively engaging in multiple discussions and initiatives across the country. In addition to various events scheduled for this semester, including lectures, seminars, panel discussions and larger conferences, the Pell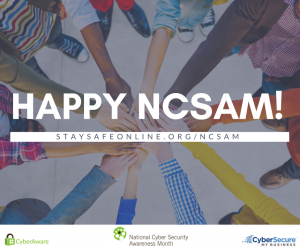 Center is posting cybersecurity tips, best practices, and insights on social media throughout the month, and providing businesses and our broader community with tools and resources needed to stay safe online, create a culture of cybersecurity across the entire enterprise, and increase the Nation's overall resilience in the event of a cyber-incident.
Cybersecurity must be a shared responsibility since no individual, business, or government entity is immune to cyber risks; none of them is solely responsible for securing their own Internet connectivity and digital assets. All of us have a role to play in securing our critical services, our businesses, and the information we create, store, and process through the devices and networks we use. Individual actions have a collective impact and, if each of us does our part by implementing stronger security practices, adopting better cyber hygiene, and treating cybersecurity as an inherent component of  organization's policies and processes, we can collectively become a more secure, safer, and resilient digital society. If we work toward this goal – as individuals and as a Nation – together we can realize our full potential in the digital age.
NCSAM is a coordinated effort of the National Cyber Security Alliance (NCSA), the U.S. Department of Homeland Security (DHS), the Multi-State Information Sharing and Analysis Center (MSISAC), as well as companies, schools, government and nonprofit organizations around the country. While this awareness campaign has a distinct theme for each week, the overall message of the initiative is to STOP | THINK | CONNECT – stop to make sure security measures are in place; think about the implications of our increasingly digital and connected lives and the consequences of our actions and behaviors online; connect and safely enjoy the benefit of the global Internet economy.

You can join in the conversation by following the @PellCenter on Twitter and on Facebook, and using the official NCSAM hashtag #CyberAware throughout the month. You can also get additional information and resources by visiting STOP | THINK | CONNECT, Stay Safe Online, and the European Cyber Security Month website.
For more information and to register to our upcoming events, please see the details below:
 Panel Discussion: "Real Estate in an Age of Persistent Cyber Threat: A Practical Approach to Managing Cyber Risks" | Tuesday, October 3 |  2:30 – 4:00 PM | Pell Center Ballroom
During this seminar, a panel of senior leaders and expert practitioners will discuss specific cyber risks to the real estate industry, and address disclosure obligations and notification requirements as well as pre- and post-breach best practices. Panelists will also explore the current state of the cyber insurance market and available coverage to help you navigate this increasingly growing but still very young market.
This event is specifically dedicated to members of the RI Realtors Association.
 Seminar: "Connecting the Boardroom to the Server Room – Current Issues and Practical Guidance"  Wednesday, October 11 | 9:00 – 11:00 AM | Pell Center Ballroom
Organizations of all sizes and in all sectors are continuing to reinvent themselves for the digital era, creating new models, products, and services. As they embrace technology innovation and adopt new Internet-connected devices, this reinvention changes the tenets of cyber security, expanding the responsibilities of security leaders, C-suites, and boards and creating new risks to manage.
This seminar will explore different ways to address the cyber security skills gap in various industries and approaches to improve practices and relations between boards of directors and security leaders. The seminar will be followed by a moderated conversation with senior leaders from Lifespan on how good internal relationships can enable organizations to better prevent, respond to, and recover from incidents, and help mitigate cyber-risks.
Workshop: "National Cyber Security Awareness Month – A Practical Approach to Managing and Reducing Cyber Risks" | Monday, October 16 | 4:00 – 6:00 PM | AMICA Headquarter in Lincoln, RI
Cyber risk is an underrated but all too real threat to organizations of every size, industry, and sector. Whatever your place of business, creating a culture of cyber security is an essential shared responsibility among leadership and all employees. Organizations must view cyber security as an enterprise-wide risk issue and devise plans for employee education, training and awareness that emphasize risk management, security, and resilience. This seminar will provide an overview of both the opportunities and threats of doing business in an era of hyper-mobility and hyper-connectivity, and address different approaches to improve the overall security posture of any organization operating in the digital age.
The event will feature special remarks by Congressman Jim Langevin (D-RI), Chairman of the US Congressional Cybersecurity Caucus.
Lecture: "The Hacked World Order and Geopolitics of Cyberspace" | Tuesday, October 17 | 7:00 – 8:30 PM | O'Hare Academic Building, Salve Regina University
For more than 300 years, nation-states dominated international conflict and shaped world order. They used all the instruments they had to make the rules that best served their interests. Two decades ago, digital technologies started to shake up that long-standing system. In 2012, the US government acknowledged that it had used these technologies to disrupt the Iranian nuclear program, and Russia and China conducted massive cyber-espionage operations. Cyberspace became a primary battlefield. To make matters worse, cyber attackers often hide behind proxies. Many of the latest technologies are now in the hands of big companies who have interests that differ from those in government. Almost all our critical infrastructure is vulnerable to attack. How can we understand how states, large and small, attack, surveil, influence, steal from and trade with each other in the digital age?
This lecture will feature Adam Segal, Ira A. Lipman chair in emerging technologies and national security and director of the Digital and Cyberspace Policy Program at the Council on Foreign Relations (CFR).
RI Board of Elections Cybersecurity Summit | Friday, October 20 | Pell Center Ballroom
This event is specifically dedicated to RI local election officials.
Roundtable Discussion: "Opportunities and Risks of Living Online" | Tuesday, October 24 | 11:45 AM – 12:45 PM | Miley Executive Dining Room
Internet and the use of social media have forever transformed the way people and organizations communicate, work, and play. Today, social media is driving real-time connectivity and communications. Whether you're of Facebook, Twitter, LinkedIn, Instagram, or Snapchat, you're now always "on" and always connected to the Internet. However, the same openness and increased reliance on the Internet that has allowed us and our businesses to prosper, connect across oceans, increase efficiency and productivity, find the next job opportunity or ideal partner, is also exposing us to a growing number of vulnerabilities and opening the door to a wide range of malicious activities from fraud, to online monitoring, data breaches, identity theft, and disruption of service.
Roundtable discussions are open to students, faculty, and staff at Salve Regina University.
RSVP to [email protected].
Seminar: "Countering Ransomware: Attack Analysis & Lessons Learned" | Wednesday, November 15 |     9:00 – 11:00 AM | Pell Center Ballroom
During this seminar, Mr. Israel Barak, CISO at CyberReason, will discuss the ransomware epidemic that spread around the world earlier this year and other outbreaks, such as WannaCry and NotPetya, which caused monumental harm to millions of people and organizations worldwide. He will also share a specific case study on a ransomware attack, analyze the business impact, discuss lessons learned and provide practical advice on how to prevent organizations from falling victim to future attacks, such as:
Understanding the vulnerabilities that expose organizations to ransomware threats;
Learning essential security hygiene practices to protect, prepare and respond to future attacks; and
Discovering how to protect legacy systems.
Conference: "Is Your Organization Ready for the Blockchain, Bitcoin and Crypto-currencies Revolution?  Wednesday, November 29 | 8:30 AM – 12:00 PM | Pell Center Ballroom
The blockchain revolution – which is the base for Bitcoin and other cryptocurrencies – is set to completely disrupt the way business and transactions are carried out online. Whether you're in the financial or insurance industries, healthcare, government, retail, and even farming or manufacturing sectors – blockchain technologies promise to revolutionize the way we conduct business and most likely disrupt your field. Are you ready for the disruption? Do you know how to take advantage of these new technologies to benefit your business?
This conference will address the future of blockchain technologies and their expected impact on different industries and governmental services from world renowned experts from Israel and the U.S.
Conference: "Navigating the Cyber Clause: A Practical Guide to Implementing NIST SP 800-171" Wednesday, December 6 | 9:00 AM – 12:00 PM | Pell Center Ballroom
This conference will address the new requirements for defense contractors and subcontractors to implement the National Institute of Standards and Technology (NIST) Special Publication (SP) 800-171, "Protecting Controlled Unclassified Information in Nonfederal Information Systems and Organization," according to the updated 2016 Defense Federal Acquisition Regulation Supplement (DFARS). While there is no single or prescribed way to implement the requirements of NIST SP800-171, companies have only until December 31, 2017 to examine these requirements and figure out whether they need to change any of their company's policies or processes and/or reconfigure their IT systems.
A panel of experts, including the author of the NIST SP800-171, Dr. Ron Ross, will discuss how small- and medium-size enterprises with limited information technology or cybersecurity expertise might approach meeting these cybersecurity requirement and ensure that covered defense information processed or stored on their internal information systems and networks is effectively protected.
For additional information, contact Francesca Spidalieri, Pell Center Senior Fellow for Cyber Leadership.